This post is part of a social shopper marketing insight campaign with Pollinate Media Group™ and Barilla, but all my opinions are my own. #pmedia #JoytotheTable https://cmp.ly/3/8vNxcO."
It's the middle of the week, and exactly one week from Christmas. Which means it's probably a crazy busy week full of errands, last minute shopping, cleaning for visitors and general life busyness. I know it was for me, but life goes on and I still needed to get dinner on the table.
While at the supermarket, I grabbed a family bag of Barilla Three Cheese Tortellini. My local Tom Thumb has a sweet deal going on in store, $.75 off the purchase of one package of Barilla Tortellini. I know I am looking to save a some cash this time of year, and it was enough for dinner and leftovers for lunch the next day. Pasta makes the best leftovers! Win!
Prepare the Barilla tortellini according to package instructions, drain and toss with olive oil and set aside until ready to use.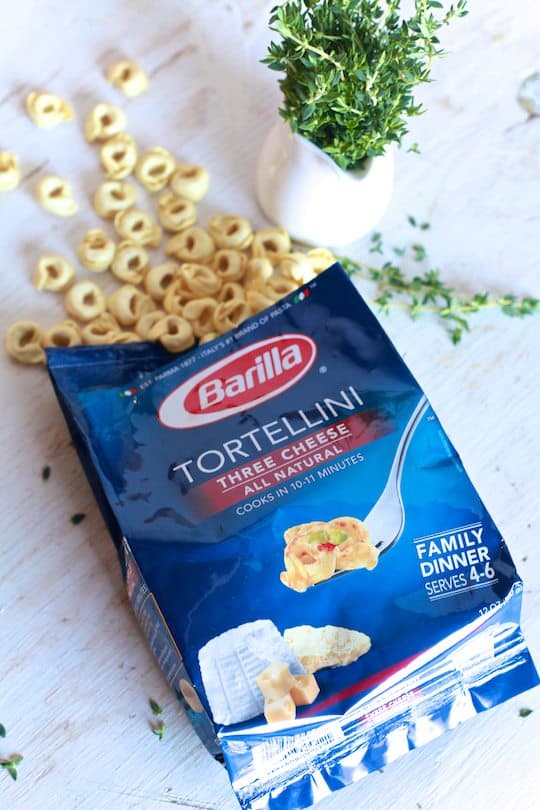 I wanted to do something a little different for this pasta dish and make a sauce out of sweet potatoes. I roasted the sweet potatoes in the oven at 400 degrees until tender. Set them aside until they where cool enough to handle and scooped out the flesh.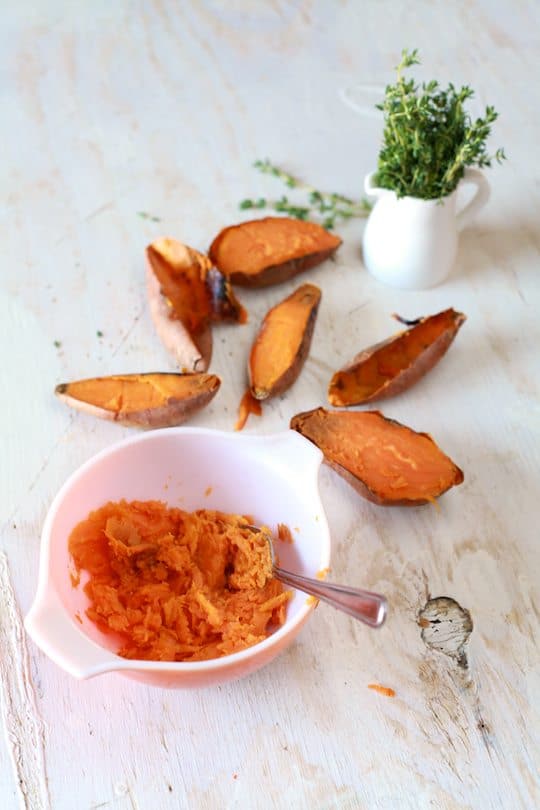 Because my husband does not consider a meal a "real meal" unless there is some kind of meat added, I decided to dice up some Spanish chorizo. I used cured Spanish chorizo, not the ground Mexican chorizo. If you cannot find Spanish chorizo, you can use pepperoni or hard salami.
Quickly sauté the diced chorizo in a skillet with olive oil over medium-high heat. Using a slotted spoon transfer the chorizo to a plate. Add onion and garlic to the same skillet and sauté until translucent.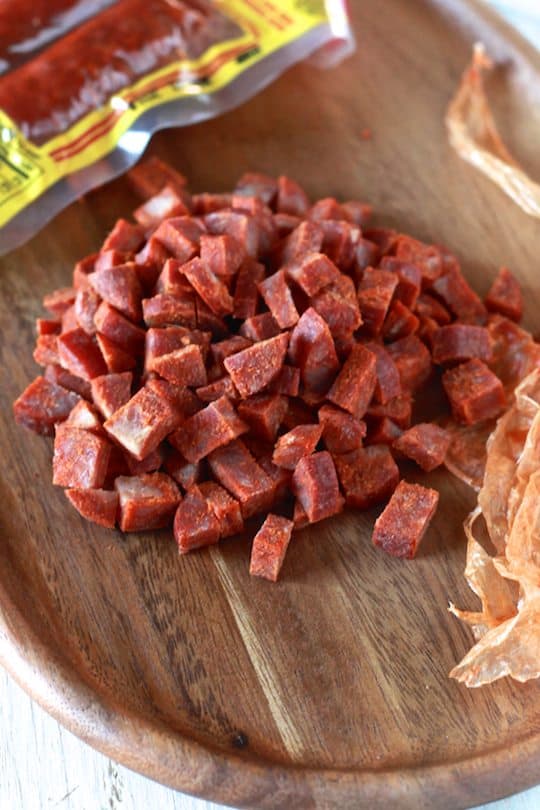 Combine all ingredients except chorizo and pasta in a blender or food processor, blend until smooth and creamy. If it's too thick for your liking add some water a little at a time until you reached the desired consistency.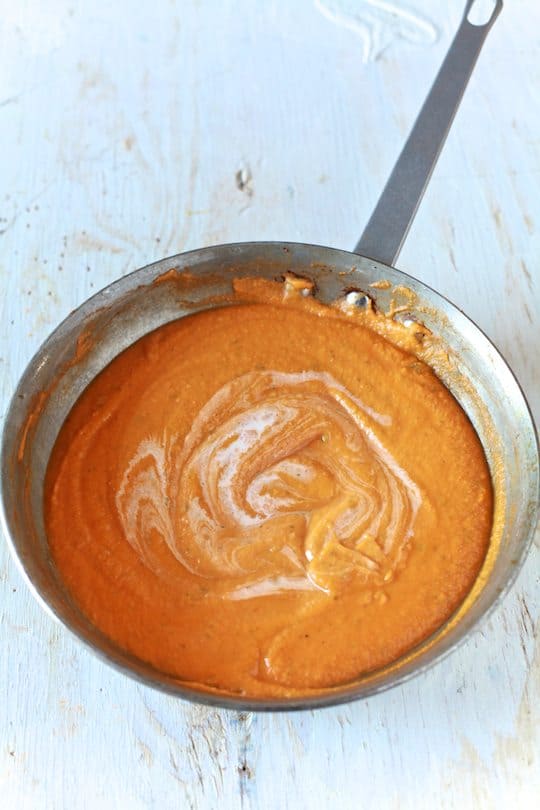 In a large skillet or pot, gently toss pasta with sauce and chorizo, over medium-high heat until heated through.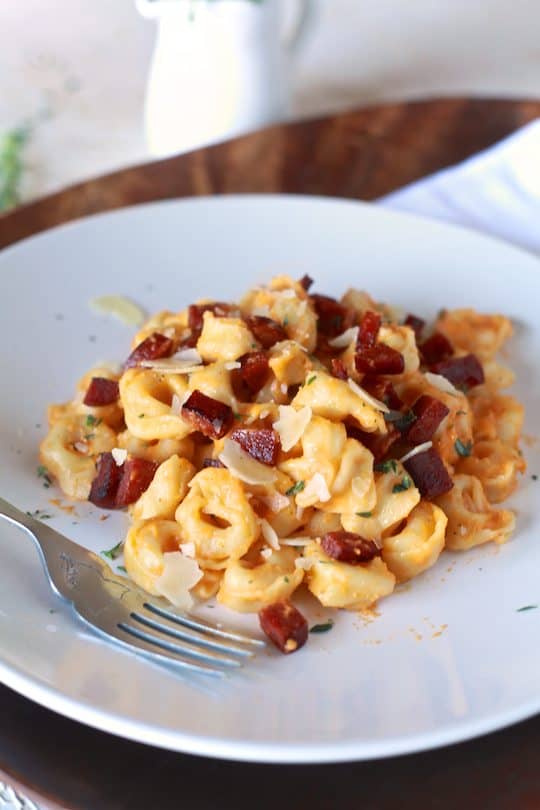 Serve hot sprinkled with shaved parmesan.
Dinner is done! And, pretty stinking tasty if you ask me. Barilla Three Cheese Tortellini perfectly complimented this bright and savory sauce. Add some meaty nuggets of Spanish chorizo and you definitely have a winner that will bring joy to the dinner table.
Yield: 4 - 6 servings / 3 cups of sauce
Tortellini with Chorizo and Orange Scented Sweet Potato Sauce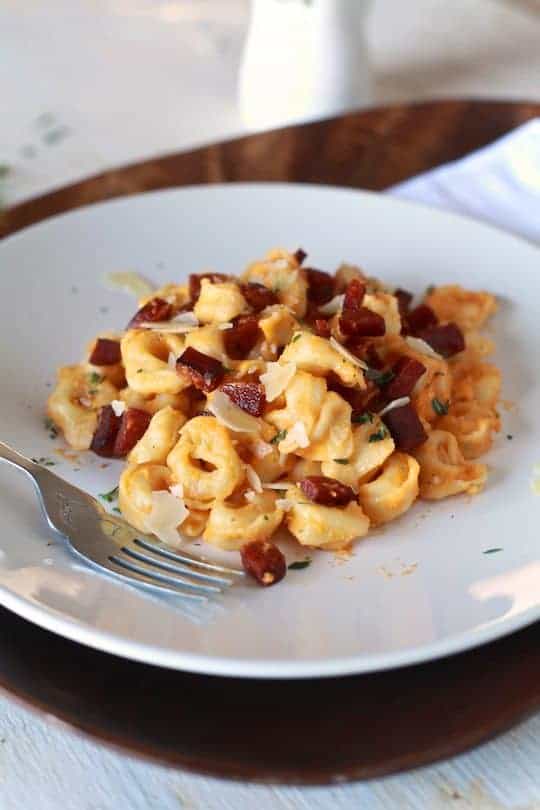 Ingredients
1 lb sweet potatoes
2 tablespoons olive oil
7 oz Spanish chorizo, casing removed and diced
1/2 large onion, diced
3 cloves garlic, minced
1 large tomato chopped
1/2 cup water
1/4 cup heavy cream
1 teaspoon fresh thyme, minced
1 tablespoon orange zest
kosher salt
1 12 oz package Barilla Three Cheese Tortellini
Instructions
Pre-heat oven to 400 degrees. Roast sweet potatoes on a sheet pan until tender, set aside.
In a skillet over medium-high heat add olive oil and sauté chorizo for 2 - 3 minutes. Using a slotted spoon transfer chorizo to plate and set aside.
Add diced onion and garlic to the same skillet and sauté until translucent.
In a blender or food processor combine, flesh from sweet potato, onions, tomato, thyme, water, cream, orange zest and salt. Blend until smooth, add more water a little at a time if sauce is too thick.
Prepare Barilla Three Cheese Tortellini according to package instructions. Toss tortellini with sauce and chorizo in pasta pot over medium heat until heated through. Serve garnished with shaved parmesan.