I'm not really a baker, except when Christmas is around the corner. Then I get my entire baking quota in for the year.
While I was at the store, I got my hands on a big beautiful pomegranate. I took it home not knowing what I was going to do with it, although I was tempted to dig in. When I was a kid I loved I the whole process of eating pomegranate, digging out the seeds, feeling them pop in my mouth and staining my lips and finger red, it was fun.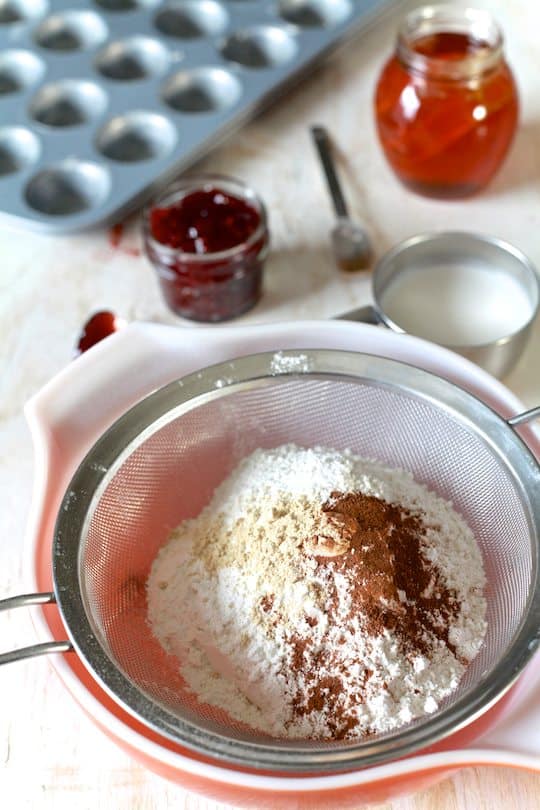 I absolutely love the sweet and tangy taste of pomegranate. But instead of eating the pomegranate all by myself, I thought I do something a little special.
Recently I had come across a honey cake recipe. I fell in love with the idea of a cake that tasted like honey, but most of the recipes I found resembled the texture of cornbread but, I wanted a soft and fluffy cake, something that would go well will a hot cup of Earl Gray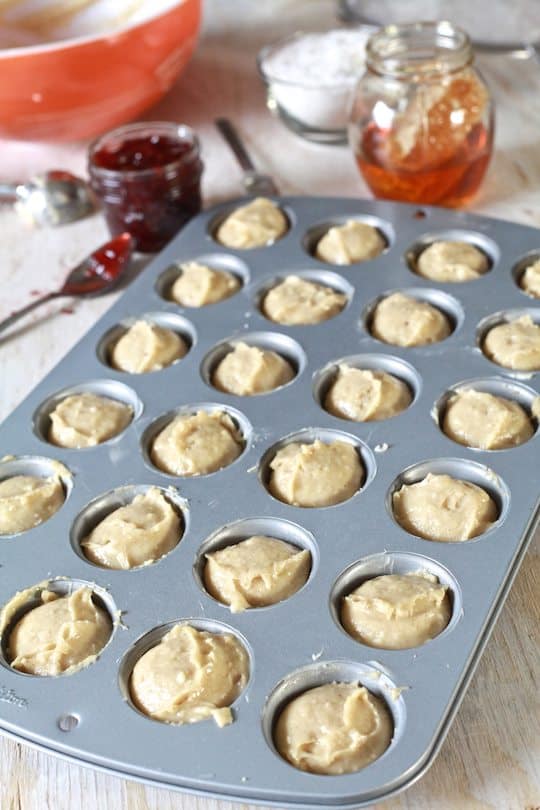 Pomegranate and honey pair well together, add some coconut and you got a pretty awesome trifecta going on. So, I decided to do some experimentation and make some honey and coconut cakes topped with whipped cream and pomegranate arils. Usually baking experimentation does not go well for me, but this was a rare occasion that I got it right on the first try.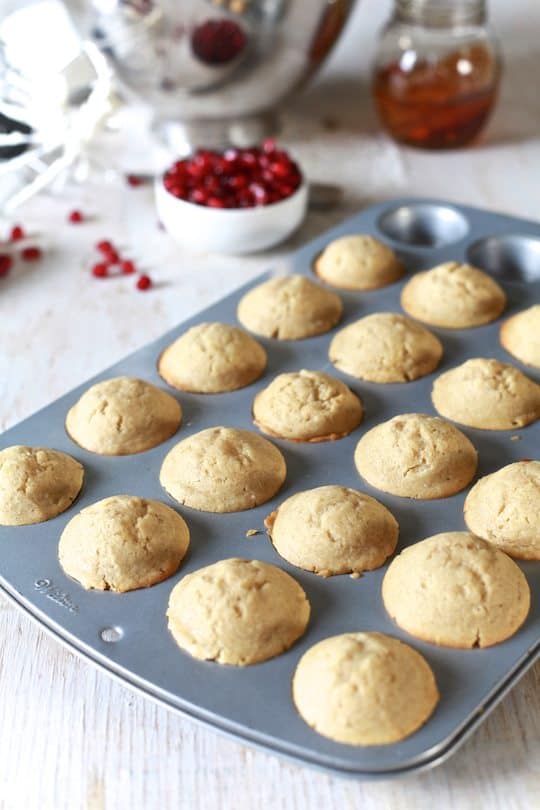 Using a basic cake recipe, I swapped out sugar for honey and milk for coconut milk. Equal amounts of honey can be used for up to one cup of sugar. More than one cup replace each cup of sugar with 2/3 to 3/4 cup honey depending upon the sweetness desired. If using more than 1 cup of honey, you may also have to reduce liquids by 1/4.
Luckily enough I took care of all that for you here.
I couldn't be happier with how these little cakes turned out, they are so soft and tender I could pop one after the other in my mouth. Also, the lightly sweetened cream with the tart pomegranate seeds perfectly balance out the honey sweetness of the cakes.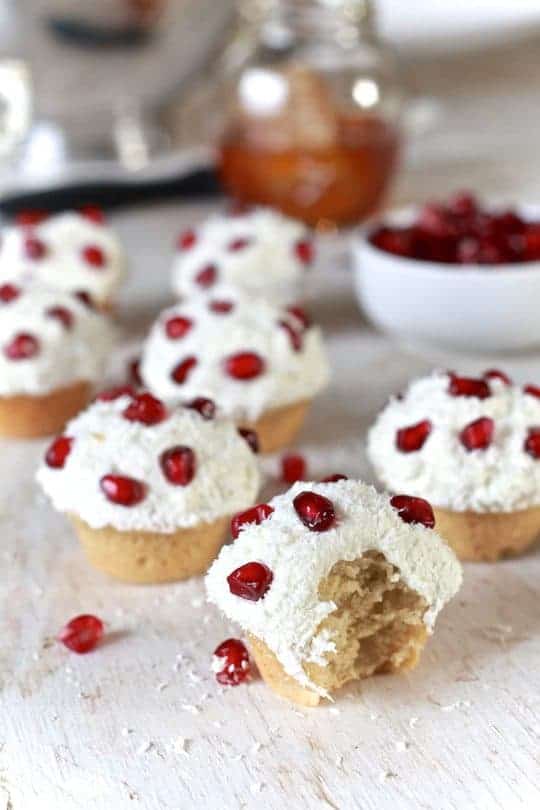 I used and orange-blossom honey, which might be strong for some, but I thought it was absolutely perfect. It was like the cake has built-in honey butter. I can spread honey butter on everything!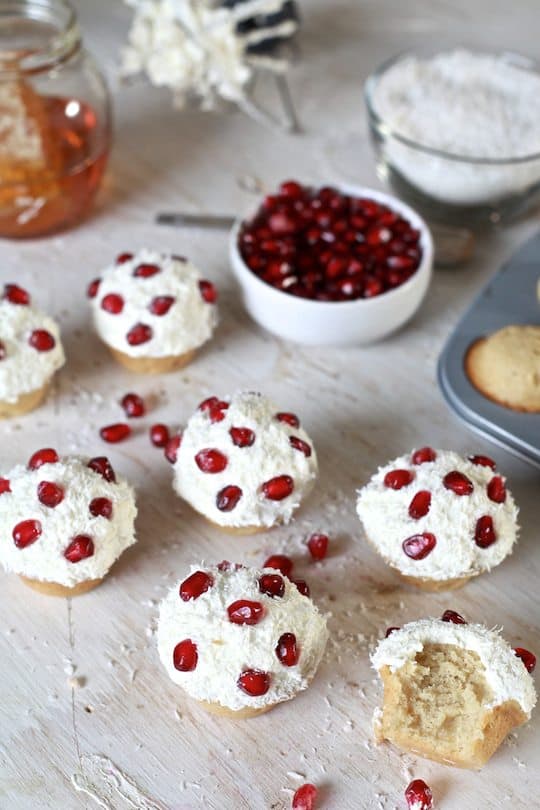 If you prefer the whole cake method, go for it. Just bake in an 8 x 8 pan for 30 minutes, spread with whipped cream and sprinkle with shaved coconut and pomegranate seeds.
Now if you don't mind I am going to go relaxing with a cup of tea, a few sweet and delicate little cakes and finish watching Ghostbusters. They are about to take out the Stay-Puff marshmallow man, and I don't want to miss it.
Honey and Coconut Cakes with Pomegranate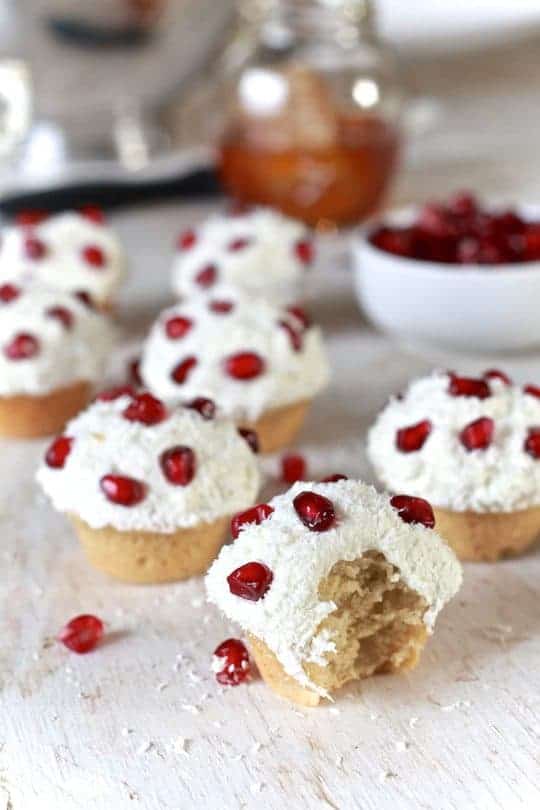 Ingredients
2 cups all-purpose flour
2 tsp baking powder
1 teaspoon ginger
1/2 teaspoon cinnamon
1/4 tsp sea salt
2 large eggs, room temperature
1/2 cup butter, room temperature
3/4 cup honey
1 tsp pure vanilla extract
1/2 cup coconut milk
1 cup heavy whipping cream
1 tablespoon sugar
1 cup shredded unsweetened coconut
1 cup pomegranate seeds
Instructions
Preheat the oven to 350F.
Lightly butter the molds of a mini muffin pan. Set aside.
In a large bowl, sift together the flour, baking powder, cinnamon, ginger, and salt. In a separate bowl, use an electric beater to cream the butter and honey mixture together until smooth. Add the eggs one at a time to the butter/honey mixture. Beat well after adding each egg. Add the vanilla to the mixture and mix well to combine.
Alternately add the flour mixture and milk, in three additions, starting and finishing with the flour. Using a cookie scoop, scoop the batter into the muffin molds. Bake in the oven for about 15-20 minutes, or until toothpick test comes out clean.
Cool in pan for about 5 minutes and then transfer onto a wire rack to cool.
While cakes are cooling, whip the heavy cream and 1 tablespoon of sugar to stiff peaks.
Once the cakes have cooled completely, frost with whipping cream, sprinkle with shredded coconut and pomegranate seeds.
Serve with your favorite cup of tea.