Butternut squash, sausage, and sage make the perfect fall pasta. This dish is perfect for a healthy and comforting weeknight dinner.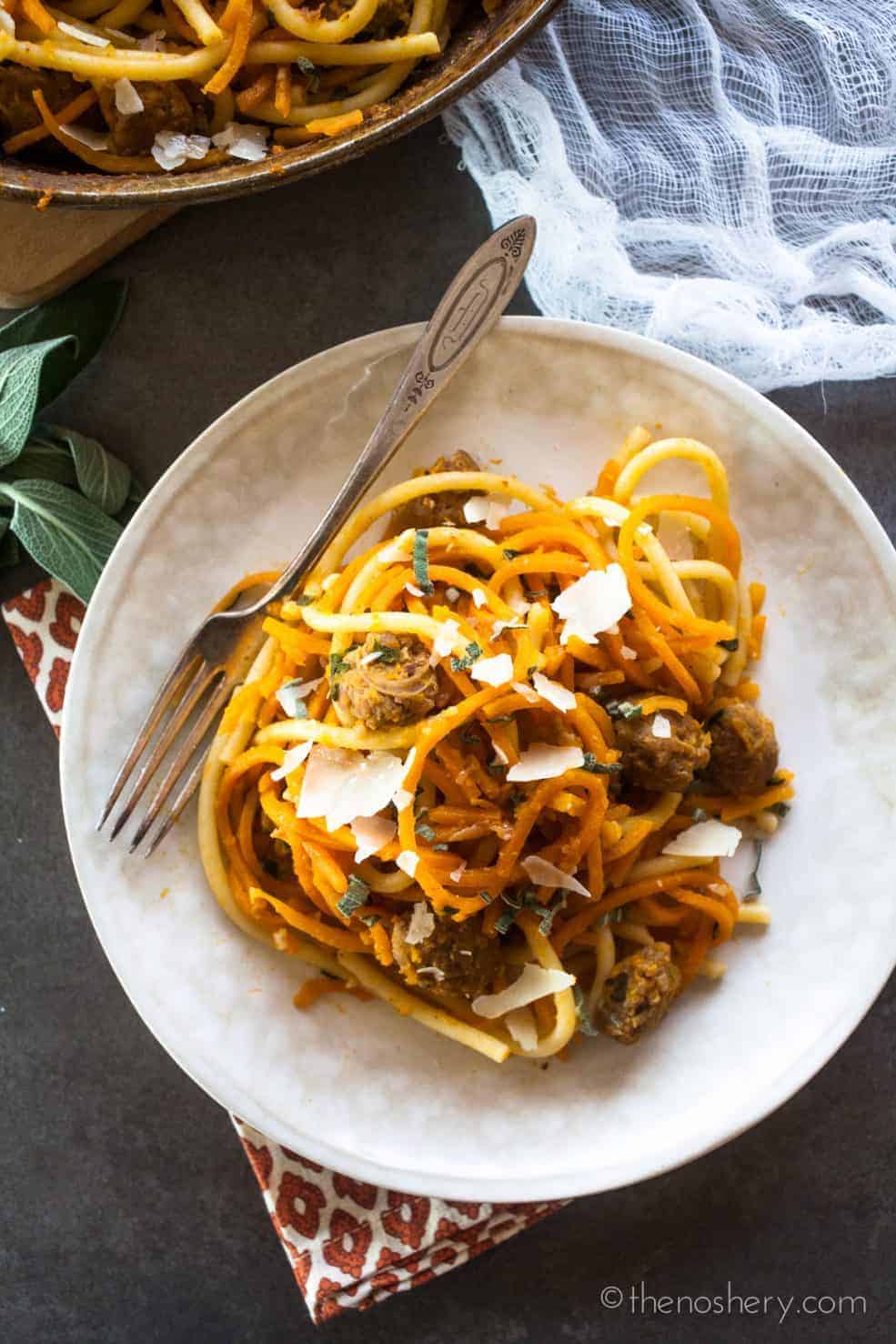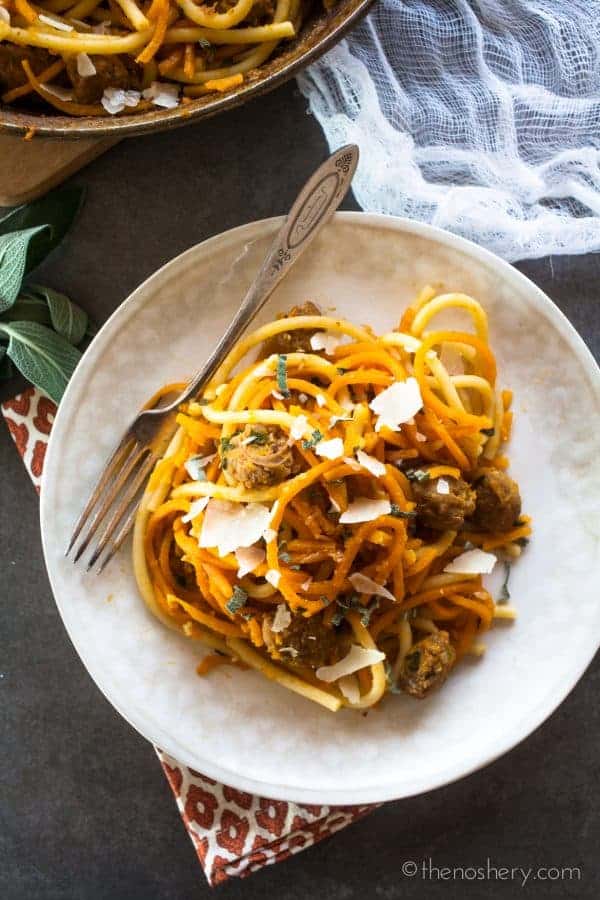 Notice anything different? The blog got a facelift and the logo got an update! I am so excited about the new look. I am especially excited about two new features.First, the recipe index has some cool filtering capabilities. In the sidebar, you can select an ingredient, dish type, meal type, or dietary concern and it will filter all the recipes for you. I am still in the process of categorizing older recipes so keep checking to see what is new on the recipe index. Finally, I launched The Noshery Small Bites Newsletter. If you haven't subscribed you can subscribe by filling out the subscription form in the sidebar. If you want to check a newsletter out first you can see the first newsletter here.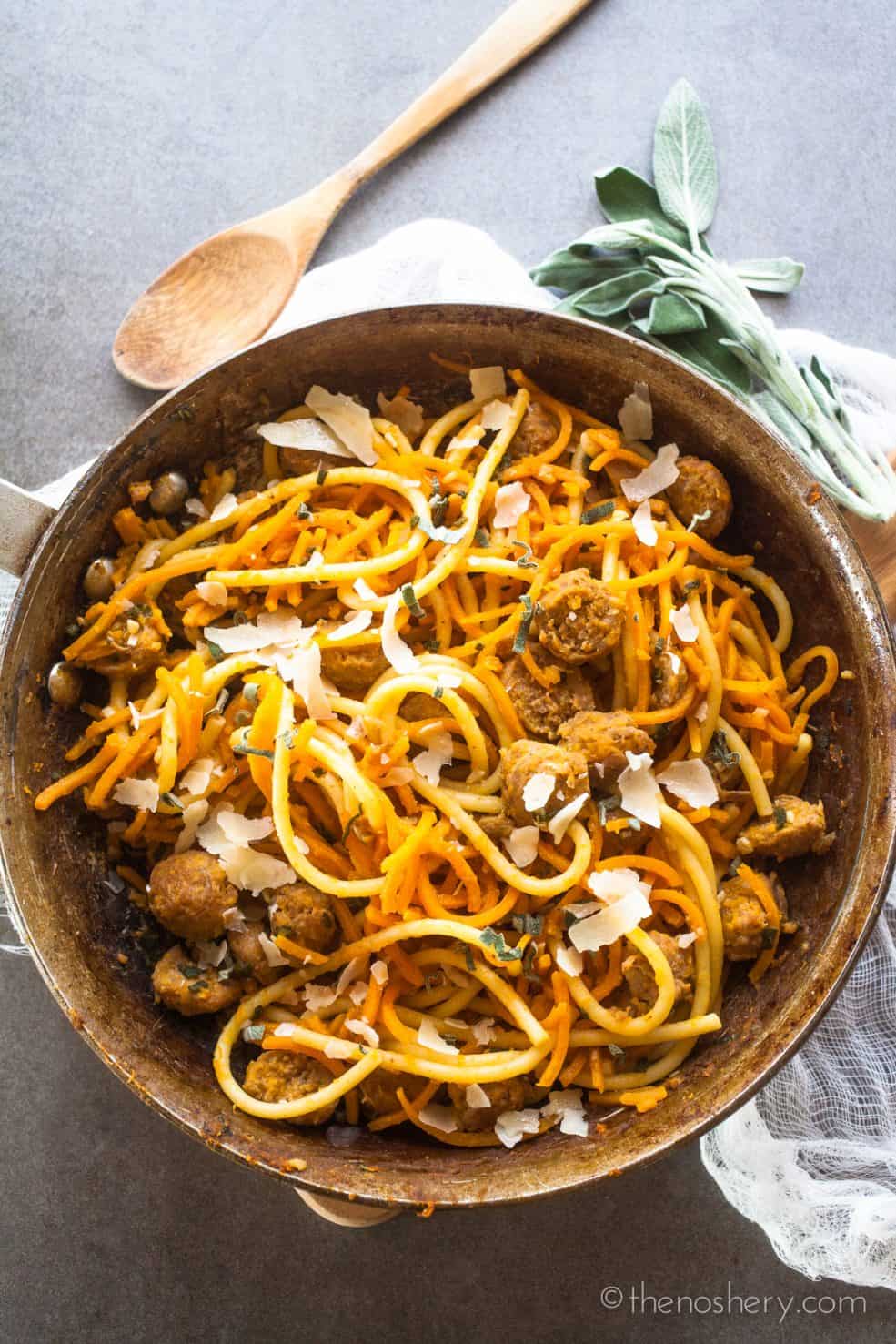 The Noshery has come a long way from when I first started nine years ago. NINE YEARS! Crazy! When I first started cooking and experimenting with recipes I made a butternut, sausage, and sage pasta. I think it was my first time cooking with butternut. I remember being surprised how good butternut, sage, and sausage went together. Today it seems like a no-brainer but back then it pretty much blew my mind.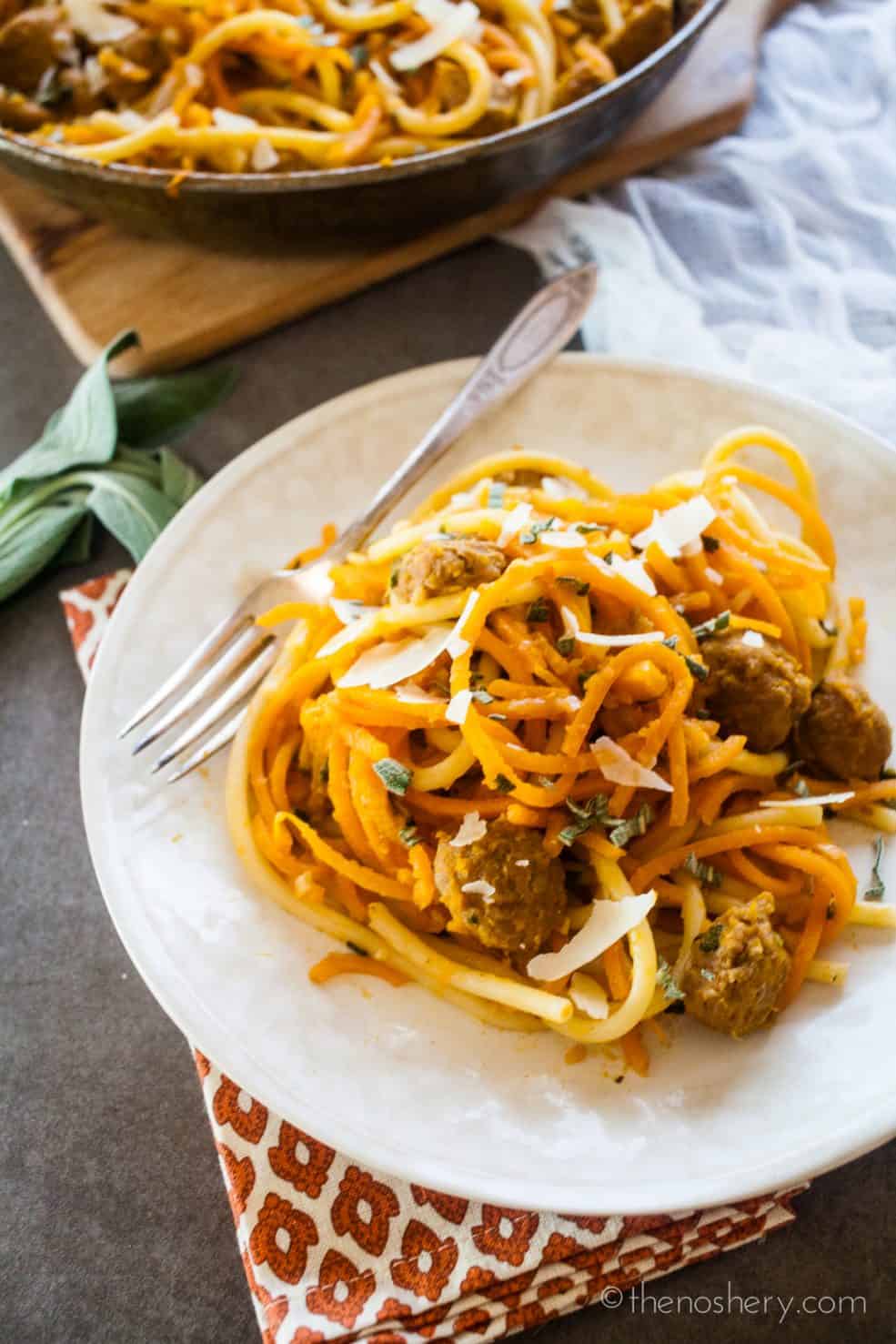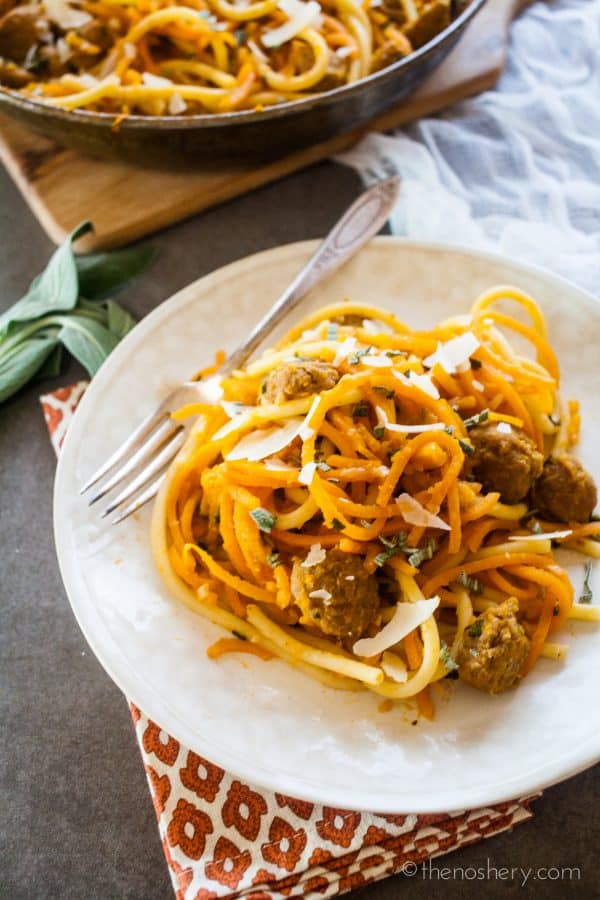 If you love comforting winter flavors you will love this dish. It's sweet, savory, and has a touch of heat. This dish warms the soul and is forgiving on the hips. And, to think there was a time that I thought butternut, sage, and sausage was weird.
More Butternut Love:
Items Used in this Recipe:
Yield: 4
Butternut Squash, Sausage & Sage Pasta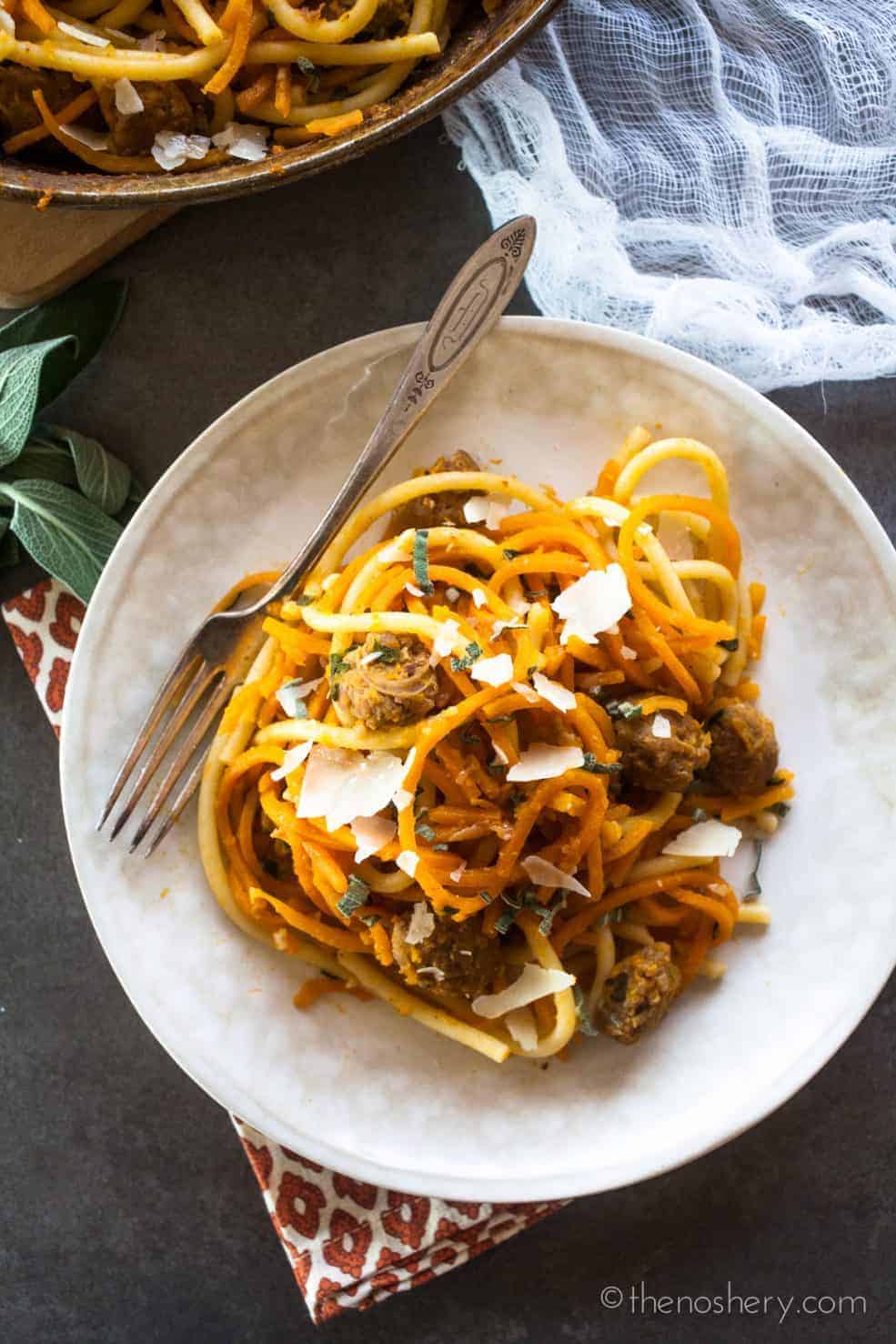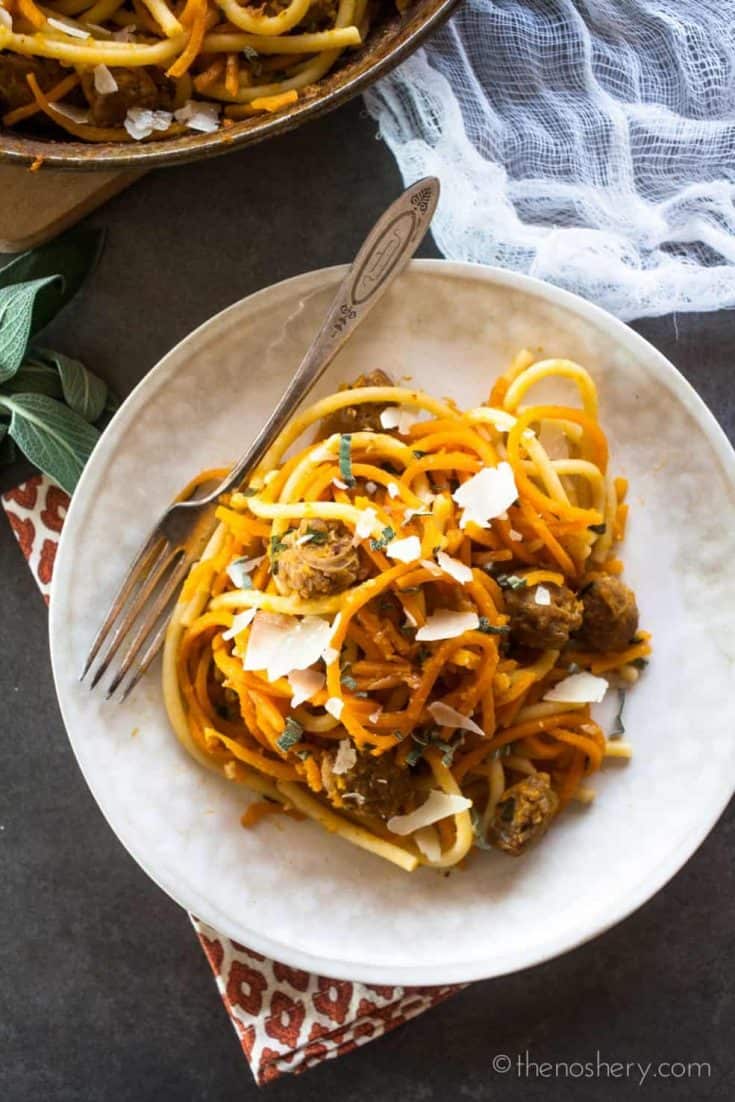 Butternut squash, sausage, and sage make the perfect fall pasta. This dish is perfect for a healthy and comforting weeknight dinner.
Ingredients
5 oz dry pasta
2 tablespoons olive oil
1 medium butternut squash
3 Italian turkey sausages, sliced
1/4 cup white wine
3 cloves garlic, chopped
1 1/4 cups of chicken stock
3 tbsp of chopped, fresh sage leaves
Instructions
Heat oven to 400 degrees. Peel the butternut and cut off the bulb of the butternut. Spiralize the trunk of the butternut. Line a sheet pan with foil. Spread out butternut squash noodles and season with salt and pepper. Bake for 10-15 minutes or until noodles reach desired doneness.
Cut the bulb in half and scrape out the seeds. Dice the bulb of the butternut into small dice. Set aside.
Heat 1 tablespoon of olive oil in a heavy bottom skillet. Add sausage and cook for 5 minutes or until browned and cooked through. Transfer sausage to a plate and set aside.
Add wine to skillet to deglaze the pan, scraping up all the brown bits of the sausage. Add, diced butternut, chicken stock, garlic, and sage. Bring to a boil. Lower to a simmer and cover. Simmer covered for 10 minutes or until squash is tender.
While butternut is simmering, prepare pasta according to package directions. Drain, toss with olive oil and set aside.
Transfer butternut and stock to a blender and blend until smooth, season with salt to taste. Return to skillet and let simmer uncovered for 5 minutes or until sauce thickens.
Toss pasta, butternut squash noodles, and sausage with sauce. Sprinkle with shaved parmesan to serve.
Nutrition Information:
Amount Per Serving:
Calories:

406
Carbohydrates:

49g
Protein:

18g