Vegetable noodles are all the rage and not to mention delicious. Pair these easy sautéed sweet potato noodles with red wine beef and you have a healthy and comforting dish.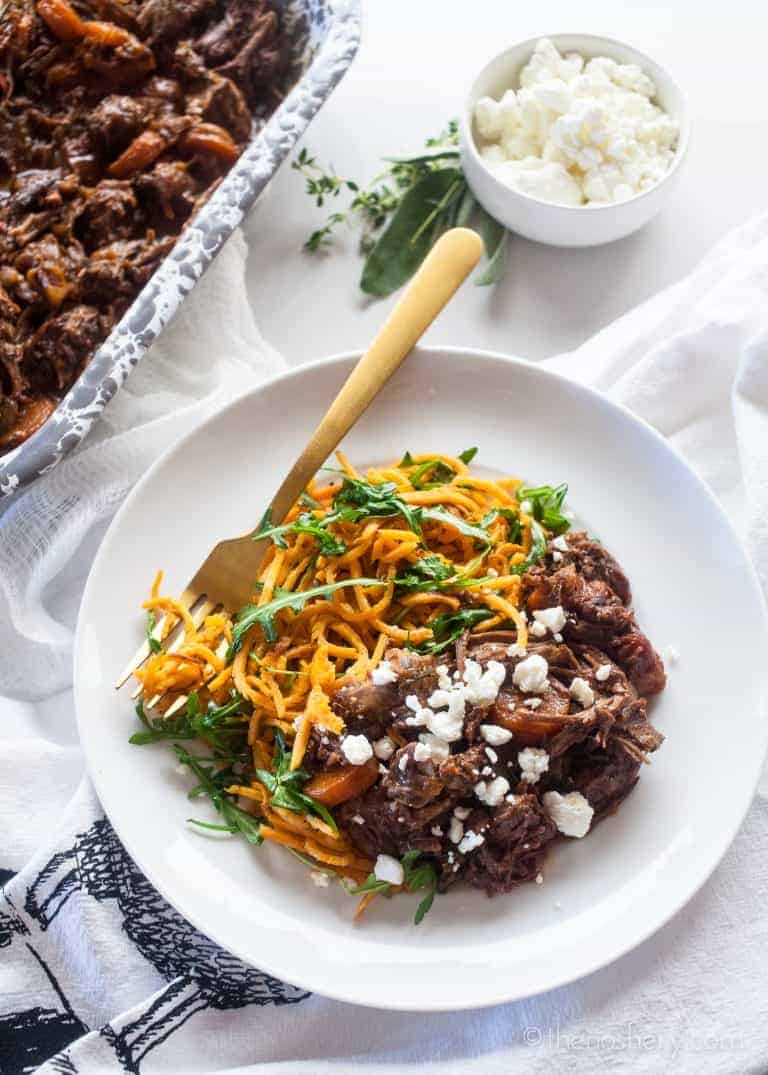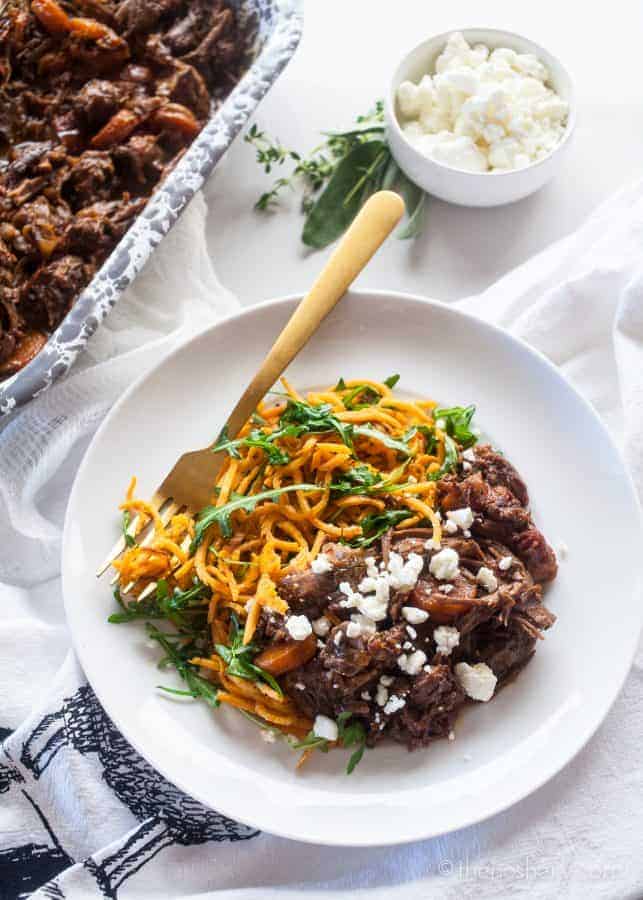 I have recently been making a lot of changes in my eating. Which is just one of the reasons I have kind of gone missing this last month; I love cooking and I have always cooked with a free spirit. Tasting and adjusting as I go never really taking into consideration exactly what or how much is going into a recipe. Well let me tell that mess was catching up to me and I needed to fit it.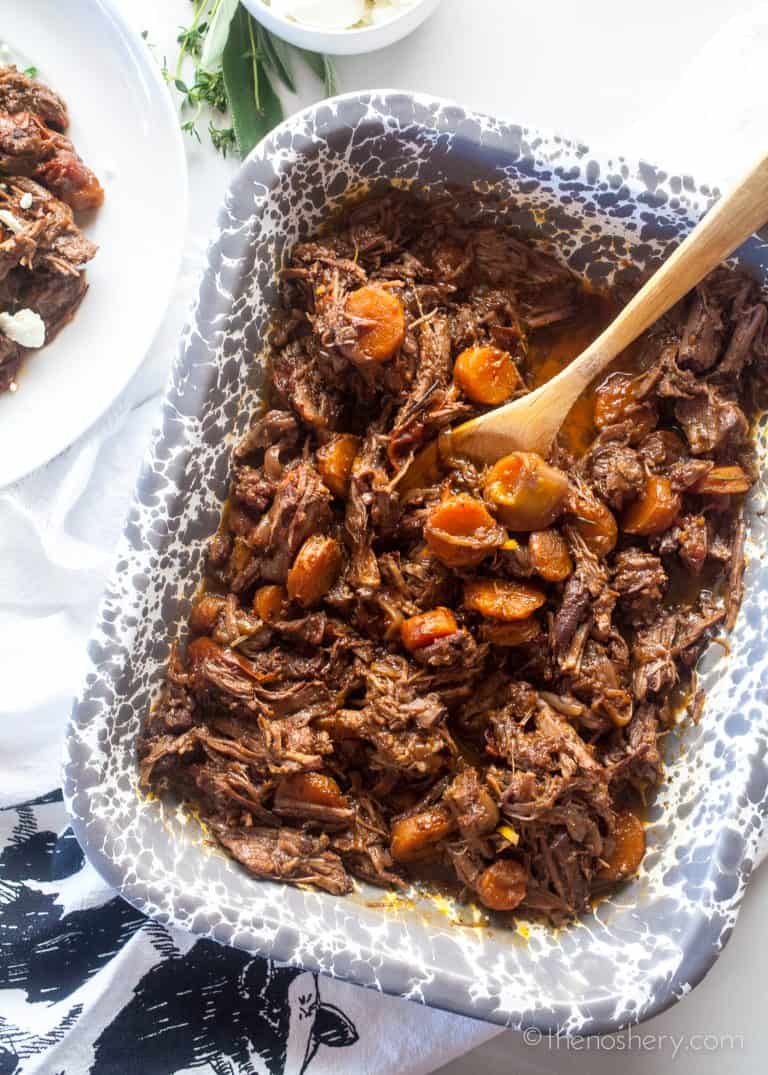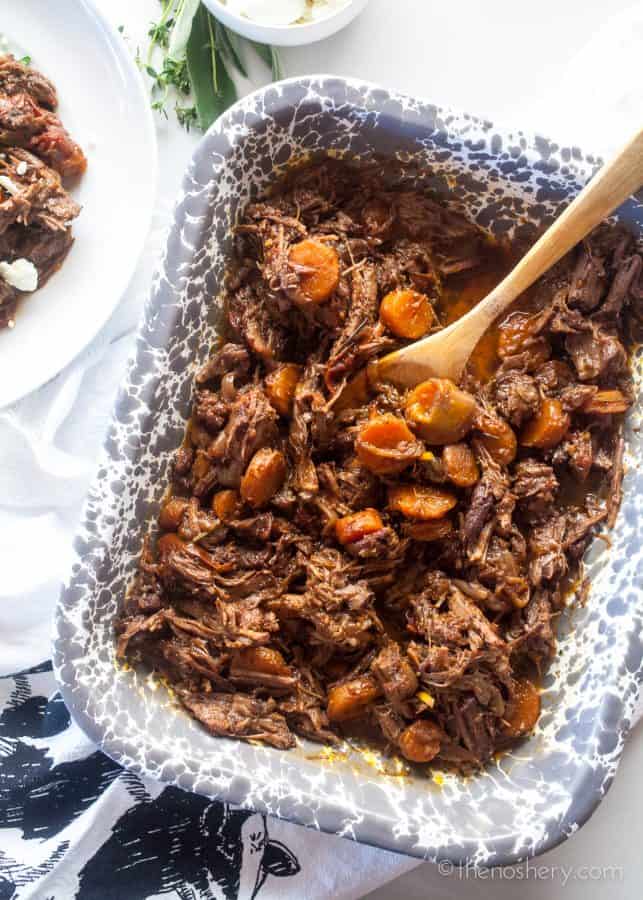 Over the last few months, I have been retraining how I cook. Making better choices and being more creative with how I develop flavors. While in culinary school my mad chef instructor taught me what wine, cream, and butter is the secret to make everything better. And, let's face it, it's true but it's not very forgiving.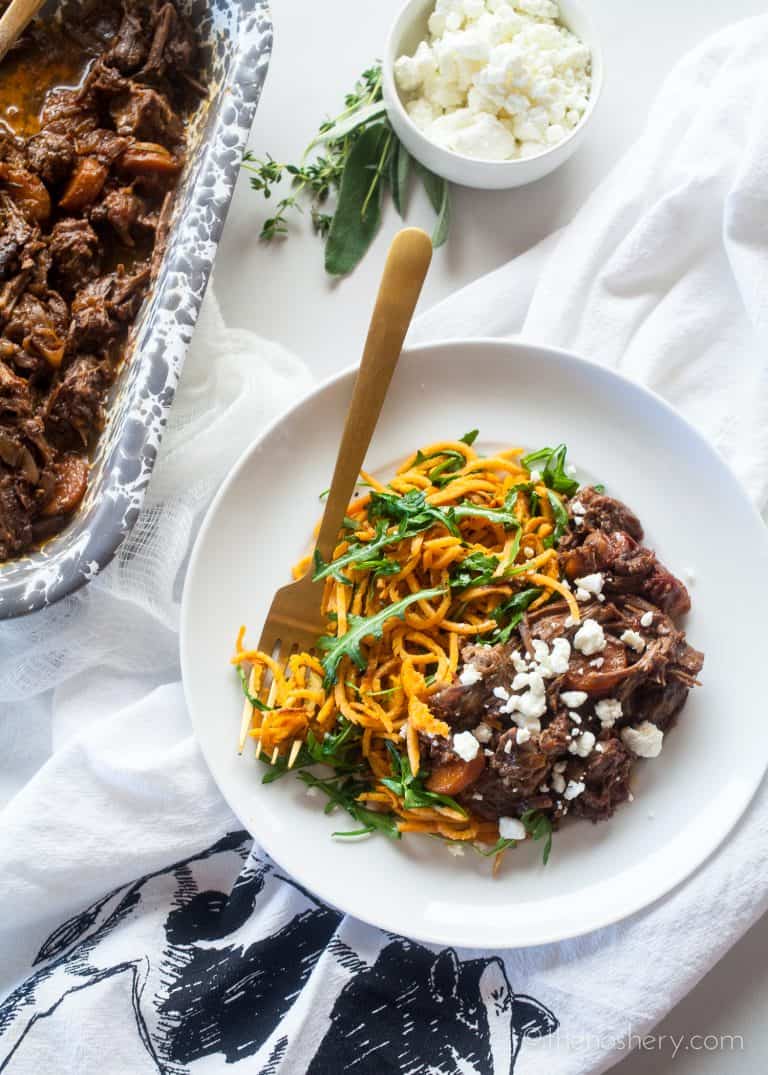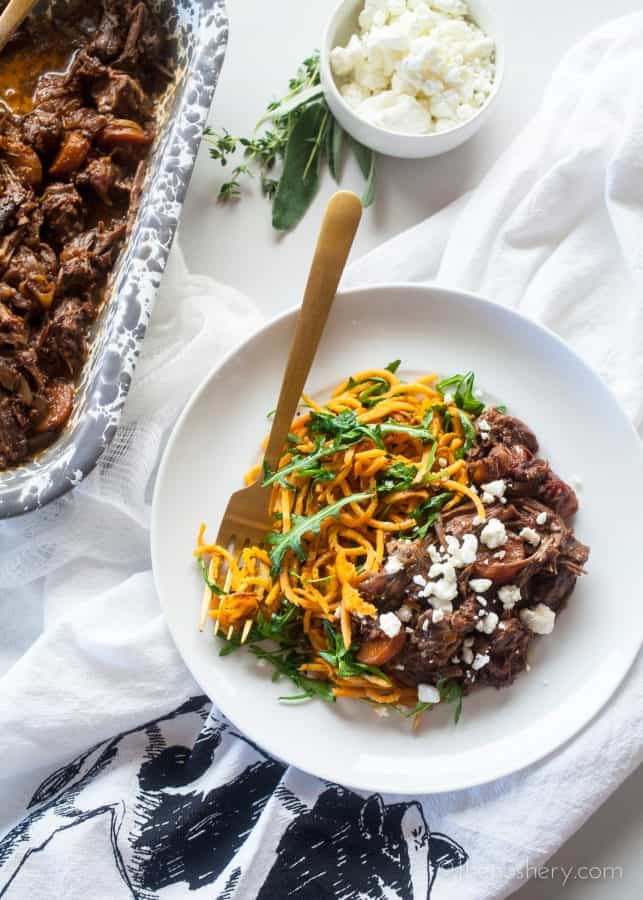 Making healthier choices doesn't mean that you have to eat like a rabbit. With a few minimal tweaks, you can still enjoy comfort food. Recently I got my hands on an electric pressure cooker and I will tell you that I have a new best friend. One of my favorite dishes to prepare in my electric pressure cooker is this red wine beef. It's ready in half the time it takes in the oven or slow cooker which is perfect for procrastinators such as myself.  If you don't have an electric pressure cooker you can still make this dish in a slow cooker.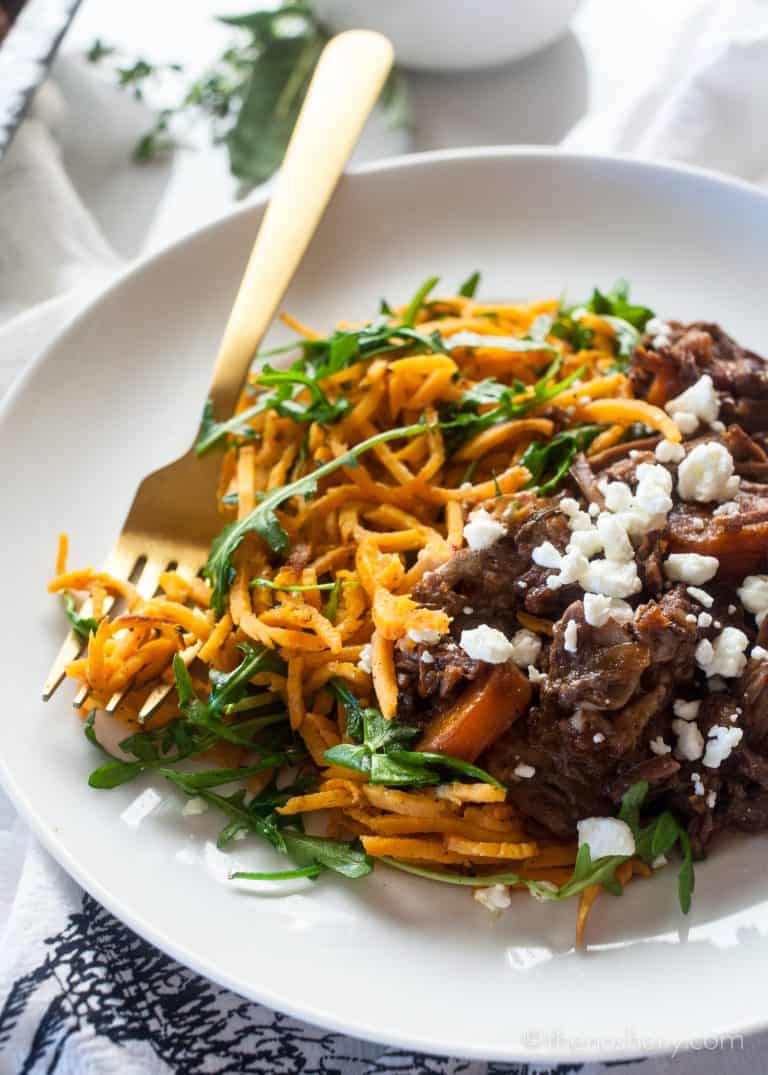 This is also a great dish to make ahead for the week. My favorite is to serve it with sautéed sweet potatoes noodles but it's great with whole wheat pasta, polenta,  salad or in a soup. I am a little obsessed with vegetable noodles right now especially sweet potato and butternut squash. Even my husband happily eats them, which is surprising. They have become my go-to alternative to pasta. Is it just like eating pasta? No. But that doesn't mean they can't be delicious and satisfying.
Are you stumped on how to use vegetable noodles? Check out some of these amazing dishes. Interested in another simple but comforting side dish try these Butternut Squash Noodles in Sage Brown Butter. Do you love shrimp alfredo? This Healthy Shrimp Alfredo with Carrot Noodles should do the trick. Did I mention carrot noodles!? Are Asian flavors more your style I love the idea of a Korean Cucumber Noodle Salad or Zoodle Pad Thai Noodle Salad. If your not in the mood for veggie noodles try these amazing melting sweet potatoes!
Items used in the making of this recipe
Yield: 4
Red Wine Beef with Sweet Potato Noodles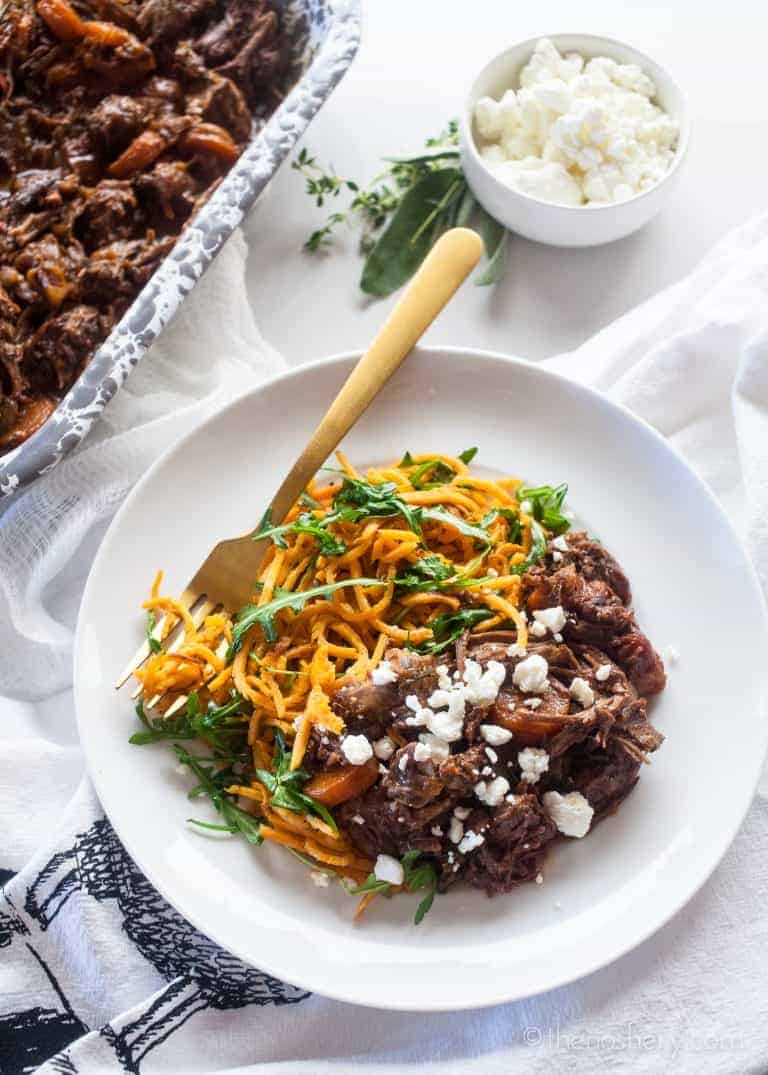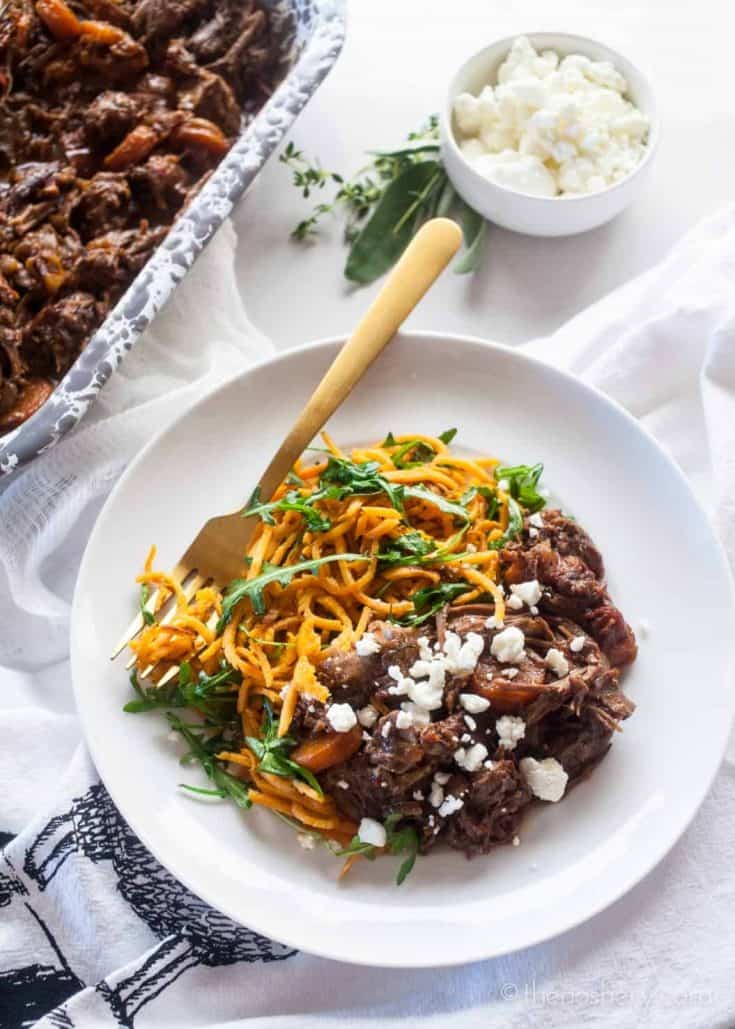 Who said healthy can't be comforting? Sauteed sweet potato noodles with tender red wine braised beef. Make dinner easier by making this beef ahead.
Inactive Time
1 hour
39 minutes
Total Time
1 hour
55 minutes
Ingredients
Beef
[br]
1 tablespoon olive oil
2 medium carrots, sliced
1 medium onion, julienne
1 lb grass fed chuck roast
1 tablespoon Tuscan seasoning
3 roma tomatoes, quartered
1 cup red wine
1 cube beef bouillon
1 sprigs rosemary
3 sage leaves
3 sprigs thyme
[br]
Noodles
[br]
2 cup arugula
10.7 oz sweet potato noodles (1 package Veggie Noodle Co. Sweet Potato Noodles)
1 tablespoon olive oil
salt
Instructions
Beef
Set electric pressure cooker to sear. Heat olive oil in cooker, add carrots and cook until lightly browned about 5 minutes. Add onions and saute for another 5 minutes or until translucent. Spoon carrots and onions onto a plate and set aside.
Pat chuck roast dry with paper towel, spray lightly with cooking spray and sprinkle with salt and Tuscan seasoning on both sides. Sear on each side for 2 minutes. Transfer roast to a plate.
Place onions, carrots, and tomatoes in the cooker. Add red wine and beef bouillon cube to the cooker. Stir to help dissolve bouillon cube. Add roast and herbs. Cover and set pressure cooker for 30 minutes. Once done let the pressure cooker release naturally, do not vent.
Once pressure has released uncover and set to pressure cooker to "sear/brown". Remove herbs and let the beef simmer for 30 minutes our until the sauce has reduced and thickened.
Noodles
Heat olive oil in a skillet over medium-high heat. Add sweet potato noodles and sprinkle with salt. Saute until soft, but still somewhat crisp, stirring on and off for about 5-8 minutes. Add arugula and toss until arugula is slightly wilted.
Divide the noodles evenly among 4 plates and serve with 1/2 cup of beef. Leftover beef can be stored in the refrigerator for up to a week.
Nutrition Information:
Amount Per Serving:
Calories:

400
Cholesterol:

60mg
Sodium:

273mg
Carbohydrates:

23g
Fiber:

3g
Sugar:

7g
Protein:

19g