Winner, winner, chicken dinner!
I have used this phrase a few times having really no clue where it came from, so I thought I would do a quick search. The legend or story is that way back in the day casinos in Las Vegas had a three-piece chicken dinner with a potato and a veggie for $1.79. A typical bet back then was $2. So, if you won the bet you had enough for a chicken dinner. I am sure I have also heard the phrase used in movies centered around a casino.
All this to say that I think any easy chicken dinner is a winner.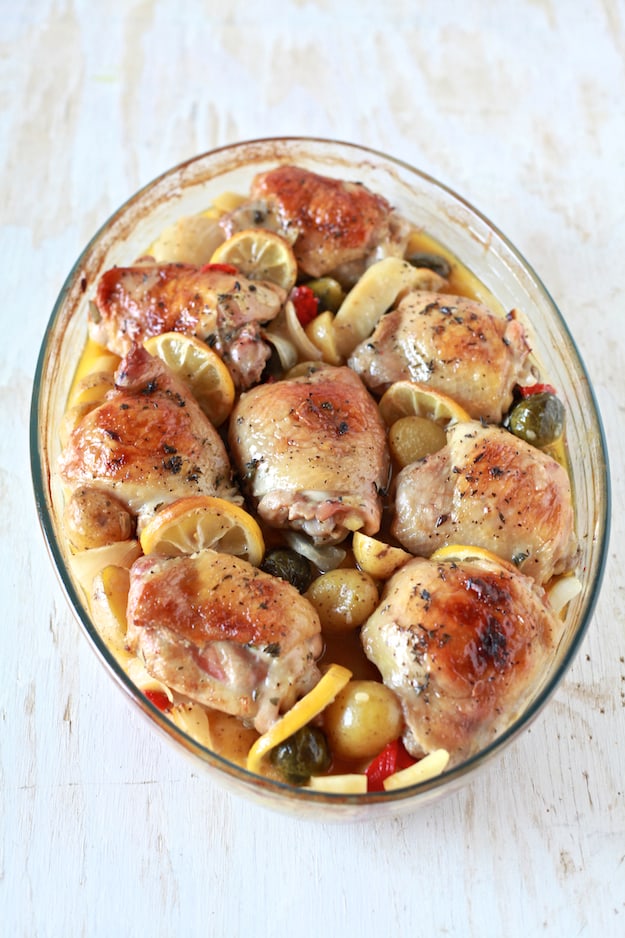 There is nothing easier and more satisfying than an effortless one pan chicken dinner. You will love it because it's easy and your family will love it because is freaking delicious!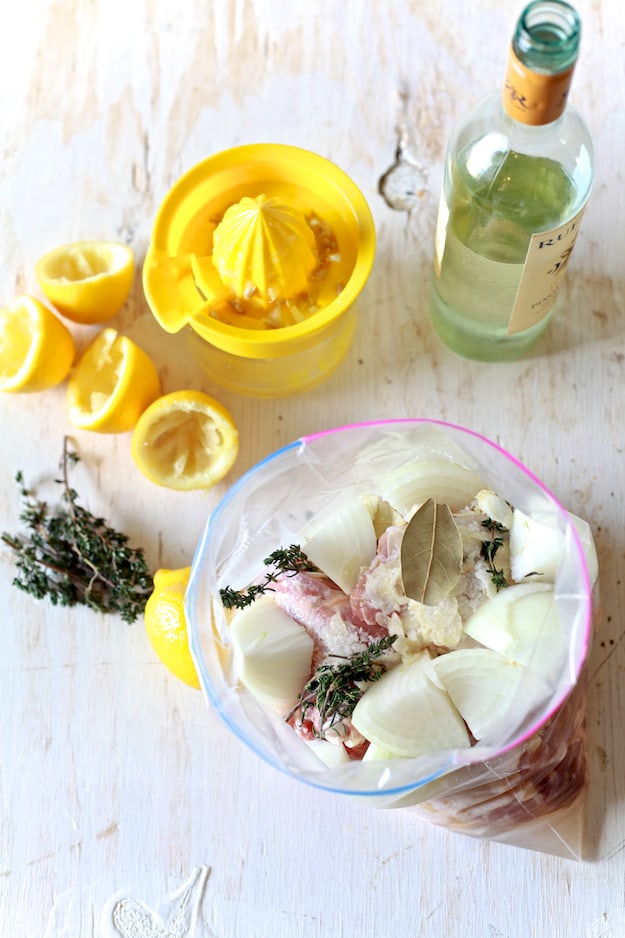 With the most of the US dredging through what seems to be an endless winter I thought it would be nice to make some bright cheery chicken. And, nothing says bright and cheery to me more than lemon and white wine.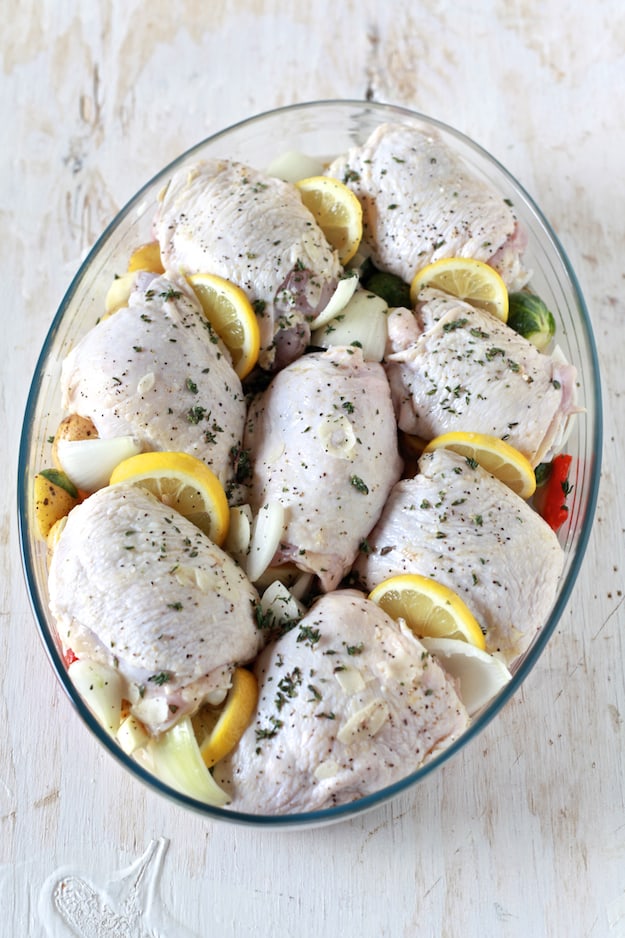 I promise this dish is crazy easy. Combine chicken with marinade ingredients in a resealable plastic bag, let marinade for at lease 30 minutes, add veggies tosses in olive oil into baking dish, arrange chicken over veggies, pour on marinade and cover with foil and bake at 350 degrees. EASY!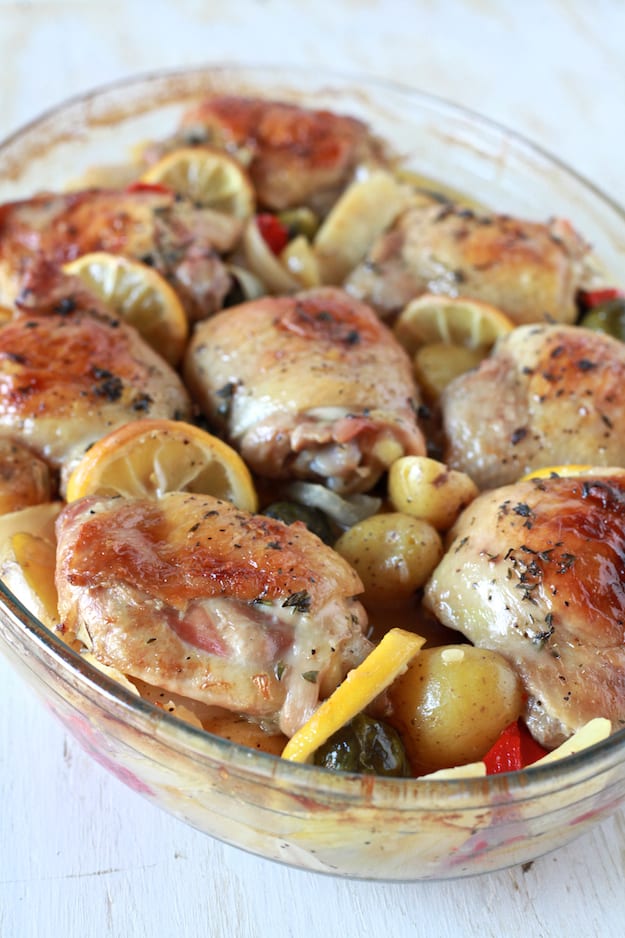 After 30 minutes remove the foil, raise the temperature to 400 degrees and bake another 20 minutes or until the skin is golden brown and crispy.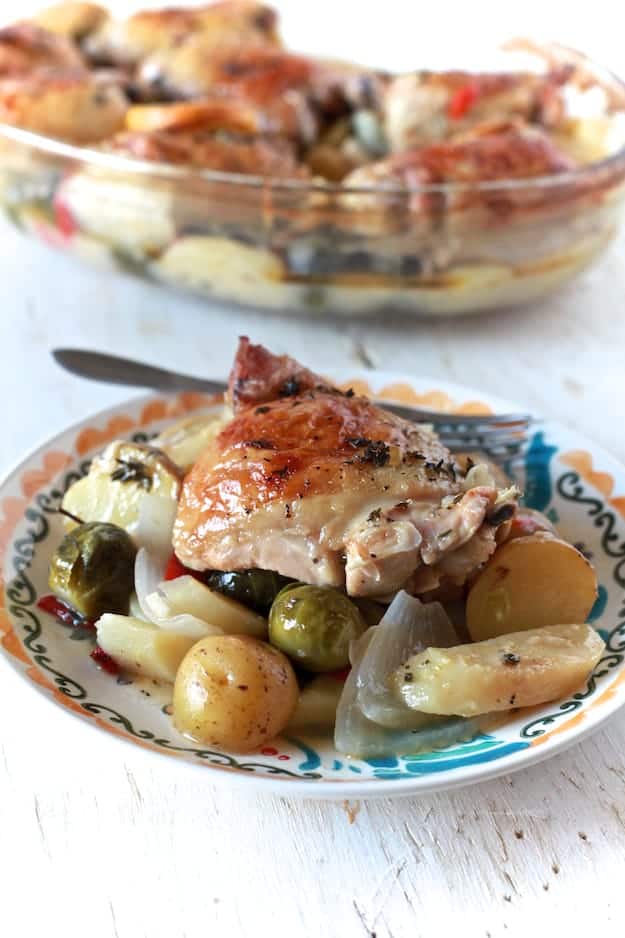 When it's done you will have a dish of tender vegetables, tangy bright sauce and juicy tender fall off the bone chicken with crispy delicious skin. It is honestly swoon worthy.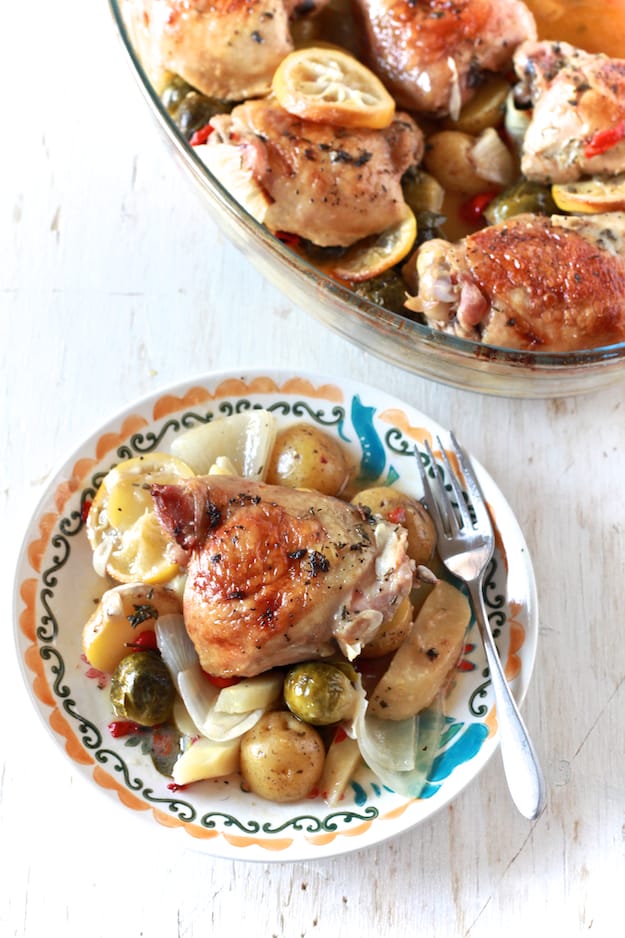 A complete meal in one pan! Feel free to change out the veggies if you like. You can use red petite potatoes, carrots, turnips, cauliflower, whatever you like. Do you like dishes that are extra bright and a little briny? Add, capers or olives to this dish! Fell free to make it your own.
Oh, did I mention that this dish makes awesome leftovers!? What is better than that!?
Are you following me on Instagram, Twitter, Facebook and Pinterest? Want to get some peeks behind the scenes? Follow me on SnapChat @TheNoshery!
Thanks for reading and subscribe to The Noshery email list to have each post delivered straight to your inbox.
White Wine and Lemon Roasted Chicken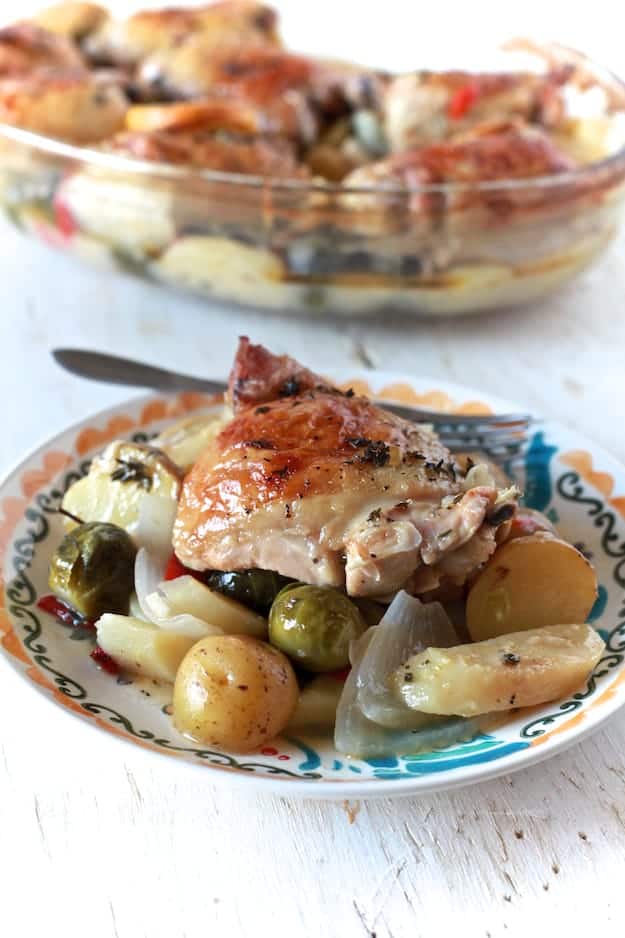 Ingredients
Chicken
[br]
8 chicken thighs, excess skin trimmed
3/4 cup white wine
juice of 2 large lemons
1 onion quartered
3 cloves garlic, crushed
3 sprigs thyme
2 bay leaves
3 teaspoons kosher salt
2 teaspoons black pepper
1 lemon, sliced
[br]
Vegetables
[br]
1 lb petite gold potatoes, halved
1/2 lb brussels sprouts, ends trimmed
2 large parsnips, sliced
1/2 cup diced roasted red peppers
2 tablespoons olive oil
Instructions
Pre-heat oven to 350 degrees.
Combine all chicken ingredients, except sliced lemons, in a large resealable bag. Rub chicken in bag to make sure it's evenly coated with marinade. Refrigerate for 30 - 45 minutes, giving it time to marinade.
In a large bowl toss vegetables with olive oil, salt and pepper, until evenly coated. Pour vegetables into a large baking dish. Pour chicken into a large bowl, remove onion quarters and add to vegetables. Arrange chicken with lemon slices on top of vegetables and pour marinade over chicken.
Cover with aluminum foil, bake in the oven for 30 minutes. Remove foil, raise the oven temperature to 400 degrees, bake another 20 minutes or until the skin is golden and crispy.
Serve hot!