It's officially 2014 and we are all full of resolutions and pledges to finally "get it together".  I have been using Evernote for sometime now as a content calendar and this year I want to also use it to help keep track of content curation to share on social media.  I am going to share with you how I use Evernote to create content for my blog.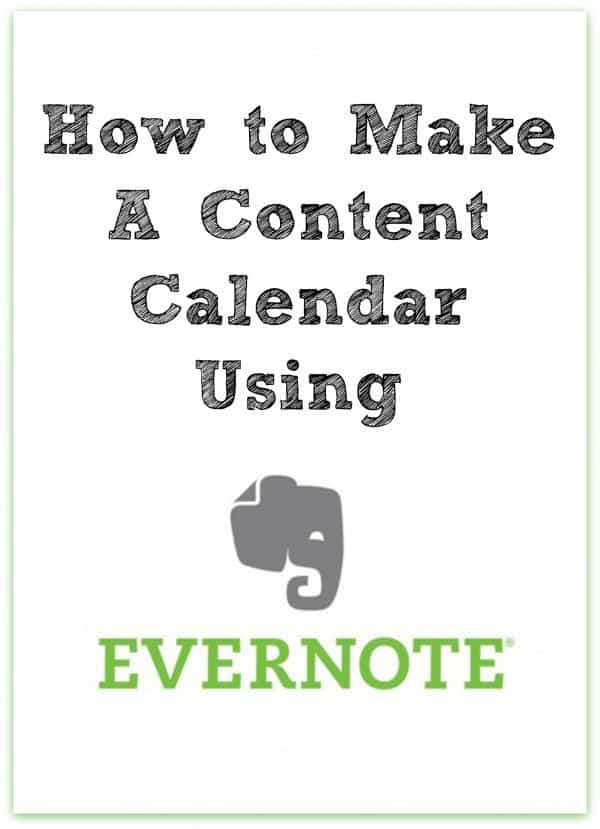 Full disclaimer, I am in no way an Evernote expert.  I am just sharing what I do and hope that it can help you "get it together" this year.
First select "Notebooks" then select "+New Notebook" and create notebooks by topic.  I have notebooks named recipes, campaigns (for brand posts), home, dining, life, round-up, giveaway, dining/travel and content TBD (I will explain why in a bit).  You can name the notebooks according to whatever topic applies to the content you wish to create.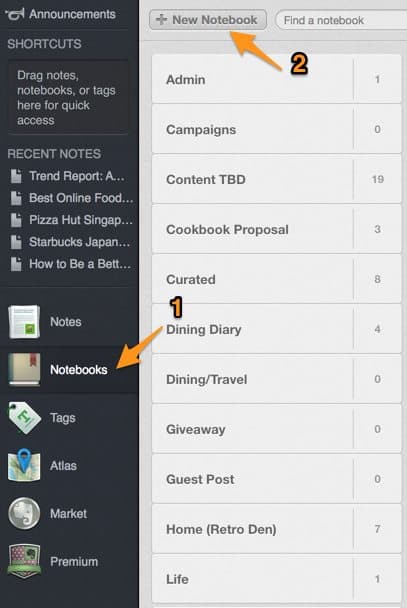 Next create "Stacks" by dragging the topic notebooks into each other.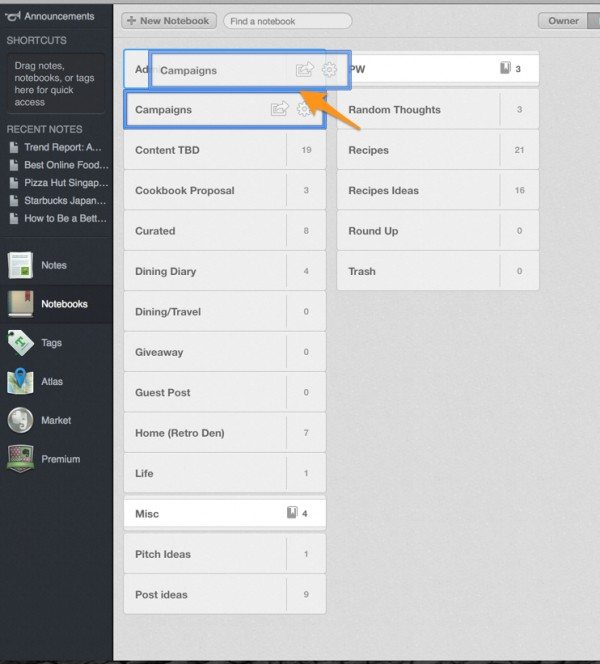 Right click the stack and select "Rename Stack".  Because this is the stack that I will be using the most I named it "1 Content Calendar".  Evernote allows you to sort notebooks by owner, name, count & update.  By naming stacks starting with a number and sorting by name the stacks will sort in numerical order.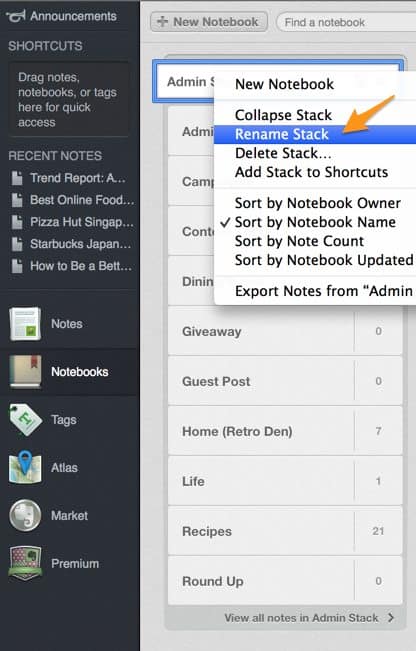 Now drag the stack over to shortcuts. This will keep your content calendar easily accessible.  When you drop the stack into the short cuts it will automatically expand. You can right-click on the short cut to collapse or expand.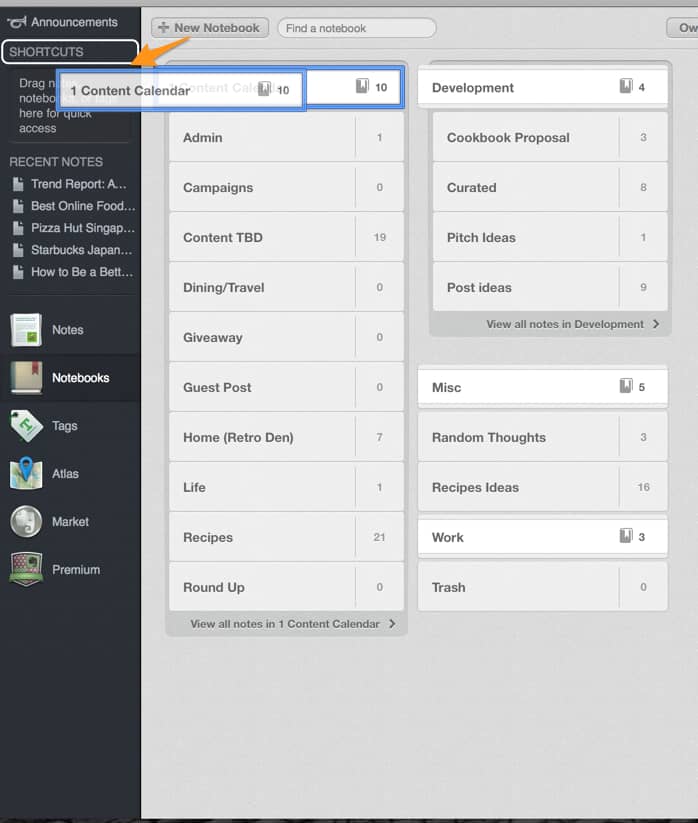 Now is when you start to create your content calendar.
Select content calendar from shortcut menu.
Select "+New Note" at the top of the page.
This is the most important step to keep your content calendar in order.  Title each of your post beginning with the date in 00/00/00 format.  I then put the day of the week and a title or general idea of what I plan to post on that day.
Assign the note to a notebook using the drop down menu.  You can also search for the notebook from here. When I do not have a topic chosen yet I assign it to "Content TBD".
Optional: Use tags to assign seasonal trends and peaks, it helps with developing ideas.  I usually do it after I have created all of my "notes" for the quarter.
Repeat steps 2 -4 creating notes as far out as you want to go.  I usually do this before every quarter.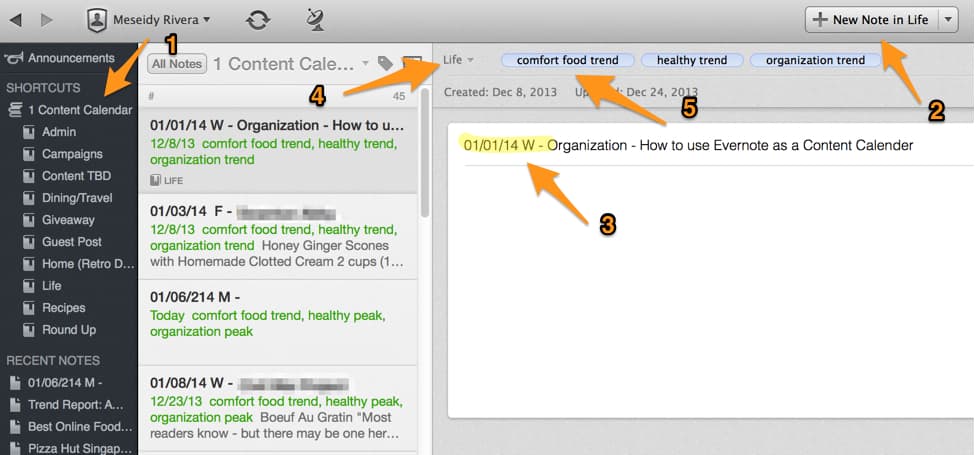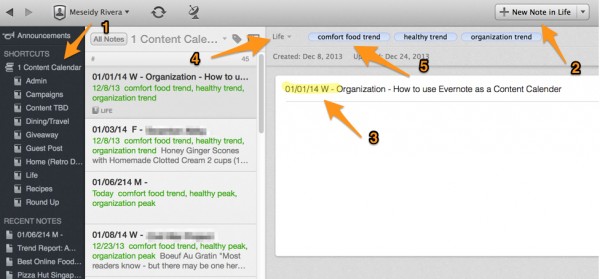 As you are creating your notes make sure that they are sorted by title. When you complete a post put a "C" for complete at the beginning of the post title and it will automatically move it to the bottom of the list.  Later you can either delete the post or move it to an "Archive" notebook.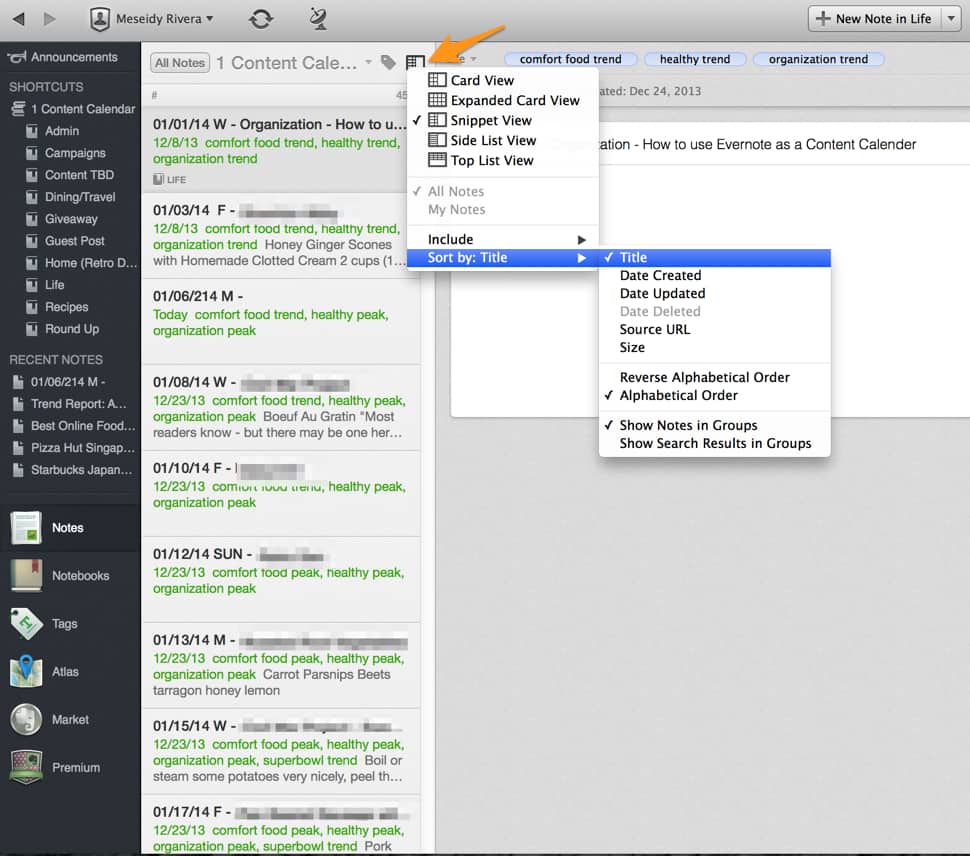 I have used several different forms of content calendars and for me this has worked the best.  I love it! It helps me say organized and with the Evernote App I can jot down ideas whenever they pop into my head.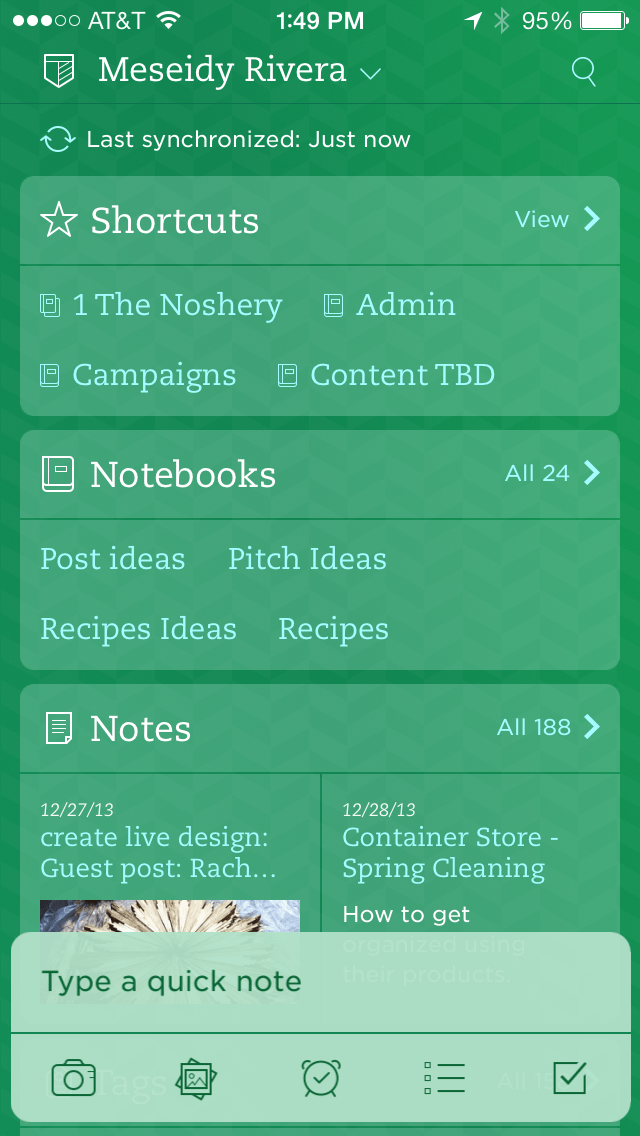 I also keep a "Development" stack.  Here I keep ideas for content I may use in the future.  This is best used when paired with the "Evernote Web Clipper" extension.  For example if you're cruising the net (hello 1998) and see something that inspires you,  an article you want to share or a project you want to do, you can clip it and assign it to a notebook for later.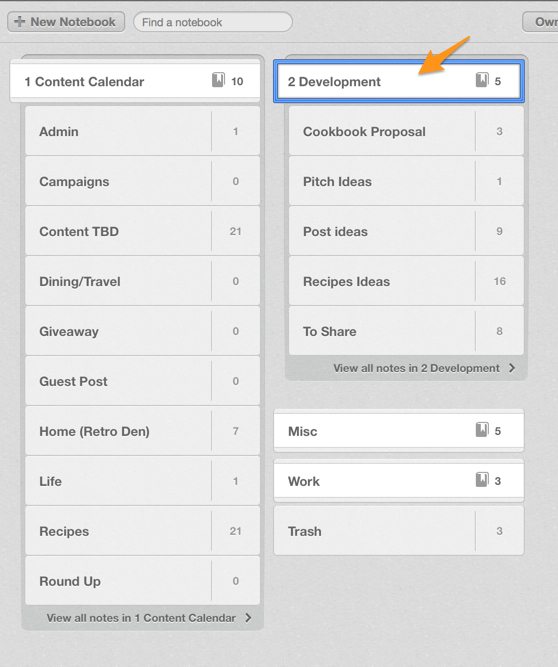 Let me show you really quick how cool this little web clipper is.
Let's say you come across a really great article and want to share it on social media or want to use it to help you develop a future post.  When you click on the web clipper extension you will hear a click and a little slider will pop out.  From the slider you can (1) select how you want to clip the article, (2) mark it up or crop it, (3) assign a notebook, (4) select/search for notebook, (5) add tags, (6) add comments and article link and (7) save.   How cool is that!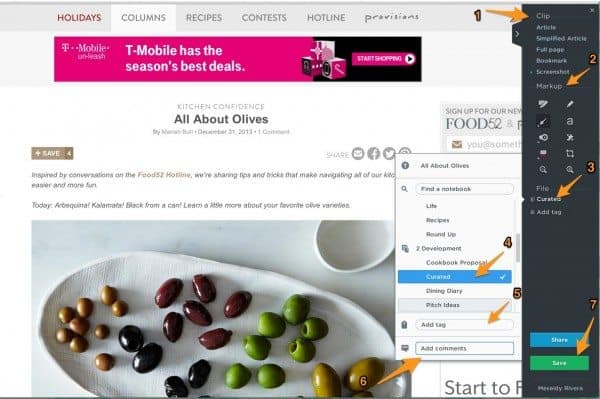 When clipping the article I added the link and what I may say about the article in comments, and I cropped an image I may share. Evernote also has these cool little check-off blocks to help you keep track of where you have shared the article.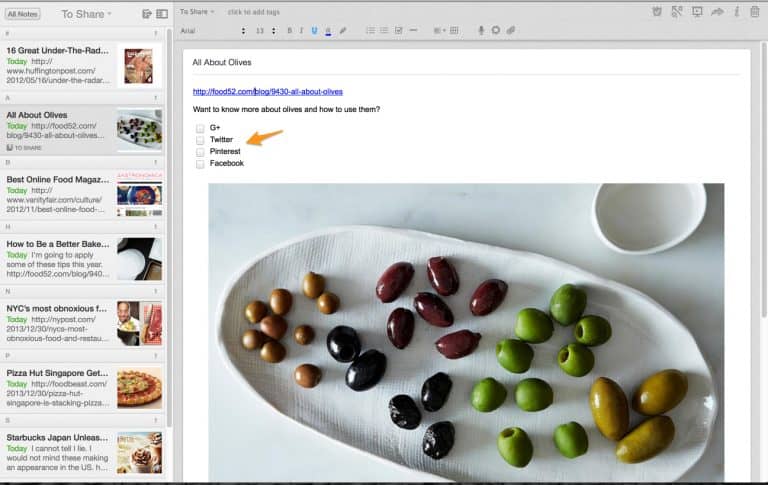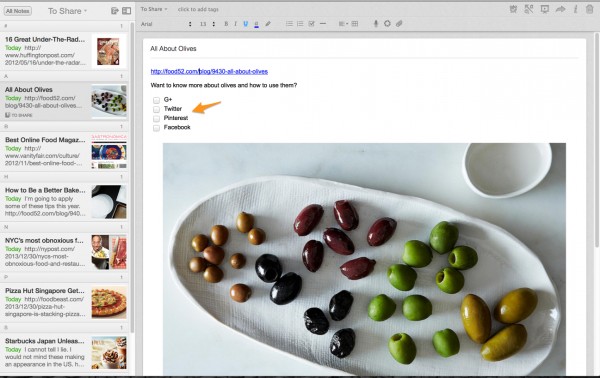 I have used several different forms of content calendars, but Evernote so far has worked the best for me.  I can keep track of what is coming next, when I need to post, topics I should focus on and it's all in one place and in the palm of my hand.  Within each post note I  can draft a post, collect links that I may use, make notes on how I want to style the photo, props I may need and even to-do lists specific to that post. 
Well there you have it!  I hope it helps and doesn't confuse you. 😀  So, what are you doing this year to "get it together"?  How do you use Evernote?
***Full Disclosure – Free Evernote limits that amount of data that you can upload.  If you find yourself uploading a lot you may have to upgrade to premium.  Premium accounts cost $5 a month or $45 a year.  If you have several contributors and need to share notes you will have to upgrade to a premium account.