Summer Shandy Sangria | It's been so busy around here! Between all the projects we have to do on the house, getting ready for visitors, a secret project (stay tuned for that one), and life, in general, it's been freaking nuts! Sometimes you just want to kick back with a cocktail by the pool. So, happens that I got a refreshing summer cocktail recipe and a pool to sit by.
The other day when I was looking for something to drink by the pool. I was about to grab a beer and call it a day but, I was craving something more with more citrus. So, I got a little experimental and married a shandy and sangria.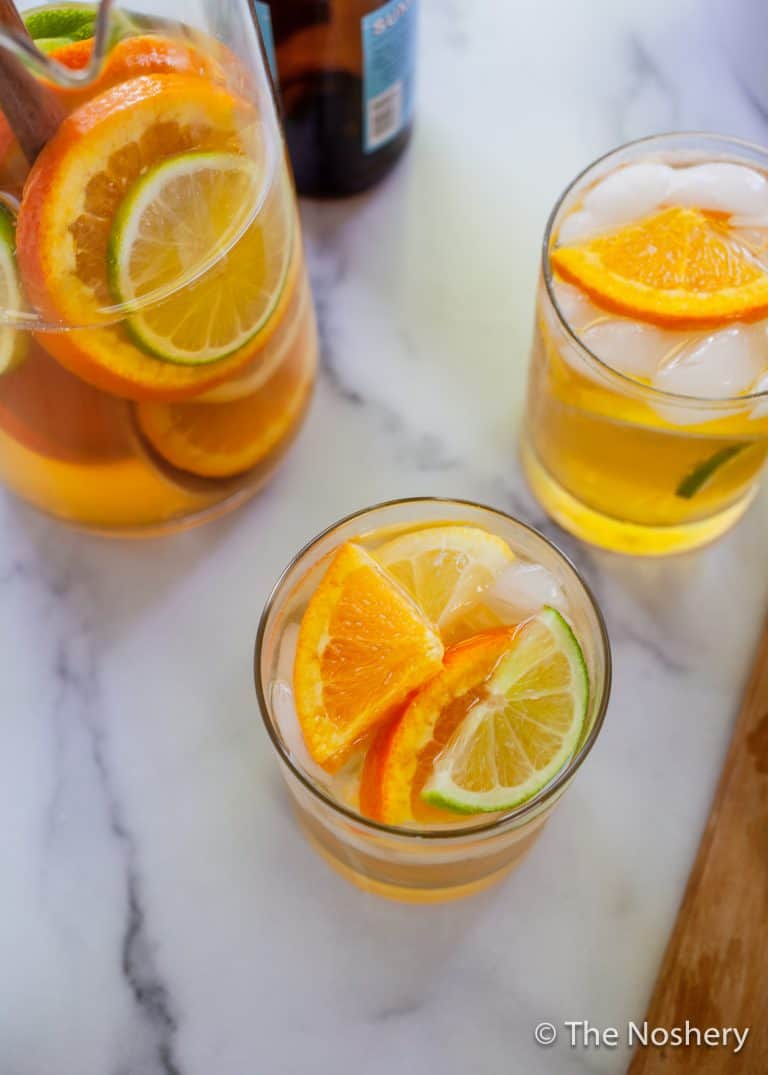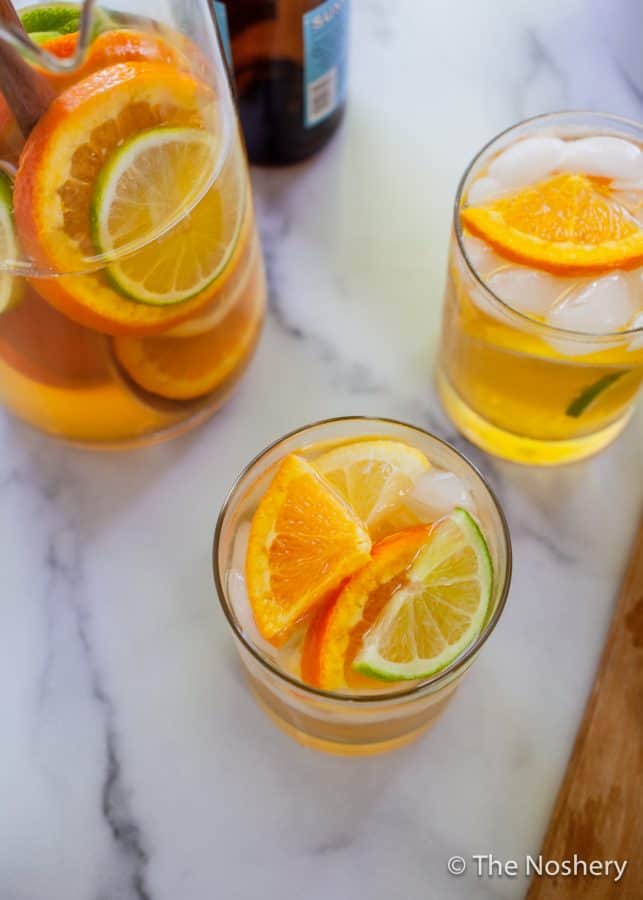 Have you ever had a shandy? They are delicious! Even if you're not a beer drinker you will be a shandy drinker.
What is a Shandy
A shandy is a beer based cocktail that is mixed with a carbonated lemon-lime drink or a lemon-flavored beverage like lemonade. You may have also heard of a similar cocktail called radler. Shandy and radler are essentially the same. The difference is their origin, a shandy is the British name and radlers are the German name for them. However, sometimes a radler will also be mixed with grapefruit juice.
What Beer Makes the Best Shandy
Traditionally shandy is made with wheat beer or light lagers which may be why I love them because those are my favorite beers. Pilsner also makes great a great shandy base. For those of you who like a hoppy IPA, shoot for a light IPA. My personal favorite is wheat beer.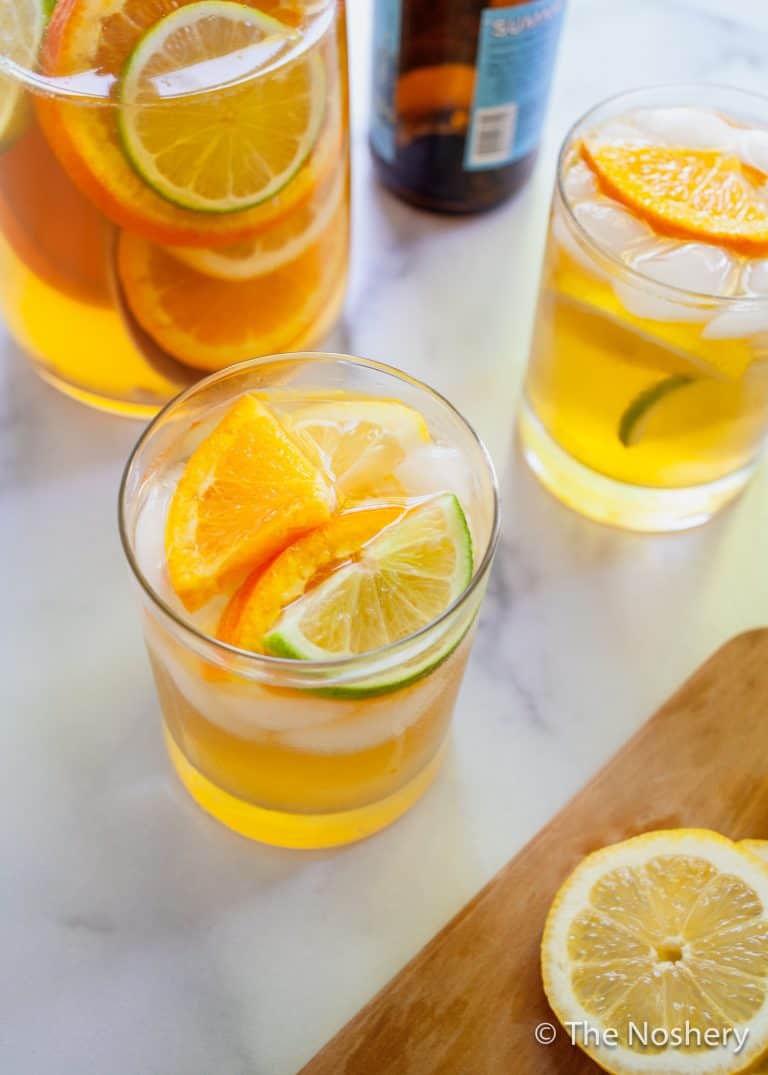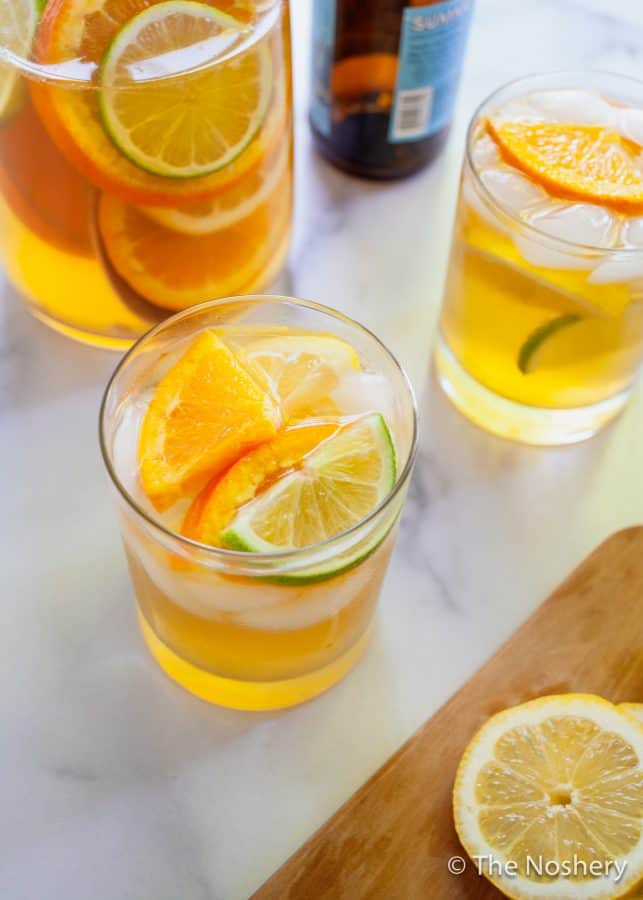 A shandy is sounding pretty awesome so far right? It's about to get awesomer (yes I say awesomer because I like to) with a little sangria twist. Give me all the fruity drink.
Summer Shandy Sangria Recipe Ingredients
2 12 oz bottles of lager or a Belgian Wheat
1/2 cup triple sec
1 cup lemonade
1 navel orange, sliced and quartered
2 lemons, sliced
2 limes, sliced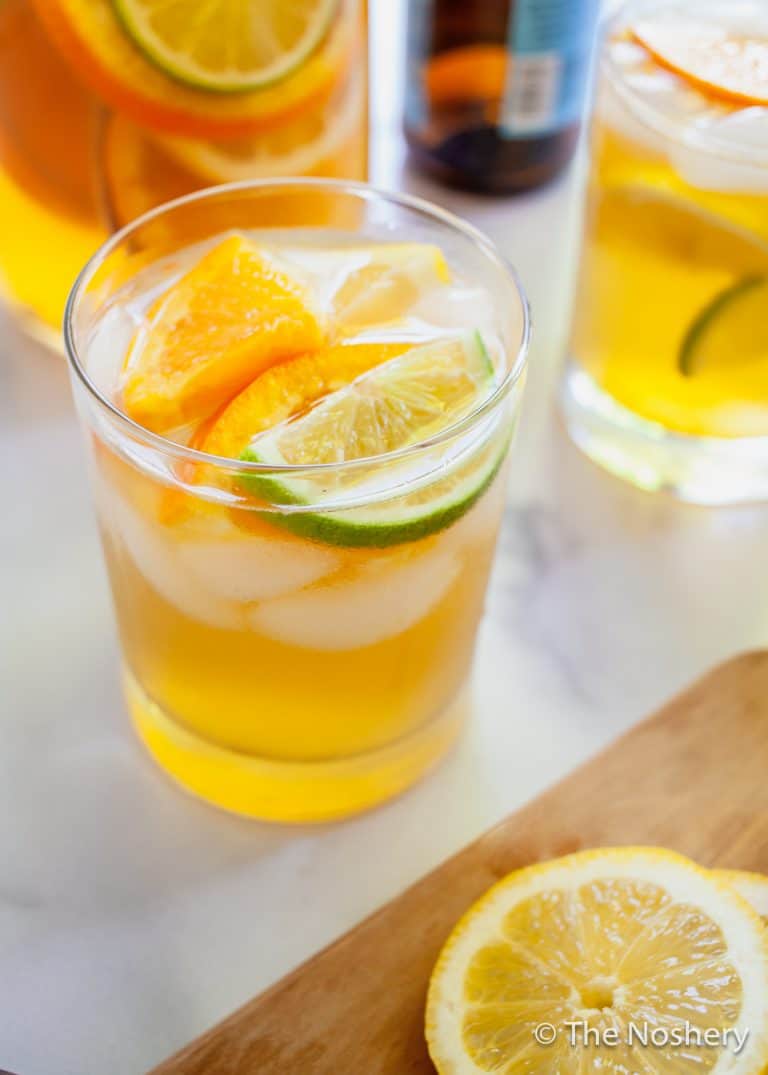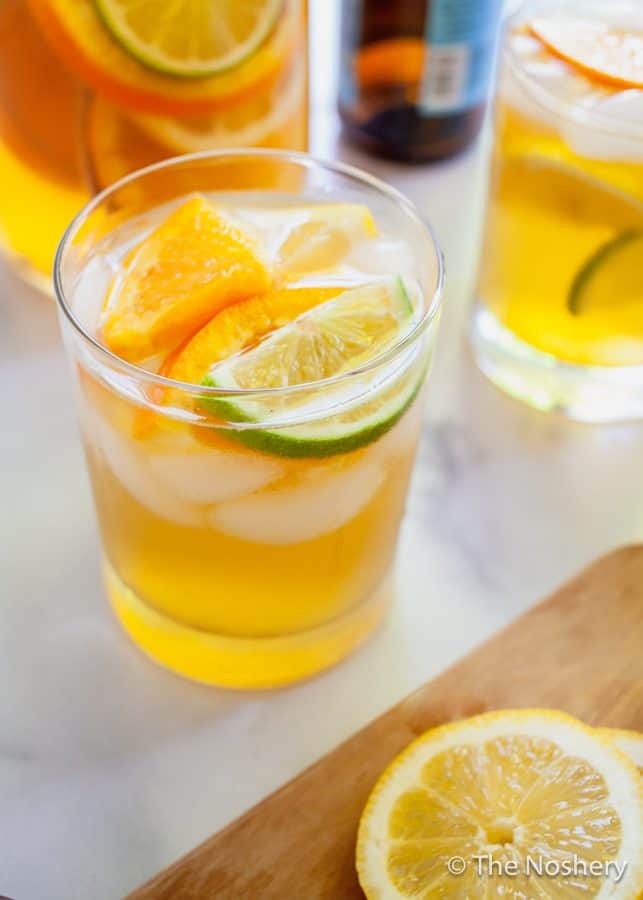 What is Sangria?
There are a few theories of the exact origins of sangria but the consensus is that it's a Spanish drink. Regardless if it originated in Spain or in the Spanish Caribbean it delicious. Traditional recipes use red wine that is mixed with chopped fruits, like apples, orange, pears, pineapple, and others. It is then sweetened with sugar, orange juice, and brandy. It's served cold over ice and sipped on a patio or by the pool. That last part about the patio and pool are more of a suggestion.
The great thing about sangria is that is can be made ahead of time and it gets better with time. It makes a great party drink.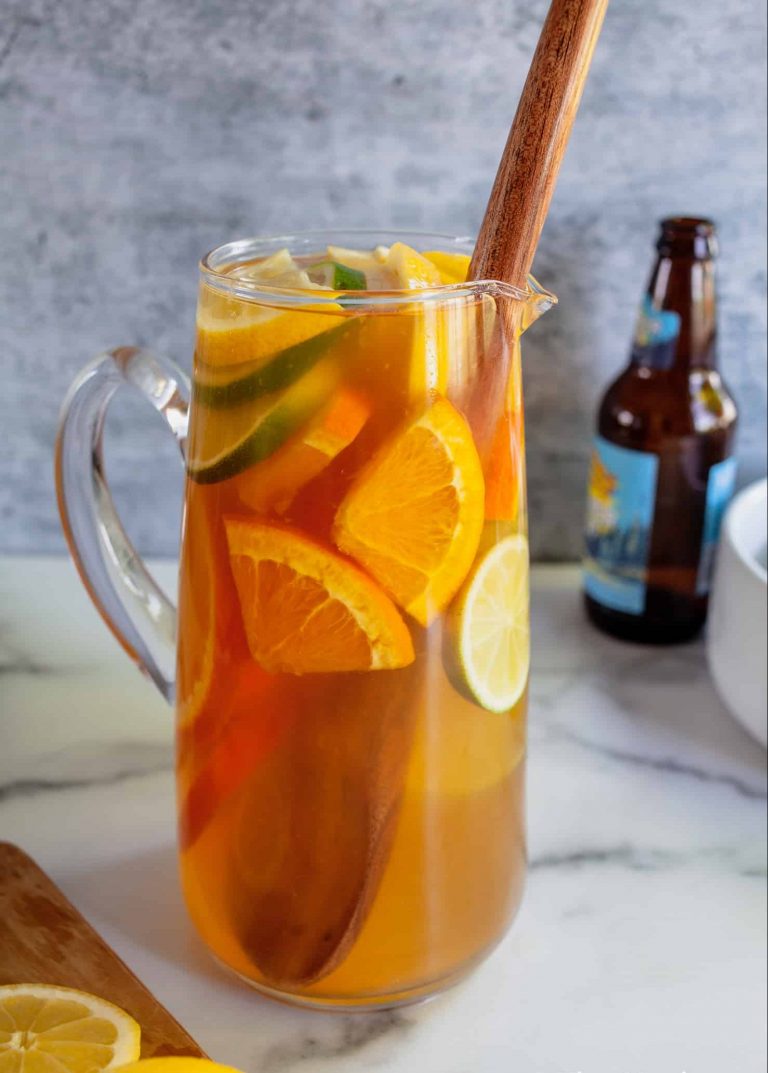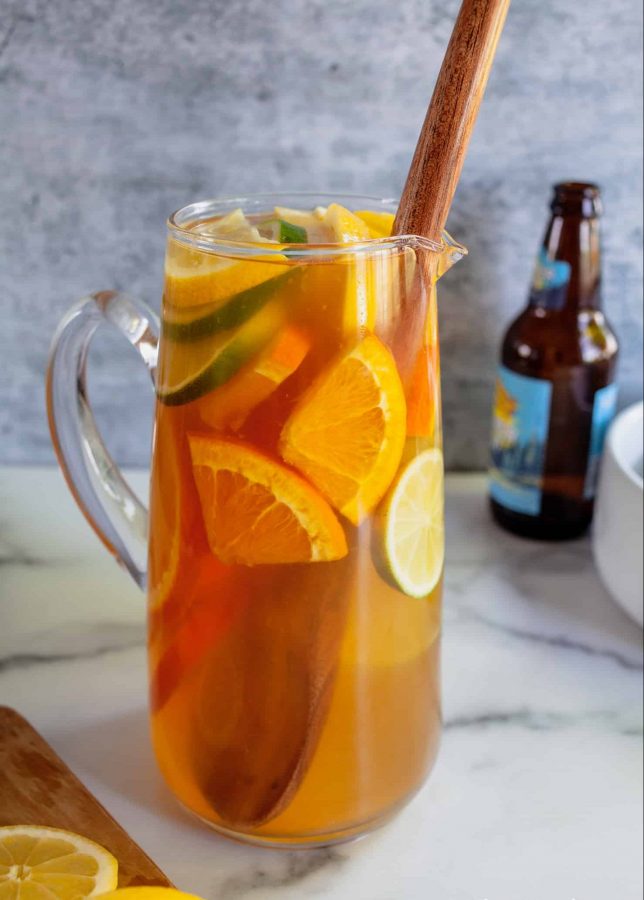 I don't have a ton of cocktail recipes but I do have some delicious cocktail recipes. If you are looking for some yummy drinks to sip by the pool check out my cocktail recipes.
One of my personal favorites is the whiskey smash. It's basically like an adult lemonade. Who doesn't want adult lemonade?
more cocktail love
Yield: 6
Summer Shandy Sangria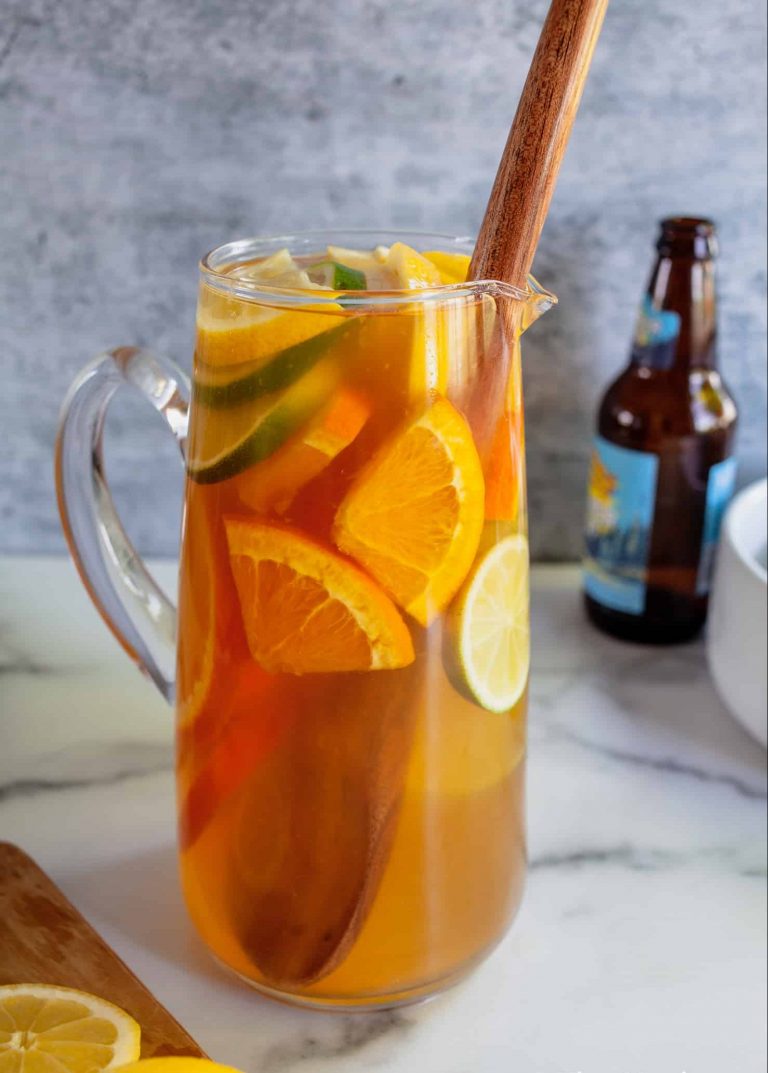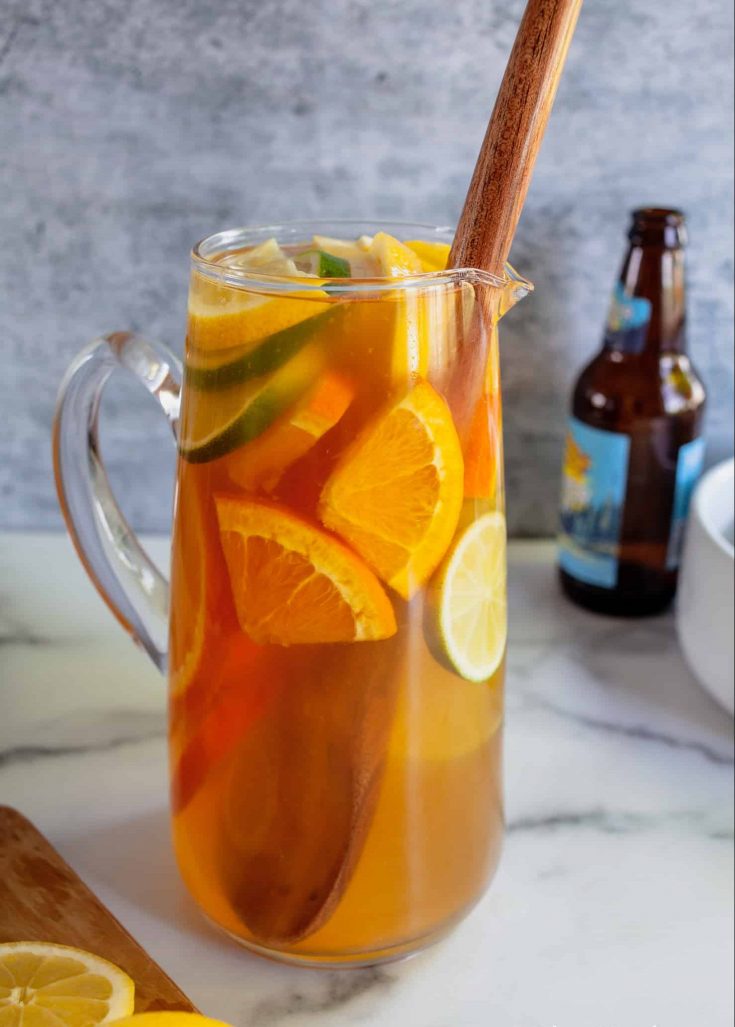 A combination of beer, lemonade, and fresh fruit is the marriage of two favorite summer drinks, shandy and sangria.
Ingredients
2 12 oz bottles of lager or a Belgian Wheat
1/2 cup triple sec
1 cup lemonade
1 navel orange, sliced and quartered
2 lemons, sliced
2 limes, sliced
Instructions
In a large pitcher combine beer, triple sec, and lemonade.
Add citrus slices and stir.
Serve sangria over ice with fruit slices.
Recommended Products
As an Amazon Associate and member of other affiliate programs, I earn from qualifying purchases.