Potatoes are pretty awesome.
Potatoes with butter are awesomer.
Potatoes with butter and cream are awesomest.
Sweet potatoes with butter, cream, rosemary and havarti cheese are awesomerest.  I know awesomerest isn't a word but this is my blog and I can make up words if I want to.  But don't tell Merriam-Webster's dictionary, they'll probably send me a fine or something.
I had a few sweet potatoes hiding in the back of my pantry for a while and it was time I give them some attention. I noodled on what to do with the sweet potatoes for a while.  I didn't want to do the typical butter, brown sugar and cinnamon sweet potato thing.  Not that they is anything wrong with that I love sweet potatoes with butter, brown sugar and cinnamon, but I associate that with fall.  I wanted to do something more herby and cheesy.
A lot of people don't know this, but rosemary and sweet potatoes are really good friends.  They leave comments on each others Facebook walls, text all the time and even borrow cups of sugar from each other.   Trust me you should hang out with sweet potatoes and rosemary, they are a delicious pairing.  So I decided to do a sweet potato torte with leeks, havarti cheese and rosemary.
Peel and thinly slice 3 sweet potatoes.  If you have a mandoline use it, if not use a really sharp knife and slice about 1/8 inch thick, set aside.
Thinly slice 1 leek, transfer to a colander and rinse clean, dry off as much as possible with paper towel.
Heat a skillet over medium high heat, melt 2 tablespoons of butter, add leeks and rosemary.  Sautee until fragrant and translucent.
In a large bowl combine hot leeks, shredded Havarti cheese and 1/4 cup of heavy cream.  Mix together until smooth.
Add leek mixture to sweet potato slices, mix until well combined and slices are evenly coated.
Arrange the sweet potato slices in a buttered spring form pan slightly overlapping, creating layers.   Sprinkle with extra shredded cheese, minces rosemary and a drizzle of heavy cream.
Cover with foil, bake at 400 degrees for 30 minutes, remove foil and bake and additional 5-10 minutes or until browned.
Run a knife along the edge of the pan.  It can be a little tricky because the edges caramelize and like to stick so be thorough.  Release the spring form and serve.  If you daring you can run a long off set spatula under the torte and slide it on to a cake stand or plate.
I was feeling a little decadent and though that a garnish of crispy bacon bits would be swell.
Serve it as a side dish for dinner or with a salad for lunch.  You can go either way.
When Thanksgiving comes around you can make a fall version using some sage, cinnamon & orange zest.  You could even do a little crumble topping on it if you want.  YUM!
It's a slice of full on sweet potato with the wonderful aromatic oils of rosemary.  It like sweet potatoes got all dress up for a night on the town. Sweet potatoes and rosemary are truly best friends. I think they should have little herby potato babies together.
Yield: 8
Rosemary & Havarti Sweet Potato Torte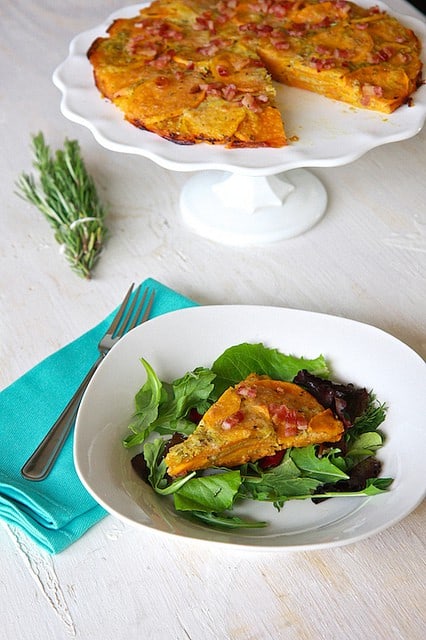 Ingredients
2 tbs butter
1 leek, thinly sliced and rinsed
2 tsp minced fresh rosemary (a little extra for garnish)
1 cup shredded havarti cheese (a little extra for garnish)
1/4 cup heavy cream
3 sweet potatoes, peeled & thinly sliced
Instructions
Heat oven at 400 degrees. Butter a 9 in. spring form pan.
Melt 2 tbs of butter in a skillet, sauté leeks and rosemary until leeks are translucent and fragrant, about 8 minutes, season with salt. If pan is too dry add a splash of broth or water.
Transfer leeks to a large bowl, combine havarti cheese and heavy cream, stir until well combined and smooth. Add sweet potato slices to leek mixture, toss making sure that potato slices are evenly coated.
Arrange potatoes in buttered pan, slightly overlapping in layers. Top with a sprinkle of cheese and minced rosemary. Cover with foil, bake for 30 minutes, remove foil bake and additional 5-10 until brown.
Run knife along edge of pan, release spring form, serve.