It's funny what can inspire you to create a new recipe. Sometimes it's revamping an oldie, sometimes it wants to use your favorite ingredient in a new and interesting way, and sometimes necessity can be the inspiration. None of these applied in this case. What inspired me to create this dish was using an ingredient that frankly, I didn't like. Note that I said didn't, not don't.
This is a tale about never discounting an ingredient because you tried it once and spat it out. Seriously, I did this the first time I tried a radish. I was still in culinary school and was helping gather crops out of the school's garden. The garden was over growing with bounty. There were salad greens, rainbow chard, carrots and many more crops. One of them being rainbow radishes. I never in my life had eaten a radish. That is when being the daring eater that I am, I pulled a radish, washed it off and bit into it. I then promptly spit it out. Mind you I didn't bite into this radish blindly. I was merely following the example and encouragement of one of my instructors. However, I quickly concluded that I did not like radishes. The crisp and crunch of the radish were very pleasing at first, but it was quickly followed by a fiery pepperiness that prickled my tongue. It was not cool! I spit the radish out onto the ground, and desperately looked for a way to scrap my tongue of any sign of radish. For a moment, I considered going into the dental assistant department to look for a tongue scraper and mouthwash. I then realized that would be a little over dramatic.
I was so sad after biting into that radish because I did want to enjoy it. They are so beautiful with their bright red exterior and milky white interior. Why-o-why did that little radish have to prickle my tongue like a million tiny needles?
It has been over two years since I first ate a radish. Recently I've seen several recipes using radishes, and each time I would think how beautiful the radishes looked in these dishes. I told myself it had been long enough and it was time to give the radish another chance, a proper chance. I was inspired and determined to use radishes in a dish and not only enjoy it but love it.
It's true that the first time I bit into a raw radish straight out of the ground I spit it out, but an interesting thing about some ingredients is that some of them reach their fullest potential when paired properly with other ingredients. After two years, it was time to give the radish another try.
Like most of my recipes, I debated and agonized over what exactly I wanted to do with these radishes.  Then while I was walking through the store, I saw a package of lump crab meat.  Eureka!  My perfect paired ingredient.  The sweetness of crab meat would be perfect with the peppery radish.
This is a simple salad, perfect for entertaining this summer.  It can be served as an appetizer or by upping the quantities it can be a main dish.    Skip the greens, and it's the perfect topping to a crostini or cracker.
The most difficult part about this recipe is segmenting the orange, which isn't difficult at all.   Simply slice off the ends of the orange all the way to the flesh.   Following the shape of the orange cut the peel and rind off, just barely removing the membrane along with it.
Using a sharp knife cut between the side membrane of each wedge, gently removing the segment.  After the first segment, it gets easier.
 In no time you will have perfectly membrane free orange segments.
Once all the ingredients are prepped combine crabmeat, radishes, orange segments, lemon juice, honey, salt and tarragon in a bowl.   Mix until well combined, gently fold in diced avocado.
Serve on a bed of watercress or any green of your choice.  Give it another sprinkle of salt for good measure and garnish with chopped tarragon.
I know that radishes are not exactly front and center in this dish.  Considering I don't like a plain radish that shouldn't be a surprise.  However when radishes hang out with some friends like crab, avocado, and orange it makes them pretty cool dudes.  They are much nicer and milder with their buddies.  What is that saying, "You are whom your friends are"?
Everyone may not agree, but I find that radishes by themselves are mean and prickly but pair them with something sweet and mild, and that prickliness simmers right down.  I was weary taking my first bite, apparently still traumatized by the first time radishes and I were introduced, but after that first bite, all my fear just went away.  First I tasted the sweetness of the crab, followed by the brightness of lemon, orange, and tarragon, then falling right in line came a pleasant peppery prickle of the radish.  Everyone was playing along so well I got up and made myself another plate.

Crab, Radish & Avocado Salad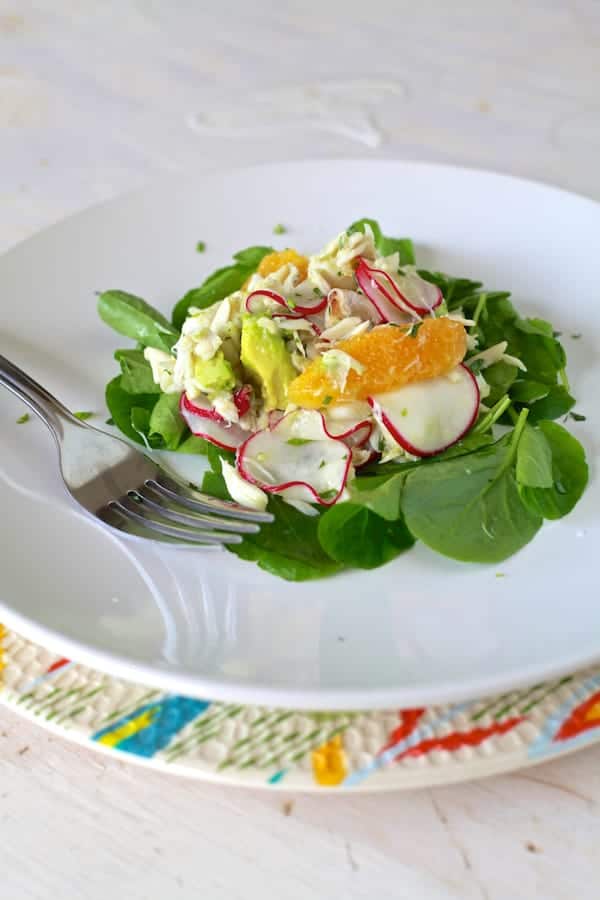 Ingredients
6 oz lump crab meat
1 navel orange, segmented
5 radishes, thinly sliced
juice of 1/2 lemon
2 teaspoons honey
1 teaspoon minced tarragon
1 avocado, diced
watercress or salad greens
Instructions
In a large bowl combine crabmeat, orange segments, radishes, lemon juice, honey and tarragon, mix until well combined. Sprinkle with salt to taste. Gently fold in avocado.
Serve on a bed of watercress or salad greens.