I've had cake on the brain.  Seriously my brain has been piecing this cake together for weeks now.  I knew I wanted multiple layers, then I wanted coconut…what goes with coconut? Chocolate!   That's right I didn't want a  simple vanilla cake or a darling little cupcake.  I wanted a swirly chocolate coconut cake, with coconut cream filling and light whipped topping.  I'm a low maintenance gal after all.
Mind you I am not a baker, so I can't just whip something like this out of thin air.   There have been many times my baking experiments have gone horribly wrong.  One time I was asked to make cupcakes for a birthday party.  I ended up baking hockey pucks.  No joke folks, these things were paperweights.  Don't tell anyone, but I had to stop by the bakery on my way to the party.  Baking is nothing like cooking.  When you cook you can figure out some point along the way if things are going good or bad and make adjustments as needed.  When baking you kind of have to cross your fingers, your eyes, your toes, hop back four times and say a little prayer that you get the right end result.  Apparently my little ritual worked because I got a winner this time.   No giant hockey pucks for me!
To accomplish this an ambitious idea like this I have to play a little like Frankenstein, by piecing recipes together to get what I want.  I decided to use my friend Add a Pinch's Best Chocolate Cake Ever and Paula Dean's Basic 1-2-3-4 Cake.
While trying to assemble this cake I did freak out for a minute when I saw how different the batters where.  The chocolate cake batter was much thinner than the coconut cake.  So, I did the whole crossy-jumpy thing and stuck with it.
I alternated between the batters and then used a butter knife to swirl it and spread it out a bit.
I popped it in the oven and crossed my fingers.  To my amazement it worked!  It baked a perfect cake.
Don't fret about the top.  I inverted it onto parchment paper and some of the moist top peeled back. Ooops.
Using a serrated knife I cut each cake layer horizontally making 4 layers, spreading coconut cream between each layer.  Oooooh yeah!
Frost the cake with whipped cream and coat with toasted coconut.
Hey lover!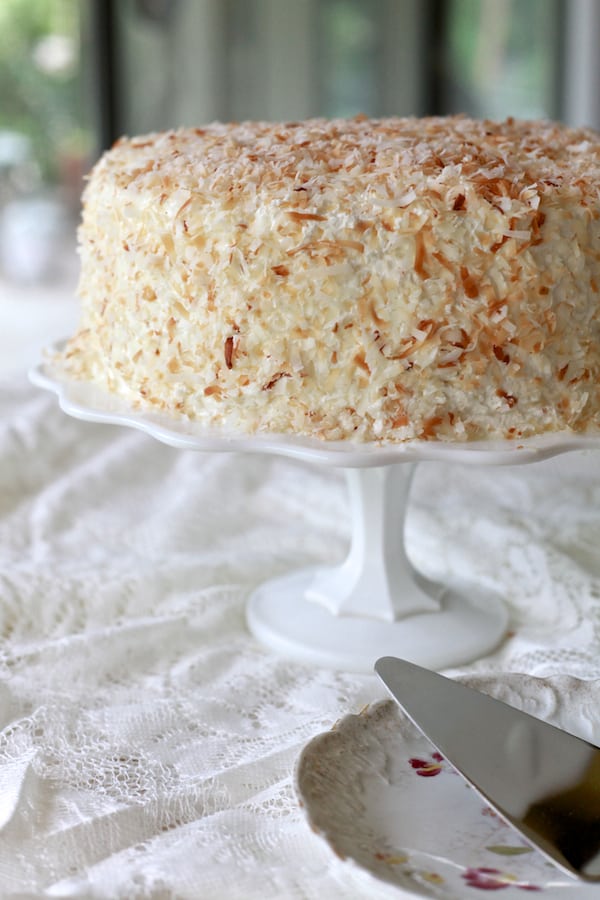 Time to cut myself a slice and sit down with a huge cup of cold milk.
My Frankenstein creation was a success.  I took one bite and cried out, "IT'S ALIVE!"  Actually, I cried out, "IT'S DELICOUS!"
I did it!  The cake that I had been contemplating for weeks was now on my plate and it was everything I had dreamed.   So fluffy, so tender, so coconutty with just a hint of chocolate.  It was a cakey heavenly pillow.  Mind you not to be confused with an actually pillow, because that would be messy.
This cake is time consuming and a bit high maintenance, but it is oh so fabulous.  Split it up over two days and it will be a piece of cake.
Get it! HA!
More Coconut: 
Chocolate Coconut Cream Layered Cake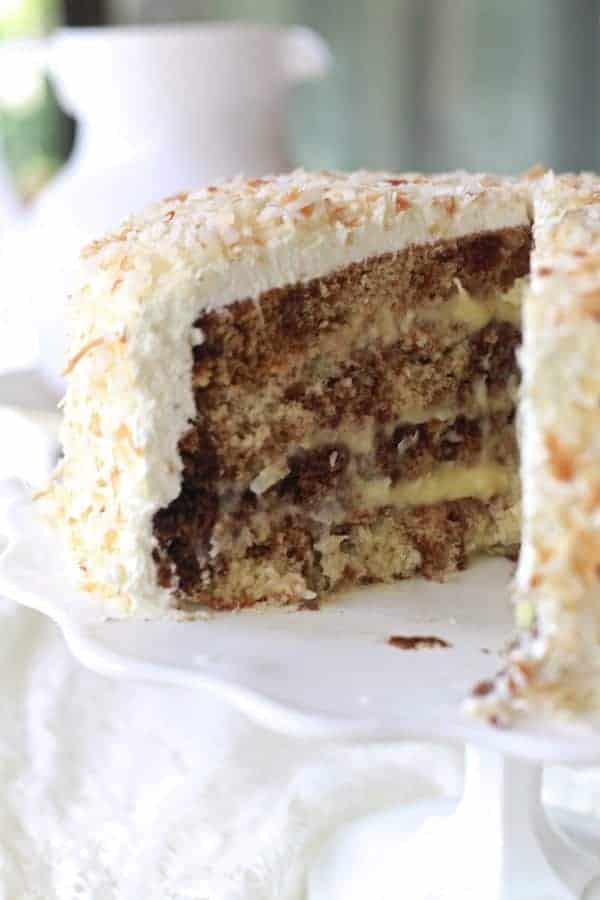 Ingredients
Chocolate Cake Batter
1 cups all-purpose flour
1 cups sugar
6 tablespoons cocoa
1 teaspoons baking powder
1/2 teaspoons baking soda
1/2 teaspoon salt
1/2 teaspoon espresso powder
1/2 cup milk
1/2 cup vegetable oil
1 eggs
1 teaspoons vanilla extract
1/2 cup boiling water
Coconut Cake Batter
1 stick butter, at room temperature
1 cups sugar
2 eggs
1 1/2 cups AP flour
1 teaspoons baking powder
1/2 teaspoons baking soda
1/2 teaspoon salt
1/2 cup coconut milk
1/2 teaspoon pure vanilla extract
Coconut Cream Filling
6 large egg yolks
3/4 cup sugar
6 tablespoons cornstarch
1/8 teaspoon salt
3 cups milk
1 1/2 cups sweetened angel-flake coconut
1 1/2 teaspoons pure vanilla extract
Topping
2 cups coconut flakes, toasted
2 cups heavy cream
2 1/2 tablespoons sugar
Instructions
Pre-heat oven to 350 degrees. Grease and flour 2 (9-inch) cake pans.
Chocolate Cake
Add flour, sugar, cocoa, baking powder, baking soda, salt and espresso powder to a large bowl or the bowl of a stand mixer. Whisk through to combine or, using your paddle attachment, stir through flour mixture until combined well.
Add milk, vegetable oil, eggs, and vanilla to flour mixture and mix together on medium speed until well combined. Reduce speed and carefully add boiling water to the cake batter. Beat on high speed for about 1 minute to add air to the batter. Set batter aside.
Coconut Cake
Using an electric mixer, cream butter until fluffy. Add sugar and continue to cream well for 6 to 8 minutes. Add eggs, 1 at a time, beating well after each addition. Add flour and milk alternately to creamed mixture, beginning and ending with flour. Add vanilla and continue to beat until just mixed.
Distribute cake batter evenly between the two prepared cake pans, alternating between chocolate and coconut batter. Using a butter knife swirl the batters together.
Tap cake pans on the counter. Do this several times to release air bubbles and assure you of a more level cake.
Bake for 25-30 minutes, until a toothpick or cake tester inserted in the center comes out clean.
Cool in pans 5 to 10 minutes. Invert cakes onto cooling racks.
Coconut Creme Filling
Place egg yolks in a large bowl; whisk to combine; set bowl aside.
Combine sugar, cornstarch, and salt in a saucepan. Gradually whisk in milk. Cook, stirring, over medium heat until mixture thickens and comes to a boil, 10 to 12 minutes. Remove from heat.
Whisk 1/2 cup hot milk mixture into the reserved egg yolks to temper. Slowly pour warm yolks into the saucepan, stirring constantly. Cook slowly, stirring, over medium-low heat, until mixture begins to bubble, 5 to 6 minutes. Remove from heat. Stir in coconut and vanilla.
Transfer filling to a medium mixing bowl. Lightly butter a piece of plastic wrap, and lay it directly on top of filling to prevent a skin from forming. Chill until firm, at least 1 hour.
Assemble
Using a serrated knife, cut each cake in half horizontally to create 4 layers. Set one layer on a cake plate. Spread with 1 cup of the filling. Repeat with the remaining cake layers and filling, ending with a layer of cake. Refrigerate until firm, 1 hour.
Topping
Spread the coconut on a large rimmed baking sheet. Bake for 5 minutes, stirring occasionally, until lightly toasted. Let cool.
In a large bowl, using an electric mixer, beat the cream with the sugar until medium-firm peaks form.
Frost the top and side of the cake with the whipped cream and coat with the coconut.
Refrigerate for 1 hour before serving.