The crispy cookie has always been my kind of cookie. OB likes soft chewy cookies. The only cookie that we can seem to agree upon are Oreo cookies. Who doesn't love Oreo cookies? Except for the new watermelon flavored Oreo cookies. I haven't tried them, but there seems to be something inherently wrong with the idea of a watermelon flavored Oreo cookie, but I am getting off subject.
About a year ago a Fresh Market opened by our house. One day while getting lunch there, I stumbled upon their almond pillow cookies. I had gone in to get a soup and wanted a cookie as a sweet end to my lunch. I love almond flavored desserts, so I decided to give this cookie a try. That first bite changed my life. For having been a crispy cookie lover all of my life, I was officially converted. This tender flaky cookie with the soft almond center was revolutionary. A heavenly cookie as soft as a pillow. That day I went back and bought a whole box. I became an almond cookie pusher. Insisting that everyone I knew must try these cookies. Because they where the most amazing cookies in the world.
Sadly though not everyone has a Fresh Market near by, so not everyone can partake in the joy of the almond pillow cookie. Until now! As an almond pillow cookie pusher, I had to find a way for everyone to try a cookie. Today I spent all day in my kitchen working up a sweat trying to decipher the code to these delectable cookies. I tested a few cookies to see if it was the right texture and to make sure I had the right cookie to filling ratio. I think I cracked the code or at least I got really close.
I started with my mantecadios recipe, which is basically and almond shortbread cookie. Then I played around with the almond paste filling. I wanted the filling to be gooey but still able to roll into a ball. I also wanted the cookies flat and smooth like they are at the store. Let me show you what I did.
To make the cookie dough and filling is really easy. The time consuming part is shaping the cookies. Just be sure to cream the butter and sugar before adding the remaining cookie dough ingredients.
To make the filling you need a can or tube of almond paste, an egg yolk, almond extract and sugar.
The almond paste is hard packed so you will need to use your fingers to break it up.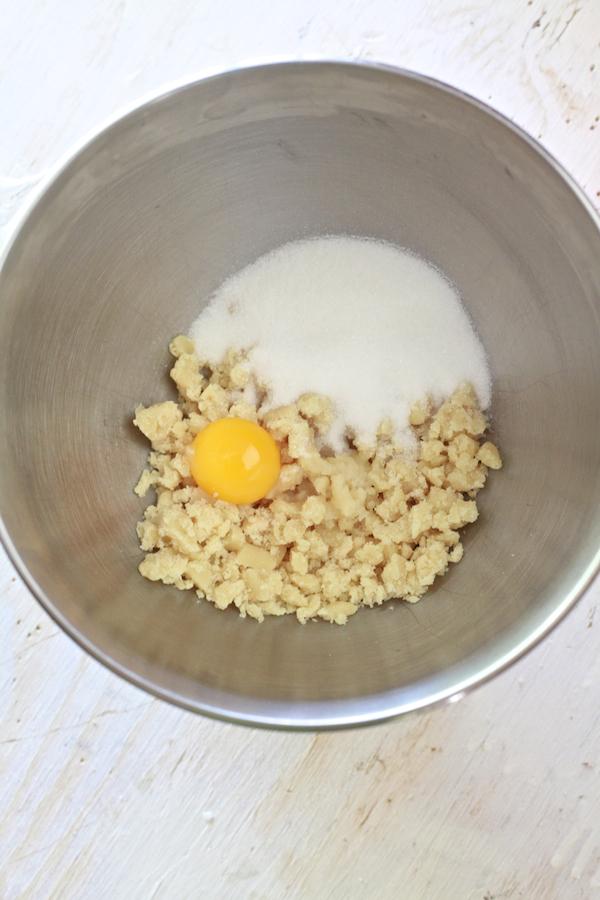 Combine all the ingredients in a bowl and beat until well combined.
Using a medium cookie scoop, scoop out a ball of cookie dough. Also roll a scant tablespoon (5 oz) of almond paste into a ball.
Flatten the cookie dough evenly in the palm of your hand.
Place the almond paste mixture in the center of the cookie dough patty.

Fold the cooking dough about the almond paste mixture, pinching it closed on all sides.
Gently roll the ball evenly.
Place the cookie ball on a parchment lined sheet pan. Using the palm of your hand gently flatten the cookie dough.
If your A little OCD, like I am, you can use a cookie cutter to trim the fringed edges of the cookie.
Lay all your cookies on the sheet pan. They can be placed relatively close together since they don't spread.
Bake the cookies at 350 degrees for 15-20 minutes. Be sure to keep and eye on them as you don't want them to brown.
Let the cookies cool on the sheet pan and lightly dust with powdered sugar.
It was the moment of truth. The cookie were ready. Would they be everything I hoped they would be?
I am not to one to toot my own horn, but these cookies are the bomb, yo! They pack an almond punch, with flaky shortbread edges and a soft warm center.
Make these cookies, share them with your friends and family and monuments will be erected in your honor.
I fell in love with the almond pillow cookie all over again. Look at that soft crumb center. It could be yours if you choose.
Well I have done my job and pushed almond pillow cookies out to everyone. If you will excuse me I will be in the kitchen with a giant glass of milk and a sheet pan of cookies.
————————————-
Now for a behind the scenes look at Almond Pillow Cookies.
Can I help you Girlie?
Would you like a crumb?
You can get it.
Keep trying.
Girlie eventually got the crumb and then asked me for more.
Make plenty of these cookies because everyone will ask for more.
**This post is sponsored by no one but me, myself and I.
Almond Pillow Cookies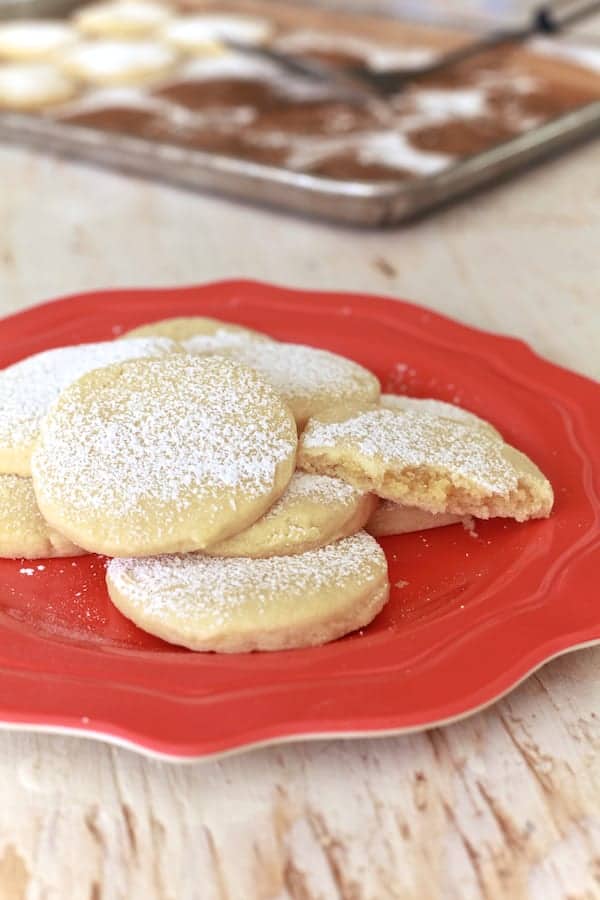 Ingredients
Cookie
1/2 cup sugar
1 cup butter (2 sticks)
1 egg yolk
1 teaspoon almond extract
1 tablespoon milk
2 1/4 cups all-purpose flour
Filling
1 8 oz can almond paste
1 tablespoon milk
1 egg yolk
1/2 cup sugar
2 teaspoons almond extract
Instructions
Preheat the oven to 350 F.
Cream sugar and butter in a large bowl. Mix in egg yolk, milk and almond extract. Blend in the flour a little at a time, until well combined and chunky. Cover an place in refrigerator to cool.
In a mixing bowl combine all filling ingredients. Beat until well combined and the mixture comes together.
Using a medium cookie scoop, scoop balls of the cookie dough. Roll and flatten the balls in the palm of your hand. Take a scant tablespoon of filling (or .5 oz) roll in a ball and place in the middle of the cookie dough. Wrap the cookie dough around the filling and roll until even. Place ball on parchment lined sheet pan and press flat with the palm of your hand. If you want clean edges use a round cookie cutter to clean the edges. Repeat with the remaining dough.
Bake the cookies for 15-20 minutes. Keep an eye on the cookies you don't want them to brown.
Let cook on cookie sheet, dust with powdered sugar. Serve.