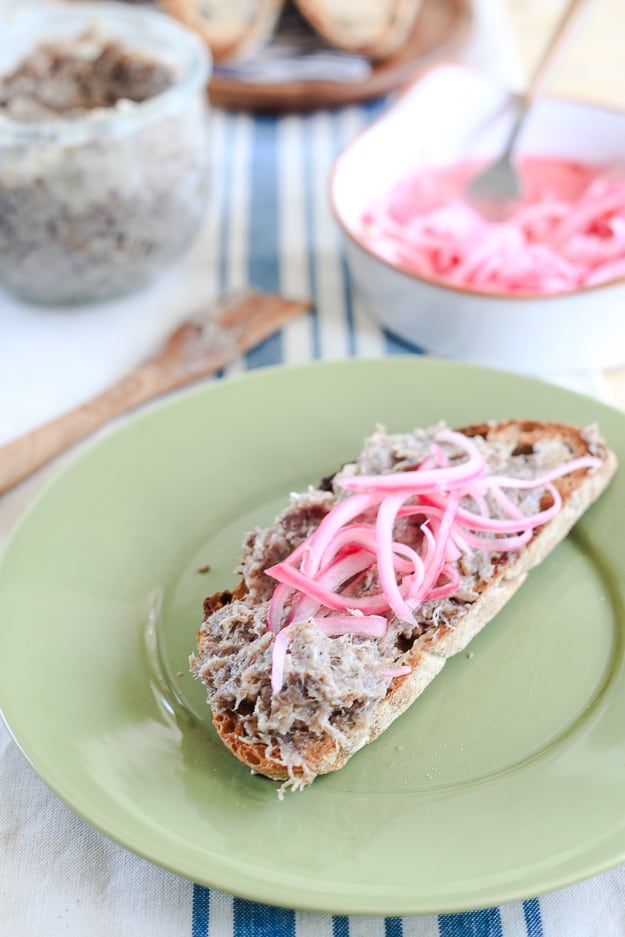 Many of you know my love for pork. It borders on obsessive. If I were asked to choose one protein to eat for the rest of my life, it would be pork. I mean, my birthday present this year was to roast a whole pig. I am certifiably pork obsessed.
While perusing recipes, another thing I do obsessively, I came across a recipe for pork rillettes. If your not familiar with rillettes it's a fancy French way to say meat butter. Ok, that is an over simplification but how better to describe meat that is slowly poached in it own fat, shredded and stored in that fat? Well, it can also go by the name of pâté but, meat butter sounds better.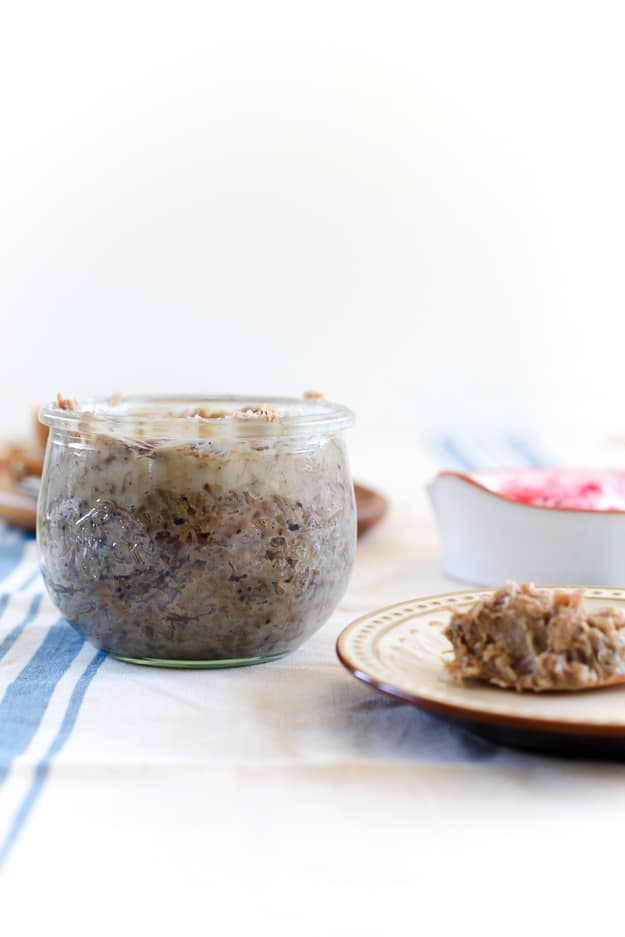 I have always wanted to make rillettes. It was one of those recipes on my "must attempt" list. It had been discussed while I was in culinary school, but we never got around to making some. When I stumbled across this recipe using a slow-cooker to poach the meat, I knew it was time to make meat butter.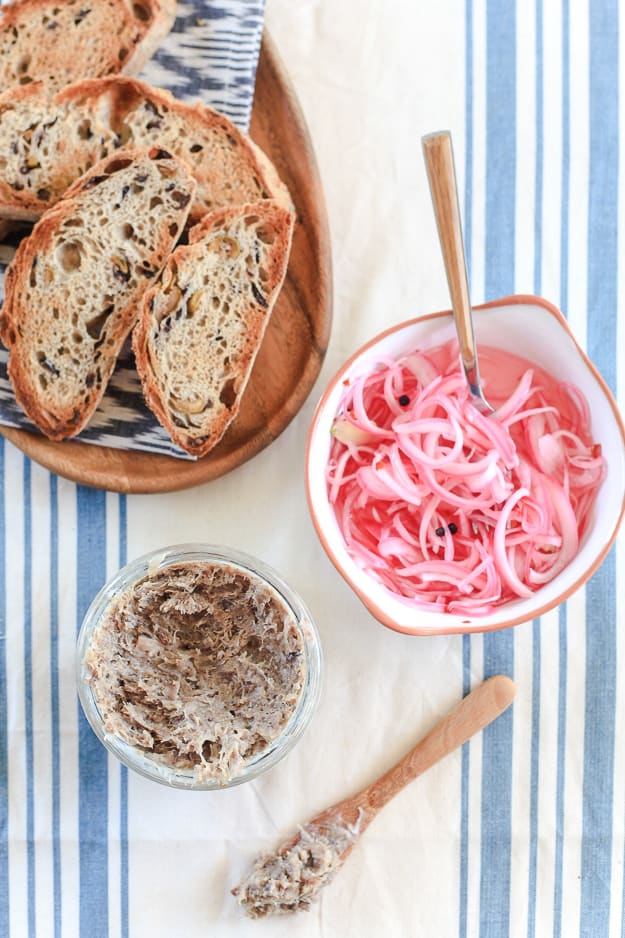 This recipe may sound fancy with its French name but, it's incredibly simple to make. The most challenging part may have been finding a quality leaf lard but, thanks to the beauty of online shopping that is not an issue. However, let me say not all lard is equal. Leaf lard is from the visceral – or "soft" – fat from around the kidneys and loin of the pig. It's very clean and has virtually no pork or meaty flavor. Because of its neutral flavor it's an excellent cooking fat and has a high smoking point.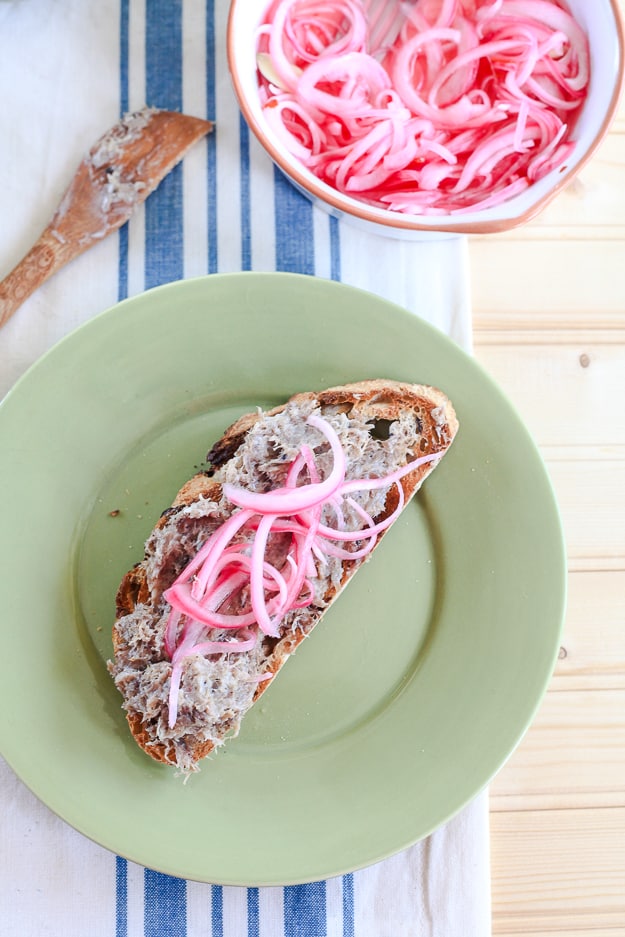 Once the pork been poached for 4 to 6 hours in the fat, the meat becomes very tender and easy to shred. If you want you can shred the pork piece by piece, but if you want to hurry up and get it done you can also pulse it in a food processor. It would take more than 3 to 4 pulses to shred the pork. It's then mixed in with a cup of the fat and packed into crocks or glass jars.The rillettes is very rich, which is why I like to store it in small jars. Then a 1/2 inch layer of fat is poured over the top and refrigerated overnight. The fat will solidify creating a seal on the rillettes, with the fat cap it can stay refrigerated for up to a month.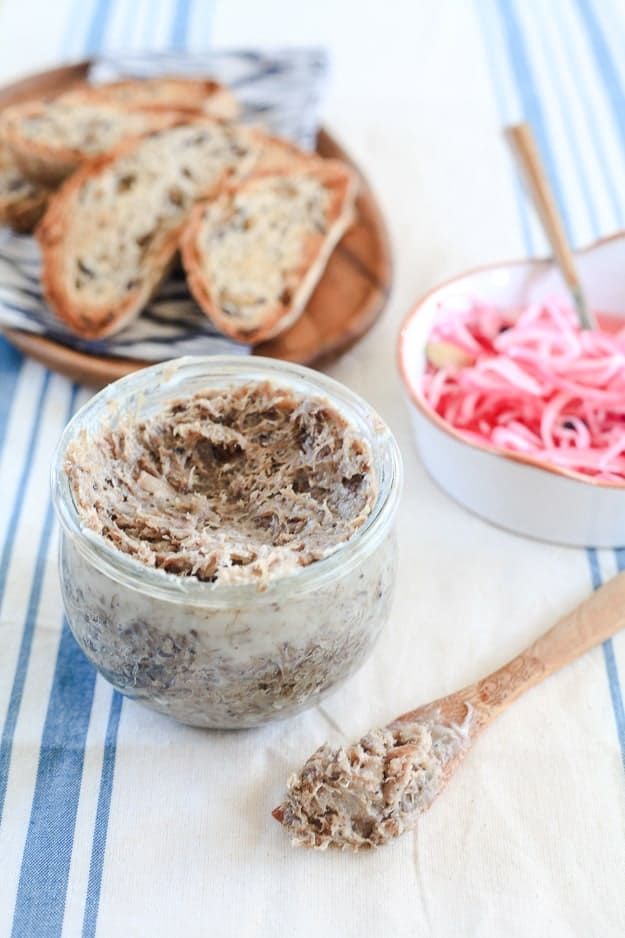 When ready to serve scoop out the fat cap. You can either save it to melt and recap the rillettes, store to use in cooking or discard. Serve rillettes on toasted slices of your favorite crusty bread and topped with pickled onions or with almost anything pickled. This takes the fancy toast trend to a whole other level. Doesn't?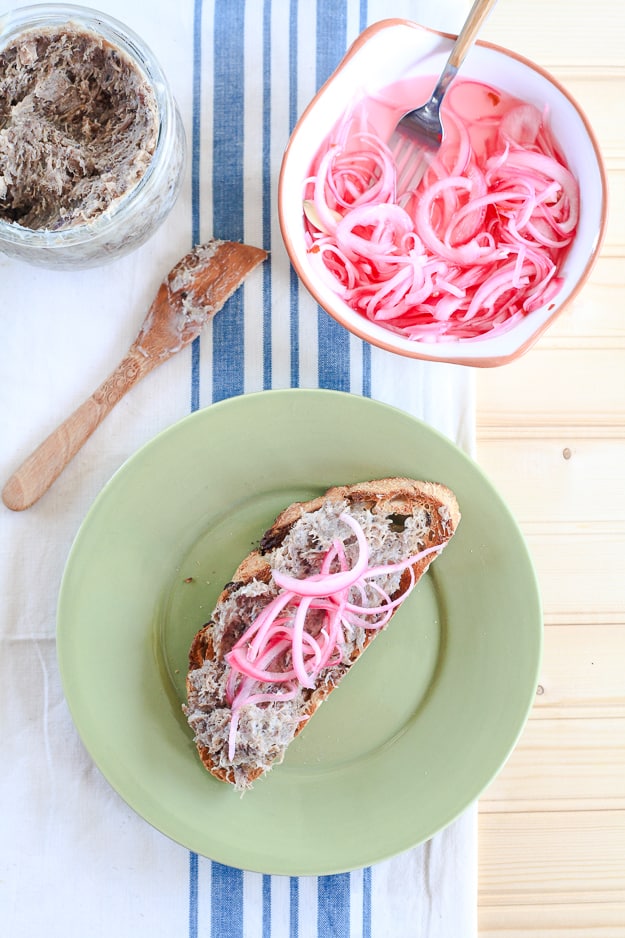 I have some plans for this amazing pork butter! Not only to I plan to spread it on every piece of toasted bread but, it would be wonderful in a banh mi sandwich! A banh mi sandwich is a marriage of Vietnamese and French foods. During the Vietnamese-French colonial period banh mi bread, also known as baguettes were popular in Vietnam and were used to make sandwiches.
A Bahn mi sandwich is a combination of French ingredients like baguettes and pâté with native Vietnamese ingredients, such as cilantro, cucumber, jalapeño and pickled carrots and daikon. A typical bahn mi sandwich may have a combination of sliced pork, pork bellies, head cheese, rillettes, vegetables like carrot or cucumbers and cilantro.
I definitely have to make a banh mi with rillettes!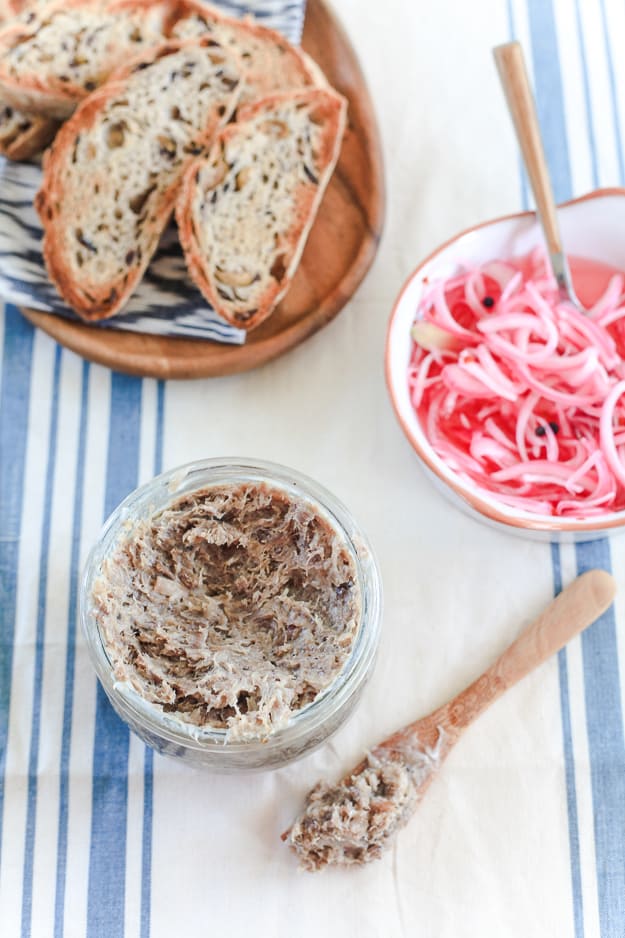 However, you want to call it, rillettes, meat butter or pâté; it's a game changer. It takes your sandwich and toast making skills up a few notches.
The term rillettes references the preparation. Any form of protein can be prepared as rillettes such as goose, duck, chicken, game birds, rabbit and sometimes with fatty fish such as anchovies, tuna or salmon.
Think about all the different types of meat butter! Oh, the possibilities!
Yield: 4 - 5 cups
Pork Rillette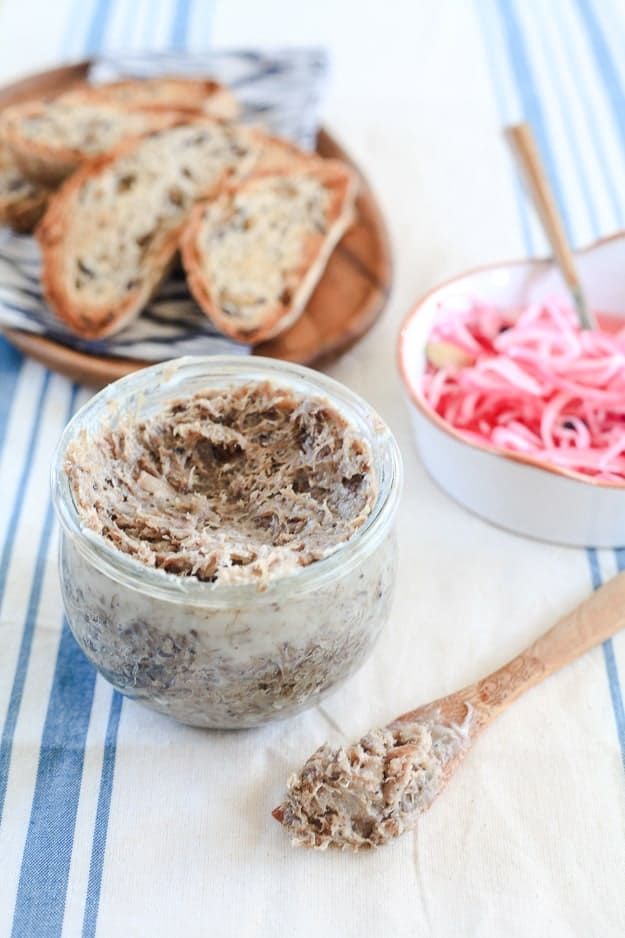 Ingredients
2 teaspoons allspice berries
2 teaspoons black peppercorns
1/2 teaspoon coriander seeds
1/4 teaspoon cinnamon
1/4 cup kosher salt
3 pounds boneless pork butt, cut into 2-inch pieces
10 thyme sprigs
6 garlic cloves, peeled and pressed
[br]
Pickled Onions
[br]
1 onion thinly sliced
1 tablespoon of sugar
1 tablespoon of salt
3/4 cup of white vinegar
1/4 cup water
Instructions
In a spice grinder, combine the allspice, peppercorns and coriander and grind to a powder; stir in the cinnamon and salt. In a large bowl, toss the pork with the spice blend until well coated. Toss the thyme and garlic into the meat. Cover and refrigerate overnight.
Set the pork out on the counter to come to room temperature. Add the melted pork fat to a slow cooker with the pork and seasonings. Leave the cover of the slow-cooker slightly askew (this is to prevent steam from building up in the slow-cooker) and cook over low heat until the meat is very tender, 4 hours, or up to 6 hours.
Let cool slightly, then, using a slotted spoon, transfer the pork and garlic to a large bowl; discard the thyme. Shred the pork, discarding any gristle. Stir in 1 cup of the fat. Pack the meat into a ceramic bowl, glass jars or individual crocks.
Reheat the fat and ladle a 1/2-inch-thick layer on top of the pork. Cover and refrigerate overnight. Discard the remaining fat or save it for another use.
Combine pickled onion ingredients, cover and refrigerate overnight.
Serve the rillettes with toasts and pickled onions.
Notes
The rillettes can be refrigerated for up to 1 month. Keep the meat covered with a layer of fat.