Post by my sweet friend Ashley Daly co-owner of Retro Den in Tulsa, OK, a vintage furniture & housewares store. If your ever in Tulsa you have to check it out! 
___________________________________
My husband and I like to remember the first barbecue of summer 2009. We were drinking Red Bull and Olde English malt liquor and grilling hotdogs at our friend Adam's apartment. Another friend, Jarrel, the great proclaimer, reacted to something that made him happy by saying, "Looks right, feels right." The official mantra of our friend group was born.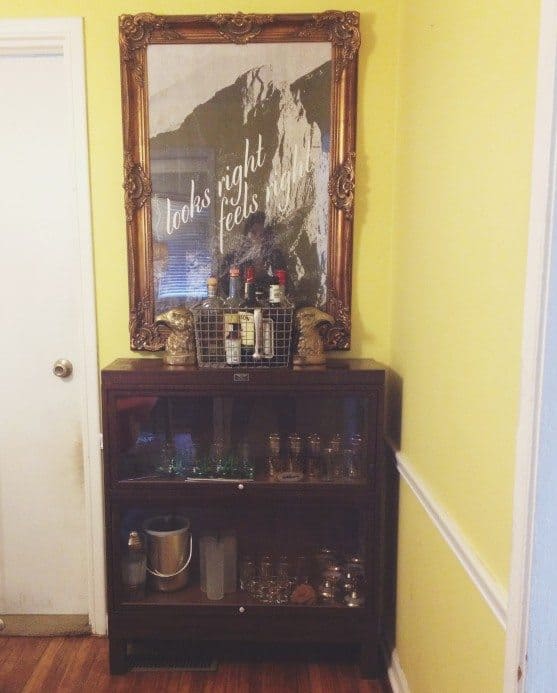 Several years and more grown-up cocktails later, we memorialized Jarrel's great words over our home bar. I think "Looks right, feels right" embodies the way I approached assembling my vintage barware collection. Most of the pieces follow my devotion to the gentle opulence of gold stripes, but some lovely green, frosted and simple clear glass elements round out our collection.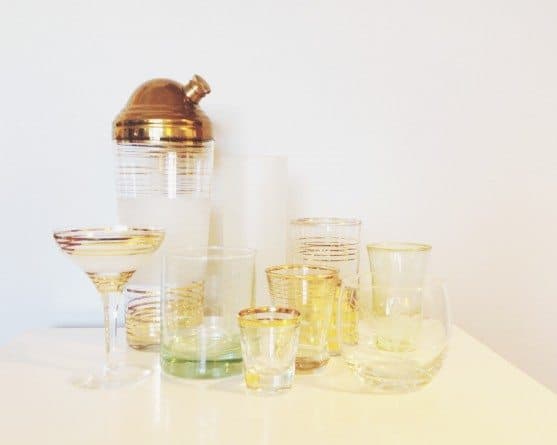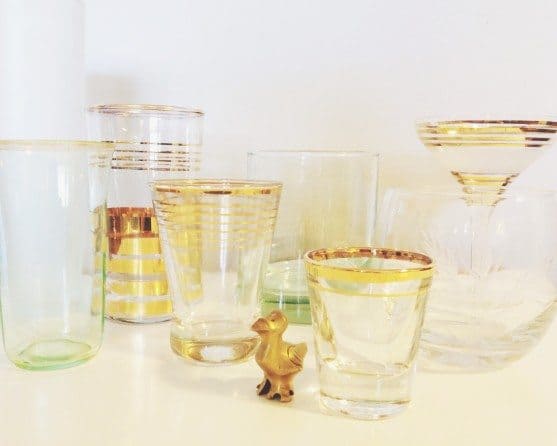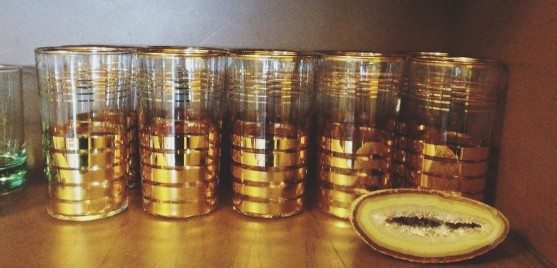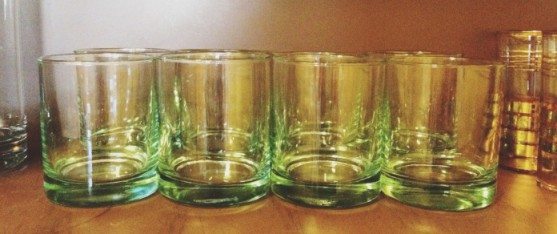 When deciding on your home's glassware and dishware, there are a few things I have found to be true.
Be a hopeful hunter. I started out with two of the gold stripped tumblers. A year later, I found some that had gold stripes and a frosted stripe and felt like I'd won the vintage shopping lottery. AND THEN, two years later, I stumbled on eight of the original gold-striped-only glasses! The takeaway? All your glassware dreams can come true. So keep your damn eyes open.
Go with what looks and feels right first, then notice a trend. I had the gold tumblers, then found myself drawn to the minty green lowballs. I'd recently updated my mixing bowl selection to Jadeite Fire King pieces, and our china is white with apple green and gold stripes around its rims. Bingo! Considering recent purchases revealed my personal trend alert: I like green and gold! So obviously the green glasses came home with me.
You should definitely mock sip from potential cups. How on earth will you know if you like drinking from them if you don't? I love love love the heft of the green lowballs. Now gin and tonics not only taste good, but they also feel good in my hands. #satisfying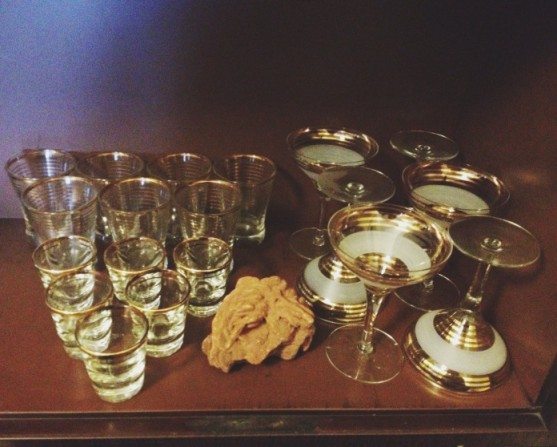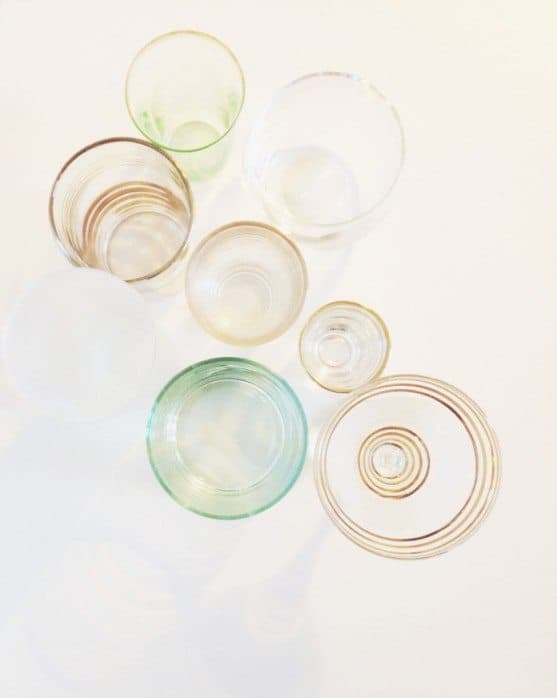 You can't own them all. Running the store has taught me to appreciate that there are always new cool and lovely things in the world, more than I could ever dream to keep in my home. I had to make rules; the bar cabinet is the only approved place for barware. I don't tell my gorgeous martini glasses to their faces, but they are the ones I would trade out if I found a more practical and just as beautiful option.
Pro Tip: At our store, we offer more value in trade than when we buy things in cash. (Example: I may acquire a chair from someone for $20, but if they wanted to trade for something, I might offer them $30 in trade.) Consider asking if that's the case at your local vintage store.
Pretty glassware makes your drinks taste better. I've read that people get more pleasure out of experiences than things. Thoughtfully chosen, enjoyably acquired glassware elevates cocktail hour to an experience for you and your company.
Cheers,
Ashley Daly
@retrodentulsa
#nosheryhomelove