Every once in a while on a Saturday morning I will feel motivated to cook up a goooooood breakfast. This Saturday I definitely wanted make breakfast, it is our one year anniversary after all, but I wanted to do something different. I went poking around on foodnetwork.com and found this recipe, and let me tell you this got a Holy Scandalous Yummy Deliciousness! It was so good that I wanted another but I will admit that the recipe requires you to put some work into it. Also if you have more than one omelet pan that is very helpful too.
Yield: 2
Very Berry Souffle Omelet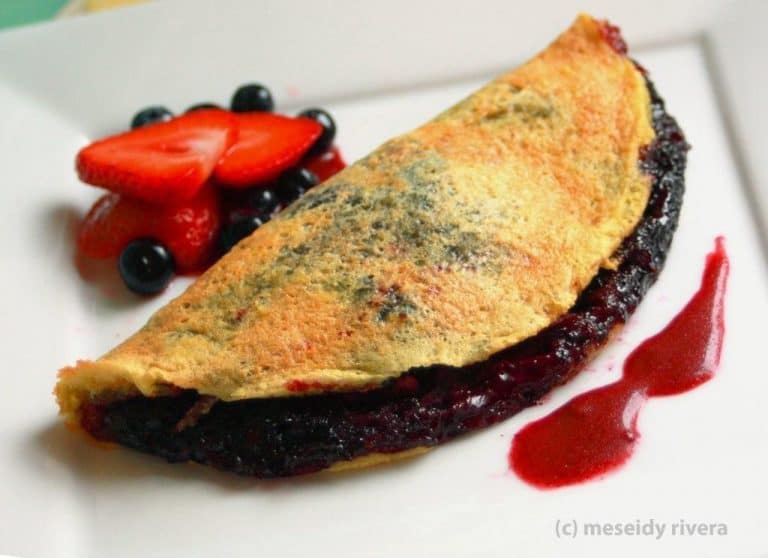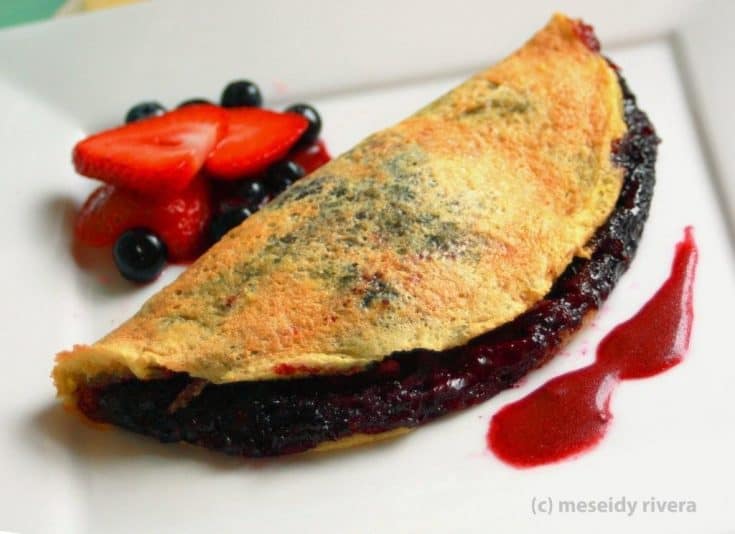 Very Berry Souffle Omelet Author: Meseidy
Ingredients
6 tablespoons plus 1 teaspoon sugar
1 teaspoon ground cinnamon
2 cups of berries (blueberry and strawberry)
3 tablespoons unsalted butter
4 large eggs, separated
1/2 teaspoon pure vanilla extract
1/2 teaspoon freshly grated lemon zest
2 teaspoons melted butter
1 tablespoon confectioners' sugar
Instructions
Combine 1/2 teaspoon of the sugar with the cinnamon. Place the fruit in a small bowl and add the cinnamon-sugar. Toss to combine.
Heat the 3 tablespoons of butter in a small saute pan over medium heat. Add the fruit and saute for about 5 minutes or until the fruit begins to caramelize. Remove from the heat and set aside.
Preheat the oven to 375 degrees F.
Using an electric mixer, beat the egg whites until stiff peaks form. Using an electric mixer, beat the egg yolks with the remaining sugar until very light and fluffy. Fold in the vanilla and lemon zest. When well blended, fold in the beaten egg whites.
Pour the melted butter into a 7-inch, ovenproof omelet pan over medium heat. Place the fruit into the pan and pour in the batter to cover the fruit. Cook for 1 1/2 minutes. Place in the preheated oven and bake for about 10 minutes or until the omelet is puffed and golden.
Remove from the oven and carefully invert onto a serving plate and fold. Dust with confectioners' sugar and serve.