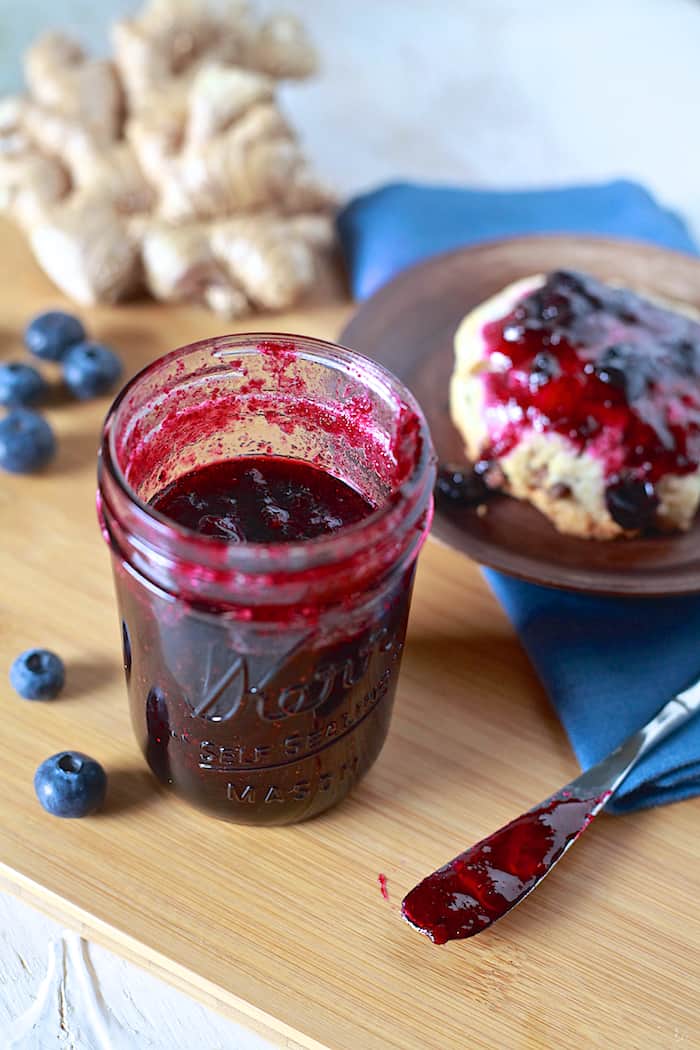 I got my hands on a crap-ton of blueberries. What does one do with a crap-ton of blueberries? Jam of course! Full disclosure I have never jammed before, with fruit or musical instruments for that matter. And, trust me you wouldn't want me to jam with a musical instrument it's better that I stick with fruit jamming.

Making homemade jam has been on my list for a long time and when I got my hands on 4 pounds of blueberries I immediately knew it was time to make jam. But, I didn't want to make plain-o-blueberry jam. I tapped into my latest combo obsession of blueberries and ginger and decided to make a blueberry ginger jam.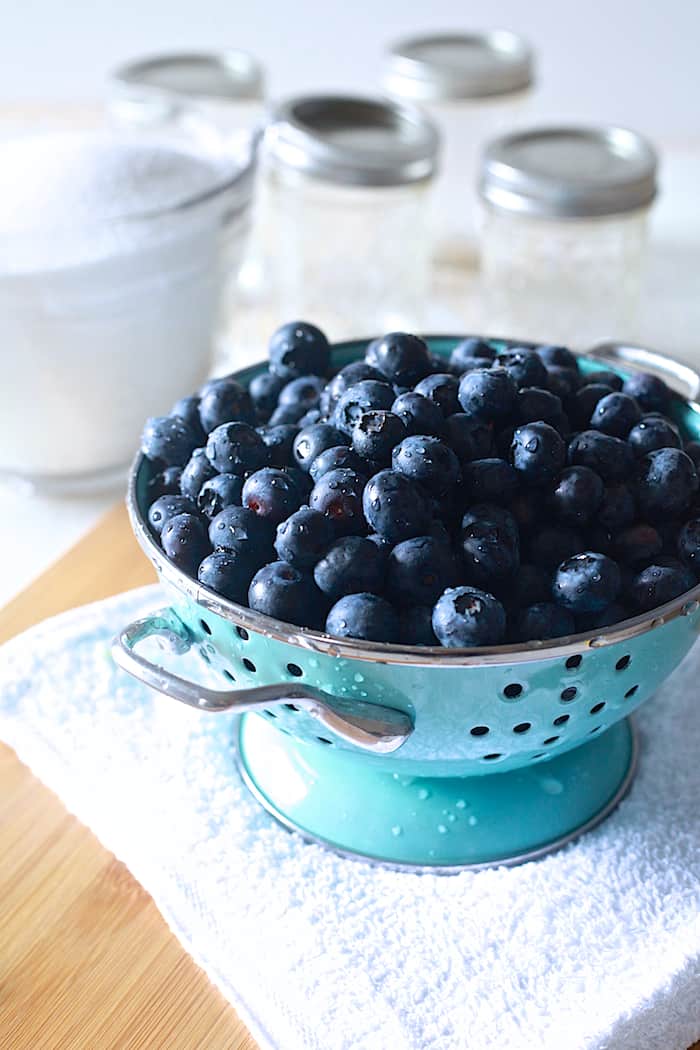 I am completely obsessed with blueberry and ginger. It can all be traced back to the apple and blueberry slab pie with ginger crust I made a few weeks back. GREAT! Now I want to make an apple, blueberry and ginger spread! I may have created a monster. For right now though we are sticking with blueberries.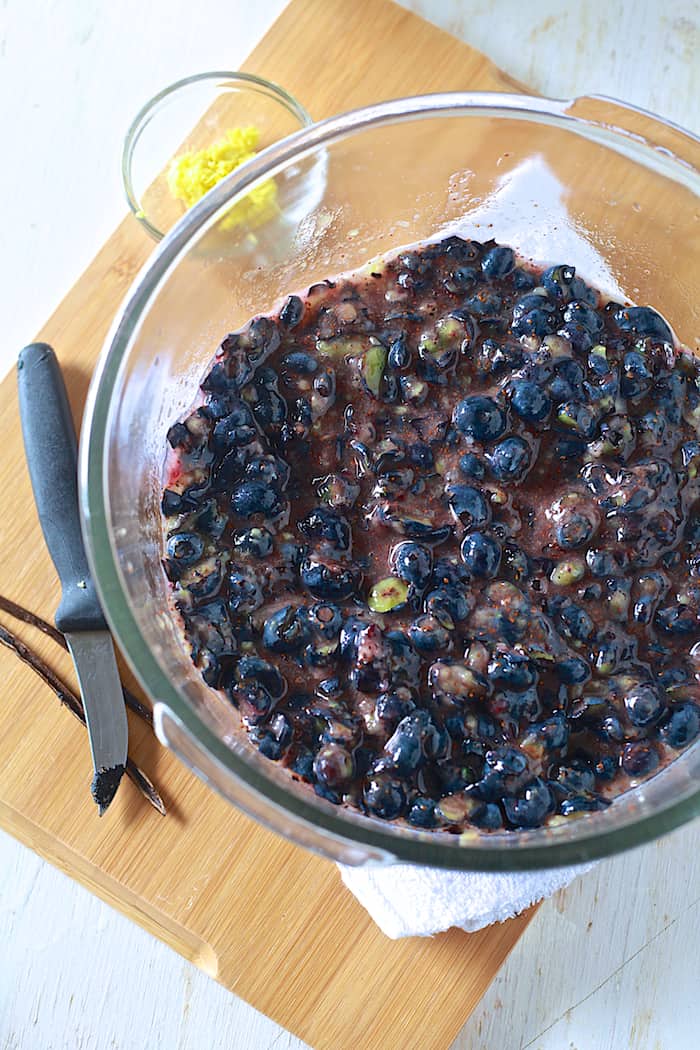 First, let me say that this is my first time canning EVER! I am in no way an expert. I am most definitely a novice. I am just sharing what I did with you.
Before even starting, make sure you are all set up. Ingredients ready and canning set up. Get two stock pots of water heated to 180 degrees. One pot will be for processing the other for sterilizing. Clean all tools, lids, and jars with hot soapy water. Place jars, lids and utensils in sterilizing pot simmer at 180 degrees, do not bring to a boil. Keep jars and lids in water until ready to use. Now you can prepare your jam.
To make jam you smash fruit, add pectin, boil, add sugar and boil. But for clearer instructions check out the recipe below.
When ready to start canning make sure you hands are super clean, lay a clean towel down on the counter and keep one in hand. Using sterilized tongs fish jars and lids out of the pot one at a time. Using sterilized ladle and a wide mouth funnel ladle hot jam into jars, leaving 1/4 inch head space. Wipe rim and threads of jar with a clean, damp cloth. Using tongs or lid wand, place lid and screw band on jar. Screw band down until resistance is just met.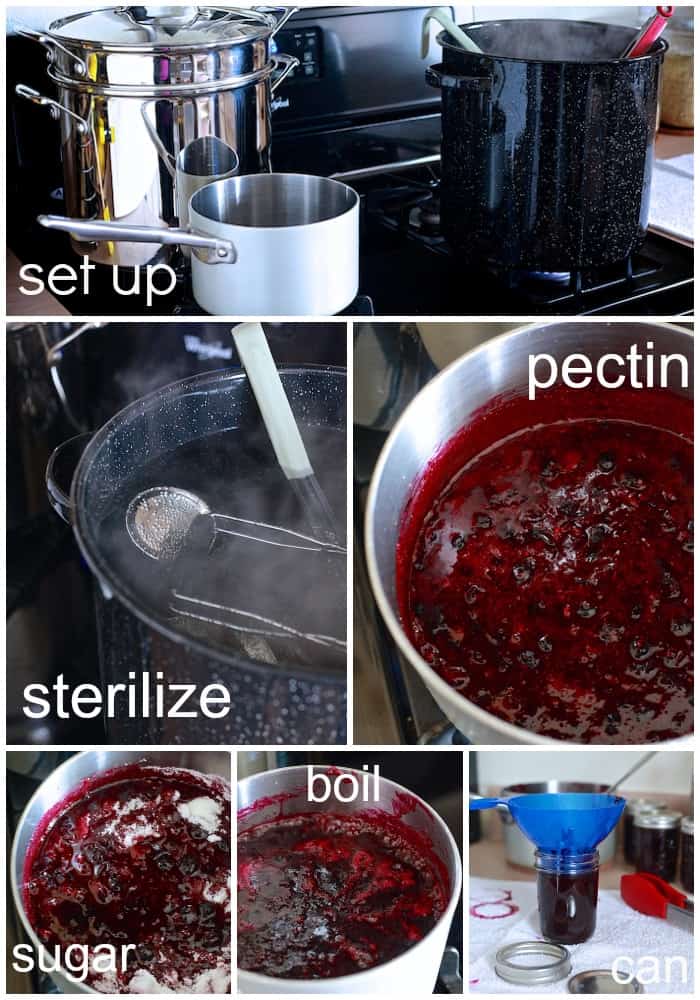 Gently transfer jars to prepared boiling-water canner or stockpot with a pasta strainer. The water level must reach 1 to 2 inches over the jars. Cover and bring to a boil. When the water comes to a rolling boil start processing time.
When done processing turn off heat and let cool for 5 minutes. Remove from canner and set aside on a dry towel to cool for 12 to 24 hours. After they have cooled completely, check the lids for a seal by pressing on the center of each lid. If the center does not flex, remove the band and gently try to lift the lid. If the lid does not flex or lift, you have a good seal. Wipe clean, label and store in a cool, dry place.
To read up on more canning basics checkout my friend Rebecca of Foodie with Family's post.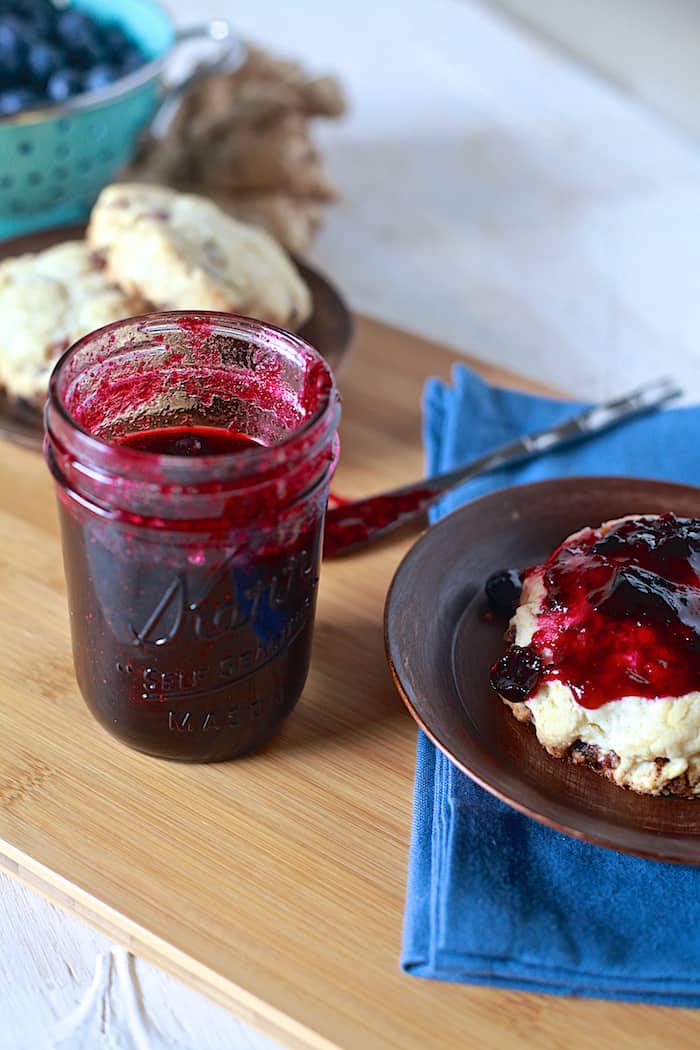 Then like magic you have a stockpile of tasty, sticky, sweet jam. If I am not careful, I may just sit with a jar and a spoon and go to town. Instead, I showed some restraint and baked a batch of my favorite scones (minus the ginger) and then proceeded to eat four scones smothered with jam.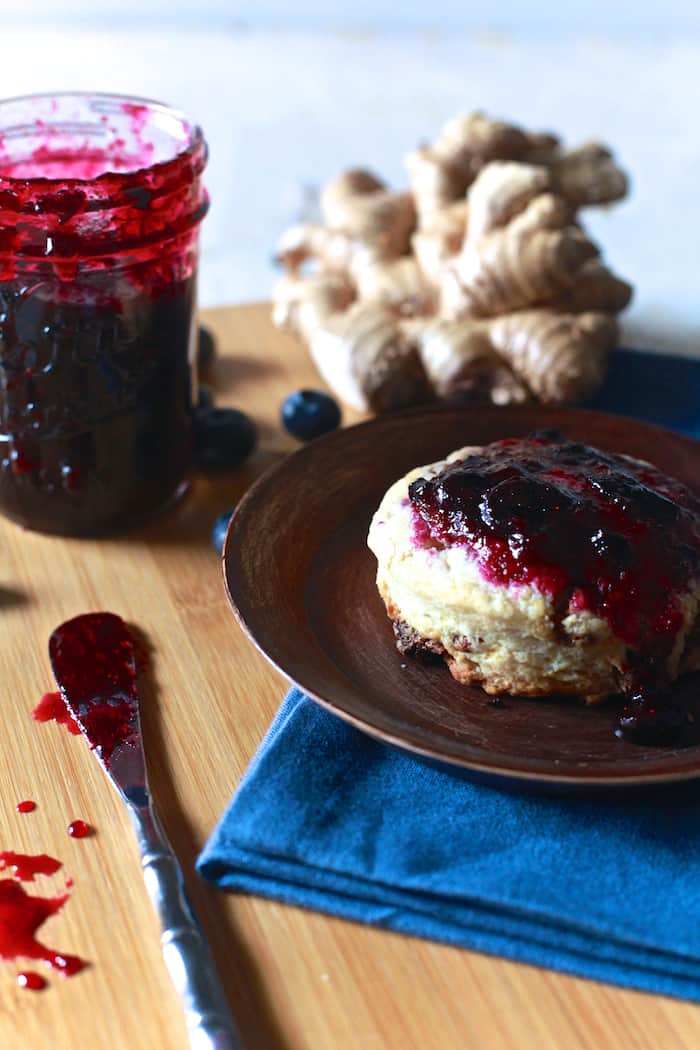 Scones, jam, and a cup a tea is a great way to start the day. If you are smart, you will keep all the jam stashed away for yourself. If you are a better person than me this jam makes a great gift for friend and family.
This jam is great for scones, biscuits, English muffins or toast. It's also great drizzled over ice cream on a tender slice of cake. OH! The lemon cake you should totally drizzle this over lemon cake! OMG! I think my head just exploded, and now I have to make a lemon cake.
Yield: 6 1/2 pint jars
Blueberry Ginger Jam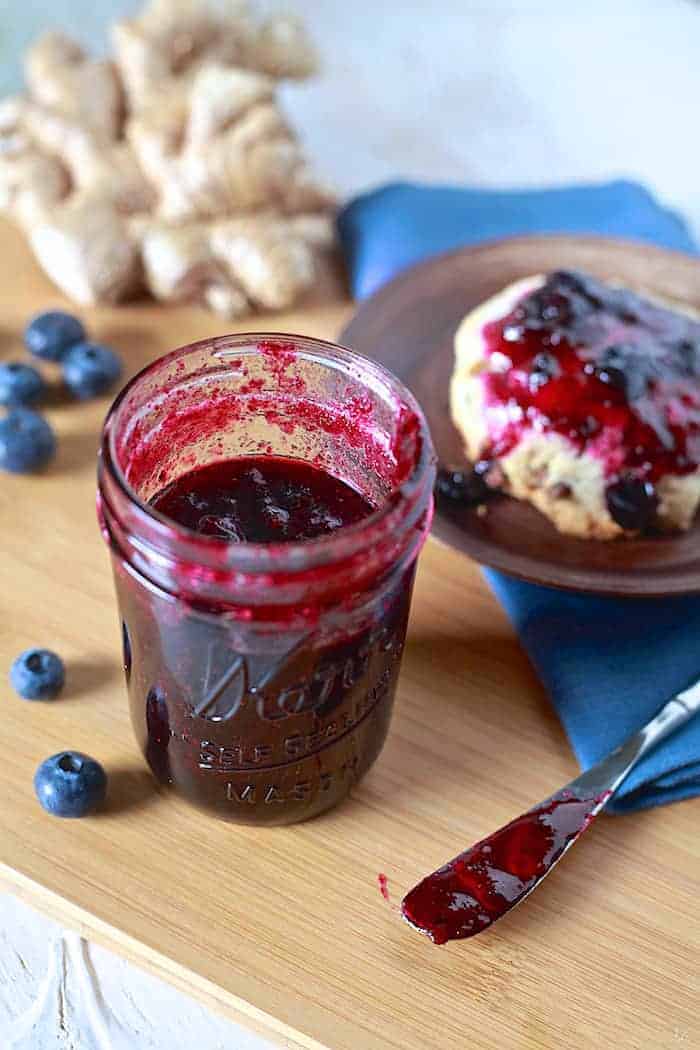 Ingredients
4 1/2 cups blueberries
6 tablespoons powder pectin
5 cups sugar
1 1/2 teaspoon grated ginger
2 vanilla beans
Instructions
Using a potato masher or pastry cutter, crush blueberries in a large bowl. Combine crushed berries with pectin in a large sauce pot. Bring to a boil, stirring frequently. Add sugar, stirring until dissolved. Stir in grated ginger, caviar from vanilla bean and vanilla bean skins. Return to a rolling boil. Boil hard for 1 minute, stirring constantly. Remove from heat. Skim foam if necessary. Ladle hot jam into jars, leaving 1/4 inch of headspace. Cover with two-piece caps. Process 15 minutes in a boiling-water canner or stock pot.