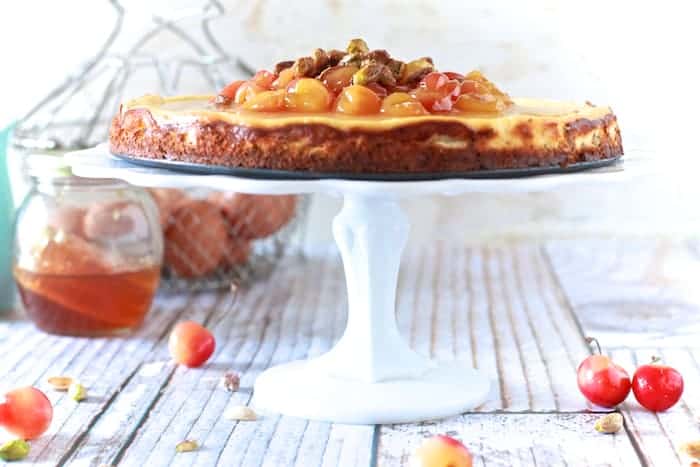 I'm going to keep this simple. This is cheesecake, cheesecake with goat cheese and goat cheese in cheesecake is good. I know some of you are probably thinking goat cheese in cheesecake is weird but I promise you it's muy bueno.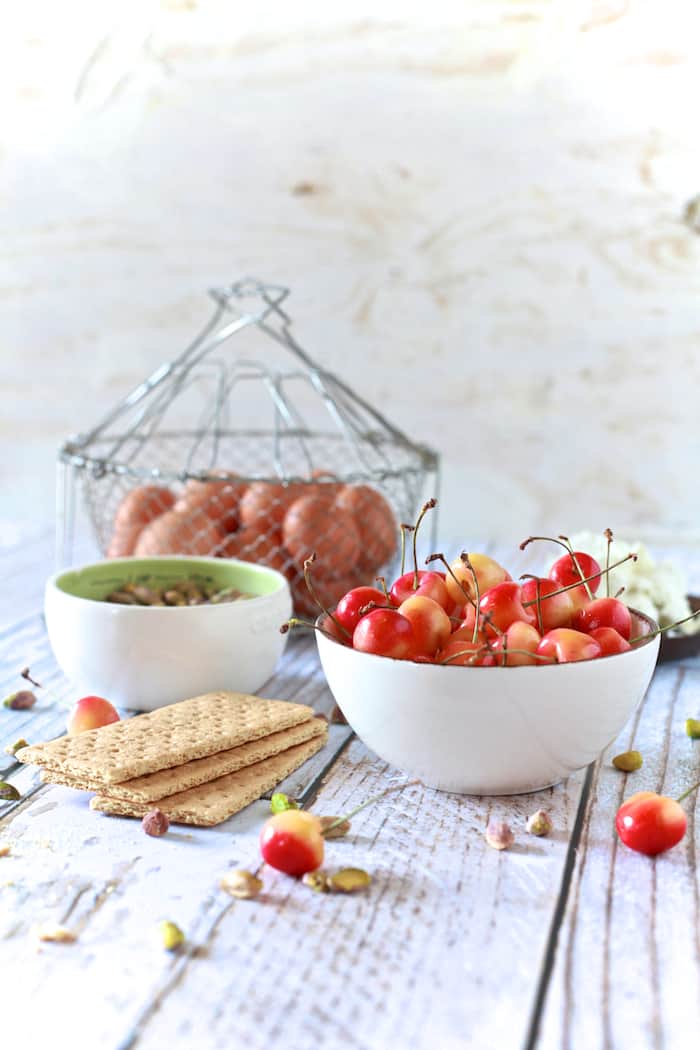 Goat cheese and pistachios is also muy bueno so, I made goat cheese cheesecake with pistachio crust.  But, wait don't get too excited yet I'm not quite finished.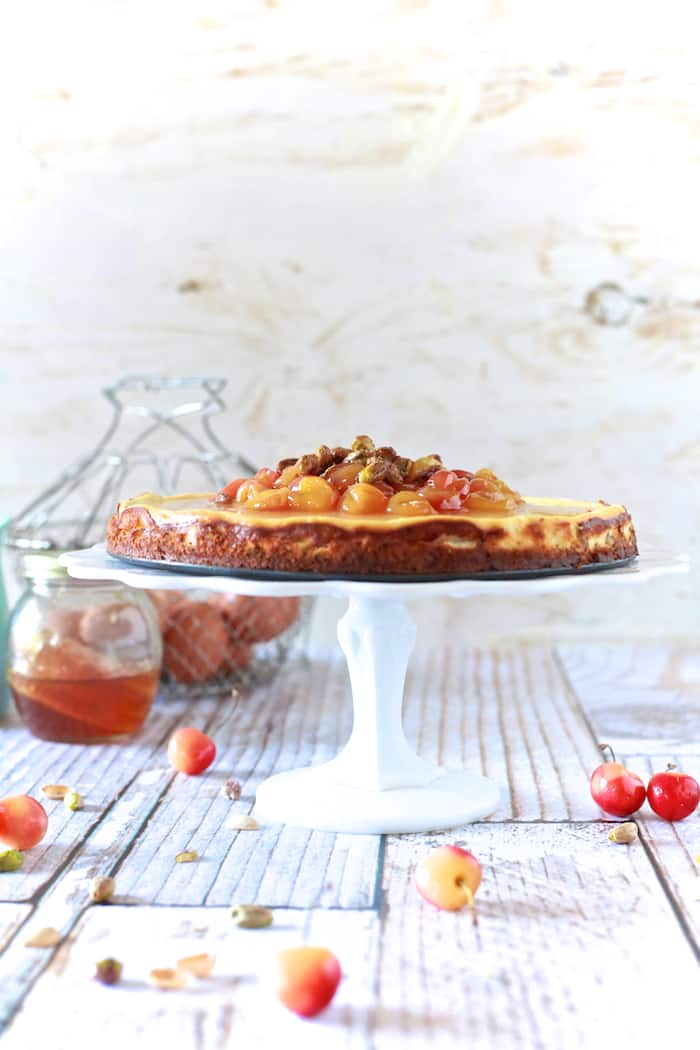 This time of year cherries are literally everywhere including my favorite cherries, Rainier cherries. Therefore, I had to make a cherry sauce to go over my goat cheese cheesecake with pistachio crust. And, for the heck of it lets top it with candied pistachios.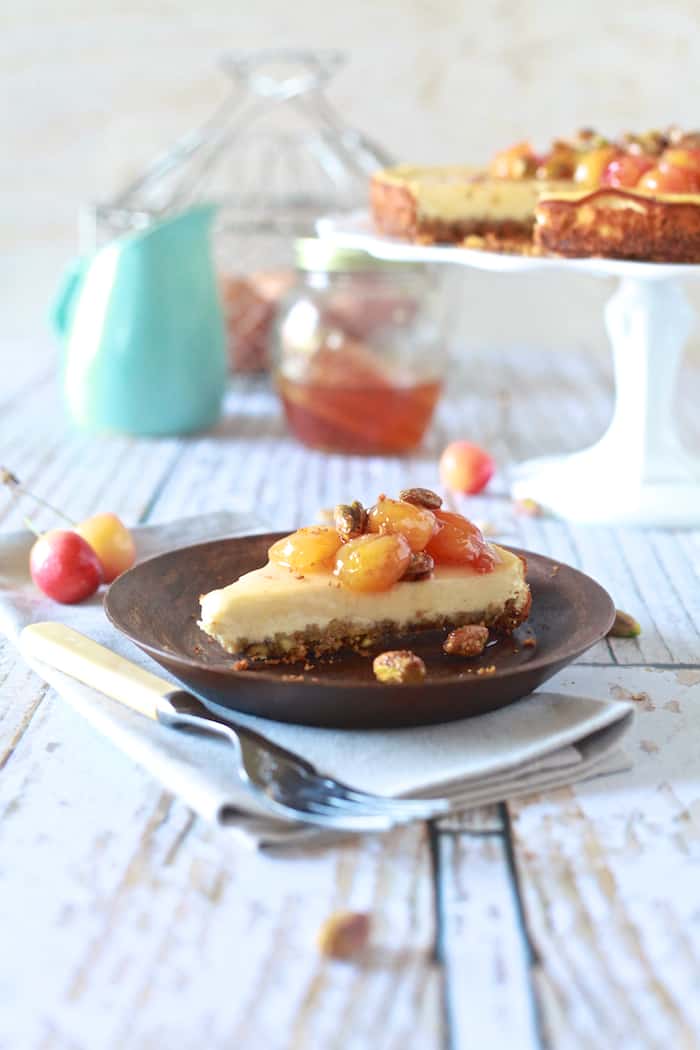 I love goat cheese in cheesecake because it gives it a lovely light tart flavor, kind of like the tart flavor at the frozen yogurt joints. This is why I decided to use Rainer cherries because of their light sweetness.
In summation…I'm going to have another slice. Later!

Goat Cheese Cheesecake with Pistachio Crust and Cherry Sauce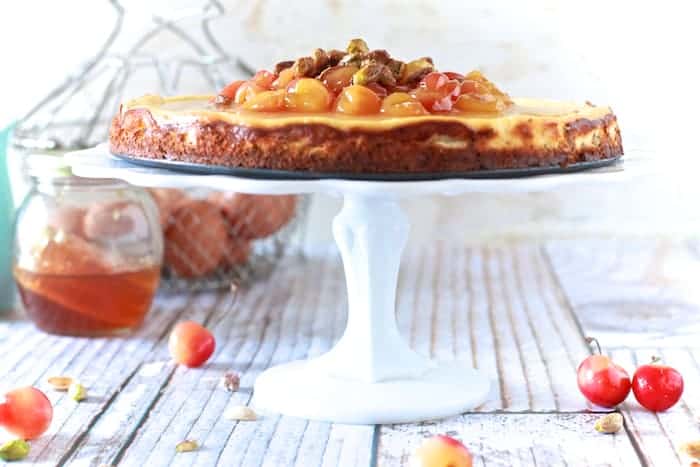 Ingredients
Crust
1 heaping cup shelled, roasted, and salted pistachios (See Recipe Notes)
3 whole graham crackers
1/4 cup granulated sugar
3 tablespoons unsalted butter, melted
[br]
Filling
12 oz mild goat cheese, room temperature
1/4 cup granulated sugar
1/2 cup sour cream, room temperature
2 tablespoons mild honey
1/4 teaspoon pure vanilla extract
Pinch of salt
3 large eggs
[br]
Cherry Sauce
1 lbs Rainier cherries, pitted
1/2 cups sugar
2 tablespoons water
1 tablespoon cornstarch
2 tablespoons water
[br]
Candied Pistachios
1/4 cup pistachios
2 tablespoons brown sugar
1 tablespoon hot water
Instructions
Heat oven to 400 degrees. Generously grease a 10 in dia. spring form pan.
Crust
In the food processor combine graham crackers and pistachios, process to a course grain. Add, melted butter continue to process until it resembles a crumbly cornmeal. Pour pistachio mixture into prepared pan and press evenly along the bottom. Bake in the oven for 10 - 12 minutes until set. Set aside to cool completely
Filling
Lower oven to 300 degrees.
In the bowl of a stand mixer our using a hand mixer cream goat cheese and sugar. Scrape down sides and add sour cream, honey, vanilla, and salt. With the mixer running add eggs one at a time until well combined.
Pour filling over cooled crust. Bake in the oven for 35-40 minutes or until set. Let cool completely on counter.
Cherry Sauce
In a small sauce pan combine cherries, sugar and 2 tablespoons of water. Cook on the stove top at medium heat until bubbling, about 6 - 7 minutes. In a small bowl combine cornstarch with 2 tablespoons water pour into cherries. Bring cherries to a boil, lower to a simmer and cook for 5 minutes. Let cool completely.
Candies Pistachios
Heat oven to 350 degrees. Line sheet pan with parchment paper or silt mat.
Mix brown sugar and hot water together. Toss pistachios in sugar mixture. Pour pistachios on sheet pan. Bake in the oven for 8 to 10 minutes. Let completely cool.
Remove cheesecake from spring form pan, top with cherries and sprinkle with candies pistachios.
Notes
I shelled 1 lb of dry roasted salted pistachios. After shelling pistachios pour them into a kitchen towel gently rub them in the towel to remove any remaining skin.