This is a sponsored post written by me on behalf of Pompeian Grapeseed Oil Spray.
I've decided that donuts need to be in my life more.  Oh! I am also obsessed with pecan pie. Seriously completely obsessed!  If you ask me what kind of cake I want for my birthday I respond "PECAN PIE!".  If you ask me what is my favorite holiday, it's Thanksgiving.  Why?  You ask. Hello! Because there is pecan pie!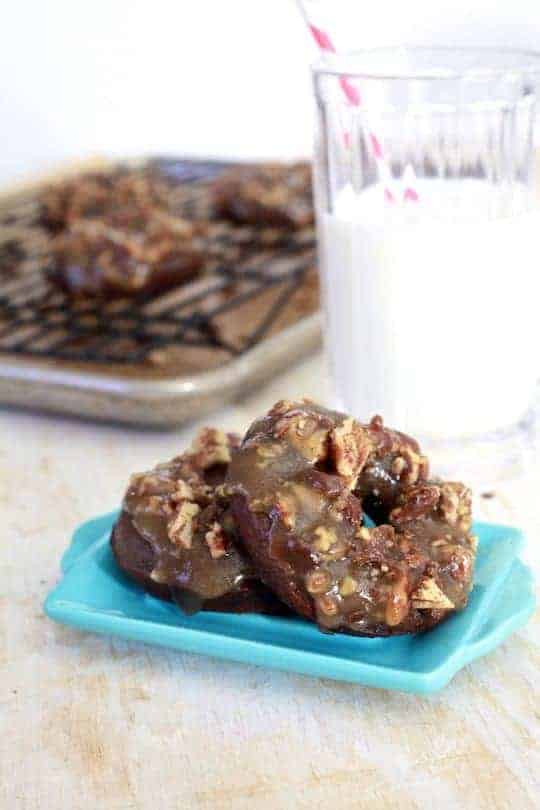 Due to my  overwhelming need to have more donuts in my life and my obsession with pecan pie I thought I do a little fusion and bring the two together. Nothing gets me more excited than putting a twist on a holiday classic like pecan pie.
While in the process of moving I ran out of olive oil, but I had a big bottle of Pompeian Grapeseed Oil stashed away.  Being so busy with the move I didn't want to run to the store, and I had been wanting to try it out.  Well, I think I'm in love.  It has a light flavor that allows the food to stand on its own.  It also has a much high smoke point than olive oil, which is great for me in case I get distracted by a shiny ball, and because of its high fluidity it reduces excess oil from absorbing into the food.  I have been using it to sauté, sear, stir fry and in salad dressing, but I hadn't baked with it yet.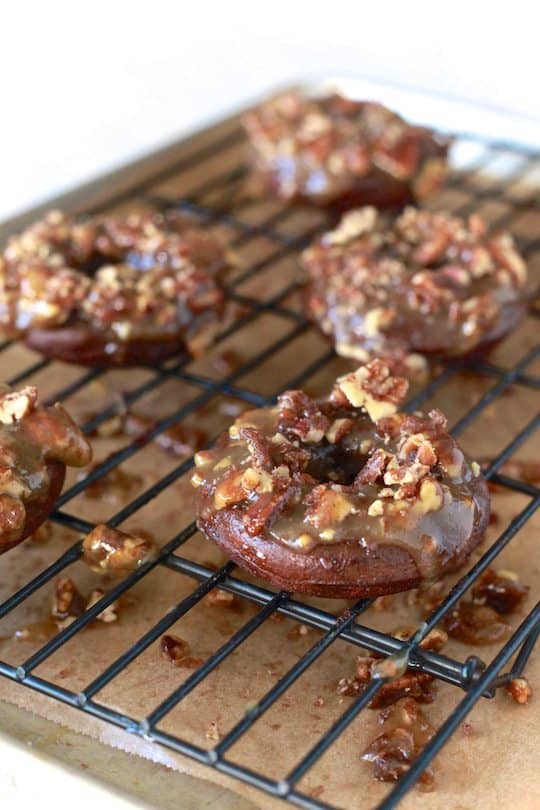 The timing couldn't have been more perfect to partner with Pompeian for their launch of the new Pompeian Grapeseed Oil Spray and the start of the holiday baking season. Pompeian is partnering with celebrity pastry chef and executive chef of Charm City Cakes, Duff Goldman, to show Americans how to enhance their holiday baking recipes with the new Pompeian Grapeseed Oil Spray.  But wait there is more! They are also having a fun challenge!

BAKING FOR BETTER CHALLENGE
Until December 6, consumers can enter the Better for Baking Challenge by following @Pompeian on Instagram, uploading a photo to Instagram showing how they are giving their baked goods a tune up with Pompeian Grapeseed Oil Spray, using the #Bake4Better hashtag and tagging @Pompeian. The most creative photo taker, who will be crowned by celebrity pastry chef Duff Goldman, will receive a $5,000 donation in the name to their local food bank and a Pompeian gift basket to continue baking better all year-long. How awesome is that!? Challenge accepted! Pecan pie donut fusion is on! To make these donuts I had to kind of deconstruct a pecan pie to sort of put it back together again.  One of my favorite parts of pecan pie are the crunchy candied pecans.  I quickly candied these pecans in a skillet. You can even make these if you just want a sweet snack.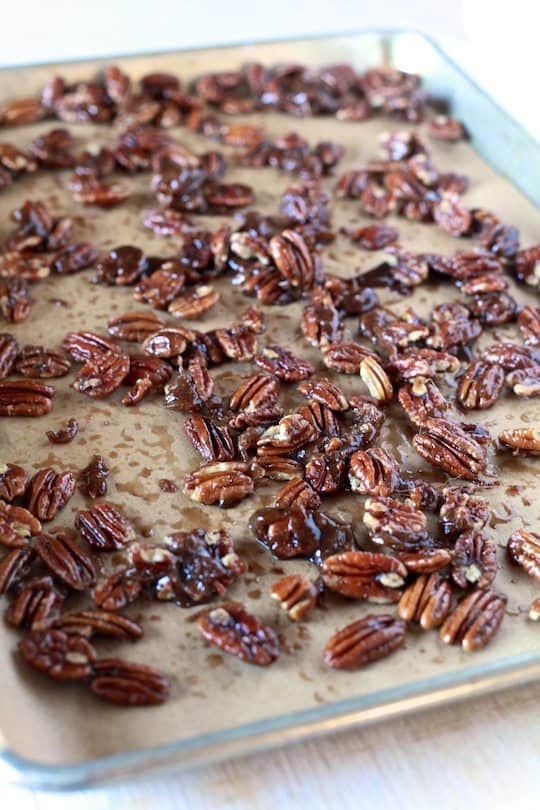 The next challenge was the "filling" or in this case the custard.  Using a standard pecan pie filling recipe, I cooked it on the stove top until it coated the back of a spoon.  You want the consistency to be spreadable.  Also it will thicken as it cools.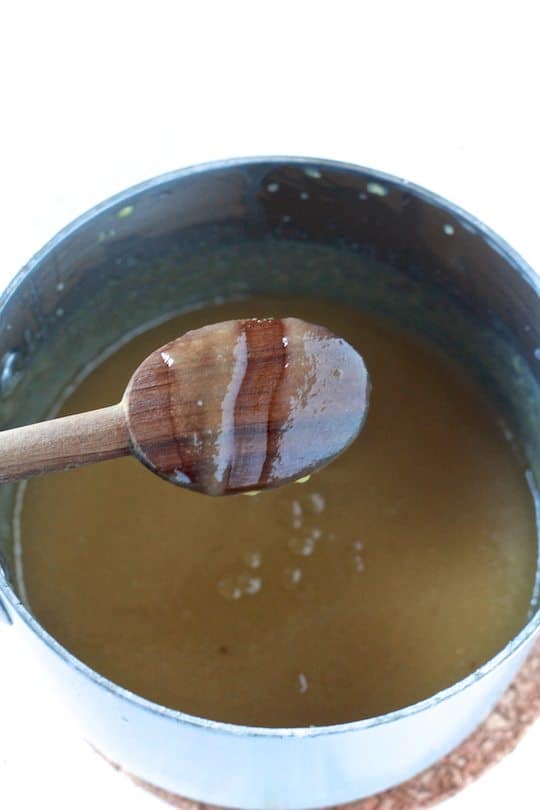 Once the pecans and custard have cooled completely, roughly chop the candied pecan in a food processor and mix 3/4 of the nuts in with the custard.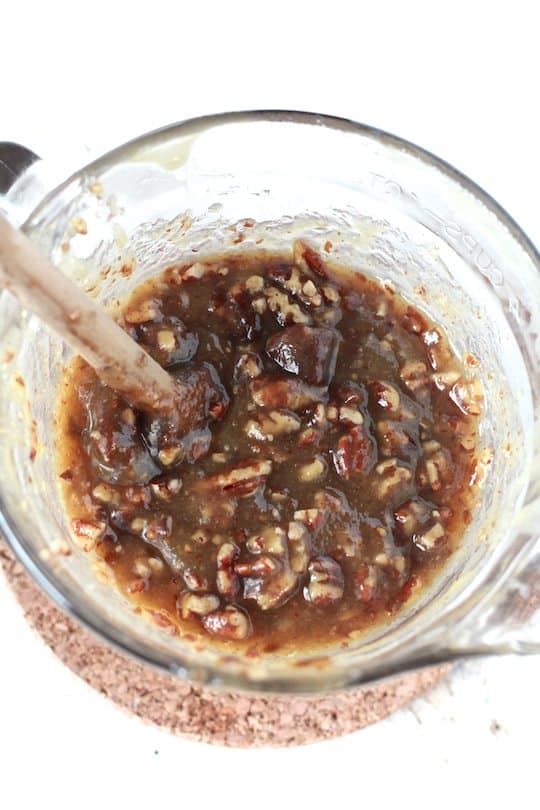 Prepare donut pan by spraying with Pompeian Grapeseed Oil Spray and lightly dust with cocoa powder.  I used Pompeian Grapeseed Oil in place of vegetable oil for  donut batter.  The donut came out deliciously tender.  The grapeseed oil does not interfere with the flavor of the donut, allowing its chocolaty cakiness to stand on its own.   Be sure to fill the molds only half way, or they will rise enough to close the donut hole.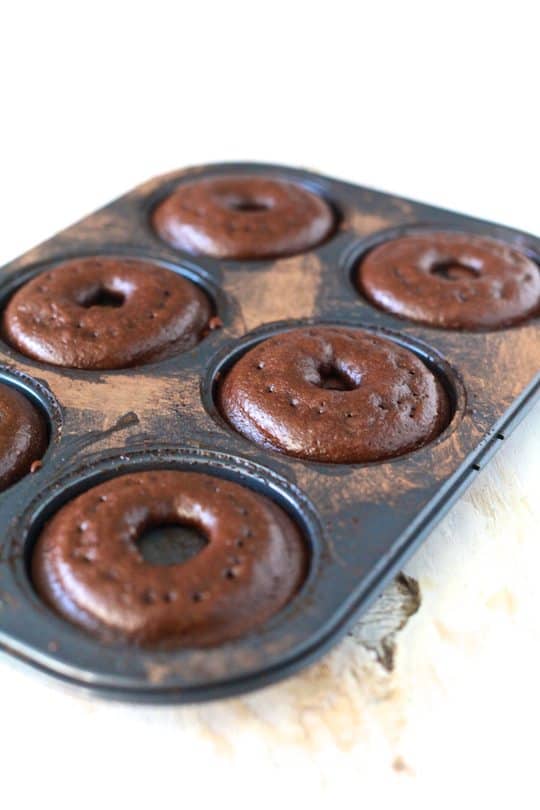 Once the donuts have cooled spread pecan pie custard over donuts and sprinkle with remaining chopped pecans.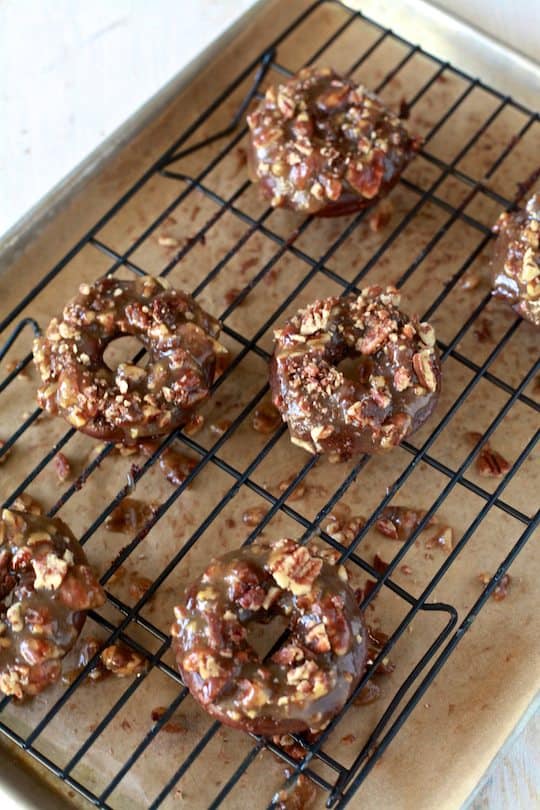 The polite thing to do at this point is share these beautiful donuts, but who wants to be polite when it comes to Bourbon Pecan Pie Chocolate Donuts?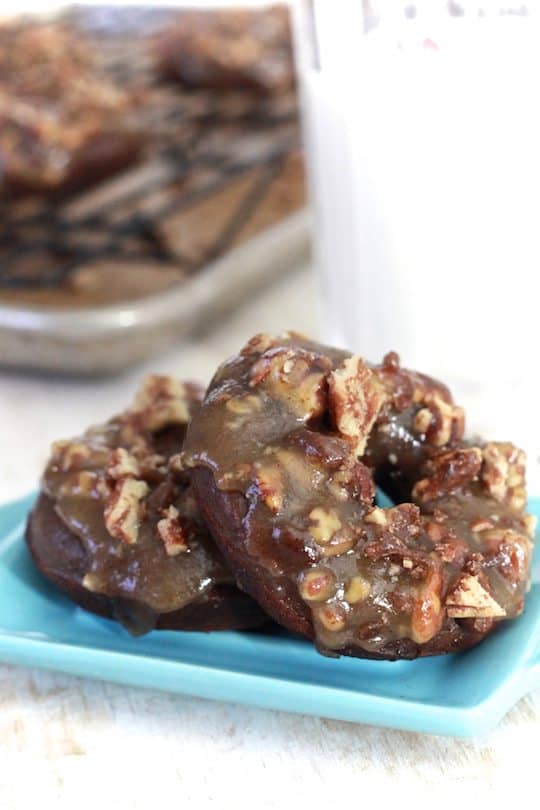 With holiday season in full swing we are all looking for ways to make things easier and better.  With the ease of light and all natural Pompeian Grapeseed Oil Spray you get both.  Want to take it for a spin?  Grab your coupon and get yourself some! Now if you will excuse me I have a date with a donut.

Yield: 12
Bourbon Pecan Pie Chocolate Dounuts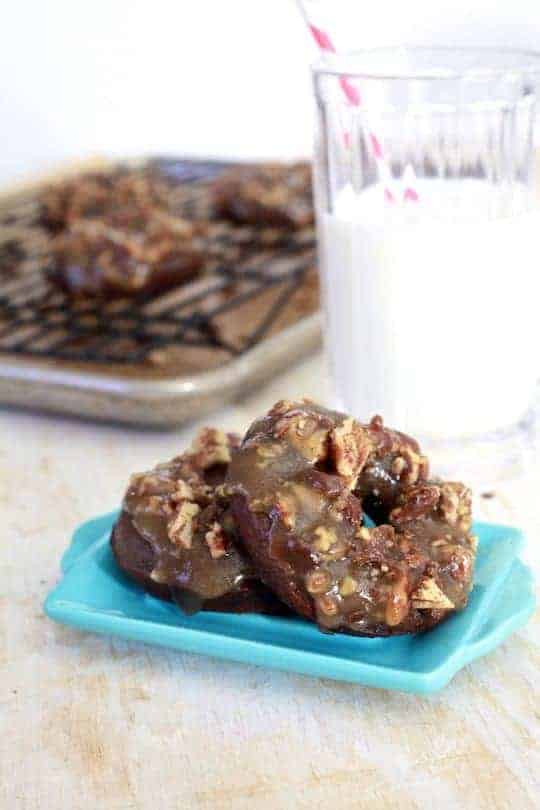 Adapted from href="http://www.bunsinmyoven.com/2013/04/01/glazed-chocolate-donuts/" target="_blank"]Buns In My Oven[/url]
Ingredients
Pecans
2 cups sugar
1 tbs brown sugar
3 tbs butter
1 teaspoon cinnamon
grated nutmeg
2 cups pecans
[br]
Custard
3 large eggs
1 tablespoon heavy cream
3 1/2 ounces sugar
3/4 cup light corn syrup
4 tablespoons unsalted butter, melted and cooled slightly
1 tablespoon bourbon or spiced rum
1 teaspoon vanilla extract
1/4 teaspoon kosher salt
Dounut
1 cup flour
1/2 cup sugar
1/4 cup cocoa powder
1/2 teaspoon baking soda
1/2 teaspoon vanilla extract
1 tablespoon strong brewed coffee or 1 teaspoon instant coffee
2 egg
6 tablespoons greek yogurt or sour cream
1/4 cup milk
1/4 cup Pompeian Grapeseed Oil
Instructions
Pecans
Line a rimmed sheet pan with parchment paper, set aside.
In a small bowl combine sugars and spices.
Melt butter in a heavy bottom skillet. Add sugar mixture and vanilla to the skillet. Cook until sugar melts and becomes syrupy. Add pecans and quickly toss to coat. Don't worry if you get some clumps.
Spread out on a prepared sheet pan to cool. When completely cool transfer to food processor and pulse to roughly chop, set aside.
Custard
Combine sugar, corn syrup, melted butter, rum, extract and salt in a sauce pot, mix until well combined. In a separate bowl beat eggs with heavy cream. Strain the beaten eggs thought a fine mesh strainer. Beat into corn syrup mixture until well combined.
Place sauce pot over medium-low heat. Slowly heat mixture, constantly stirring until it thickness enough to coat the back of a spoon. Set aside to cool.
When cool add 3/4 of the chopped pecans to the custard, mix until well combined.
Donuts
Preheat oven to 375 degrees. Spray donut pan using Pompeian Grapeseed Oil Spray butter and lightly dust with cocoa powder.
In a medium mixing bowl, combine the flour, sugar, cocoa powder, chocolate chips, baking soda and whisk until well combined.
In a small bowl, beat together the vanilla, egg, greek yogurt, coffee, milk, and Pompeian Grapeseed Oil. Stir the wet ingredients into the dry until just combined.
Spoon cake batter into prepared donut pan.
Bake for 8 minutes or until the tops spring back when you touch them. Let cool in pan.
Transfer donuts to a cooling rack over a parchment lined sheet pan. Spread pecan custard topping over donuts sprinkle with remaining pecans. Serve.
For the Baking for Better official rules, please visit https://www.pompeian.com/bakebetter. Coupons for Pompeian products can be found at https://www.pompeian.com. This is a sponsored post written by me on behalf of Pompeian Grapeseed Oil Spray.