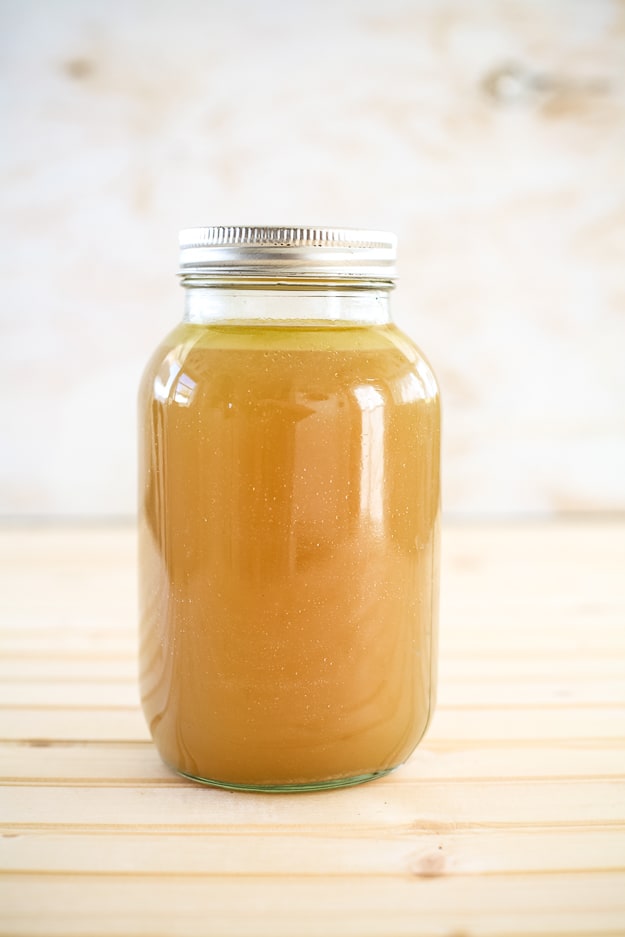 I believe everyone should know how to make a good chicken stock. It's one of the basic skills that everyone needs to know. In fact, when I attended culinary school it was one of the first things I learned to make. It was right after the class the taught us how to cut vegetables and not our fingers. In school, we would make giant pots of chicken stock, pots big enough to fit a small child. We would set them toward the end of class and leave them simmering overnight. By the time we were back in class the next day, the classroom kitchen was full with the smell of rich, delicious stock.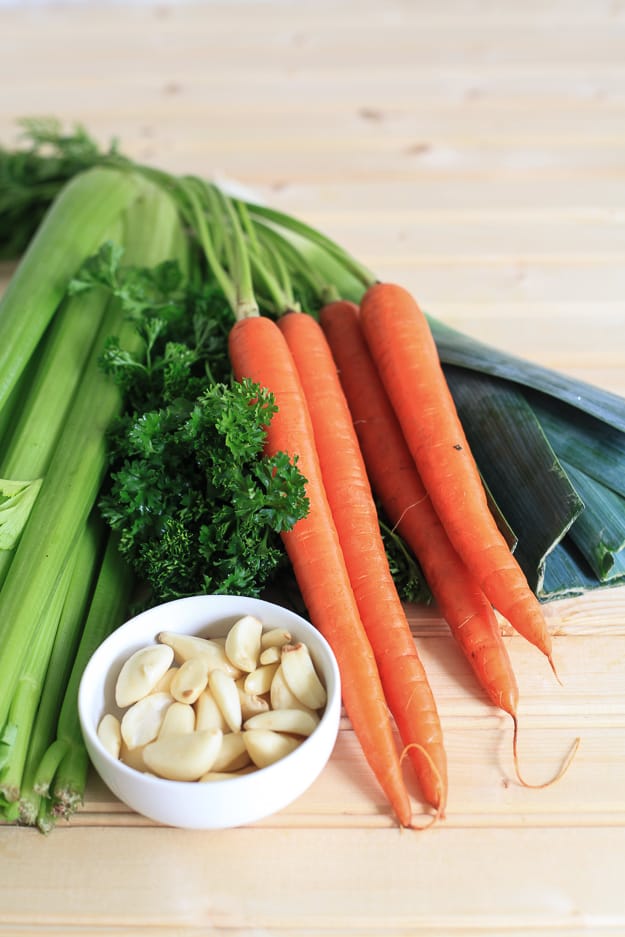 I love to make homemade chicken stock for two reasons. It tastes better than any store bought stock, and it makes use of the whole chicken and whole vegetables. When you make homemade chicken stock, you waste nothing. Many restaurants and chefs take full advantage of homemade stock using every last bit of vegetable, herb, and chicken scrap. When I would prep on Monday mornings, I kept all of the leftover bits to add to the stock pot.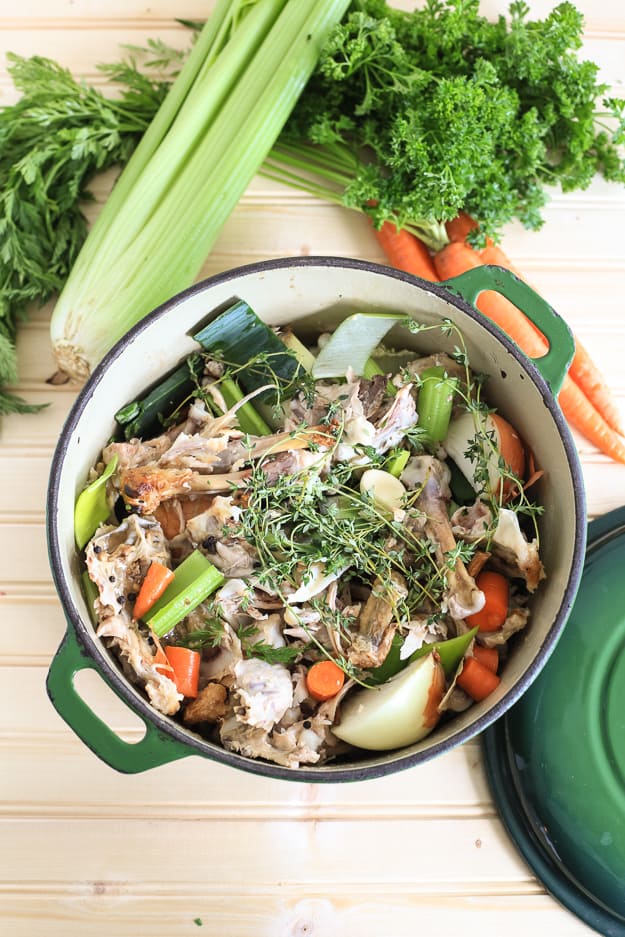 I have continued to use this technique at home. Whenever I prepare bone-in chicken or buy a rotisserie chicken, I hold on to the bones and store them in the freezer until I have enough to make stock. Once I have enough I add whole vegetables, and I mean whole, skin, peel, tops and all. Then just add water and let simmer for 4 hours. Easy!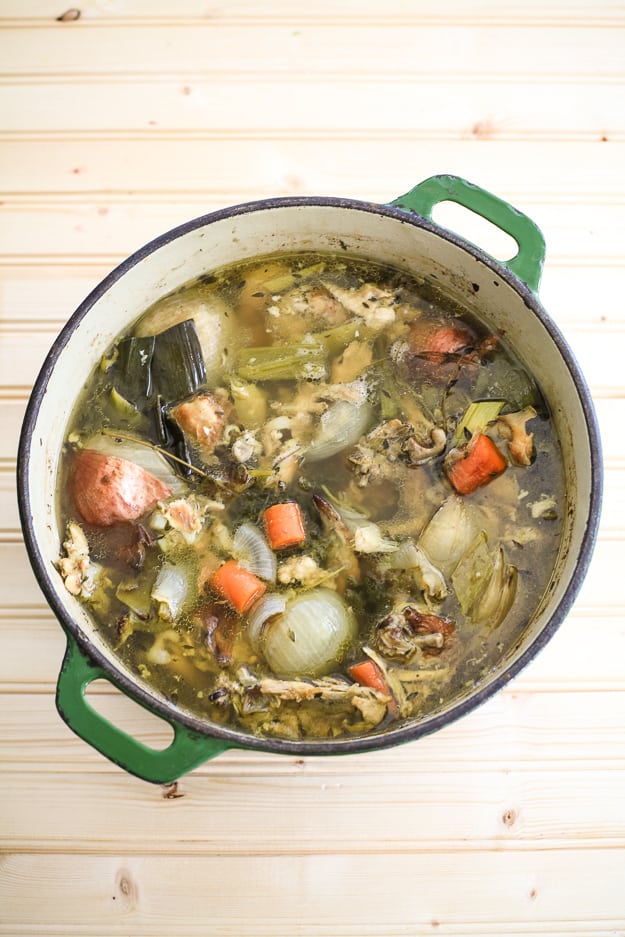 The biggest difference between homemade stock and store bought stock, besides the flavor, is when it cools homemade stock become gelatinous. I know, not the lovelies word but, it is what it is. This is because when bones are used to make stock the gelatin or marrow in the bone is extracted when simmered. Once it cools it firms up, but no worries once reheated it will again become liquid. There are several possible reasons why store bought stock does not gel. It could be that the stock cooks at too high of a temperature which breaks down the collagen, the stock doesn't simmer long enough or too much water is added. All of these things contribute to a less developed flavored stock.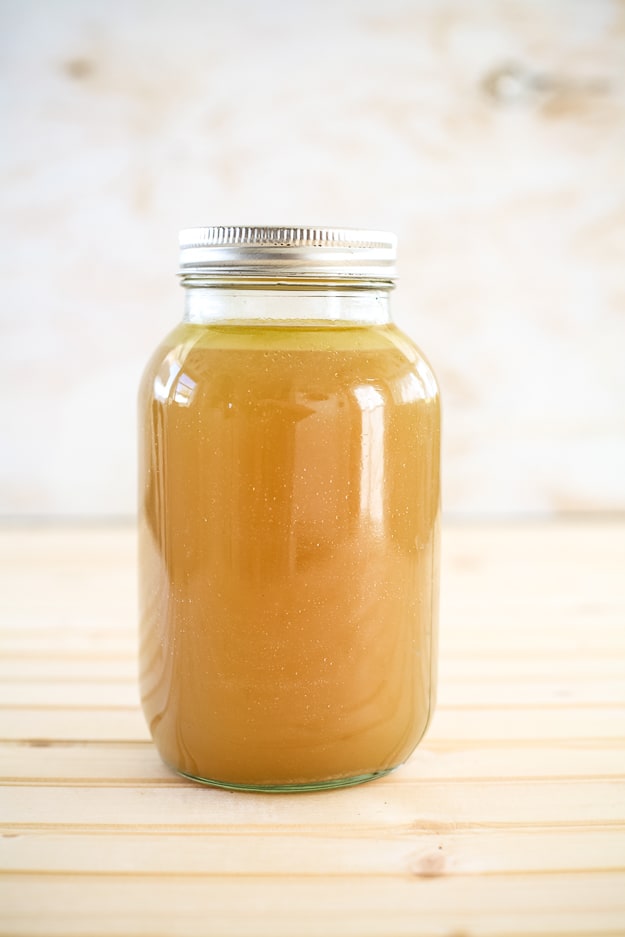 If you have never made chicken stock, I strongly encourage you that you get right on it! It will change your life and your food. Remember a stock is not just for soups it can be used in anything! It can be canned or frozen to use whenever you need it. I also like to freeze it into ice cubes. It makes it easy to add a little flavor to any dish.
Yield: 2 quarts
Homemade Chicken Stock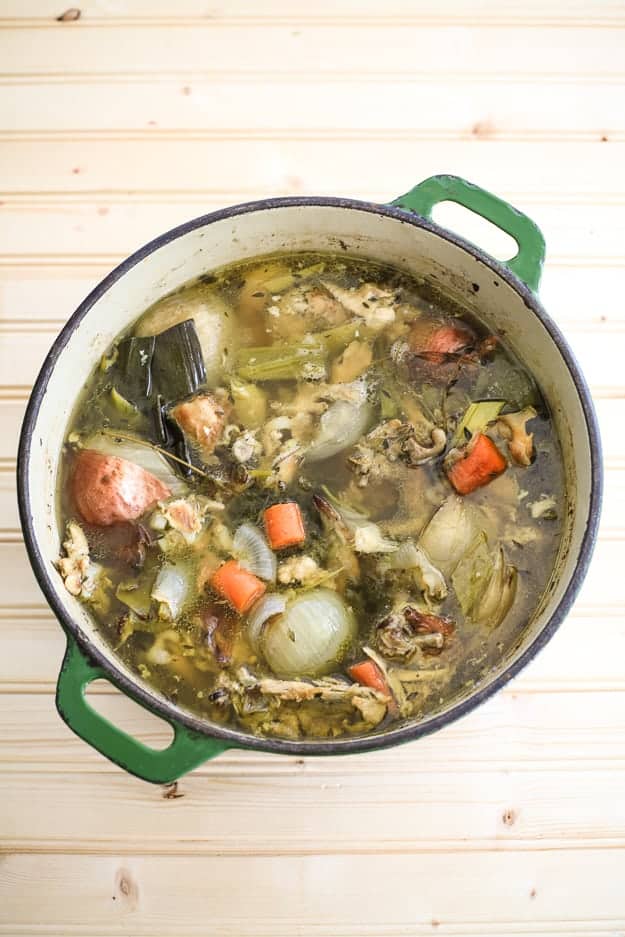 Ingredients
2 whole chicken carcasses
1 leek
2 large carrots
2 onions, quartered skin on
2 celery stocks
1/2 bunch parsley
6 sprigs thyme
1 head of garlic, cut crosswise or 12 whole cloves garlic
2 teaspoons peppercorns
4 bay leaves
Instructions
Place all ingredients into a large heavy bottom pot or stock pot. Fill with cold water until just covered, about 12 cups. Bring to a boil. Simmer, uncovered, for 4 hours. Add water to the stock as needed.
Strain the entire contents of the pot through a colander and discard the solids. Chill the stock overnight. The next day, remove the surface fat. Use immediately or pack in containers and freeze for up to 3 months.
Notes
Using the carcass from store bought rotisserie chicken makes use of the whole chicken. Keep some of the meat from the rotisserie chicken to make chicken noodle soup.