This is a sponsored conversation written by me on behalf of Alexia . The opinions and text are all mine.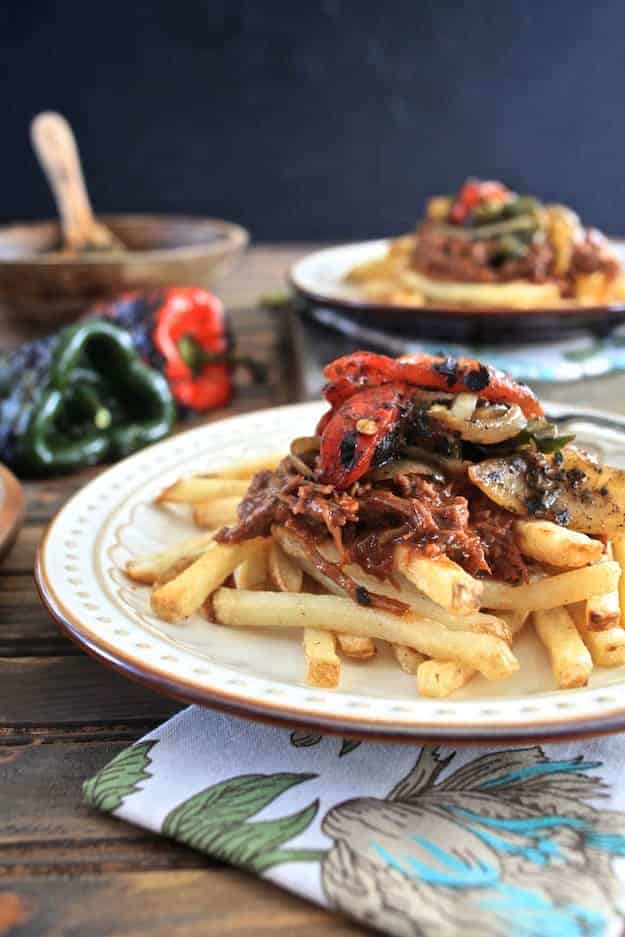 Lately, I have been obsessed with anything that has a little Mexican flare. This past Sunday I made the mistake of going to church without eating lunch, and all I could think about during the entire service was tacos. When it comes to breakfast, I use to be a strict sweet breakfast eater. Normally French toast if I was feeling fancy and sugary cereal if I was feeling lazy. But, now all I want is some form eggs with a little heat. I love a little heat to start my day.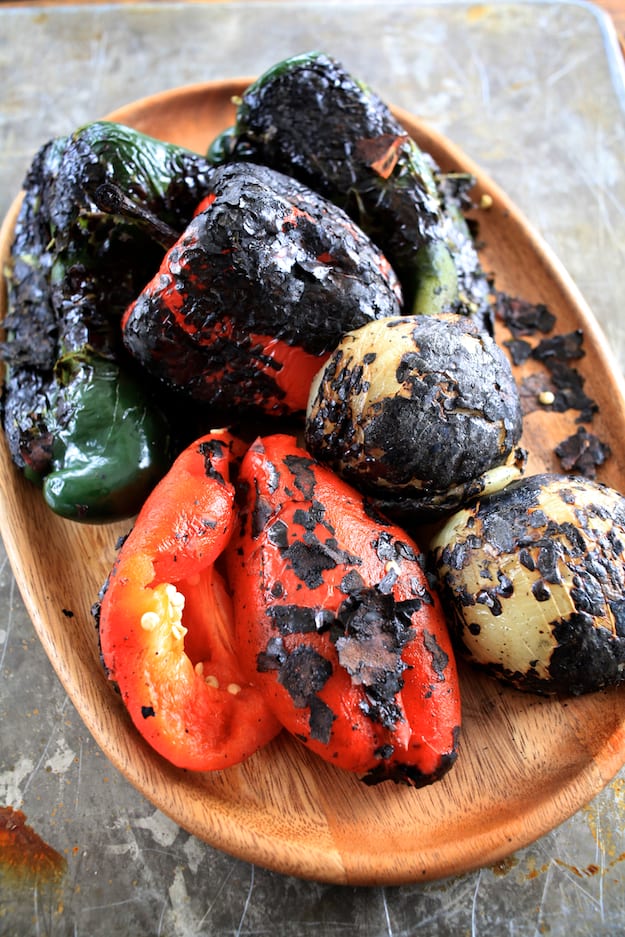 Many moons ago I was at a Peruvian restaurant where I ordered a plate of lomo saltado. It's a traditional stir-fry of beef, vegetables and fries. I was in love at first bite. When I was asked to create a recipe using my favorite brand of prepared potatoes, Alexia, I immediately thought of that wonderful dish of lomo saltado. But, as usual I have to make something my own, and since my current obsession is a little spice and Mexican flare, that is exactly what I did.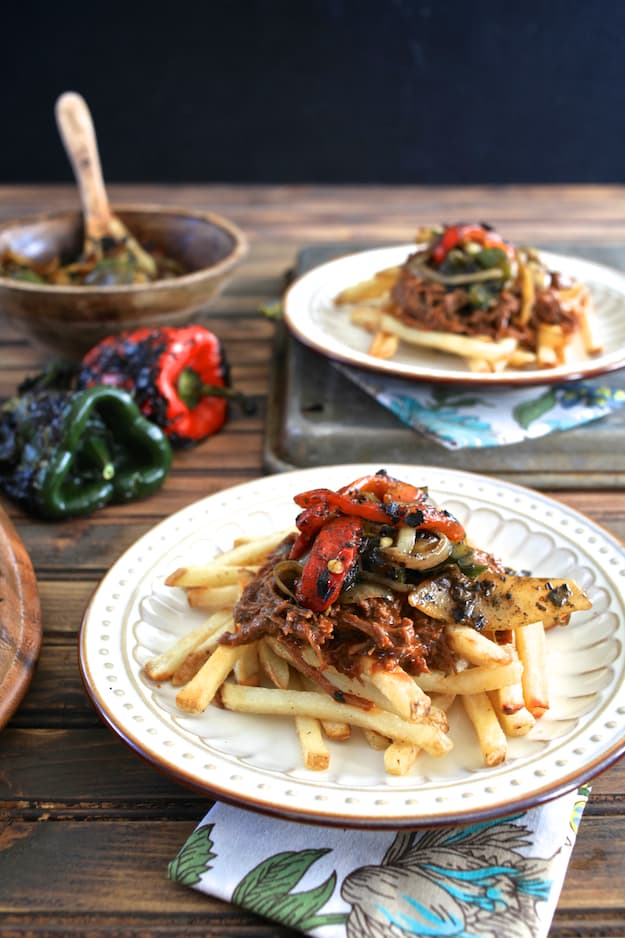 With the help of my trusty slow-cooker, this dish is a great way to add a little flare to a typical weeknight meal. Season the meat, sear it and drop it into the slow-cooker first thing in the morning. By dinner time, you will have tender saucy meat to serve over your crispy potatoes. While the potatoes are roasting in the oven, you can char the vegetables over an open flame. If you don't have, a gas stove top use your oven broiler.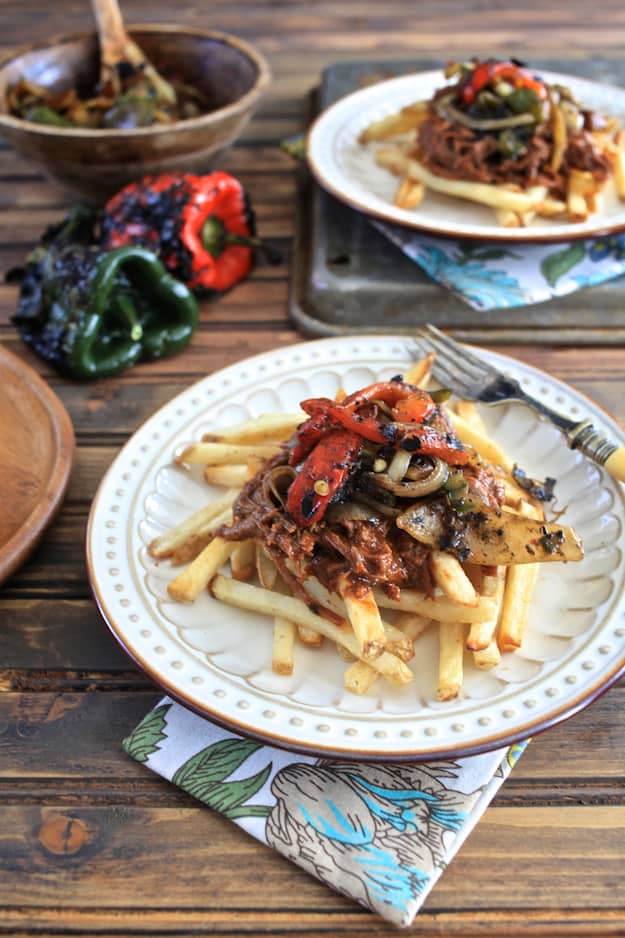 This saucy beef is great over any of Alexia's potatoes! If you are a sweet potato fan, I highly recommend trying this served over a bed of Alexia Sweet Potato Fries! The combination of sweet potato and spicy beef is a real winner!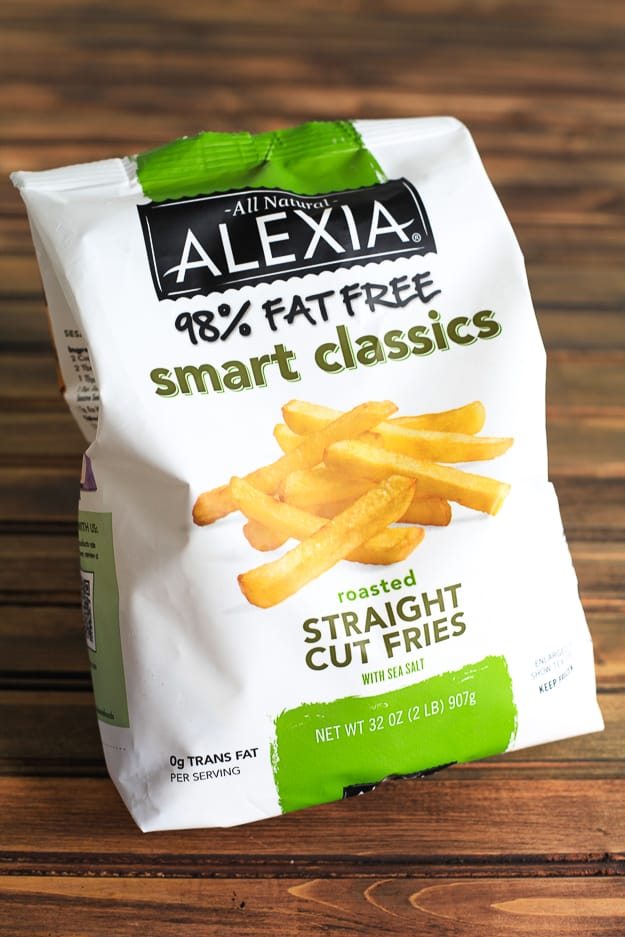 This dish is a real crowd pleaser! Saucy, spicy beef served over crispy potatoes, topped with roasted vegetables what's not to love? And, if you feel like kicking it up a notch adding a fried running egg would do the trick.
If you double the recipe, you will have leftovers for tacos later in the week. This dish is also a great dish to make ahead if you like. The meat holds up beautifully, and the roasted vegetables will hold for up to a week if refrigerated in an airtight container.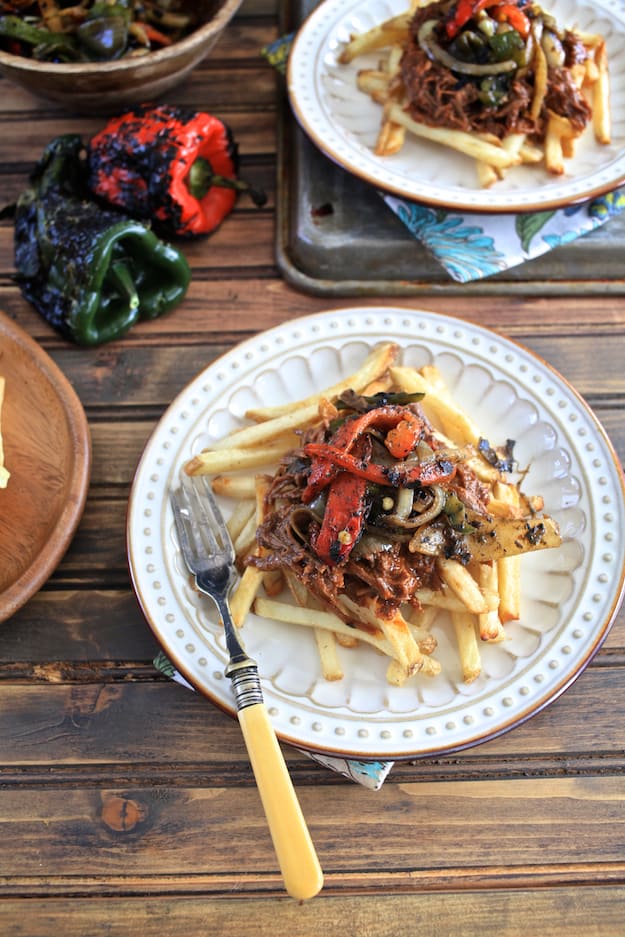 If you need more ideas on how to kick up that weeknight dinner visit Alexia's recipes. They have a great collection of scrumptious recipes that will satisfy the whole family. If you love Alexia as much as I do sign up for their Club 350 newsletter and get the latest dish on new products, tips and recipes!
Yield: 4
Slow-Cooker Southwestern Lomo Saltado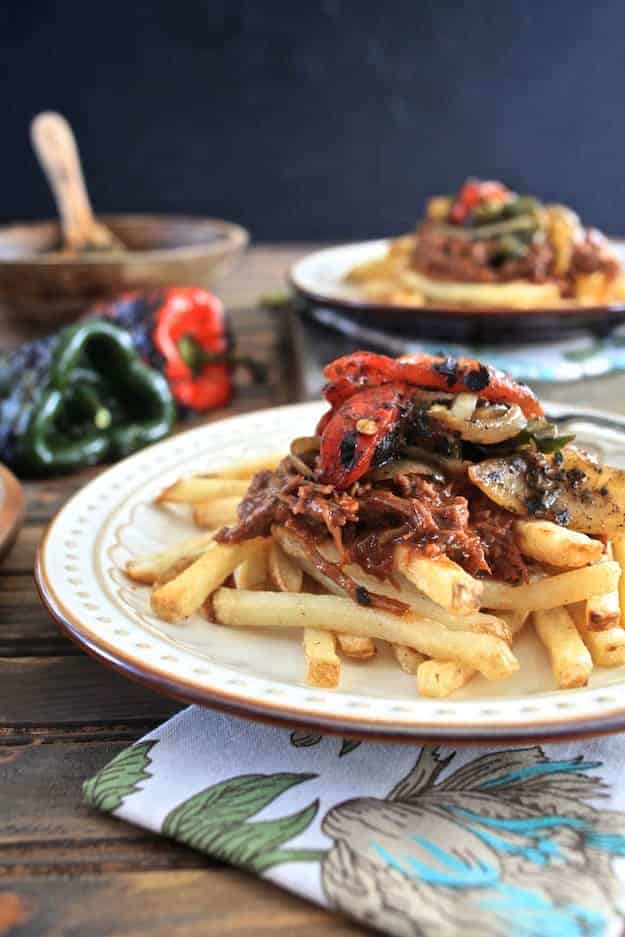 Slow cooked saucy beef with a touch of heat served over crispy potatoes and topped with fire roasted vegetables.
Cook Time
8 hours
50 minutes
Total Time
9 hours
5 minutes
Ingredients
1 tablespoon chili powder
1 teaspoon garlic powder
2 teaspoons ground cumin
1 1/2 teaspoons whole leaf dry oregano
1 teaspoon of salt
1 1/2 teaspoons cocoa powder
1 lb skirt steak, cleaned and cut into strips
1 poblano pepper
1 red pepper
1 large onion, peel and halved
1 tablespoon olive oil
1 cup beef stock
3/4 cup tomato sauce
2 tablespoons chipotle hot sauce
Instructions
Combine chili powder, garlic powder, cumin, oregano, salt and cocoa powder. Toss skirt steak with seasonings until evenly coated and well combined.
Heat a tablespoon of olive oil in a large heavy bottom skillet. Working in batches sear skirt steak strips until browned on both sides. Add beef stock to the pan and deglaze, scraping up all brown bits from the pan. Add skirt steak, beef stock, tomato sauce and hot sauce to a slow-cooker. Set to LOW for 4 - 5 hours our until meat shreds easily with fork.
Roast poblano pepper, red pepper and onion over and open flame or under a broiler until charred and blistered on all sides. Set aside to cool. Once cool, cut vegetables into strips combine and toss with salt and 1 tablespoon of olive oil.
Prepare Alexia Roasted Straight Cut Fries with Sea Salt according to package directions. Serve fries topped with shredded beef and roasted vegetables.
Alexia Foods offers frozen potatoes, appetizers, breads and side dishes with minimal, but distinctive, real ingredients that serve-up exceptional taste. Alexia frozen sides are a delicious addition to a balanced meal with that little something extra and can be ready in 25 minutes—or less. Sign up for Alexia's Club 350 newsletter for more great meal inspiration!
Alexia. Farm to Flavor.
This is a sponsored conversation written by me on behalf of Alexia . The opinions and text are all mine.