It's Sunday.
It's a rainy Sunday.
It's a hot and rainy Sunday, which means it's crazy humid.
In summary I don't want to cook dinner.
What does that mean? It's sandwich night.
Just because it's sandwich night doesn't mean that you must have some puny sad sandwich. Puny sad sandwiches are just…..well they are sad and puny.
I went digging through my refrigerator to see what I had on hand. I found a few leftover chicken tenders, half an avocado, some bacon and cheese. Sounds like a sandwich to me!
I liked the idea of chicken ranch. As in chicken with ranch seasoning, not a chicken ranch sandwich. You know what I mean right? I don't want a chicken ranch in my sandwich because that would be gross. Like really gross.
I am glad we got that cleared up.
Way back in the dark corners of my pantry I found a packet of ranch dressing mix. I sprinkled some over the chicken and tossed it until well coated.
Mash up the avocado with a squeeze of lime juice and a sprinkle of salt.
If you wanted to you can buy some ready to eat bacon, but I think it's always better to cook the bacon yourself. Just line a sheet pan with parchment paper, lay bacon on the pan and roast in the oven at 400 degrees until crispy.
Smear a slice of sourdough bread with the mashed avocado, top with chicken, followed by bacon and finally your choice of cheese. I used a Colby Jack.
Heat your panini press and brush with butter or olive oil. Press the sandwich until it's hot, crispy and gooey.
Sunday dinner is served! Just in time to watch Falling Skies.
More Panini Love:
Items Used in this Recipe:
Chicken, Bacon and Avocado Panini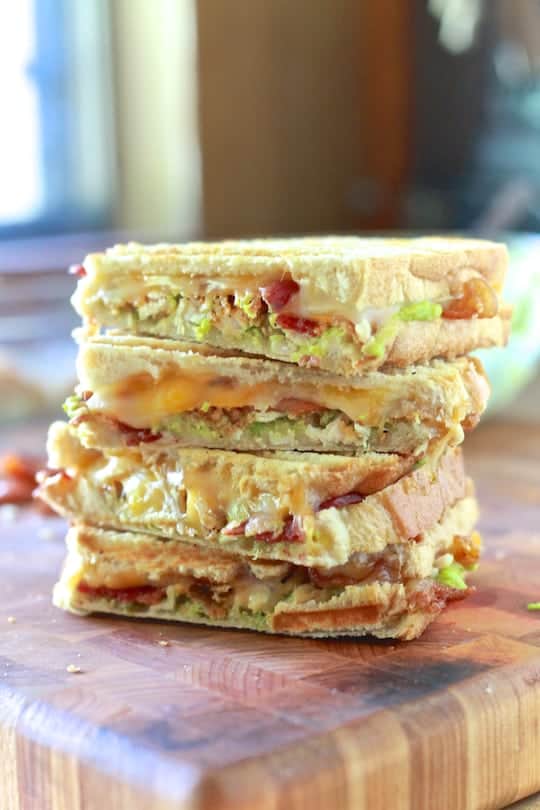 Ingredients
4 breaded chicken tenders, diced
1 tablespoon ranch dressing mix
6 slices bacon
1/2 avocado
juice of 1/2 a lime
salt
4 slices cheese
4 slices sourdough
Instructions
Pre-heat oven to 400 degrees.
Line a sheet pan with parchment paper. Lay bacon on a sheet pan and roast in the oven for 15 - 20 minutes or until crispy.
While bacon is in the oven combine diced chicken with ranch dressing mix, set aside. Mash avocado with lime juice and salt, until smooth.
Heat panini press. While the press is heating assemble the sandwich.
Spread mashed avocado on a slice of bread, followed chicken, bacon, cheese and topped with bread. Brush press with butter or olive oil. Press sandwich until warmed through, crispy and gooey.