On a scale from 1 to 10 my productivity level this weekend hovered around a -16.
I had plenty of things I needed to get done this weekend, like write this post for example.  I also need to pack for BlogHer 13 in Chicago.  I hate packing.
Instead of doing what I should have been doing (ie. packing, writing, cleaning) I watched a marathon of Friday Night Lights on Amazon Prime.  It was a long and hard marathon.  (I really need to get a more comfortable couch.)
Good thing I made these delicious quinoa fruit & nut bars this week.  They were a perfect source of energy for my marathon.
After all anytime you do a marathon you want to make sure of two things, a good source of energy and hydration.   These bars are supercharged with quinoa, fruit & nuts.
I wanted the bars to be super healthy, so I used natural sweeteners like amber agave, fruit juice and coconut palm sugar, which is a great substitution for brown sugar.
I used my Homemade Granola recipe as a guide and with a few tweaks I had a whole new granola that was easily made into bars.   That is the great thing about that recipe, it is so easy to make your own.
I was crazy happy with how delicious these bars turned out.   Between the toasted nuts and grains, the rich amber agave, deep caramel flavor of the coconut palm sugar and spices, these bars are a wonderful treat.
Now if you don't mind I am in the home stretch of my Friday Night Lights marathon, quinoa granola bar and water bottle in hand.

Yield: 24 bars
Quinoa Fruit & Nut Bars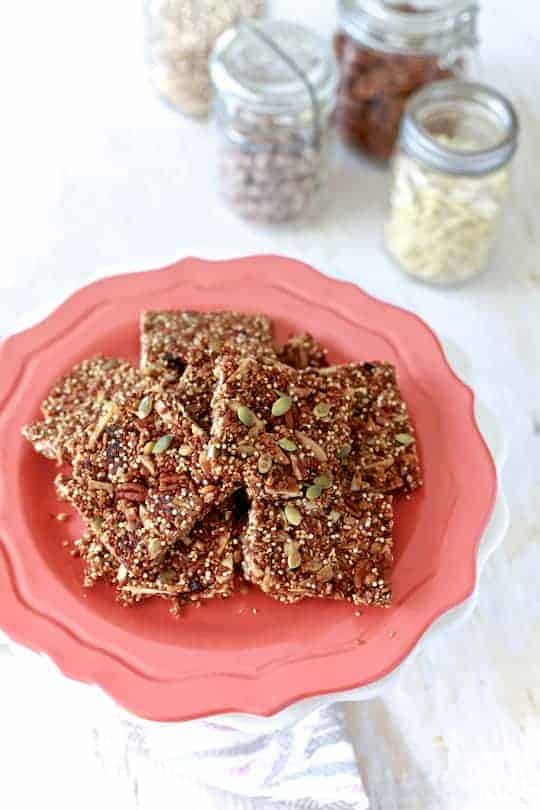 Ingredients
2 cups of oats
2 cups quinoa
2 cups of choice chopped nuts
1 cup dried fruit
1/4 cup coconut oil
1/4 cup juice
1 cup amber agave
1/4 cup coconut palm sugar or brown sugar
1 tablespoon vanilla paste
1 tablespoon cinnamon
1/2 teaspoon nutmeg
1 teaspoon ginger
1 teaspoon salt
Instructions
Combine all dry ingredients in mixer bowl. Stir on low until well-combined.
In a separate bowl, combine all wet ingredients, including coconut oil. Slowly drizzle wet ingredients into dry ingredients with mixer on low.
Turn the granola mixture out onto a heavily-sprayed rimmed sheet pan. Bake in a heated oven at 350° for 25 to 30 minutes, or until golden brown. If using a dark sheet pan, you may need less time, around 20 to 25 minutes. Stir twice while baking.
Turn warm baked granola onto a cool sheet pan lined with parchment paper. Spread the granola out evenly all the way to the edges using a stiff metal spatula. Press the granola mixture into the rimmed baking sheet by placing a second rimmed baking sheet on top of the one holding the granola and pressing down firmly.
Refrigerate overnight to set. Cut into squares and wrap squares with strips of parchment paper.
Store in a resealable bag and keep refrigerated.
Notes
Replace oats with quinoa flakes for gluten free granola bars.