This post brought to you by Heinz Ketchup. All opinions are 100% mine.
The big game is right around the corner. Are you ready for some football!? Are you ready for some awesome Super Bowl commercials?! I watch the commercial as much as I watch the game. Well, let me be really honest. I watch the commercials more than I watch the game. So, when Heinz asked to partner up with them and give a sneak peek to their Super Bowl commercial I was all in.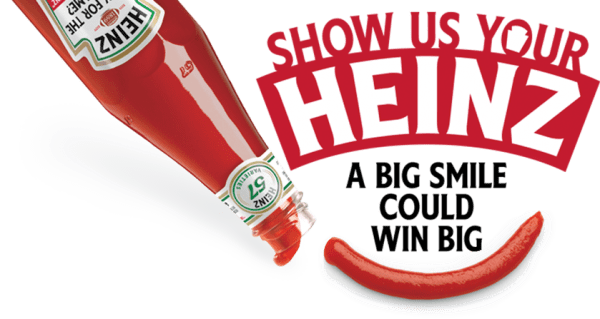 This is the first time in 16 years Heinz is back for the big game and only the second time ever! Catch a sneak peek of the commercial before it broadcasts! It's sweet, funny, happy, sure to bring a smile to your face, and you may end up with a song in your head. Watch the Heinz Super Bowl spot now!
The commercial made me think of when I went to a summer picnic, birthday party, tailgate and even my own wedding and I realized that their was a bottle of Heinz ketchup somewhere close by. Yes, even my wedding! I also thought of the cute little bottles that you get when ordering room service. I love those bottles! They always make me smile. Try it for yourself and think of the last time you reached for the bottle of Heinz 57. I bet you were happy and had a smile on your face. Even this weekend when spending time with friends watching the Super Bowl you know a bottle of Heinz 57 will be close by.  Now it's time to Show Us Your Heinz! Snap a photo of yourself with your Heinz 57 and you can get in on more than $400,000 in prizes.
When I think of football I think of friends, fun and the grill.Unfortunately, practically the whole of the United States is freezing, which does not encourage spending time outside grilling. No, worries though, with a little oven smoking you to can have ribs that taste like they just came off the grill. Just add a few chips to the bottom of a roasting rack with just enough water to barely cover the chips. Cover with a tight aluminum seal and roast in the oven for 2 hours at 250 degrees. It's all about the low and slow.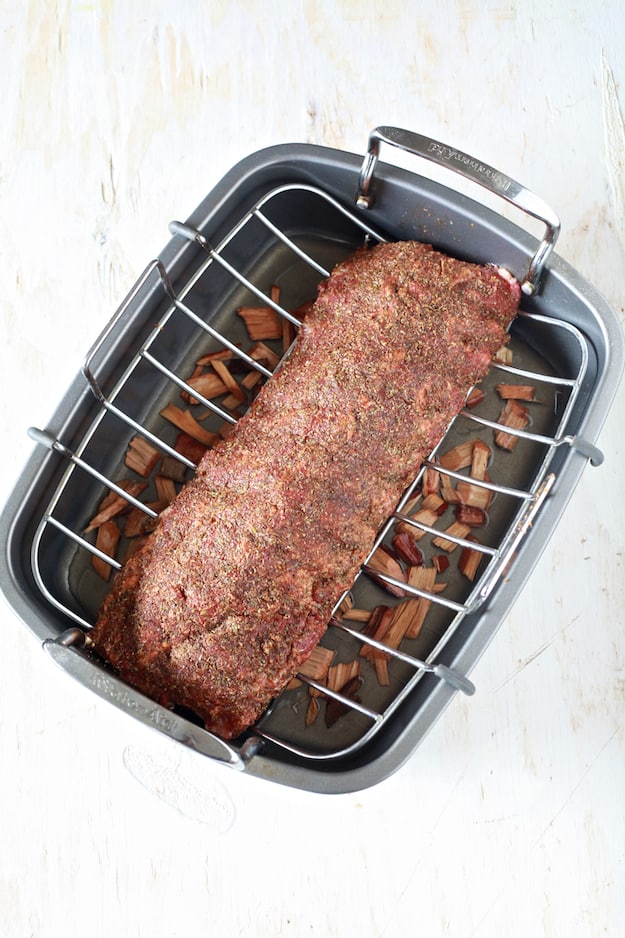 Nothing makes a better bbq sauce then some Heinz 57 ketchup! I always go for the Heinz when making a bbq sauce from scratch. This time I wanted to give it a spicy twist, and went for the Hot & Spicy Heinz Ketchup. I love this stuff!! It's dangerously addictive with just the right amount of heat.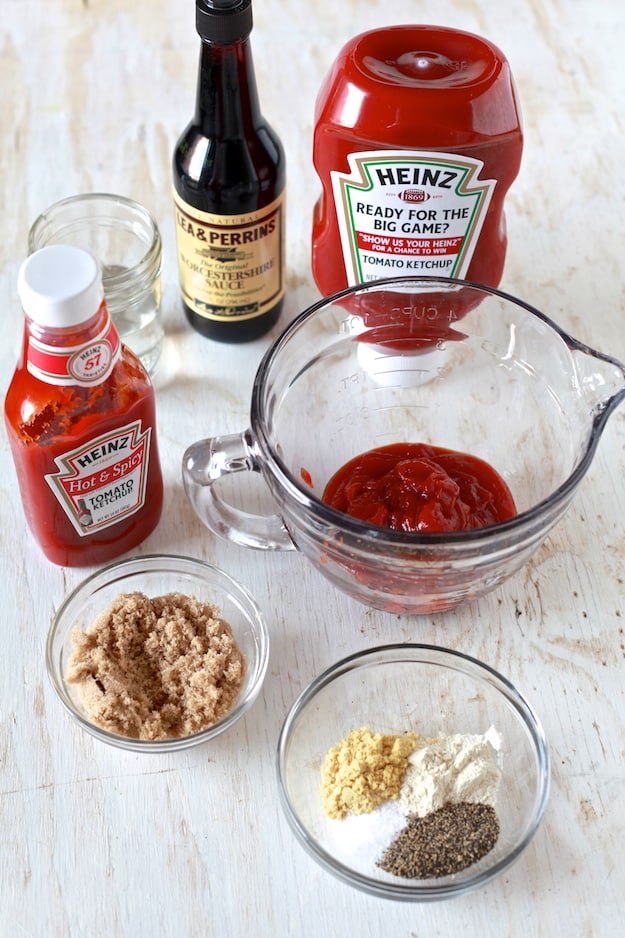 Happy, happy, saucy, saucy…Mmmmm nuf said.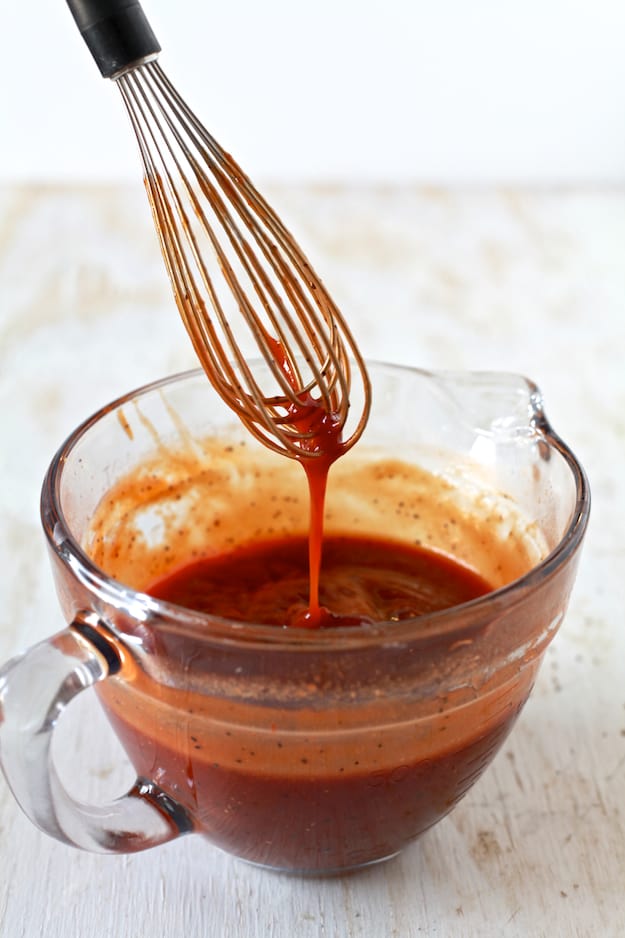 After two hours, the ribs will be smokey and tender but not quite falling apart yet.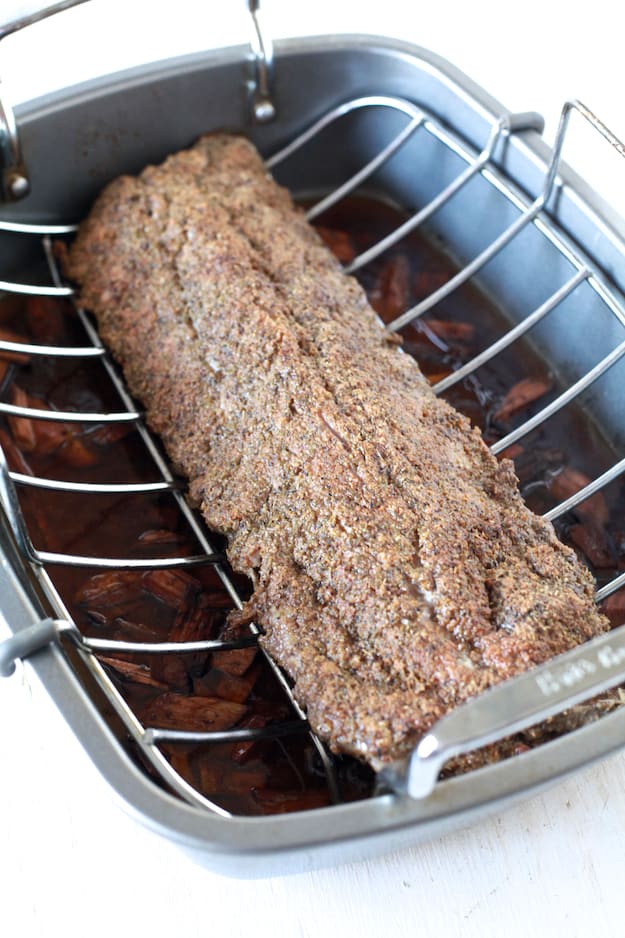 Baste the ribs generously on both sides with bbq sauce. Return to the oven at 350 degrees for 30 minutes basting again half way. Raise the oven to broil and while keeping an eye on the ribs broil until sauce is bubbly and caramelizing, about 3 minutes.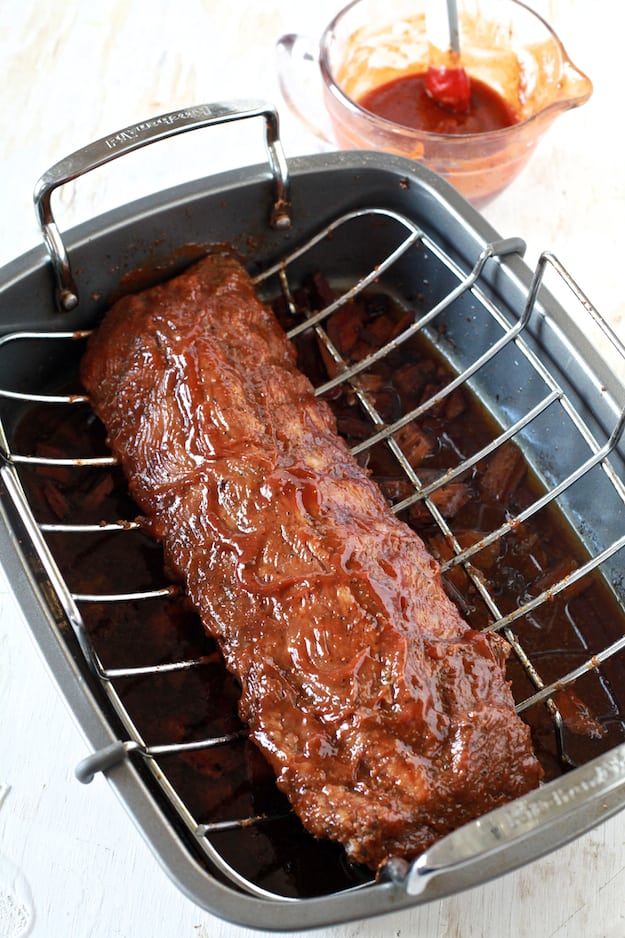 Helloooooooo! Lovelies!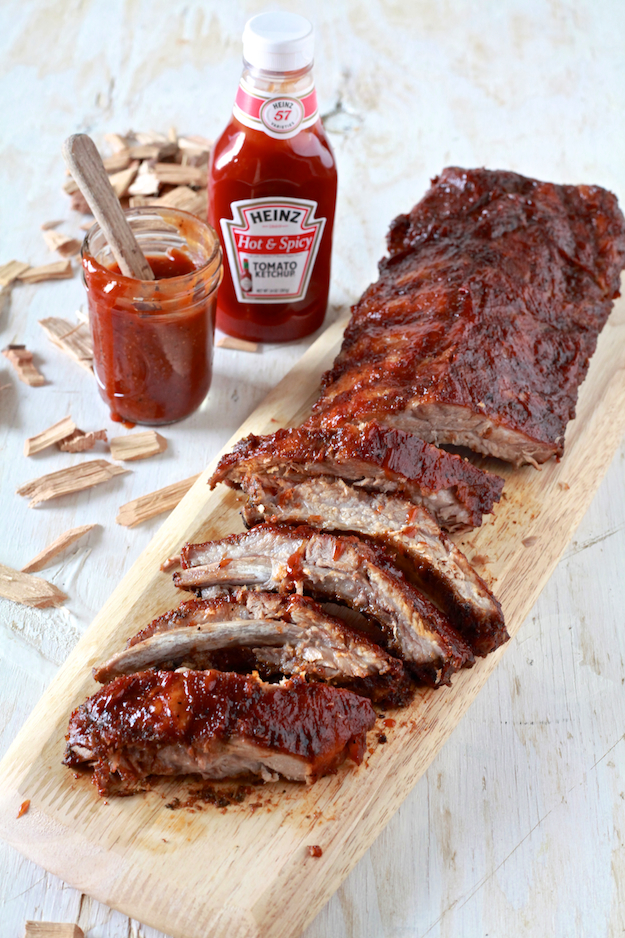 Those are some good-looking ribs!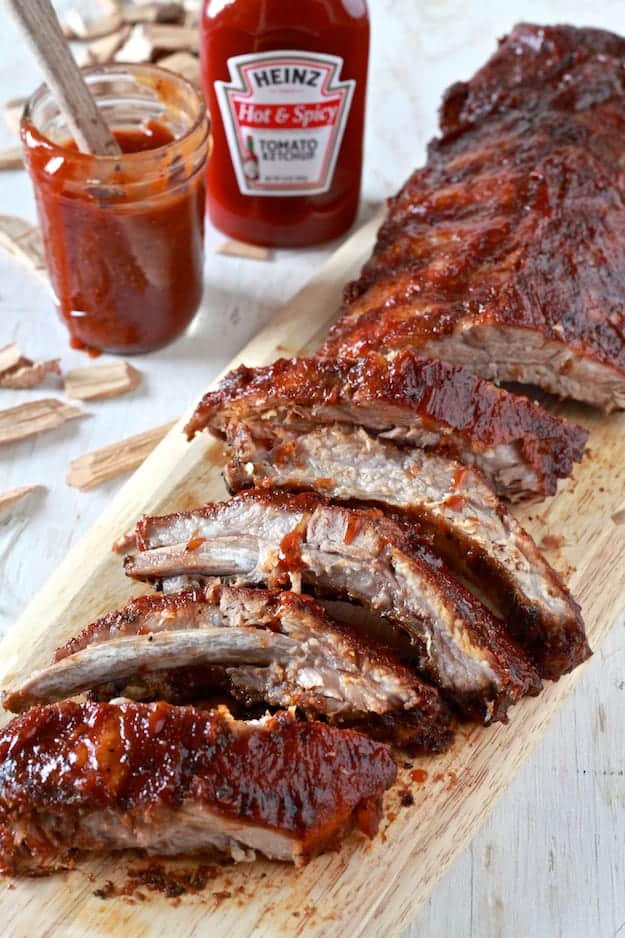 Do you need further proof of how amazing and tender these ribs are? Nothing proves it more than a clean bone! Check it out! Not a bit of meat left behind on that bone.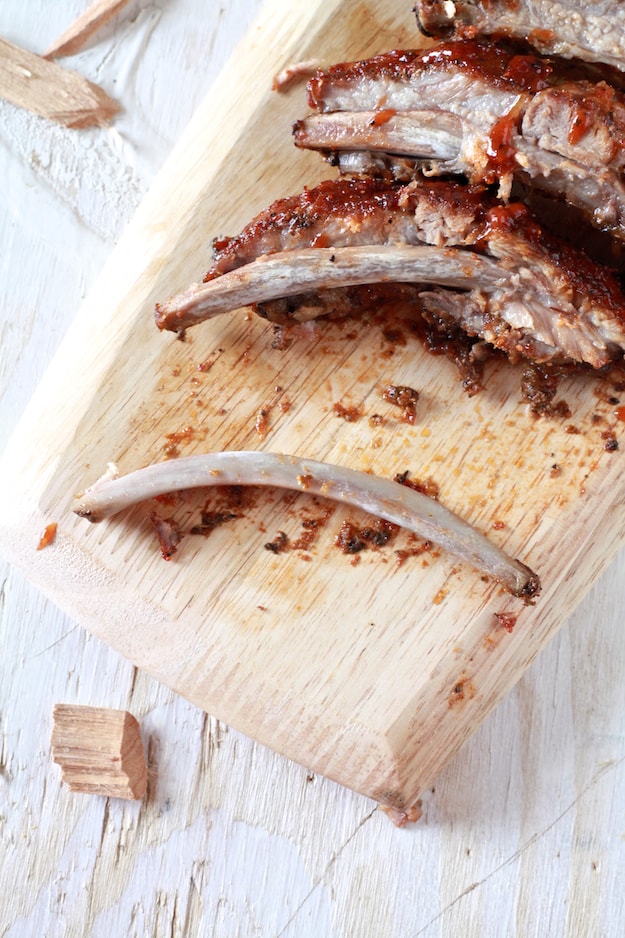 Oh my heavens! These ribs may have been the best I have made so far. They have just enough hot & spicy to let you know they mean business without kicking you in the face. I licked my fingers and bones as if it were my last time ever eating ribs.
Whether it's on a burger, fries or in your best sauce. However, you choose to Show Us Your Heinz if you're anything like me you will be doing your eating happy dance and singing "If You're Happy and You Know It". You know what would be super awesome!? These ribs with a side of crispy hot fries and some Heinz 57 for dipping. *swoon*

Spicy BBQ Oven Smoked Ribs
Ingredients
3.5 - 4 lb baby back ribs
1 cup hickory wood chips
Rub
3 teaspoons kosher salt
1 1/2 teaspoons pepper
1 1/2 tablespoons granulated garlic powder
3 tablespoons oregano
1 tablespoon chili powder
2 tablespoons brown sugar
BBQ Sauce
2 cups Hot & Spicy Heinz Ketchup
1/4 cup Heinz white vinegar
1/2 cup water
1/4 cup brown sugar
2 tablespoons sugar
1/2 tablespoon ground black pepper
1/2 tablespoon ground mustard
1/2 tablespoon garlic powder
2 tablespoons Worcestershire sauce
Instructions
Pre-heat oven to 325 degrees.
Add wood chips to the bottom of a roasting pan, add just enough water to barely cover the chips, place roasting rack in pan and set aside to let chips soak.
Clean and prep ribs by removing the membrane off the back of the ribs and patting dry. In a small bowl combine all rub ingredients. Using all of the rub, coat ribs front and back. Place on prepared roasting rack. Cover tightly with aluminum foil, making sure to make a tight seal. Roast in oven for 2 hours.
In a medium saucepan, combine all sauce ingredients. Bring mixture to a boil, reduce heat to simmer. Cook uncovered, stirring frequently, for 1 hour.
Pull ribs from the oven and remove foil. Baste generously front and back with bbq sauce. Raise oven temperature to 350 degrees. Return ribs to the oven and roast another 30 minutes, basting again half way through. Raise the oven to broil. Keeping an eye on the ribs broil until sauce is bubbly and caramelizing, about 3 minutes.
Transfer to cutting board, slice and serve.
Copyright 2012 - All Rights Reserved - TheNoshery.com