If you didn't get the memo it's summer.
Just thought I would let you know, in case you have been under a rock for the past few months or living in Antarctica.
Don't get me wrong I know that "technically" Antarctica has summers, but I believe it is safe to assume that even during the summer they can't grow zucchini since is hovers around 36°F.
However if you are somewhere below Antarctica you could possibly have an abundance of zucchini and summer squash on your hands right now. Although you could pickle and can in anticipation of the cold frigid winter to come, not to be compared to Antarctica's 70°F. (Sounds like the perfect vacation to me…not!) Why not try a fresh and delicious salad?
What I love about a salad like this is the versatility of the salad. You can serve it as an appetizer or a side dish, orzo instead of quinoa, cilantro instead of basil and maybe add some avocado. There are really not rules. The point is to use up the mutant zucchini that is taking over the farmer's markets.
Seriously soon there will be a viral video of a 50 ft zucchini thrashing through a farmer's market…freaky!
The secret to making zucchini & yellow squash ribbons is, *drum roll*, a vegetable peeler!
Just run the vegetable peeler down the side of the zucchini and you will have a ribbon. It's a technique that requires a lot of skill, including nun-chuck skills, bow hunting skills, computer hacking skills…because zucchini only wants someone with great skills.
Set ribbons aside.
After removing the corn kernels from the cob transfer them to a hot skillet with olive oil. Cook them until tender and brown, about 8 minutes.
Assemble all of your ingredients, quinoa, zucchini & squash, parm, dressing, herbs, pecans & corn. Combine salad ingrediants together in a large bowl, drizzle with dressing and toss.
Beautiful salad! If you see here I kept it light on the quinoa because I wanted the zucchini & squash ribbons to be the real stand out part of this salad.
I served this salad as a side dish to some grilled salmon.
I love the freshness and lightness of this salad. The ribbons stay crisp giving it a bit of crunch and texture. Perfect to have with a protein or alone.
The best part is how easy it is, ideal for a weeknight dinner.
Yield: 4
Zucchini & Summer Squash Ribbon Salad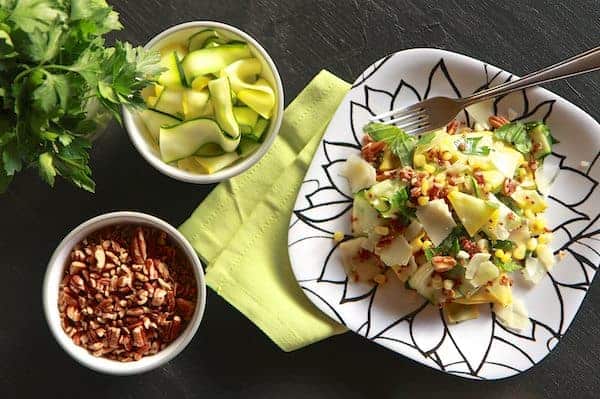 Ingredients
Dressing
1/4 cup oil
3 tbs white vinegar
juice from 1/2 a lemon
1 tbs honey
2 cloves garlic, pressed
1 tsp Dijon mustard
salt & pepper to taste
Salad
1 zucchini
1 yellow squash
1 ear of corn
1/2 cup prepared quinoa
1/4 cup pecan pieces
basil, torn
parsley, torn
parmesan, torn
Instructions
Combine all the ingredients for dressing in a container with a tight-fitting lid, shake until well combined, set aside.
With a vegetable peeler peel the zucchini and squash into long ribbons until you begin to see seeds, then peel ribbons from the other side, set aside. Using a knife remove corn kernels from the cob. Transfer the corn kernels to a hot skillet with olive oil over medium-high heat. Cook until tender and beginning to brown, about 8 minutes.
In a large bowl combine salad zucchini, yellow squash, corn and remaining salad ingredients, drizzle with desired amount of dressing and toss.
Combine salad ingredients to your liking. If you want more or less of anything make your desired adjustments.