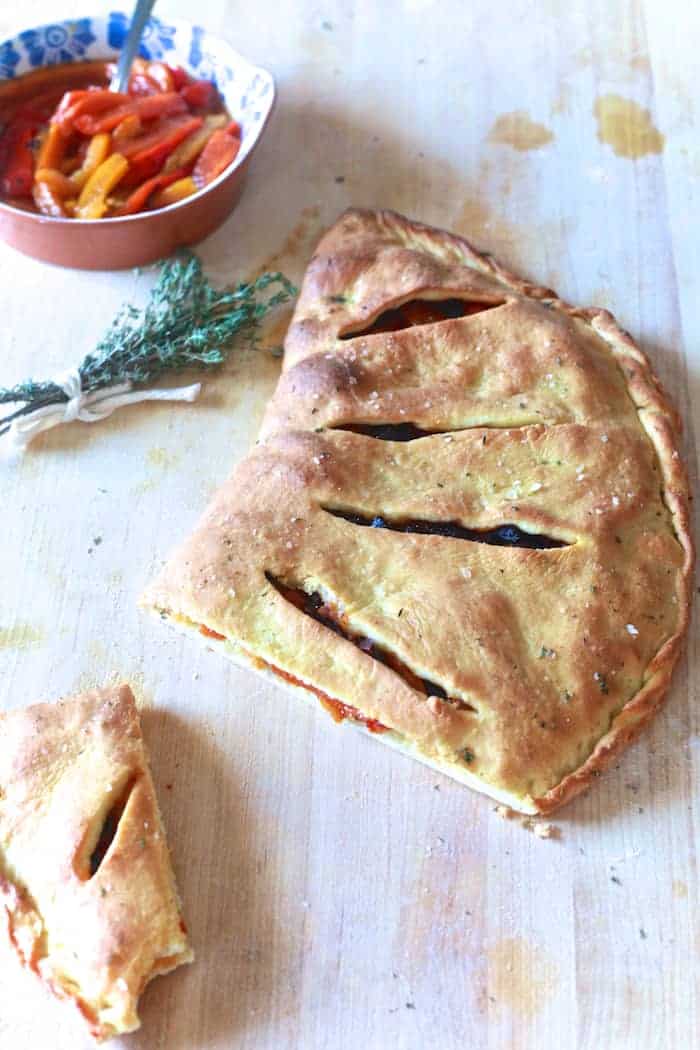 The other day I went for a run on a hiking trail. While I was blissfully jogging on the trail listening to my audio book a rock suddenly popped up. I gracefully stumbled, fell on my knee, landed on my right shoulder and slid down hill. It was a move worthy to be presented on the stage of the American Ballet Theater…if it had been taken over by clowns. Needless to say I wanted to yell something like FOUGASSE!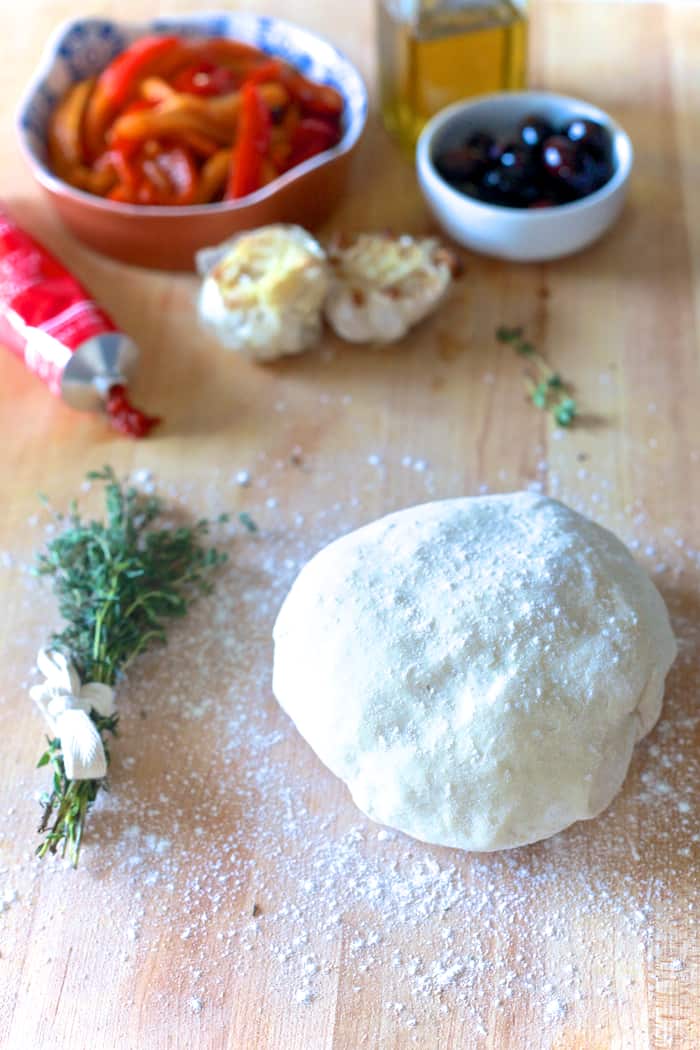 FOUGASSE! It's one of those words I feel the need to yell and over annunciate with a really strong Italian accent. Funny thing is it's French. Maybe it's because it also makes me think of fugazi. Do you know what fugazi means? It means fake or counterfeit, but there is nothing fake about this fougassee. It's real and it's scrumptious!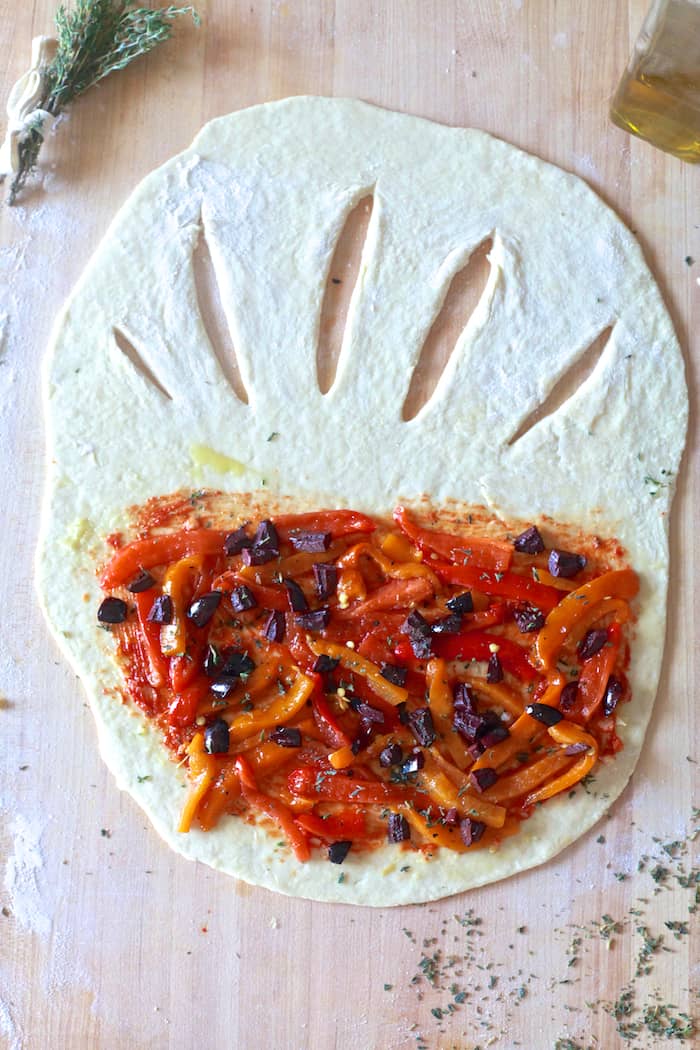 Fougasse is a bread typically associated with Provence, but found in variations in other regions. Some versions are sculpted or slashed into a pattern resembling an ear of wheat. Some are filled with goodies like the one I made here for you! Goodies like roasted garlic, spicy tomato paste, roasted red pepper and kalamata olives. Oh! My!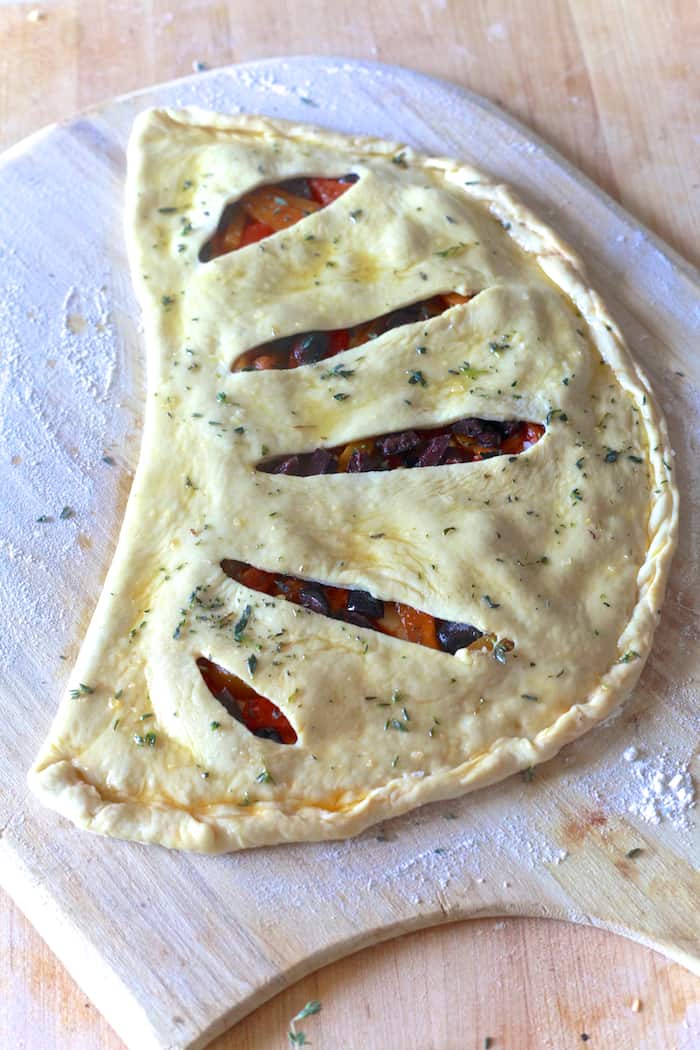 Home baked bread is magic that comes from your oven. It fills the air with a smell that hugs you on the inside and makes you want to rip the oven door open in desperation of warm toasty carbohydrates. Mmmmm….caaaarbs!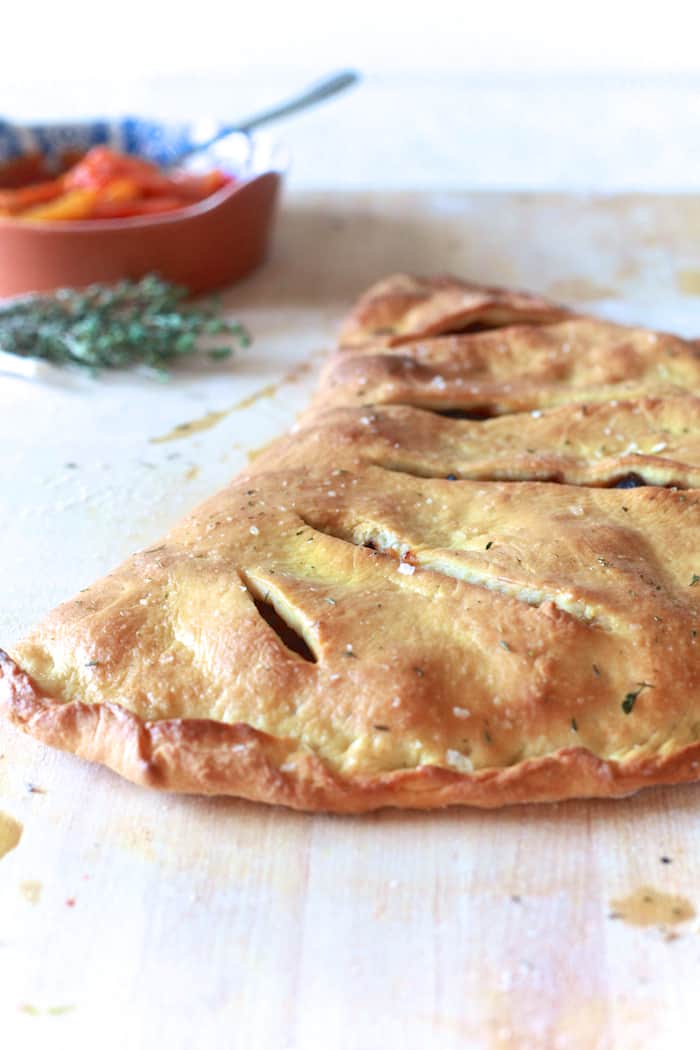 Let me tell you about this bread. It's crunchy on the outside and soft and tender on the in side. It's kind of amazing! My favorite part is the crispy edges. It's perfect to serve with your favorite pasta, sliced and served as an appetizer or consumed while hiding alone in your car when listening to Air Supply's "Without You". "I can't liiiiiiive! If living is without youuuuu!"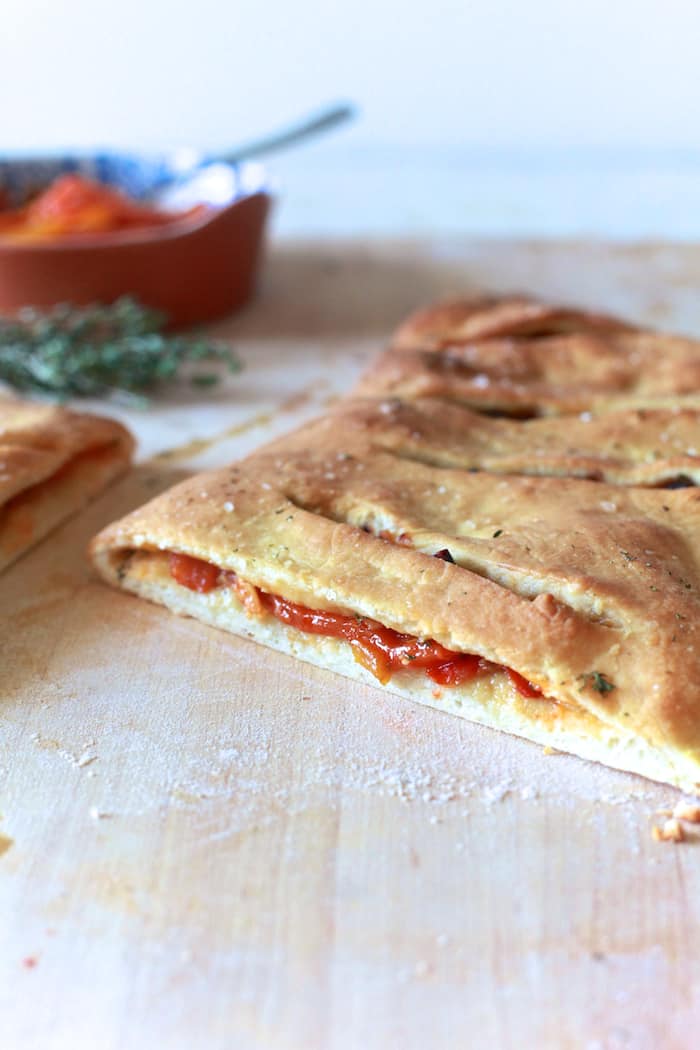 This dough recipe comes from the fabulous book The New Artisan Bread in Five Minutes a Day
. If you want fresh baked bread in your life on a regular basis you MUST get your hands on this book! No matter what your skill level you too can have fresh baked bread everyday!

Yield: 1 Fougasse
Roasted Red Pepper & Olive Fougasse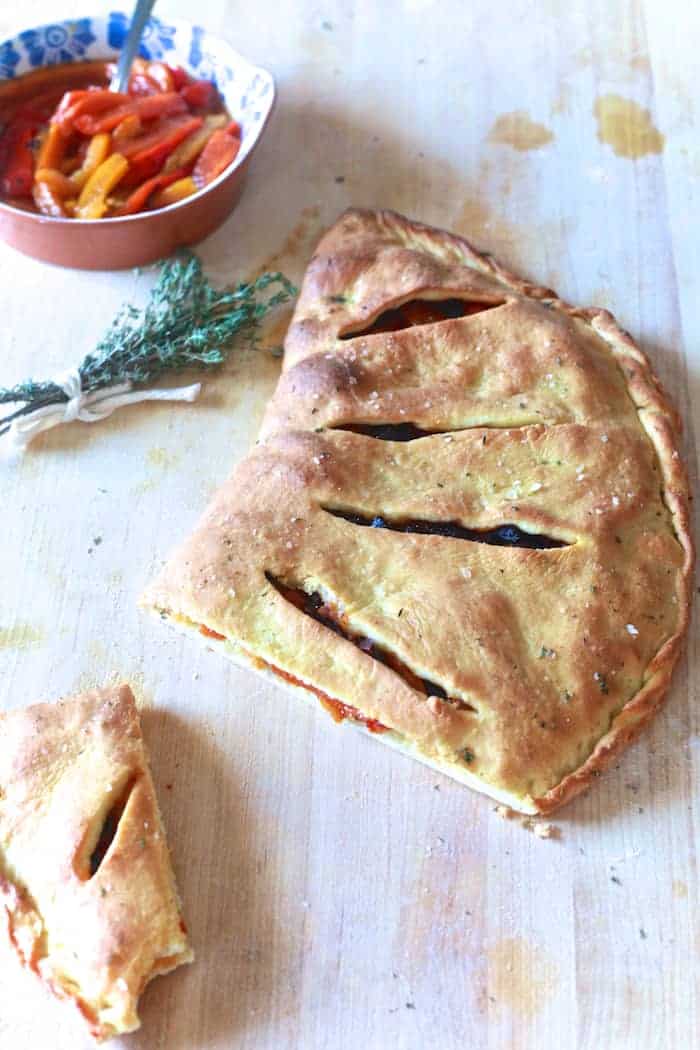 Ingredients
Bread - makes 4 1 lb loaves
2 3/4 cups lukewarm water
1 1/2 tablespoons granulated yeast (2 packets)
1 1/2 tablespoons Kosher salt
1 tablespoon sugar
1/4 cup extra virgin olive oil
6 1/2 cups bread flour
[br]
Filling
1 head of garlic
1 tablespoon hot pepper tomato paste or harissa
1/2 cup sliced roasted red peppers
1/4 cup diced kalamata olives
2 teaspoons chopped fresh thyme
olive oil
kosher salt
Instructions
Pre-heat oven to 400 degrees.
Dough
Combine all bread ingredients in a large 5 quart bowl or container. Mix with a spoon, until just combined. Turn out on flour board, wet hands and knead until fully incorporate.
Cover, and allow to rest at room temperature until the dough rises and collapses, about 2 hours.
Roast Garlic
While the bread is rising, trim about 1/4 inch off the top of the head of garlic to expose the tops of the garlic cloves. Drizzle with olive oil and sprinkle with salt. Wrap the garlic in aluminum foil and roast in the oven for 40 - 50 minutes or until the center clove is tender. Squeeze the garlic out on the cutting board, sprinkle with salt and mash to a paste using the side of a knife blade.
Assembly
Twenty minutes before baking time, raise the heat to 450 degrees with a baking stone placed near the middle of the oven. Place an empty pan on the rack below. (The pan will be filled with water to create steam in the oven.)
Dust the surface of the dough and cut of 1 lb of dough, about the size of a grapefruit. Roll the dough out on a floured surface to a 1/8 inch thick rough rectangle. Keep the rolling pin and surface floured to prevent sticking.
Transfer dough to peel or parchment paper. Cut angled slits into half of the circle of the dough, gently spread holes open with your fingers. Lightly drizzle the other half with olive oil, brush on roasted garlic paste and 1 tablespoon of hot pepper tomato paste. Top with peppers, olives, 1 teaspoon of thyme and season with salt. Dampen the dough edge, fold the slitted side over to cover the peppers, and pinch to seal. Brush the loaf with olive oil, sprinkle with salt and remaining thyme.
Slide the loaf directly on the hot stone. Pour 1 cup of hot water into the pan, and quickly close the oven door. Bake for 20 - 25 minutes, or until golden brown.
Allow to cool, then slice or break into pieces and serve.
Notes
Storage - Store the dough in the refrigerator in a lidded container (not airtight) and use over the next 12 days. This dough can be used to make a pizza crust, focaccia, flat bread or calzone. Allow refrigerated bread to rest for 20 minutes before baking.