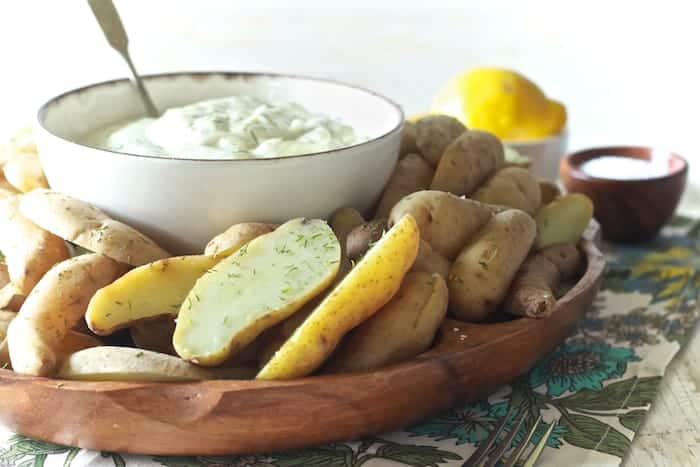 Have you ever wished you could eat your potato salad with your fingers? Everyone loves finger food. Why can't potato salad be a finger food? I know what your thinking, "Potato salad is messy and covered in mayonnaise. Besides it's not cute to eat potato salad with your fingers." But, what if it could be? I will let you in on a little secret. I eat potato salad with my fingers all the time, especially at bbq's and picnics. And, I encourage others to do the same.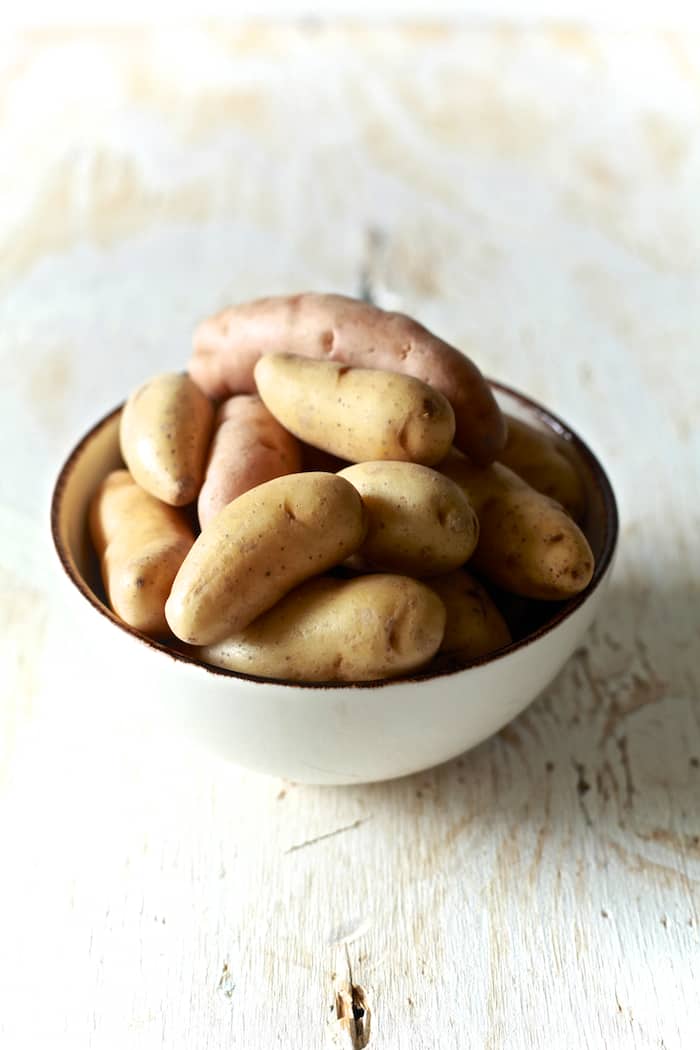 This is one of my favorite go to party recipes. It's really very simple, serve the potatoes and aioli (that's fancy talk for fancy mayonnaise) separately and you have potato salad you can eat with your fingers. Not to mention super cute appetizer. Anytime I am in a bind and I need an easy last minute dish to take to a party this is what I make. In fact, I made it just this weekend for the 4th of July.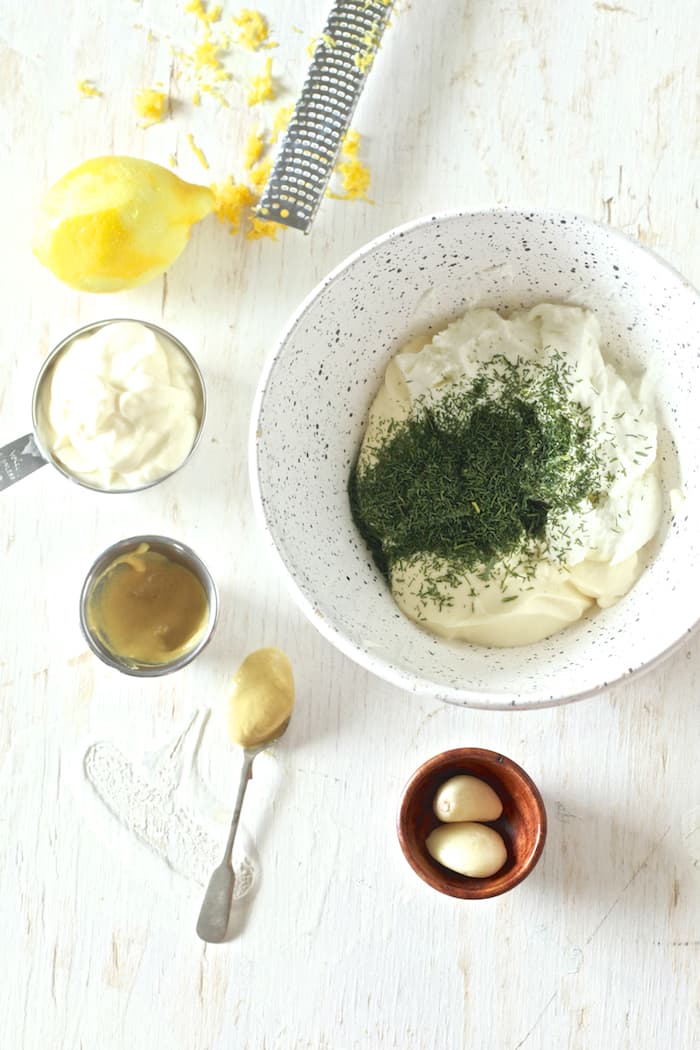 One of the keys to this finger friendly potato salad is fingerling potatoes. Imagine that! Fingerlings are perfect because they are small, hold together and long which makes them optimal for dipping. If I can find them I like to use the tri-color fingerling potatoes with the little purple taters, they're so cute!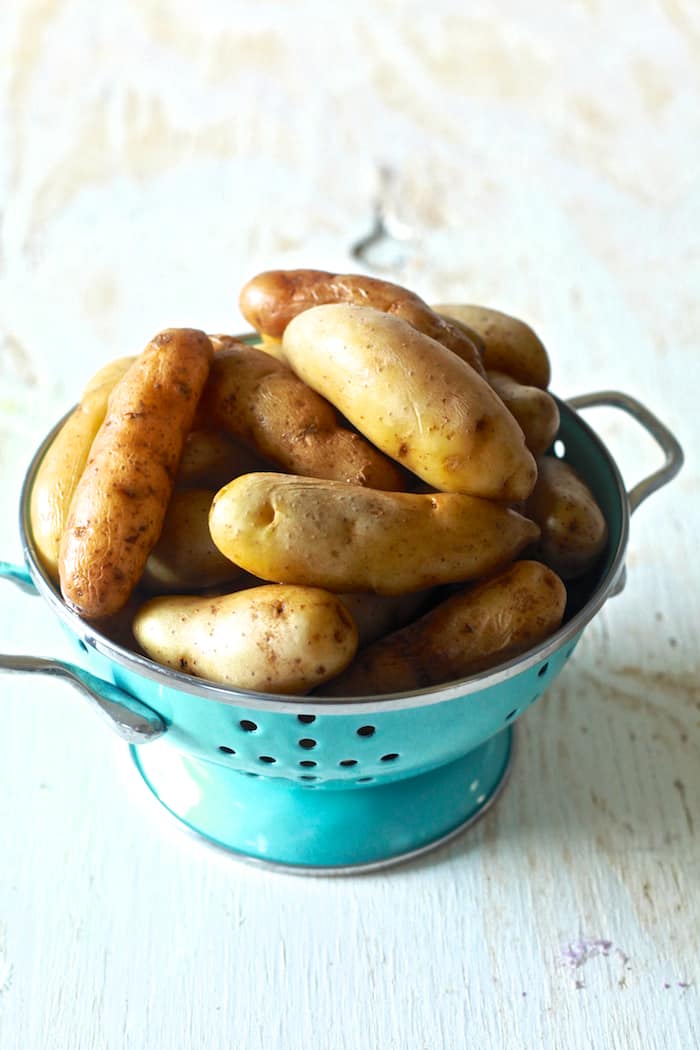 The addictive dip-ability factor of these little taters is off the charts. I promise you'll eat one after the other and the fact that you can eat them in one bite makes them even more dangerous. Besides what goes better with potatoes then lemon and dill? I know butter, but work with me here, dill and lemon come a close second. Ok! Cheese is second, but after that it's definitely lemon and dill. Besides it's summer, lemon and dill in the summer is preferable to butter and cheese.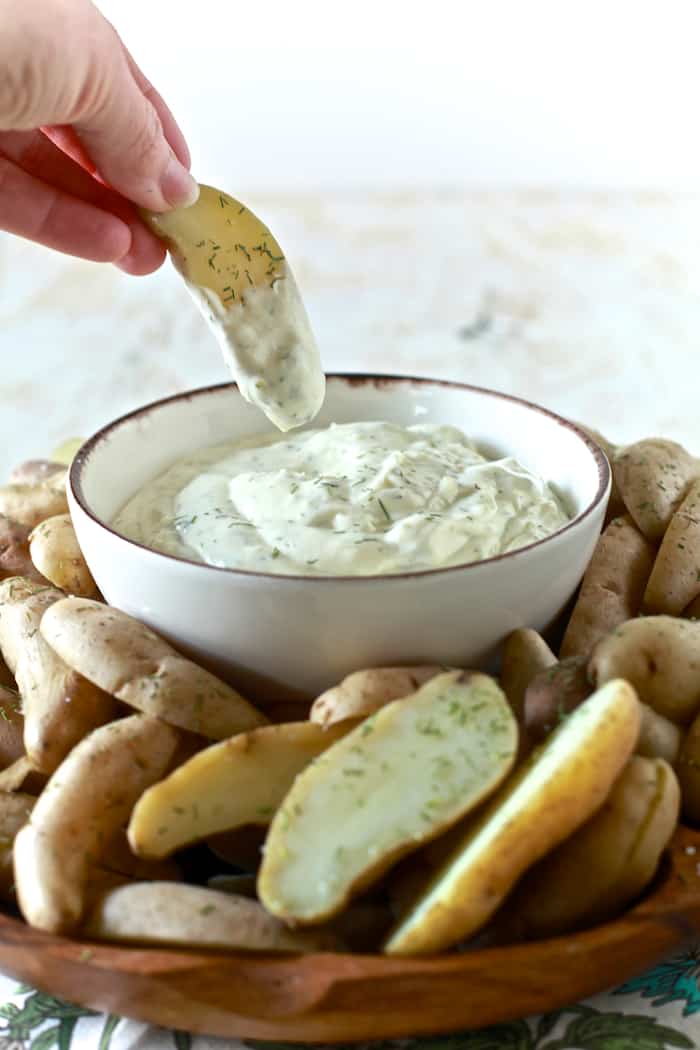 When boiling your potatoes you want to boil them in water with a crap ton of salt. I know crap ton is not the best description to use on a food blog, but it one of my go-to phrases. Feel free to use it if you like. Anyway, by boiling the potatoes in a crap ton of salt the potato flavor is amplified 10 fold. My buddy Rebecca from Foodie with Family taught me this, my girl knows her potatoes.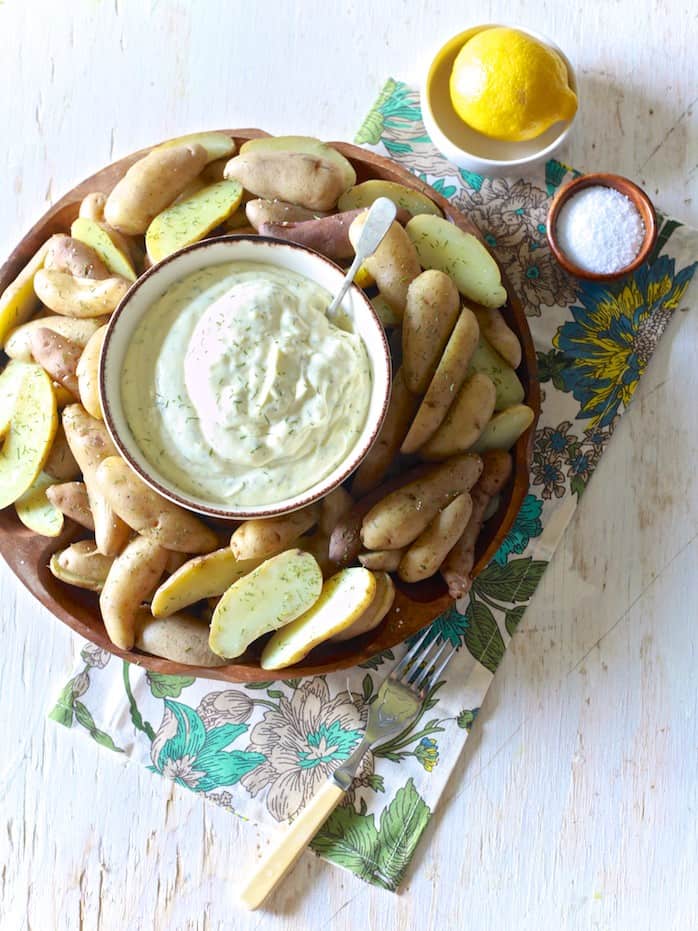 Now I don't sound so crazy when I talk about eating potato salad with your hands, do I? As, you can see it's totally doable and once you try it you many never go back. Ok that may not be 100% true, but I'm trying to embrace the dramatic here. Food taste better with a side of dramatic, if it didn't there would be not such thing as dinner theater.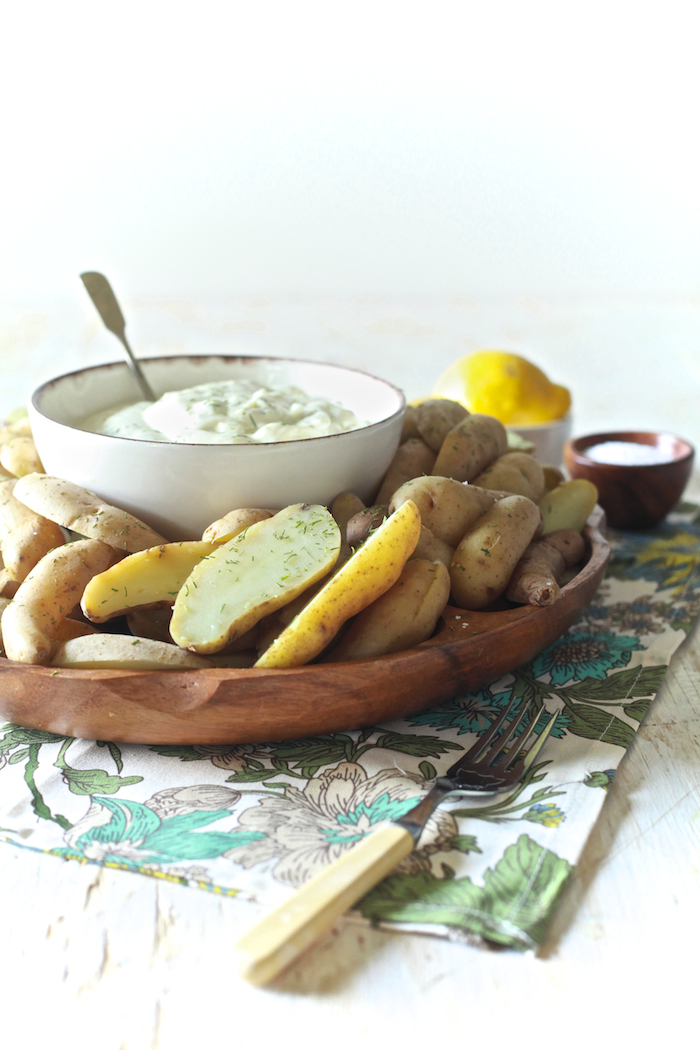 Honestly, I cannot express how much I love these potatoes. If you are a traditionalist, you can toss the potatoes with some aioli, but I've taken these to parties and served them at caterings and they fly right out of the bowl. Food is just more fun when you can eat it with your fingers.
Do you have any favorite "in a pinch" recipes you would like to share? How do you like your taters?
Now if you don't mind I need to get my dip on.
Yield: Makes 2 cups aioli // Serves 12 - 16
Fingerlings Potatoes with Lemon Dill Aioli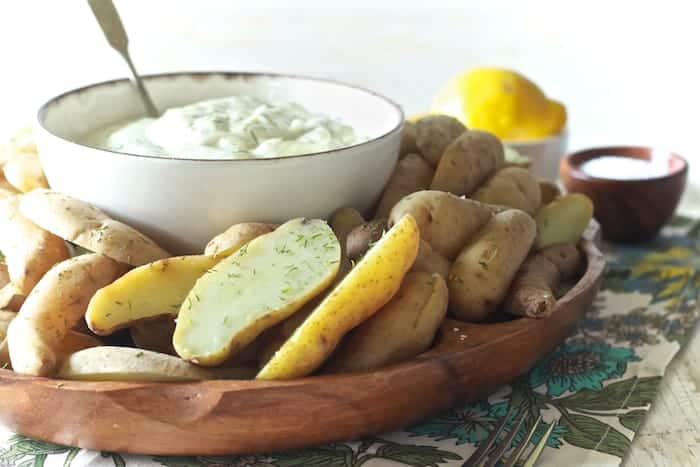 Ingredients
Potatoes
1 cup fine salt
3 lbs fingerling potatoes
3 qts water
[br]
Aioli
1 1/2 cups olive oil mayonnaise
1/2 cup plain greek yogurt
1 teaspoon minced dill
2 cloves garlic, minced
1 whole lemon, zested and juiced
1 tablespoon Dijon mustard
1/4 cup extra virgin olive oil
Instructions
Potatoes
Bring water to a boil in a large stockpot or soup pot over high heat. When the water begins to boil stir in the salt. Carefully add potatoes be careful not to splash yourself. Bring the potatoes back to a boil, lower to simmer and cook until the potatoes are tender but still firm, about 15 - 20 minutes. Be careful not to over cook the potatoes or they will fall apart during serving.
Fill a large bowl with ice water. Drain the potatoes into a colander, transfer to ice water to shock and stop the cooking process. Once potatoes have cooled drain and let air dry.
Aioli
While the potatoes are boiling prepare the aioli. Combine all ingredients in a large bowl, whisk together until well combined. Refrigerate to allow the flavors to meld.
When the potatoes have dried cut them in half lengthwise. Serve potatoes with aioli, garnish with dill.