The weather around these parts has been a little crazy, last night as I sat on my sofa, with the windows open, reading a book I heard this wailing sound in the distance. I quickly realized that it was a tornado siren. Welcome to Oklahoma! This was the first time Obed and I have ever heard or experienced a tornado siren. We quickly jumped up, collected the dogs, turn the tv to the news and changed our pants. 😀 The siren was just a warning to get ready, because something could happen but within an hour the storm blew through with no tornado. In other words we did not end up in Oz.
Earlier in the week when the sun made an appearance we decided it was burger time. Only in Oklahoma can you be grilling burgers in your backyard one day and ducking for cover from tornados the next, fun times!
First let's make the yogurt sauce. You need 1 cup of plain Greek yogurt. If you can't find Greek yogurt, you can also drain regular plain yogurt in a colander lined with a paper towel, for 30 mins.
You will also need to peel and seed a cucumber. I used a melon baller to seed the cucumber, easy-peesy. 😀
In a bowl combine all the yogurt sauce ingredients and set aside.
Time to make some burger patties. In a large bowl combine the ground lamb with onion, garlic, mint, oregano, cumin and gram masala. Get your hands dirty and mix everything together until well combined.
Using a scale I divided the lamb mixture into four patties. This is how I shape my burger patties. Roll the met into a ball.
Place 1 ball in a small resealable plastic bag. Like so….
Using a plate or the bottom of a heavy pan, gently press down on the ball.
Until you have a perfectly round patty about 3/4 inch thick. Ta-DA!
Now grill those babies, about 4 minutes on each side. Also toss a few slices of green peppers and onions, brushed with olive oil, on the grill, you will thank me.
Time to assemble your burger. Do it however you want but I like to do bun, burger, tomato, onion, pepper, yogurt sauce, feta cheese and bun. I think this helps keep the topping together.
I cannot tell a lie, I was surprised how much I liked this burger. I had never had a lamb burger before and I did have a small fear that it was going to be gamy, but I was mistaken. It was juicy, full of flavor and oddly refreshing. I guess the mint and yogurt sauce had something to do with the refreshing part.
If you want to change up the summer grill this is a good way to start. It's different yet still familiar and apparently it is good with just ketchup and mustard, that is how Obed had his. It seems that the yogurt sauce and feta cheese was a little too adventurous for him. 😀
Lamb Burger with Feta Cheese & Yogurt Sauce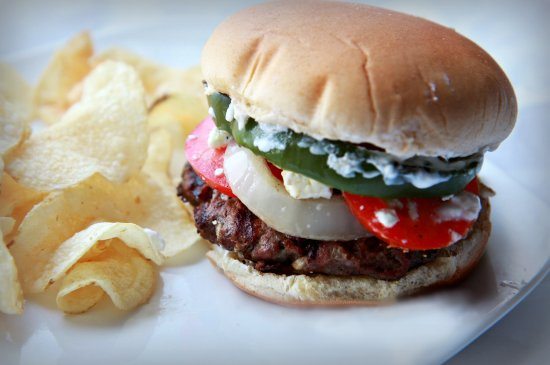 Ingredients
Yogurt Sauce
1 cup plain greek yogurt
1/2 cucumber, peeled, seeded and finely diced
1 tablespoon fresh mint, minced
1 teaspoon dill
1 clove garlic, minced
1 teaspoon fresh lime juice
pinch of salt
Burger
1 lb ground lamb
1/4 cup onion, chopped
2 cloves garlic minced
1/2 teaspoon cumin
1/2 teaspoon oregano
1 teaspoon gram masala
1 tablespoon fresh mint, minced
olive oil
1 yellow onion, sliced
1 green pepper, sliced
feta cheese crumbles
tomato, sliced
Instructions
Mix first 7 ingredients together in medium bowl. Season yogurt sauce to taste with salt and pepper, set aside.
Mix lamb and next 6 ingredients in large bowl until well blended. Season generously with salt and pepper. Divide into 4 portions and shape mixture into four 3/4-inch-thick patties.
Preheat grill or broiler. Brush pepper and onion slices with olive oil, place lamb patties and vegetables on broiler rack or grill. Cook patties through, about 4 minutes per side. Grill vegetables until tender and charred.
Open burger buns, place burger, onions, peppers, tomatoes then large spoonful of yogurt sauce topped with feta cheese.
Recommended Products
As an Amazon Associate and member of other affiliate programs, I earn from qualifying purchases.
Nutrition Information:
Yield:
4
Serving Size:
4
Amount Per Serving:
Calories:

445
Total Fat:

28g
Saturated Fat:

11g
Trans Fat:

0g
Unsaturated Fat:

14g
Cholesterol:

119mg
Sodium:

216mg
Carbohydrates:

12g
Fiber:

2g
Sugar:

6g
Protein:

36g