The official end of summer is just around the corner. Kids are headed back to school & college students are stocking up on dorm room supplies.
I remember when I was a kid growing up on a military base I spent almost everyday of the summer with my friends at the pool at the NCO club. The pool opened on Memorial Day and closed on Labor Day. Every year they would have a big end of summer blow out on Labor Day with free hot dogs, ice cream bars and potato chip bags. It was our last chance to toasted under the sun and do belly flops off of the diving board.
Now as an adult that wouldn't be caught dead in a bathing suit, the end of summer looks more like a lazy day on the back patio with the grill going and a cool refreshing drink in hand. The right drink in hand can make all the difference.
How about a nice cold fruity sangria? How does that sound? However for me wine and most booze is out of the question. I have an allergy to most alcohols, wine and champagne being the worst. I get all hot, red and itchy….it's very annoying, so I decided to celebrate this Labor Day weekend with a faux sangria, that can be enjoyed by all. When I found this fruit sangria tea it was obvious to me that faux sangria was in my future.
Since it's a loose leaf tea I made a little tea bag using some cheese cloth and butchers twine.
Heat water till it's just about to boil, remove from heat and drop in tea bags, add 1/2 a cup of sugar, stir and cover for 5 minutes.
While the tea is steeping slice fruit. I found some blood oranges. I love blood oranges and though that the color would be perfect for the sangria. If you can't find blood orange just use navel oranges.
Get all of your fruit together. I used orange slices, lime slices, berries, peaches and grapes.
In a pitcher add 2 cups of ice and fruit.
Pour tea over ice, add 1 1/2 cup of lime Italian soda and 1 1/2 cup of Italian orange soda.
You are just moments away from a cool refreshing glass of faux sangria.
Pour yourself a glass over ice and enjoy the weather out on the back patio while your husband grills some MEAT. Because that is what dudes do, they grill MEAT.
I was amazed how close this tasted to real sangria. I think the trick it to not over sweeten it. If you can't find the tea that I used here you can also use a fruit medley tea with some hibiscus tea. Experiment with it, make it your own. The important part it to relax and enjoy.
Yield: 9-10
Labor Day Faux Sangria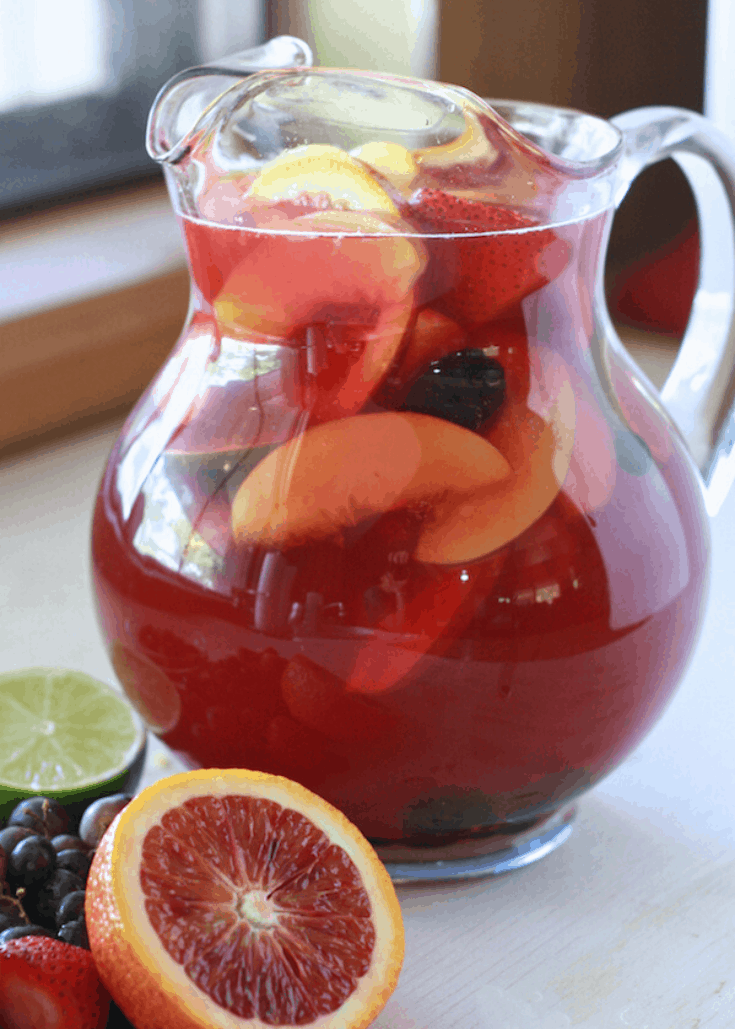 Ingredients
6 cup water
1/2 cup fruit sangria tea or any fruit medley tea
1 large Lipton ice tea bag
1/2 cup sugar
1 1/2 cup lemon Italian soda
1 1/2 cup lime Italian soda
2 cup ice
1 lime, sliced
1/2 blood orange, sliced
1/2 peach, sliced
1/4 cup grapes
assorted berries
Instructions
Bring 6 cups of water to a boil, remove from heat. Steep tea bags for 5 minutes, add 1/2 cup sugar stir and cover.
In a pitcher add 2 cups of ice cubes, pour tea over ice. Add Italian sodas and fruit, stir and serve over ice.
* If using loose leaf tea make a tea bag our of cheese cloth and butcher's twine. Squeeze liquid from tea bags.