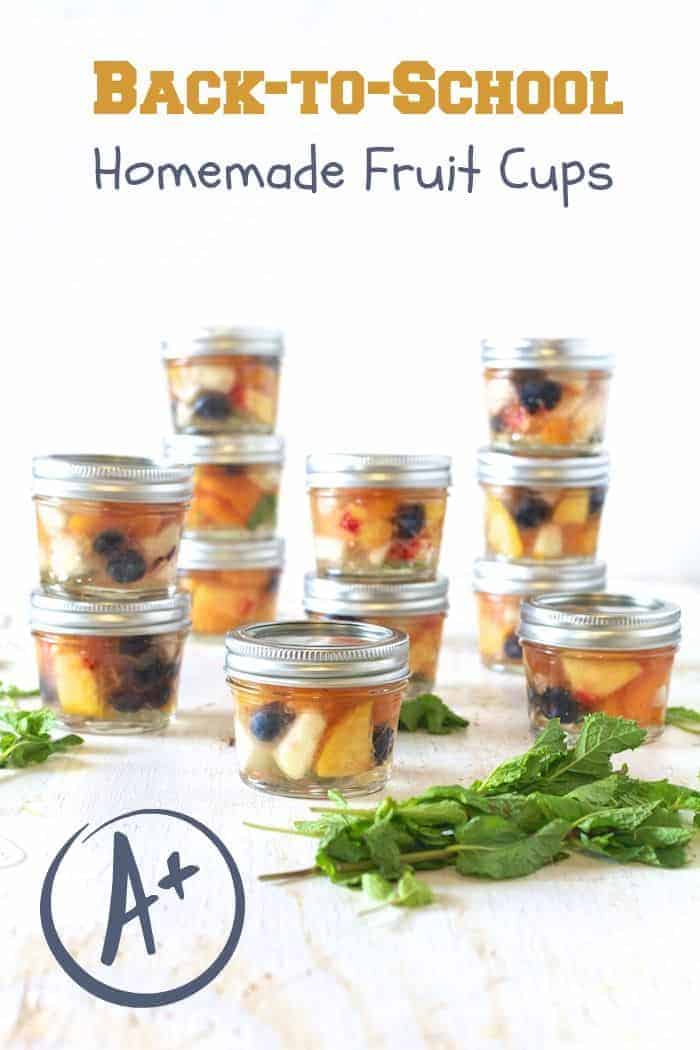 It's that time of year again. Summer is coming to a close, and a lot of you are getting ready to go back to school. I was one of those dorky kids that loved to go back-to-school shopping with my Mom. It meant new clothes, shoes, backpack, haircut, school supplies (Lisa Frank anyone?) and snacks! Getting ready for back-to-school was fun! One of my favorite parts was organizing my school supplies and picking out my first day of school outfit. The one outfit that stands out in my mind was my outfit for the first day of 8th grade. I wore a long sleeve purple tent dress with teal polka dots, bright color tights, lace-up boots and I even had a hat. I was trying to channel my style icon at the time, Blossom. Stop snickering! She was cool and yes, I also went through a hat phase.
Through the years, styles change, and technologies change, but one thing stays the same, kids get pretty excited about heading back to school. If they are anything like me, it's not because they're eager to get back to math or history, but because they get to see their friends and enter into serious lunch swap negotiations. As part of getting ready for back to school, I'm going to help you with mad lunch-swap clout.
We all know that lunch rooms work on a bartering system. You know my pudding cup for your pizza kind-of-thing. So, let's talk about lunch room currency in the form of homemade fruit cups. These aren't just any fruit cups. These fruit cups are made of whatever fruit is in season packed in a light honey and mint syrup and still cold when ready to eat.
Still, to this day I love a chilled fruit cup. They are just a little sweet and very refreshing. I like them so much I started making my own, and they make the perfect addition to a lunch box. This recipe yields 24 4-oz cups! That is almost five weeks worth of school lunches for one kid! They are made with fresh fruit and less sugar than your average fruit cup with no high-fructose corn syrup anywhere in sight. They can easily be changed up to make them your own.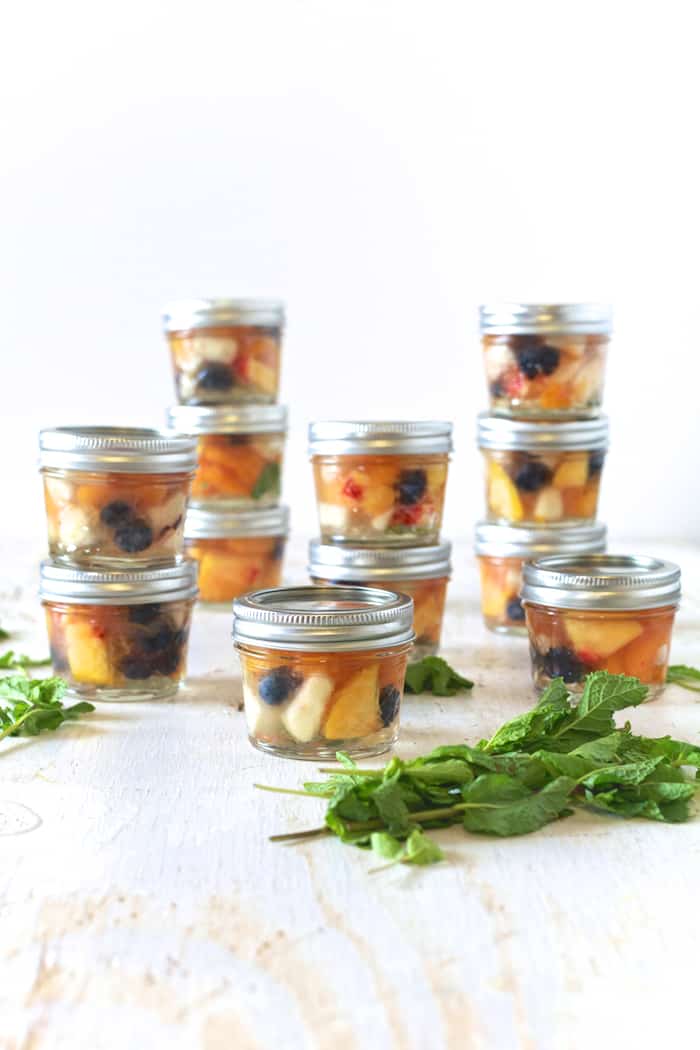 The trick to these little treats is the mint infused syrup and freezer canning. Infusing the mint into the syrup gives it a more refreshing flavor. By freezer canning, your are preserving the fruit and by lunch time it thaws out but remains cool. Make sure your kid brings the jar home, and you can get ready to gear up to make more. Seriously, your kid will be getting three pudding cups for one of these gems. And, yes it's ok to swipe some for your lunch bag.
Yield: 24 Jars
Getting Ready for Back to School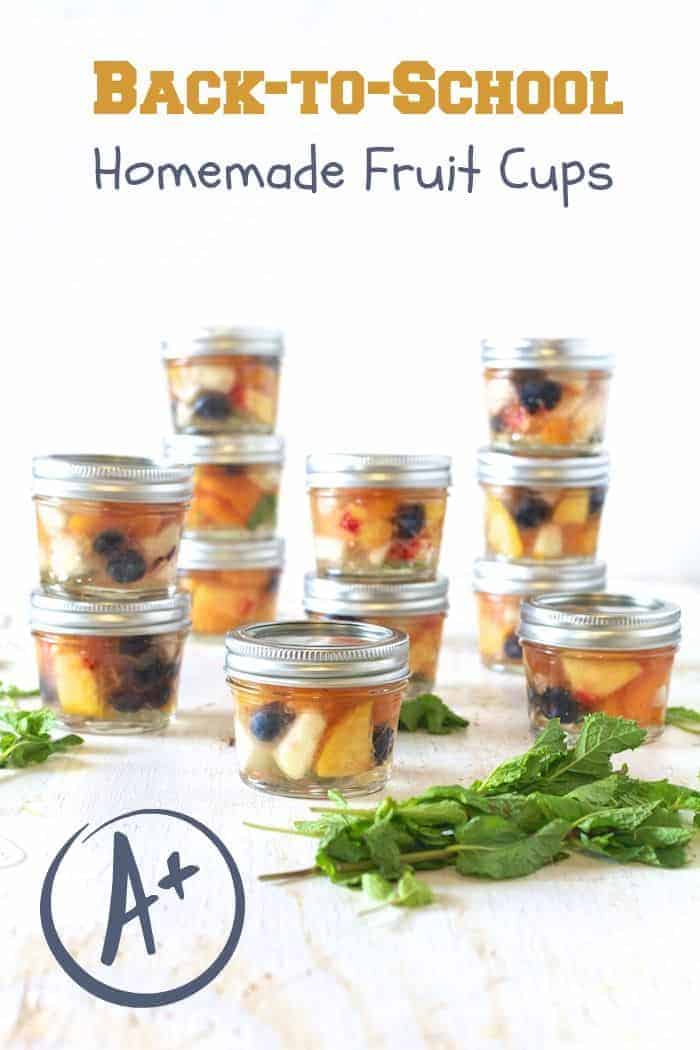 Easy homemade fruit cups with honey and mint infused syrup. Great for lunches and snacks! (Adapted from Ball Recipes)
Ingredients
4 cups cubed pitted peeled peaches, about 5 large [i](see notes)[/i]
3 cups cubed cored peeled pears, about 5 medium [i](see notes)[/i]
2 cups blueberries
2 cups Mandarin orange segments, packed in juice
2 cups water
1 cup granulated sugar
1/4 cup liquid honey
24 fresh mint leaves
Instructions
Clean all your jars, lids and rings in hot soapy water. Set aside to air dry.
Combine water, sugar and honey in a large stainless steel saucepan. Bring to a boil over high heat, stirring occasionally.
Combine all fruit in a large bowl, stir until well combined.
Place 1 mint leaf in each jar. Ladle 1/4 cup of fruit into each jar and just enough hot syrup to cover the fruit and leave 1/4 inch headspace. Remove air bubbles and adjust headspace, if necessary, by adding hot syrup. Wipe rim. Center lid on jar. Apply band until fit is fingertip tight. Freeze fruit jars.
Notes
Treat pears and peaches - Use Fruit-Fresh Produce Protector to keep from browning. 2 teaspoons powder to 3 tablespoons water for 4 cups of fruit.

Peeling Peaches - Heat a pot of water over high heat, cover to bring to a boil. Score the bottom of the peaches with an X and prepare an ice water bath. As soon as water comes to a boil set to low and add peaches to hot water. The peaches should be fully submerged. After about 40 seconds or when the skin begins to slightly pull away on the scored ends, remove the peaches with a slotted spoon or skimmer. Drop in ice bath and let them cool, about 10 - 20 seconds. Peel skin

Jars - Make sure that jars are freezer safe. You can also use small plastic containers.

Freezing - If your freezer has a power freeze setting use it! Rapid freezing helps create smaller ice crystals maintaining the natural color and texture of the fruit. It also helps for the foods to thaw more evenly.