Deviled Egg Salad | I am not sure if I have mentioned it before but, we love eggs in this house. Like loooove eggs! There are only two adults in my household but we easily go through 2 dozen eggs a week, sometimes more. Eggs for breakfast, eggs for lunch, eggs for dinner, or eggs for snacks. We will eat eggs any time of day. This deviled egg salad is something I like to make and have on hand for a simple snack or quick lunch during the week.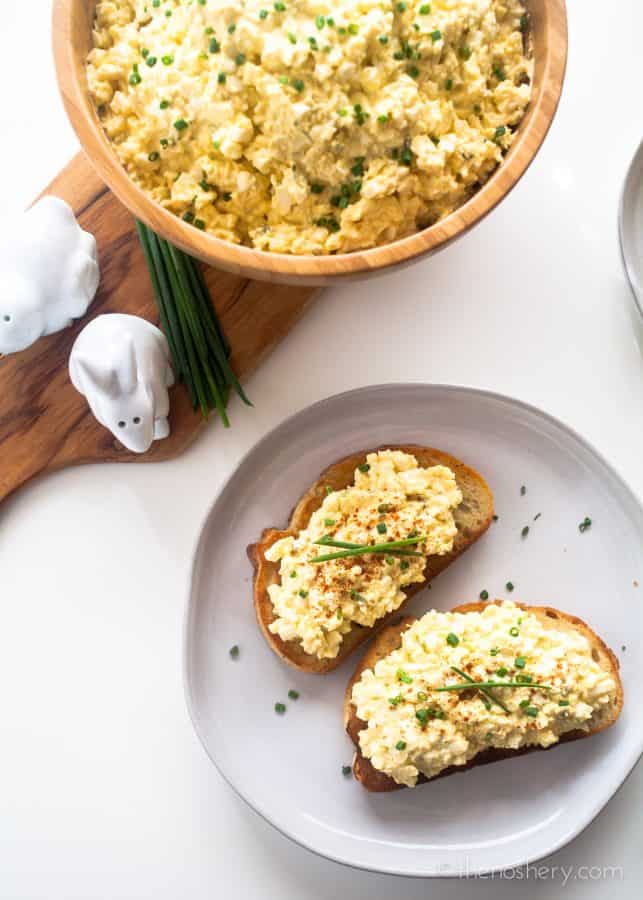 Deviled Egg Salad Recipe
12 large eggs
1/4 cup light mayonnaise
1/4 cup plain yogurt + 1 tablespoon
2 teaspoons mustard powder
2 teaspoons pickle juice
1 teaspoon white vinegar
1 teaspoon kosher salt
1 teaspoon paprika
3 gherkin pickles, minced
I came up with this recipe while making deviled eggs for a cookout. I had just purchased an electric pressure cooker and decided to cook the eggs in the pressure cooker. But, when I went to peel the eggs they all had flat bottoms or the yolks had set to close to the edge. Frustrated and running low on time I diced the egg whites and whipping the yolks to make an egg salad. Guess what? It turned out awesome! In fact I enjoy this salad more than traditional deviled eggs because you can spread it on toast or a crisp cracker.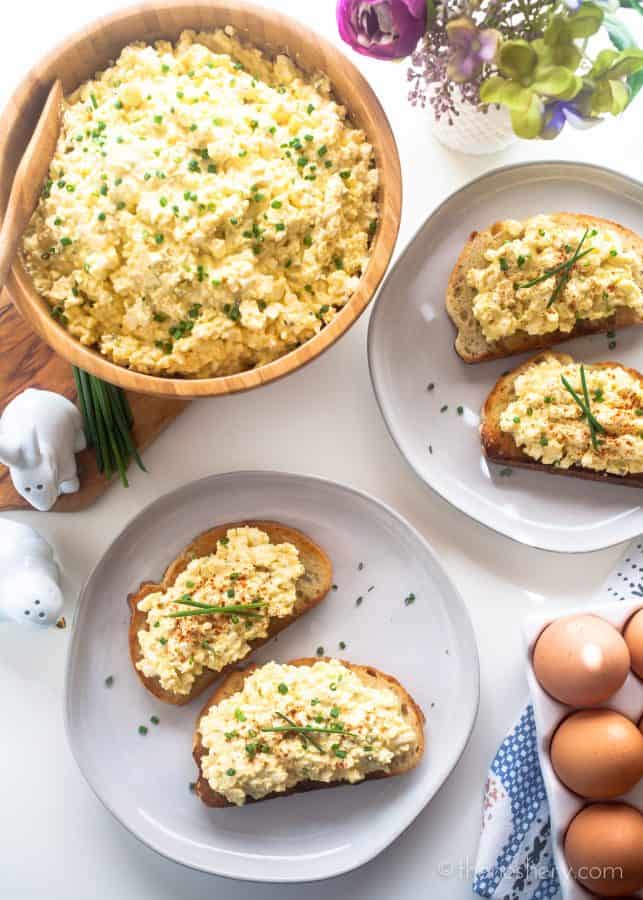 When preparing any egg salad is important to not over cook the eggs. Otherwise the whites of  the eggs get rubbery and the yolks become brittle and discolored. A properly hard boiled egg should have tender whites bright yellow and creamy yolks. Here are a few tips when hard boiling eggs.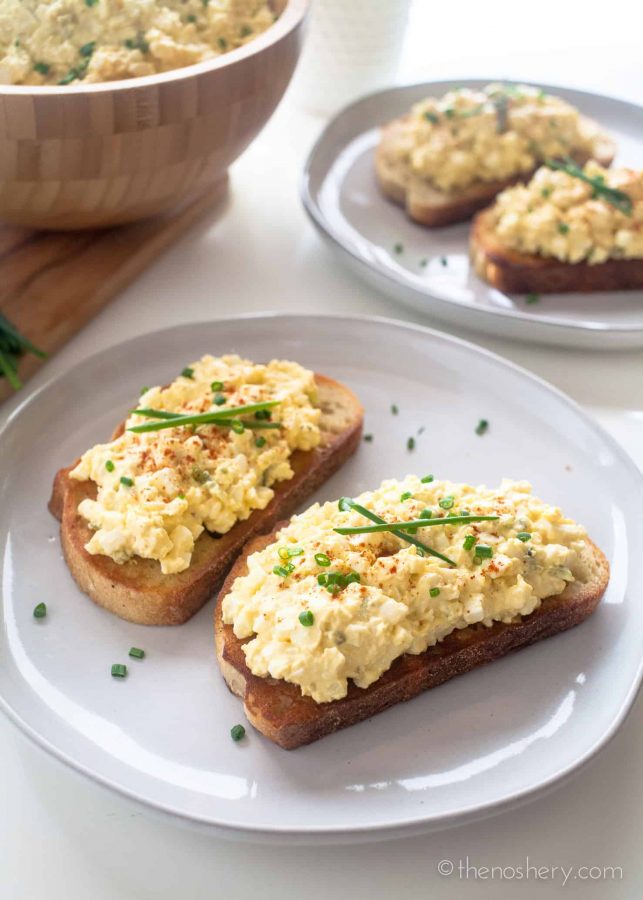 Tips for Hard Boiled Eggs
Use a saucepan large enough to place them in a single layer. Cover the eggs with cold water by 2 inches. Place on high heat until it starts a rolling boil.
Turn off heat and cover saucepan. Let the eggs stand in the hot water for 12 minutes.
Drain and cool completely under cold running water or in bowl of ice water. At this point you can refrigerate and have on hand as a snack or peel to make this awesome deviled egg salad.
The water must come to a full boil and the pan is removed from the seat to gently cook the eggs in the hot water. This minimizes cracking and results in tender whites and creamy yolks.
How to peel eggs? Fresh eggs are the most difficult to peel because the membranes are still connected to the shell. Purchase your eggs 1 – 2 weeks before cooking. This allows the eggs to take in air which helps separate the membrane from the shell. Also, eggs are easiest to peel right after cooling because they contact slightly in the shell, further helping the membrane separate from the shell.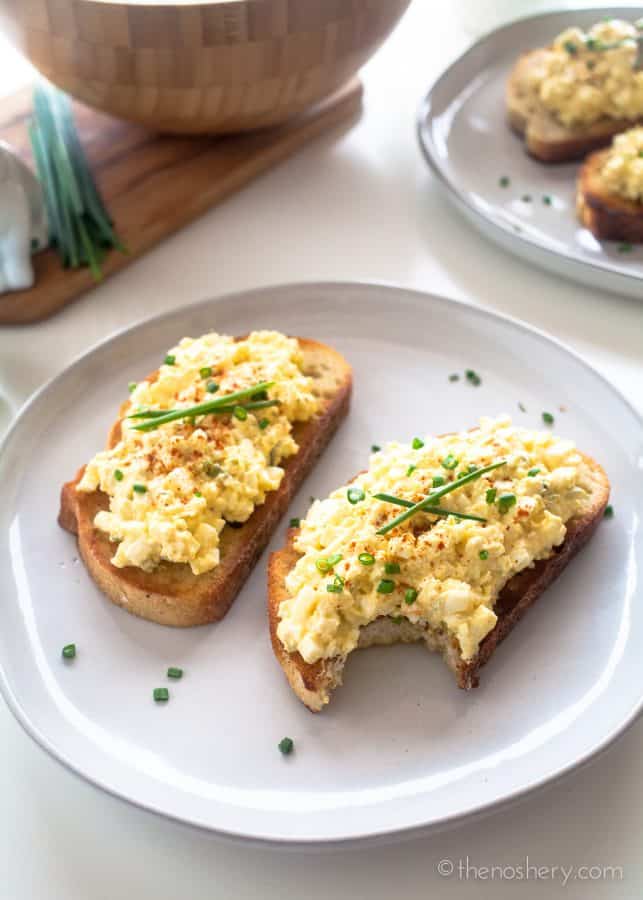 I warn you this salad is addictive. My favorite way to enjoy it is on buttered bread toasted in a skillet. It's a great snack or lunch. This is also a great way to use up all the Easter eggs in your future. Are you as big a fan of eggs as we are? Maybe you should try these bacon and egg toast cups that are perfect for brunch or these soy deviled eggs that are dangerously addictive.
more egg recipe love
Deviled Egg Salad
Enjoy this creamy deviled egg salad on toast, with crackers, crispy vegetables, or as a sandwich. All that matters is that you make it and eat it!
Ingredients
12 large eggs
¼ cup light mayonnaise
¼ cup plain yogurt + 1 tablespoon
2 teaspoons mustard powder
2 teaspoons pickle juice
1 teaspoon white vinegar
1 teaspoon kosher salt
1 teaspoon paprika
3 gherkin pickles, minced
chives for garnish
Instructions
Place the eggs in a large saucepan in a single layer. Fill with enough water to cover the eggs by 2-inches. Add ½ teaspoon of salt to the water. Heat the pot on high heat until the water comes to a rolling boil. Turn off heat and cover, let the eggs sit on the stove top for 12 minutes. Strain the water from the pot and run under cold water until they are cool to the touch. Gently tap the eggs to crack and peel them under the cold running water. Set them aside to dry.


Cut the eggs in half and remove the yolks, placing them in a separate bowl. Dice the egg whites into small cubes. You can also press the egg whites through a wide wire mesh strainer. Place the diced egg whites into a separate bowl.


Add mayonnaise, yogurt, mustard powder, pickle juice, vinegar, paprika, and salt to the egg yolks. Using a whisk attachment on a hand mixer whip the egg yolks until smooth and creamy. Add the minced pickles and diced egg whites to the whipped yolks. Gently mix together until well combined.


Serve in a bowl garnished with chives with crackers as an appetizer or on toast as a snack.
Nutrition Information
Serving size:
½ cup
Calories:
145
Fat:
9
Carbohydrates:
5
Protein:
10
185