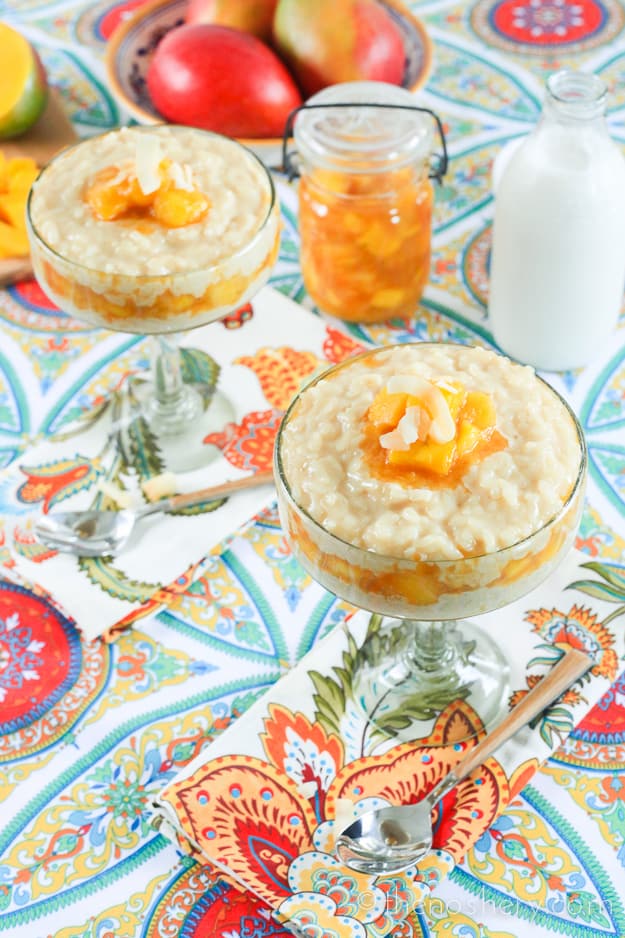 Last month I traveled to Avery Island, Lousiana to visit the home of Tabasco. It was two days spent completely immersed in the operations and history of Avery Island, the McIlhenny Family and Tabasco sauce. You can see photos of my trip
here
. Along with the trip, I've been asked to create recipes using sauces from the Tabasco Family of Flavors. Typically when you think of Tabasco sauce you think of a bottle sitting on the table ready for you to add a few dashes of heat to your favorite dish. Your first thought isn't to think of dessert, but I knew that I wanted to make a dessert although I wasn't sure what I wanted to make. I thought of ice cream and chocolate desserts, but those didn't settle well with me. I needed more time to consider what to make.
After returning from Avery Island, I met up with some of my friends. One of my friends offered me a piece of dehydrated mango covered in chipotle chili spices. I was hesitant at first, but I have a strong philosophy to try anything at least once. The combination of mango and chipotle chili is a great balance of sweet and heat! I was in love and I knew at that moment that I needed to make something with mango and Tabasco Chipotle sauce. But, it was more than just sweet and heat…it was also about smokiness. The smokiness of the chipotle chili added a depth of flavor that amplified the flavor and sweetness of the mango.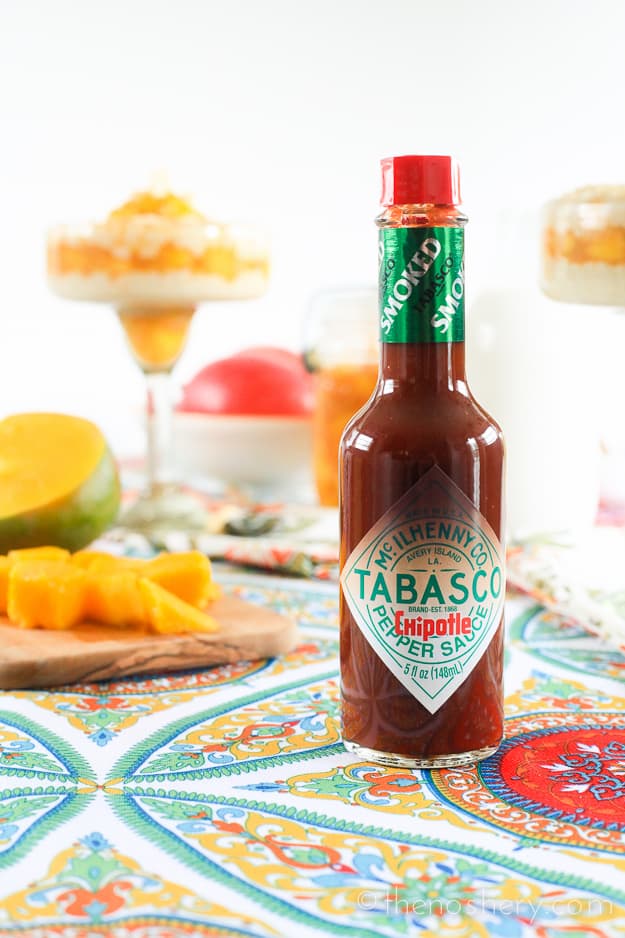 I love desserts that have a hint of heat. It's a fun way to mess with the brain and the taste buds. At first I thought of mango and sticky rice, but instead I decided on my favorite childhood dessert, coconut rice pudding.  It's creamy, comforting and what goes better with mango than coconut! When you first take a bite all you taste is creamy coconut and sweet mango but slowly you notice a little bit of a bite. It's a great way to incorporate heat with a dessert. You get to experience a little bit of heat from the smoky chipotle, but it never becomes overpowering because of the creamy coconut rice pudding.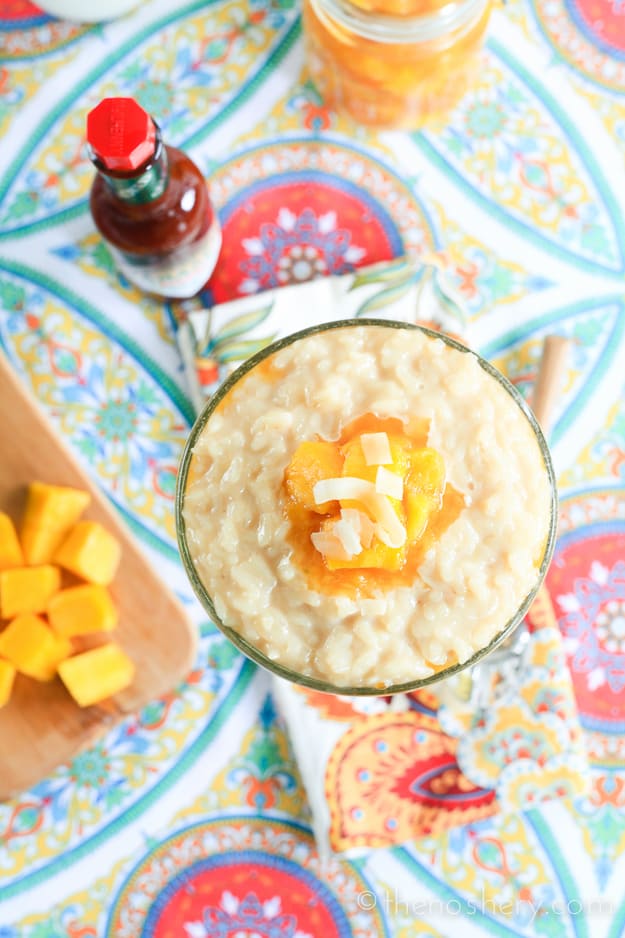 I am very excited to continue creating wonderful and unique recipes with Tabasco. A lot of love and history goes into these little bottles. If you are a Tabasco lover follow #TabascoTastemakers on Twitter, Facebook and Instagram for more Tabasco inspired recipes or subscribe for The Noshery email updates! Also, be sure to check out the video below to learn more about Avery Island and Tabasco sauce.
Disclosure: This post was sponsored by 
Tabasco
. Over the course of the year, I will be creating recipes featuring the
Tabasco Family of Flavors
. All opinions expressed on my site are my own.
You can check out my recap from my trip to Avery Island here.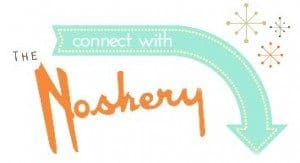 Yield: 6
Chipotle Mango and Coconut Rice Pudding
Ingredients
Mango Compote
4 large mangos peeled, pitted and diced
1 tablespoon honey
1/4 cup sugar
1/4 cup water
juice and zest of 1 lime
pinch of salt
[br]
soaked overnight
2 13.5 oz cans coconut milk
1 12 oz can evaporated milk
3 cinnamon sticks
1 teaspoon vanilla extract
1 teaspoon salt
1 1/4 cup sugar
Instructions
Mango Compote
Combine all ingredients in a saucepan. Cook over medium-high heat until sugar has dissolved and mangos are macerated, about 5 minutes. Transfer to a container and set aside to cool.
Rice Pudding
Combine coconut milk, evaporated milk, cinnamon sticks and vanilla in a small pot. Heat milks over medium-high heat until is just about to boil, lower heat.
Drain rice and to a large pot. Set to medium heat and add two ladles of milk mixture to the rice. Stir until milk is almost evaporated. Continue this process until all of the milk mixture has been used up and the rice is al dente. Add sugar and salt with the last ladle of milk. Continue to stir until creamy and resembles pudding.
Set rice pudding aside to cool. Layer the rice pudding and mango compote divided evenly in six cups.