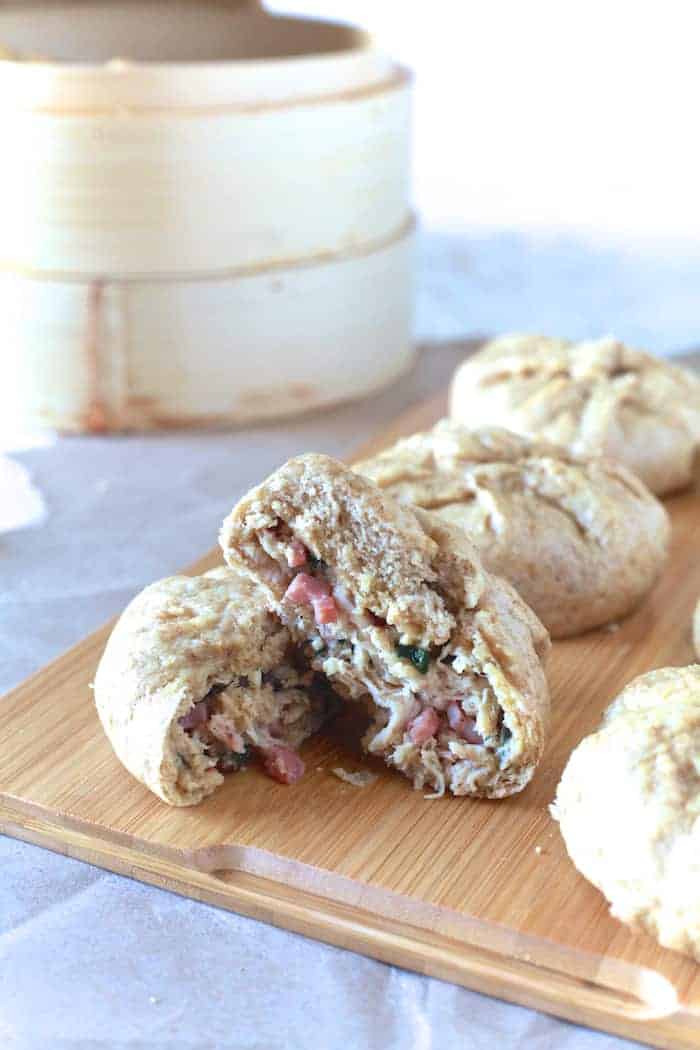 I have eaten my fair share of Hot Pockets. When I was a single gal living alone the most effort I made for dinner was a sandwich, bowl of cereal or hot pocket. At the time, I considered buy shares in Hot Pocket stock because I ate so many, but I was considerably broke at the time.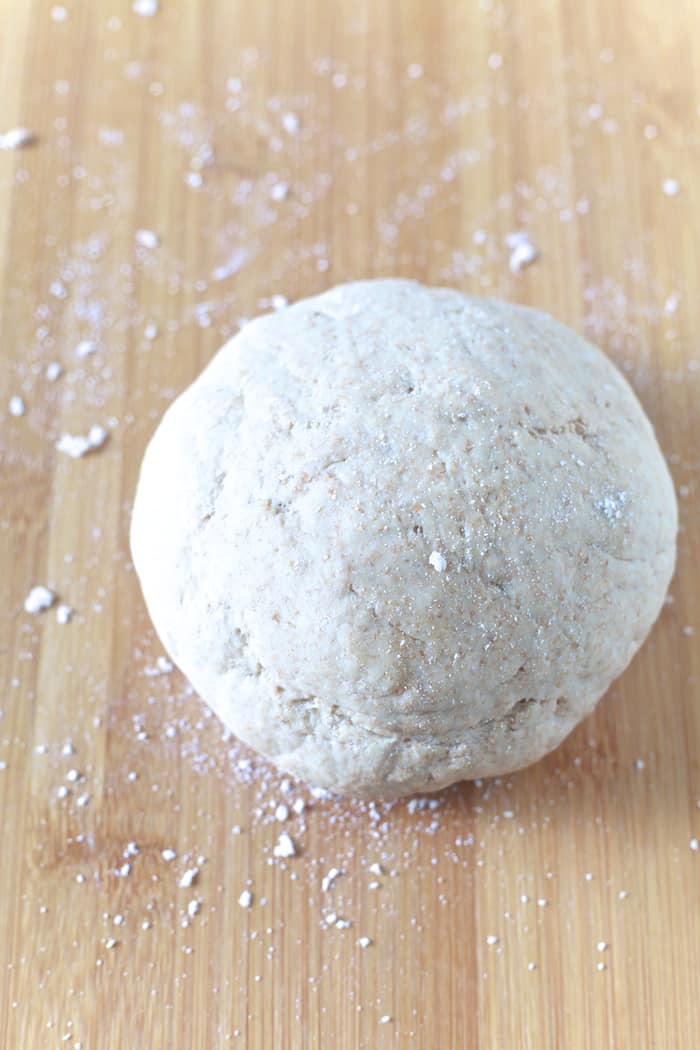 Don't get me wrong, I'm not above snacking on a pepperoni Hot Pocket once in a blue moon. But, I thought I would take a stab at a more wholesome version of the Hot Pocket and make some steamed buns.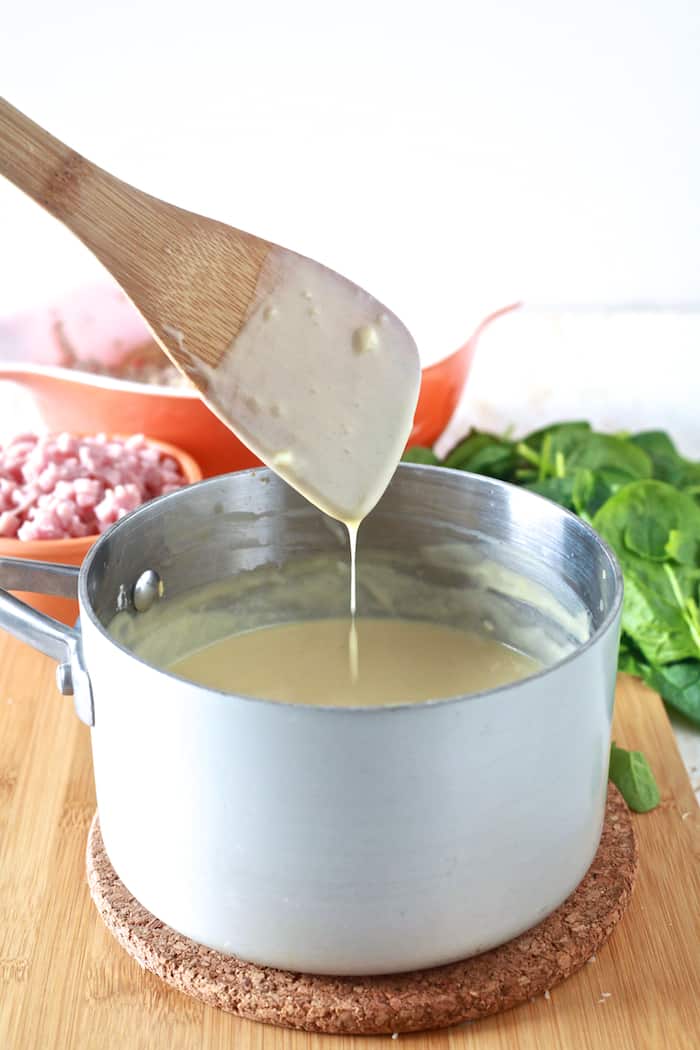 The first time I ever made steamed buns was in culinary school. I was taking an intro to baking, and we were doing breads that week. A few of us had made a batch of Asian braised beef and though we could use it as a filling in some steamed buns. It's one of the bonuses of being in culinary school, getting to eat your experiments. My class feasted on beef stuffed steamed buns that afternoon.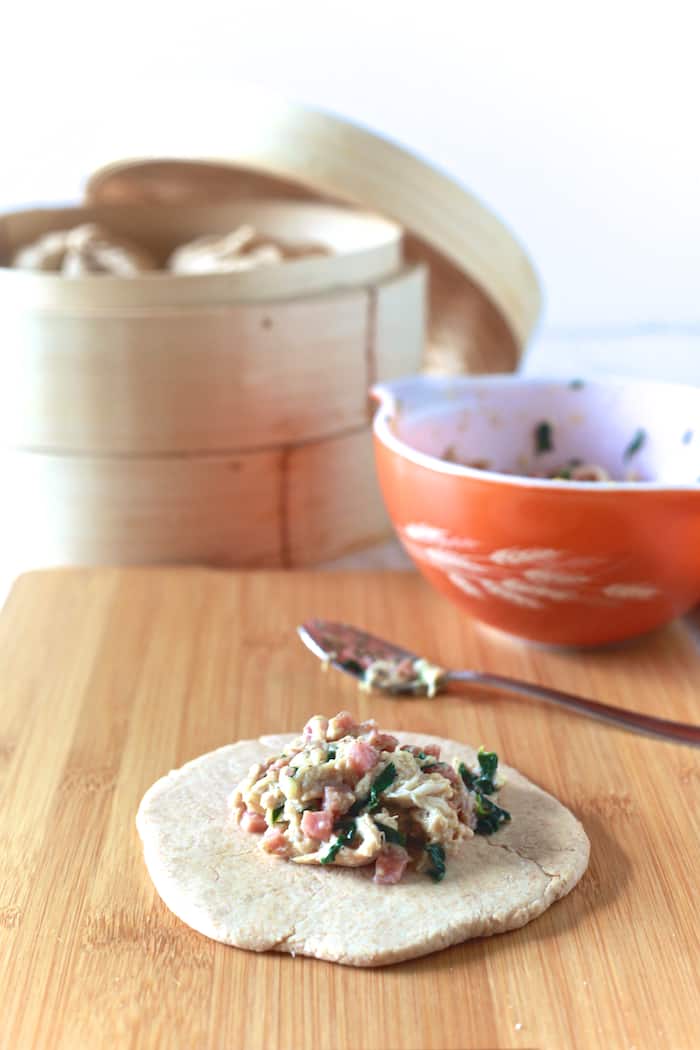 That is when I first fell in love with steamed bread. It's extra tender, and you get all bread and no crust. I love crusty bread, but it's nice to have all squishy bread every once in a while.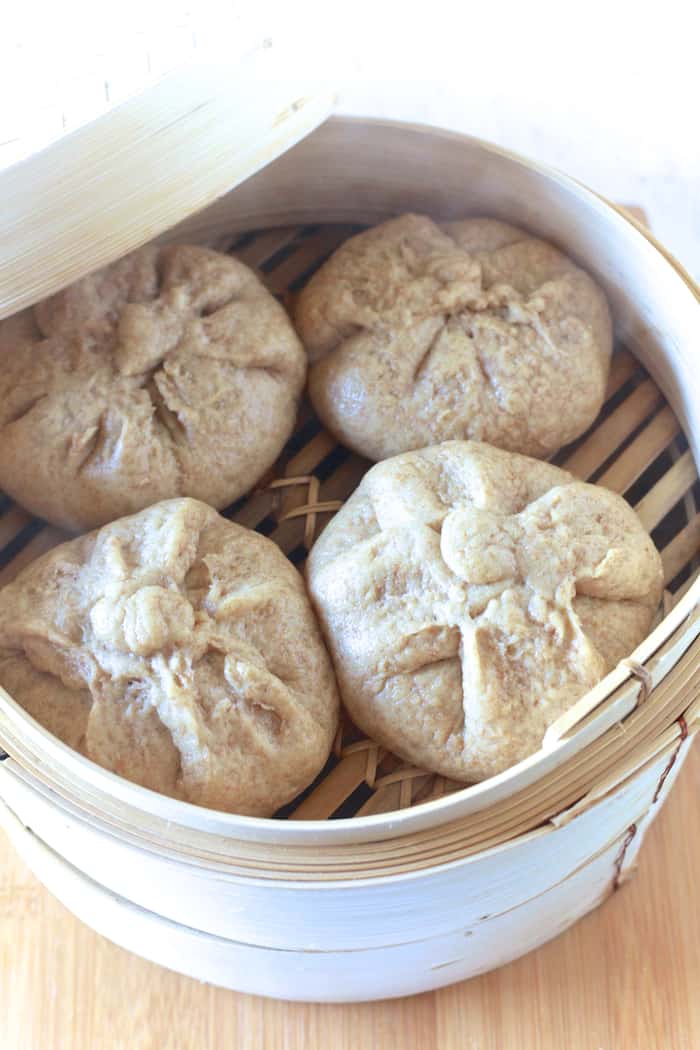 So, I though I would change up the steamed bun, make it with whole wheat dough and fill it with chicken. But, I am not a baker. Therefore, I did not trust myself to make up a whole wheat dough. I wanted a dough that was soft and tender, and I found this recipe over at Divine Healthy Food and it looked like a perfect soft bun.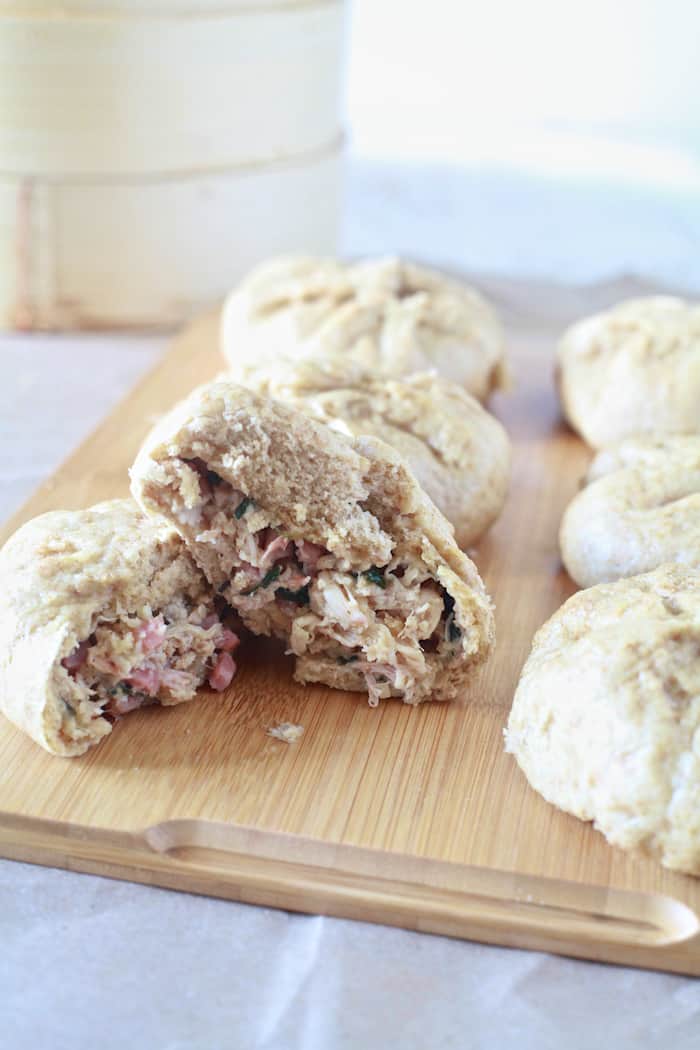 The dough recipe delivered and made a perfect soft steamed bun. They are best warm, but are still tasty room temperature which makes them perfect to pack for big kid and little kid lunches!
Chicken, Ham and Swiss Whole Wheat Steamed Buns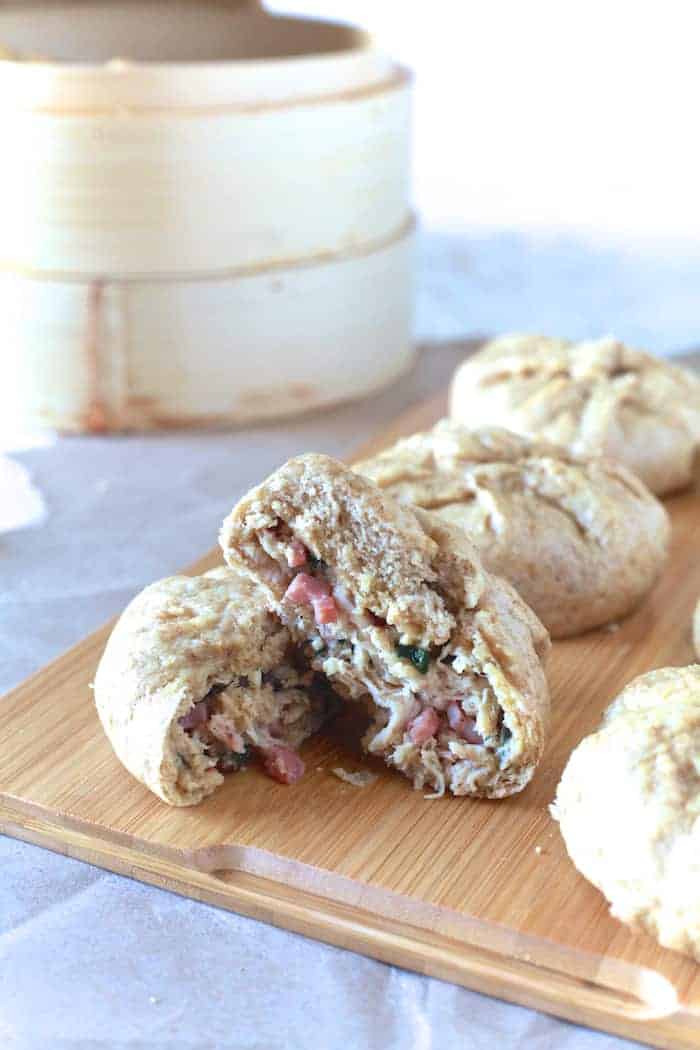 Ingredients
Dough
1/2 cup milk
1/2 cup warm water
1 teaspoon sugar
4 teaspoons dry active yeast
2 cup whole wheat pastry flour
1 cup spelt flour
1/2 teaspoon kosher salt
2 tablespoon extra light olive oil
[br]
Filling
1 tablespoons butter
3 cloves garlic, minced
1 1/2 tablespoons all-purpose flour
1/2 cups milk
1/2 cup chicken stock
1 cup shredded swiss cheese
1/2 cup diced ham
1 cups shredded chicken
1 cups baby spinach
Instructions
Dough
Combine milk, water and sugar and warm it so that it's lukewarm. Do not make it hot! Sprinkle the yeast over milk mixture and stir until dissolved. Set aside.
In a large bowl, combine the whole wheat pastry flour, spelt flour, salt and olive oil. Pour in the yeast mixture and stir with a spoon until it begins to come together. Turn dough out on a lightly floured work surface. Knead the dough until it's smooth.
If the dough is too soft, add a tiny little more flour. If it's too dry, add a tiny bit of water.
Shape the dough into a ball and place the dough in a bowl, cover with clean kitchen towel and set in a warm place to rise for 2 hours.
Filling
Melt butter in a large sauce pan over medium-high heat, add minced garlic and sauté until fragrant, about 2 minutes. Stir in flour. Combine milk and chicken stock in a glass. Pour 1/3 of the liquid into the sauce pan, stir bring to a low boil. Repeat twice more, until all liquid is added. Bring to a low boil one last time, stir and let the sauce thicken enough to coat the back of a wood spoon, about 5 minutes. Add shredded cheese and stir until smooth. Add shredded chicken, ham and spinach. Stir until spinach has wilted, about 5 minutes. Set aside to cool.
Assemble
Turn dough out on work surface and cut into 8 equal pieces. Work with one at a time. Knead the dough balls until smooth and roll them into 5 1/2 inch circle.
Divide filling evenly among the dough discs, about 2 generous tablespoons each. Gather the dough together, pinch and twist, making sure they are sealed. Allow to rise for 15 minutes.
Line steamer with parchment paper. Steam for 20 - 25 minutes. Serve