***This post is sponsored by ALDI all words and opinions remain my own.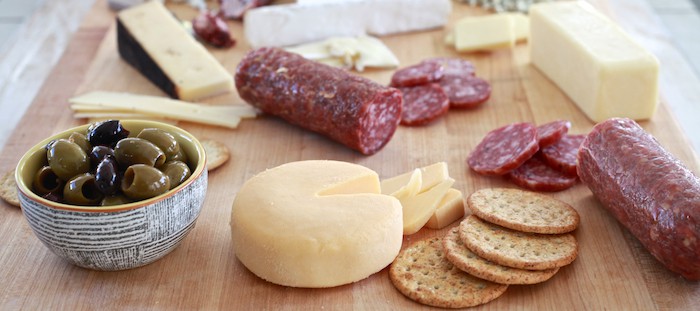 During my trip a few weeks ago to ALDI headquarters I was fed an abundance a food and tasted multiple wines. It was just a touch of food blogger heaven. We learned about how to pair wines, identify the origin of a wine and throw a killer cheese and wine par-tay!  In the spirit of giving I thought this would be a good time to share this great knowledge with you.
First, let me say that you can get everything you need for the ultimate cheese and wine party at ALDI. I got this entire spread at ALDI all for $65. That is right! All cheese, wine and extras!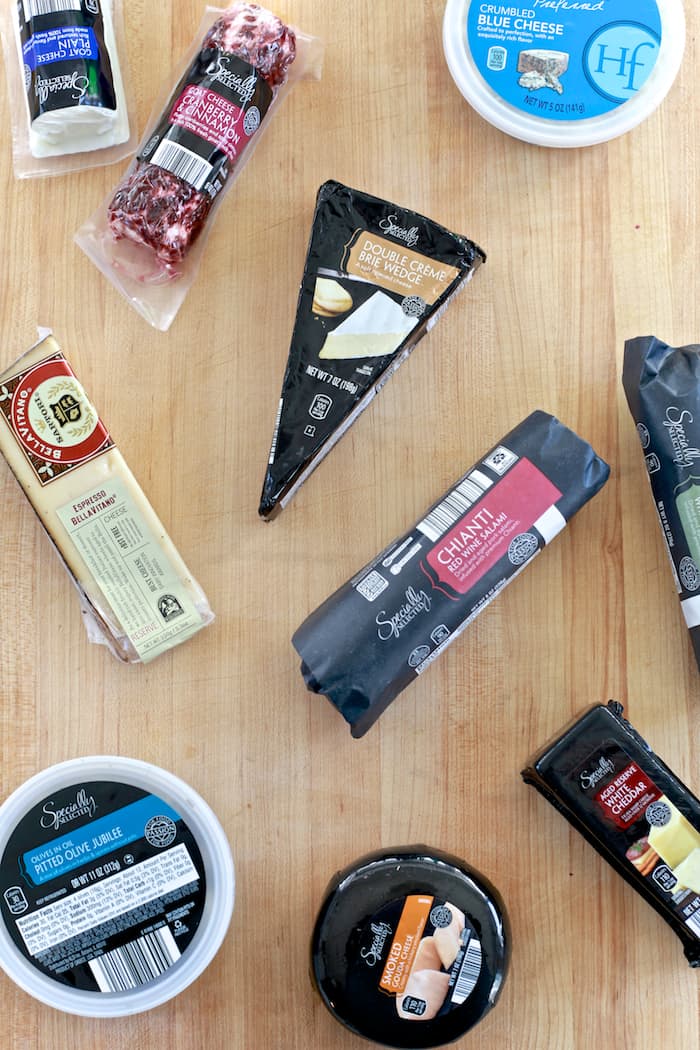 Let's talk cheese board. Three to five cheeses of different textures and flavors. Like something sharp, funky, fresh, creamy or nutty.  Plan on 3 to 4 ounces of cheese per person. Label your cheeses, this way our guests know what they are eating and you don't have to spend the evening naming cheeses over and over.  Pull the cheeses out of the refrigerator 30 to 45 minutes before serving. You want the cheese to be just below room temperature. If it starts to look slick or greasy, it has been out too long.

How to Put Together a Winning Cheese Board
Something Sharp
White Cheddar: It's a crowd favorite and a must have on any cheese board. The aged kind is my favorite because of the crunchy bits.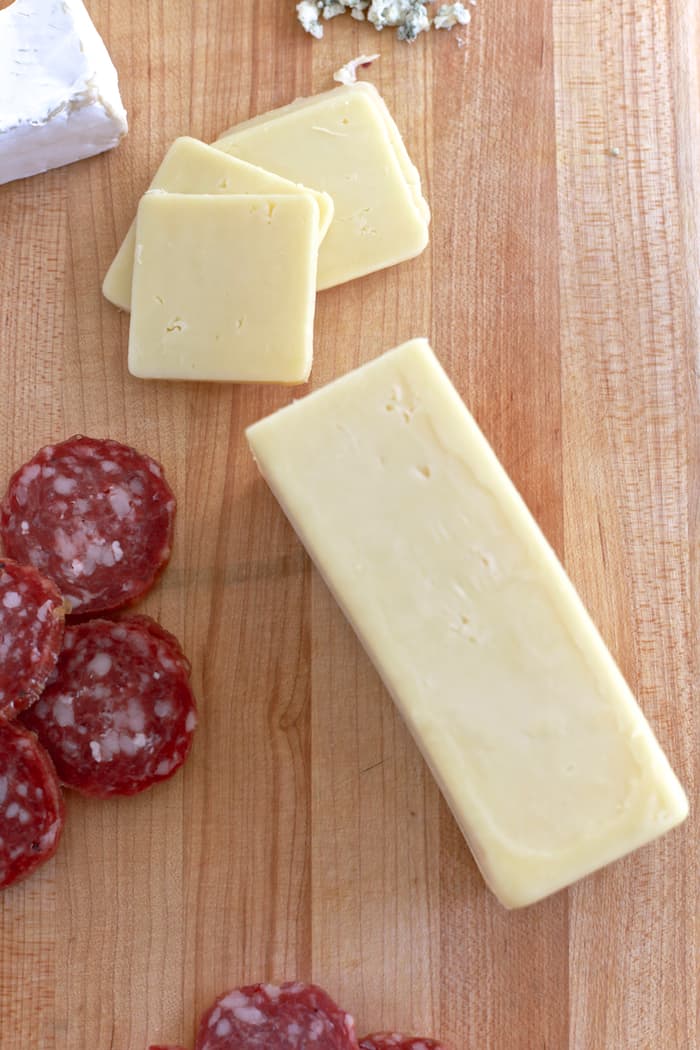 Something Funky
Blue Cheese: A strong funky cheese adds contrast. Great with dried dark berries, cherries or figs. Also great with apples, walnuts and honey.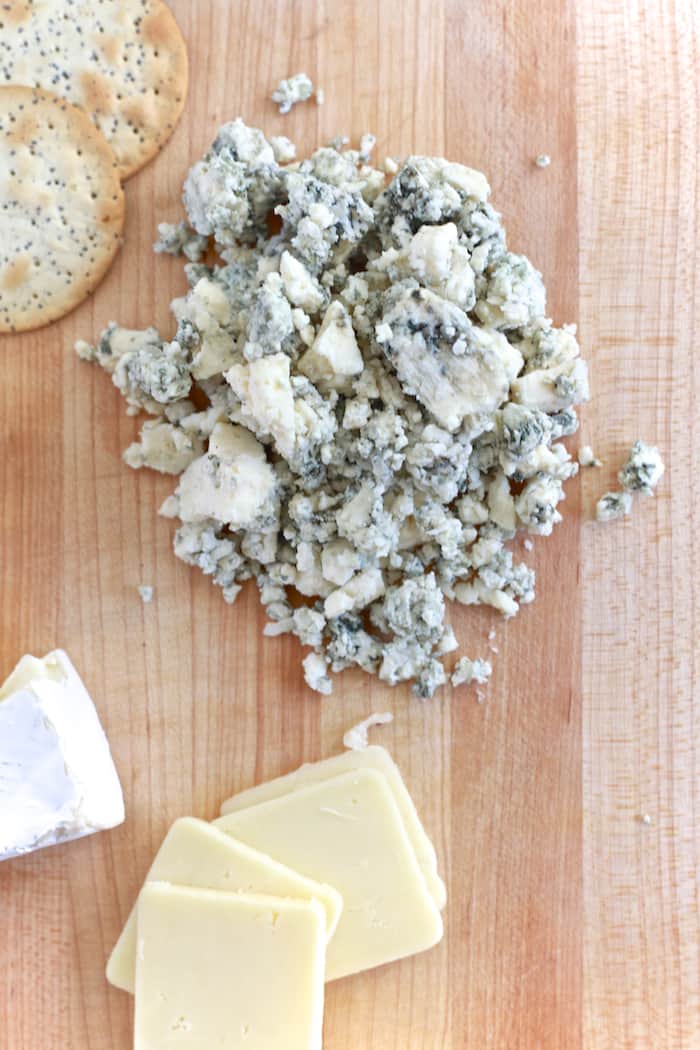 Something Creamy
Brie: Oh so delicious and creamy. Keep the rind! Pairs well with light fresh fruits and almonds.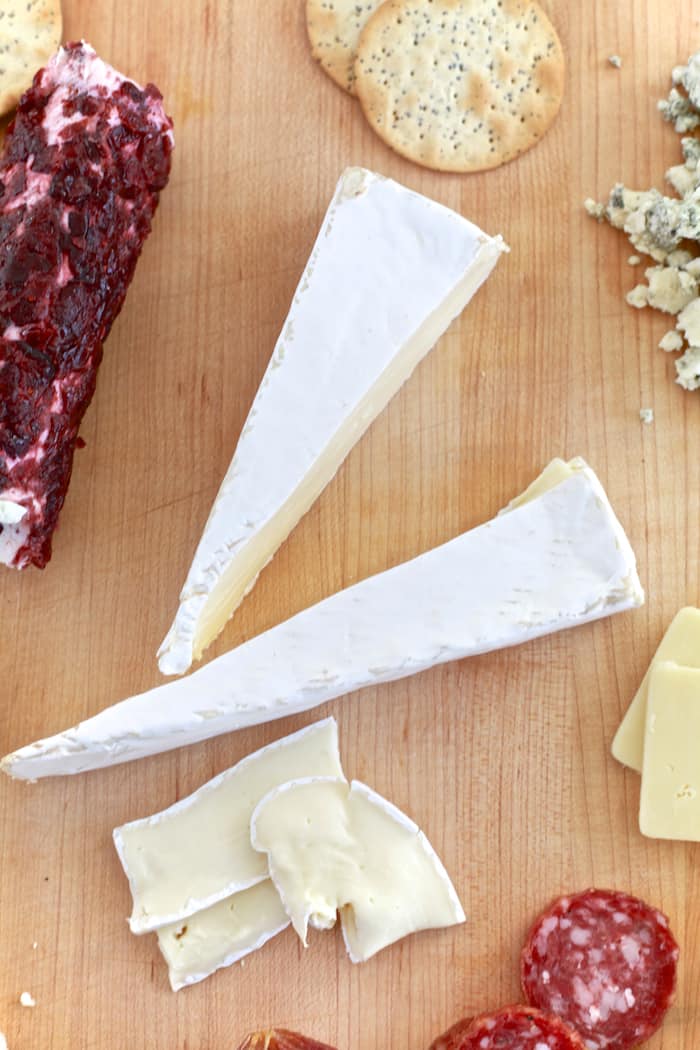 Something Fresh
Goat Cheese: An un-aged cheese is a light and brighter option. Goat cheese is great with almonds, honey, citrus notes and fresh green fruit like pear and green apple.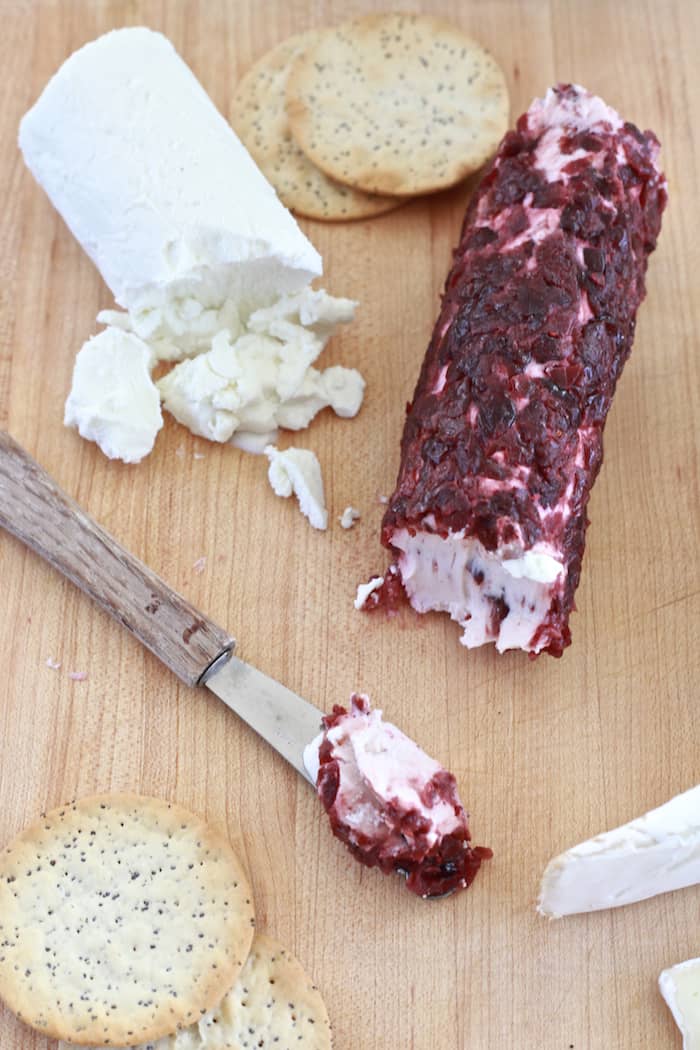 Something Nutty
Smoked aged gouda: Who doesn't like gouda!? It's gouda! I'm sorry I couldn't resist. It's a little sweet and a little funky. I love it! Pairs great with apples and pears.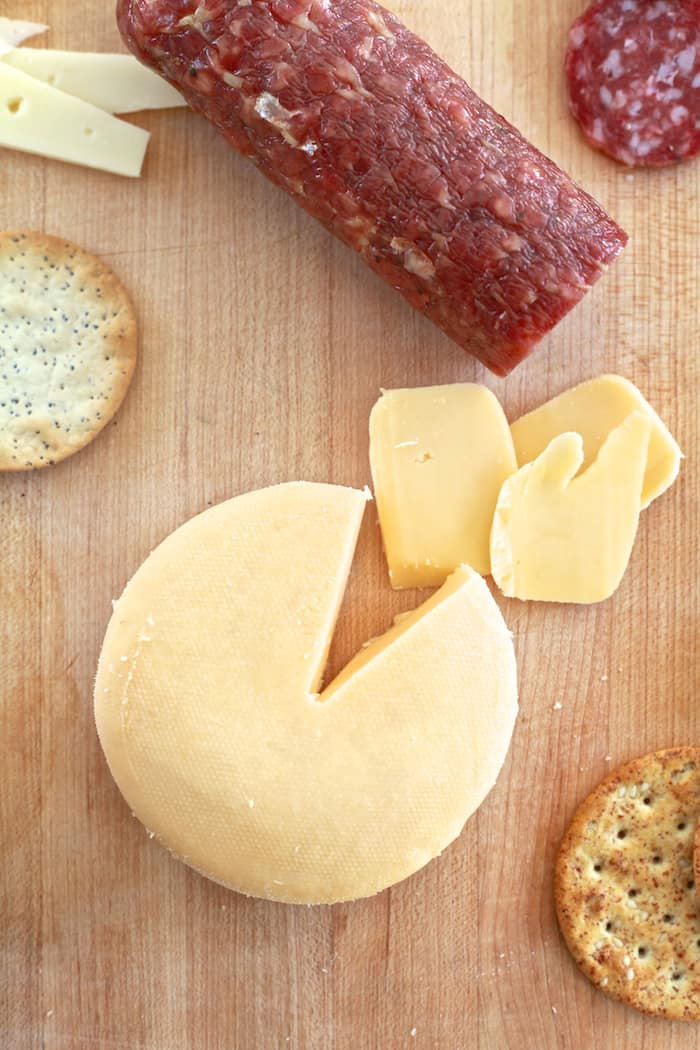 Something Fun
Look for a cheese that is fun and different. Maybe something that has been infused with wine or like this one Espresso BellaVitano, a creamy cheese that is hand-rub with roasted Italian espresso.]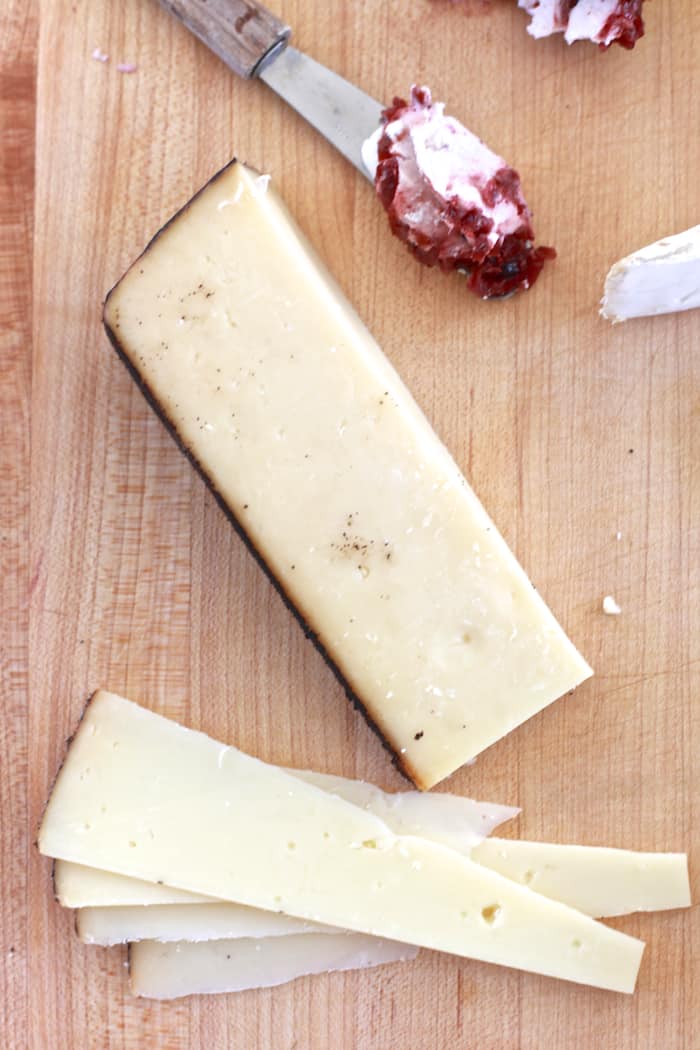 Extras
Something Briny
Something Fruity
Fresh fruit, dry fruit or fruit preserves.
Something Meaty
Cured meats are a natural pairing with cheese and a great addition to a cheese board.
Something Bready
Crusty torn bread served with some seasoned oil dip.
Now let's talk wine. A lot of people are intimidated by wine and especially wine pairing.  ALDI and I got your covered. First, ALDI's wine labels are a huge help with decoding wine. And, I got some tips that I learned during my ALDI event to share with you.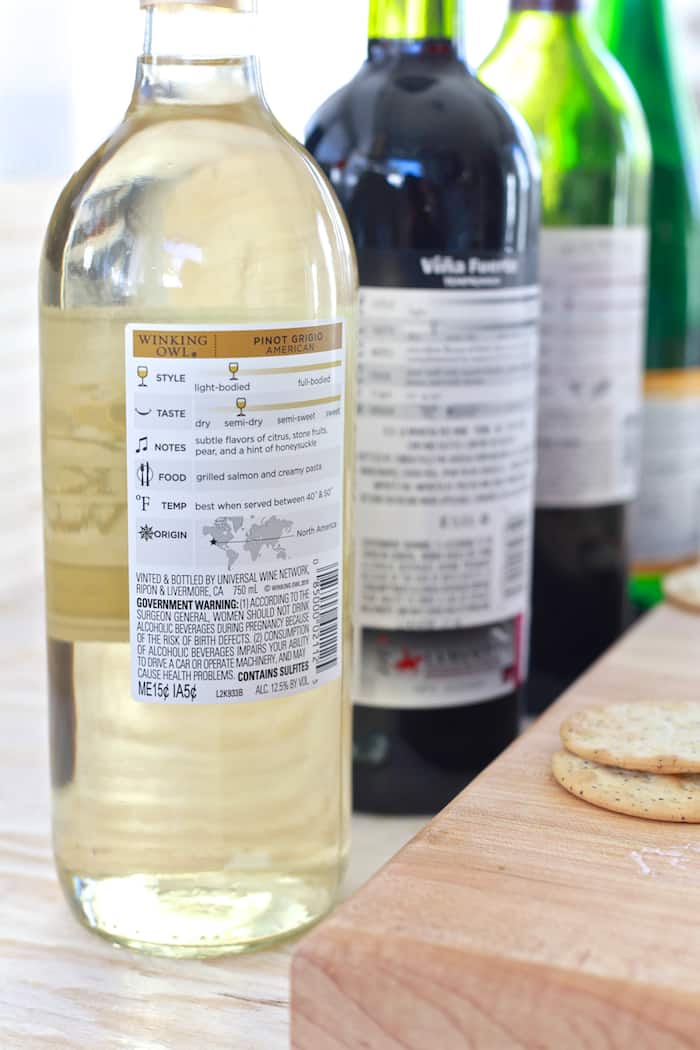 When pairing wine with food you want the wine to amplify and compliment the flavor of the food not over power it. Here are some tips to follow for pairing wine.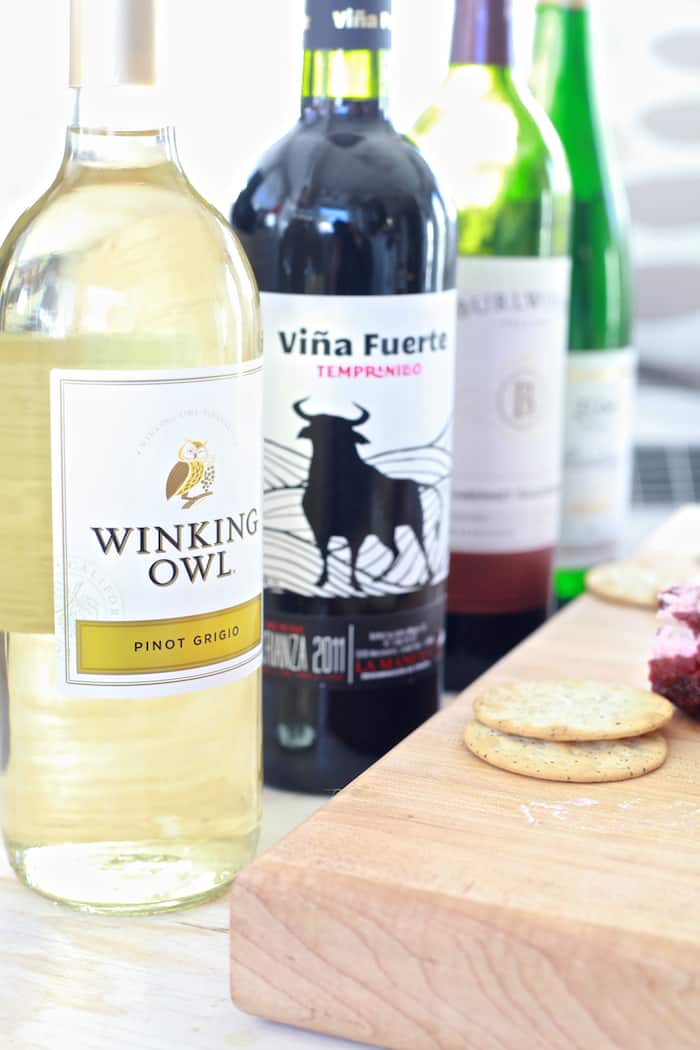 Wine Pairing Tips
Sparkling wines are a great first course wine or glass to offer your table when greeting them.
Acidity in sparkling wine cuts saltiness
Sparkling wines cut through fried foods
Lite reds are a versatile and a great option for pairing a number of dishes.
Pinot Noir
Sangiovese
Gamay
Bolder wines are a great second option for a main corse because they can run into pairing with a dessert course. Great to pair with chocolate desserts.
Sweet wines are fabulous to end a meal. They can pair well with chocolate or fruit based desserts.
Sparkling sweets
Moscato
Lambrusco
Some Good Rules to Follow For Pairing
Smell it!
If you smell it or taste it in the wine pair those same flavors. For example, if you smell citrus pair with a dish that has a citrus sauce.
Compare or Contrast when it comes to the weight of your food.
Big wines go with big food. Like grilled meat pairs well with a heavily oaked Chardonnay.
Use a like wine to cut through rich food. A light sparkling wine cuts through fat and pairs well with goat cheese.
Tannins vs Acidity
Tannins exist naturally in the skins, seeds, and stems of grapes. Because red wines are fermented with their grape skins and pips, and because red grape varieties are generally higher in tannin than white varieties, tannin levels are far higher in red wines than in white wines. Oak barrels can also contribute tannin to wines, both reds and whites.
Tannins dry your mouth out vs. Acid makes your mouth salivate
Tannins love fat! A steak like a ribeye, with a lot of fat, needs a wine with more tannin like Cabernet.
Tannins hate fish oil. Hence don't serve red wine with fish.
Acidity cuts saltiness.
Let the sauce or food preparation determine the wine.
Lemon butter sauce – light wine with citrus notes like Pinot Grigio
Grilled ribeye – Dry wine (lots of tannins) with oakiness like Cabernet.
What grows together goes together
Italian food = Italian Wine
French food = French Wine
Where is Your Wine From?
Next time you have a glass of wine tilt your glass at a 45 degree angle and look at it from above. What do you see? Is is dark or light in color? This is just one of the clues that can help you figure out if it's a old world or new world wine. Most bottles will tell you where the wine is from but, incase it doesn't here are some tips to help you decode where your wine is from. Why is this important? Because it's good to pair cuisines with wines from the same country.
Old World Wines – Everything from Europe
Color: Lighter in color – Both reds and whites.
Smell: Tighter, harder to get fruit smells.

Tend to smell more earthy than fruity.
Will smell earth, dirt or dust first and fruit second.

Taste: Tart, will make you pucker. Can taste chalky, earthy or even acidic
New World Wines – Everything outside of Europe
Color: Darker in color – both red and whites
Smell: Lots of big fruit smells
Taste: Will taste bold fruit flavors. Can sometimes feel heavy due to the alcohol.
Now go stalk up on cheese and wine and party on!