As a kid on New Year's Eve I remember running around the house playing with other kids and my cousins while my parents where busy engaged in spirited conversation. Noise would fill the entire house, music playing, the tv on waiting for the countdown from Times Square and people talking and laughing. When the parental units weren't looking we would sneak bites from the New Year's Eve spread. My mother would always tell me I had enough, but I would sneak back for more. I'll be honest, when it comes to sneaking back for more things haven't really changed. It's the end of the year after all, we got to eat when the eating is good, and before we make all those weight loss resolutions.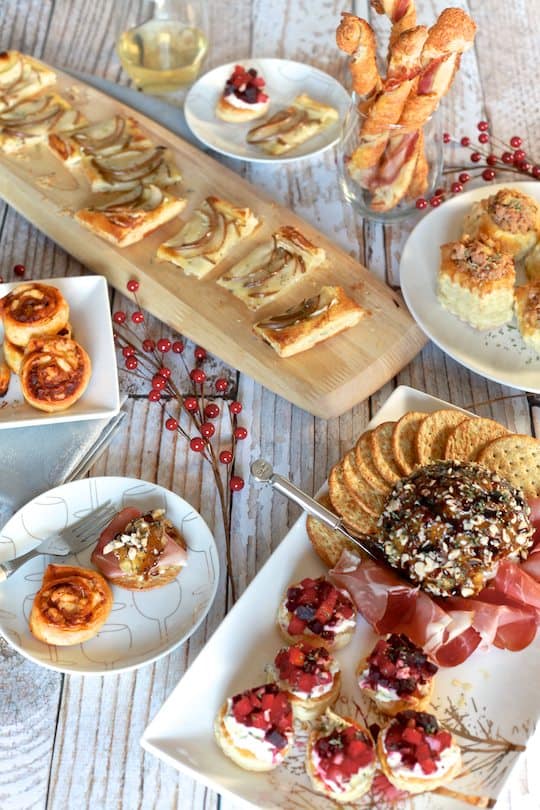 If you are hosting guests for New Year's Eve festivities and, what to look good while being effortless, I got some easy appetizers for you. These will make you look like the slickest hostess around.
Your guest will be all like. "OMG! These are so good, you must have been cooking all day!"
Your all, "Yes, but I totally love it!"
And, they're all, "And, they are so fancy! I don't know how you do it!"
You say, "I know right!"
Actually the appropriate response would be, "Thank you, but they are so easy you can do it too!" Seriously!" Because let's be honest don't we always want to brag about how awesome something is or how you got that amazing dress on the clearance rack for only $20!
If there is one thing I love to have on hand to make simple appetizers is puff pastry. Take some classic ingredient combinations and some puff pastry and you have a party.
This simple tart is just puff pastry, brie, pear, honey and fresh rosemary. Crazy easy! You can change it up with cheddar and apple or cream cheese and berries, it's up to you. The possibilities are endless.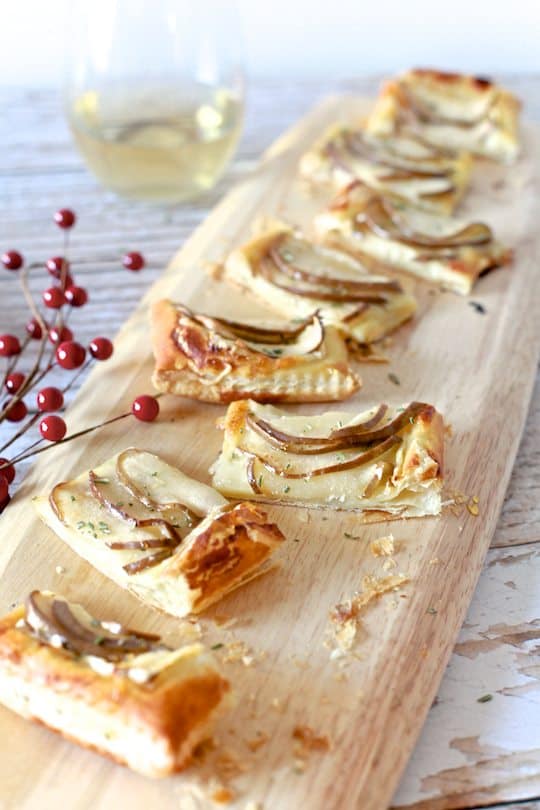 For these I used puff pastry shells and filled them with a sausage, apple and onion mixture. Easy-peasy!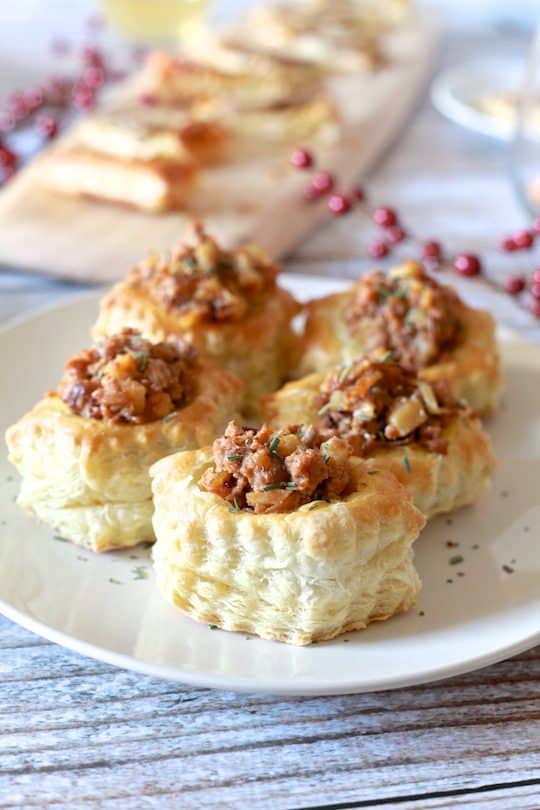 Cut the puff pastry into rounds and bake, smear some whipped honey goat cheese, top with beet and hazelnut mixture. Done! Goat cheese and beets, how can you go wrong?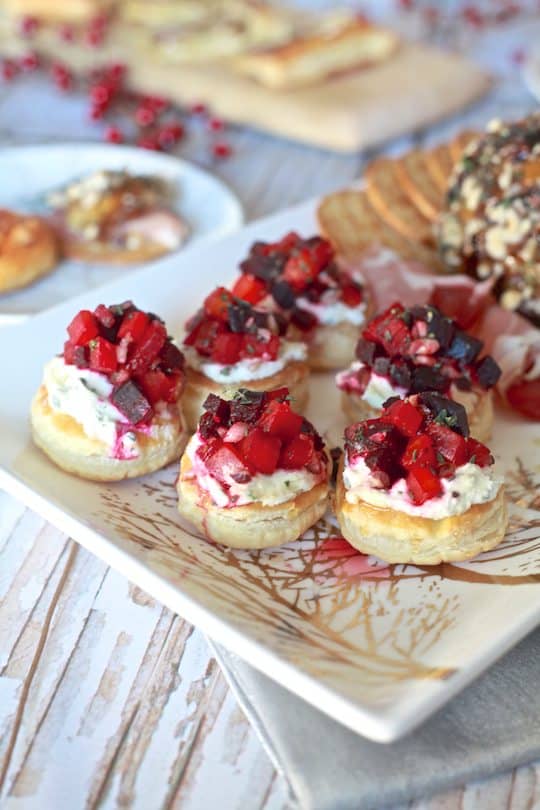 Want crazy easy? Spread your choice of spread on to a sheet of rolled out puff pastry, roll, slice and bake. For these pinwheels I used a red pepper and chipotle spread and sprinkled queso fresco on top. You could also use an artichoke spread or olive tapenade.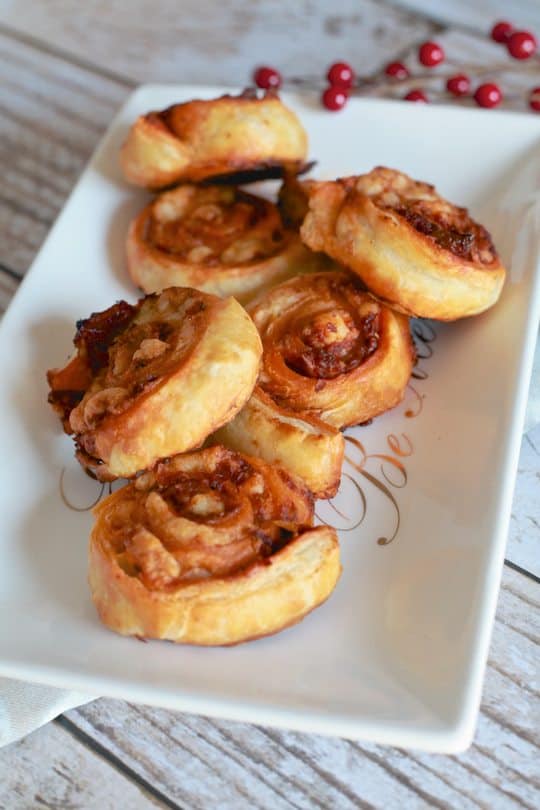 Cheese and bacon twists! Nuf said!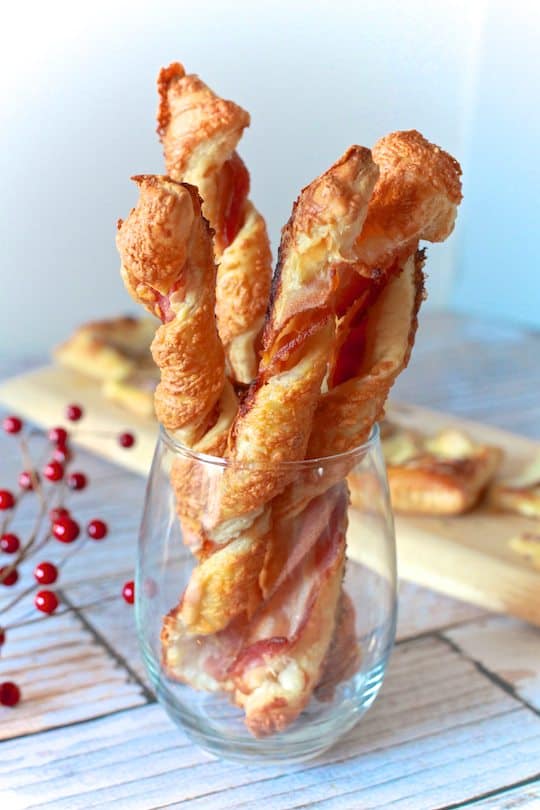 Then there is the always dependable cheese ball. Who doesn't love a good cheese ball? This cheese ball is made using the classic combination of fig, blue cheese and balsamic vinegar. Serve it with crackers and prosciutto and you are sure to have a home run.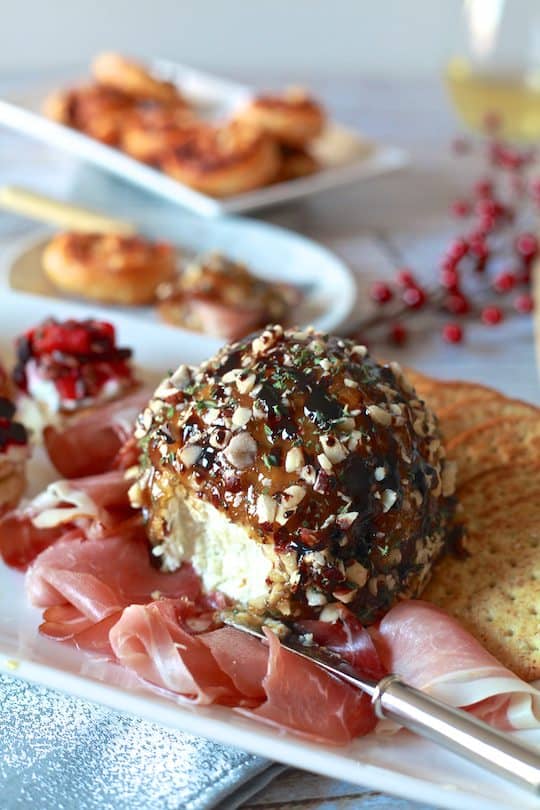 Whatever you are doing this New Year's Eve have fun! Hug your loved ones and get that New Year's Eve kiss. Get excited about what 2014 brings and remember…diets start on Mondays.
6 Easy New Year's Eve Appetizers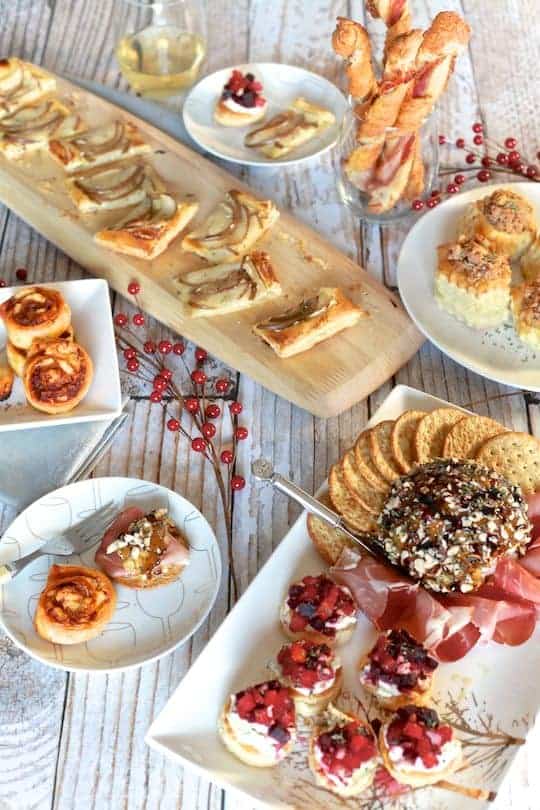 Ingredients
Tart
1 sheet puff pastry
8 oz brie cheese, thinly sliced
2 anjou pears, cored and thinly sliced
honey
fresh rosemary, minced
Shells
6 puff pastry shells
2 tablespoons butter
1 small onion, thinly sliced
1 apple, peeled, cored and small diced
slash of white wine
2 links Italian sausage, casing removed
fresh rosemary, garnish
Rounds
1 sheet of puff pastry
1 small red beet
1 small golden beet
1/4 cup chopped hazelnuts
1 teaspoon minced tarragon (plus more for garnish)
4 oz goat cheese, softened
1 tablespoon honey
Pinwheels
1 puff pastry sheet
1/2 cup choice spread
1/2 cup choice cheese (optional)
Twists
1 puff pastry sheet
1 cup shredded cheddar
10 sliced bacon
Cheese Ball
8 oz block cream cheese
10 oz blue cheese crumbles
1/2 cup fig preserves
1/2 cup chopped nuts (pecan, hazelnuts or walnuts)
fresh thyme, minced
balsamic vinegar reduction to drizzle
Instructions
*One egg wash made of 1 egg and 1 tablespoon of water is enough for all recipes.
Tart
Unfold puff pastry, cut into three pieces along the folds. Lightly brush the edges of the pastry rectangles. Lay brie cheese along the center of the rectangles, followed by pear slices slightly overlapping and drizzle with honey.
Bake in the oven at 400 degrees for 20 minutes, or until crust is golden brown. Cut into slices and garnish with minced rosemary.
Shells
Lay shells on a parchment paper-lined sheet pan. Lightly brush with egg wash. Bake according to package directions.
In a skillet over medium-high heat brown Italian sausage. Using a slotted spoon transfer sausage to plate, set aside.
Add onions to the same skillet, if there isn't enough sausage drippings add butter, sauté until translucent. Let them sit in the skillet until they being to brown, add apples. Continue to sauté until apples are tender and caramelized, about 15 -20 minutes. Splash with white wine to deglaze the pan, cook until wine has reduced. Return sausage to skillet and mix until well combined.
Spoon sausage filling into cups sprinkle with minced rosemary.
Rounds
Cut tops of beets, place in pan cut side down with 1 inch water, cover tightly with foil, roast at 400 degrees for 45 min. or until tender. Run under cold water, using paper towel rub the skin off the beets. Dice beets to a small dice, set aside.
Using a round 2-inch biscuit cutter, cut round out of one sheet of puff pastry. Lay rounds on a sheet pan lined with parchment paper. Lightly brush with egg wash and prick with a fork. Bake in oven at 400 degrees until golden brown, about 8 minutes. Let cool completely.
In a bowl combine goat cheese & honey, whip using a fork. In a separate bowl combine diced beets, hazelnuts and tarragon, toss. Spread goat cheese on cooled rounds, top with beet mixture, drizzle with honey and garnish with minced tarragon.
Pinwheels
Unfold puff pastry sheet. Spread with choice spread and sprinkle with choice cheese if desired. Roll pastry sheet and cut into 1/2 inch rounds. Lay rounds on a sheet pan lined with parchment paper. Lightly brush sides with egg wash.
Bake in the oven at 400 degrees for 15 minutes and until golden brown. Let cool completely and serve.
Twists
Open a puff pastry sheet, lightly brush with egg wash. Sprinkle with cheese and gently press the cheese into the puff pastry. Using a pizza cutter cut pastry sheet into 1/2 inch strips. Taking one strip at a time, flip a strip and lay bacon strip on it, gently twist being sure to leave the bacon slightly exposed.
Lay on sheet pan lined with parchment paper, bake at 425 degrees for 25 - 30 minutes. Let cool on pan and serve.
Cheese Ball
In the bowl of a stand mixer combine softened cream cheese and blu cheese crumbles, beat until creamy and well combined. Using a spatula scrape and try to shape a ball as best you can. Wrap in plastic wrap and place in the refrigerator for 30 minutes.
Pour chopped nuts on to a plate. Roll the ball over the nuts, covering all sides, set aside on plate. Add fig preserves to a small sauce pot over medium heat. Stir until the preserves have melted and are easily spreadable, about 8 minutes. Spoon preserves over the cheese ball, trying to cover all sides as best you can. Sprinkle with more nuts and minced thyme. Transfer to serving platter using a spatula. Serve with crackers and prosciutto.