Did you know that, on December 2 2013, hundreds of food bloggers from different countries swap cookies?  Packages filled with delicious cookies crossed countries and oceans to arrive at doorsteps and be devoured.   This isn't the first time this phenomenon has happened.  It has been happening since 2011.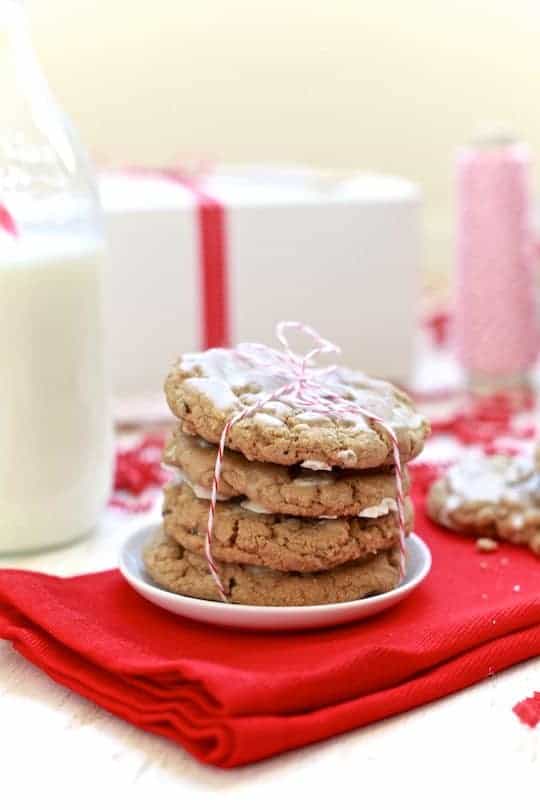 All of these bloggers (including myself) joined together for The Great Food Blogger Cookie Swap, in partnership with OXO, Gold Medal Flour, Dixie Crystals and Grandma's Molasses, to benefit Cookies for Kid's Cancer. And, we were able to raise $13,778.40!  How awesome is that!?
I thought long and hard about what kind of cookies I wanted to make. This was my first time participating in The Great Food Blogger Cookie Swap. I felt a lot of pressure to get it right, only because I am nutty like that.  Finally, I decided that some chewy gingery cookies with chocolate chips and a rum glaze would be "aaaaaawesome sauce!"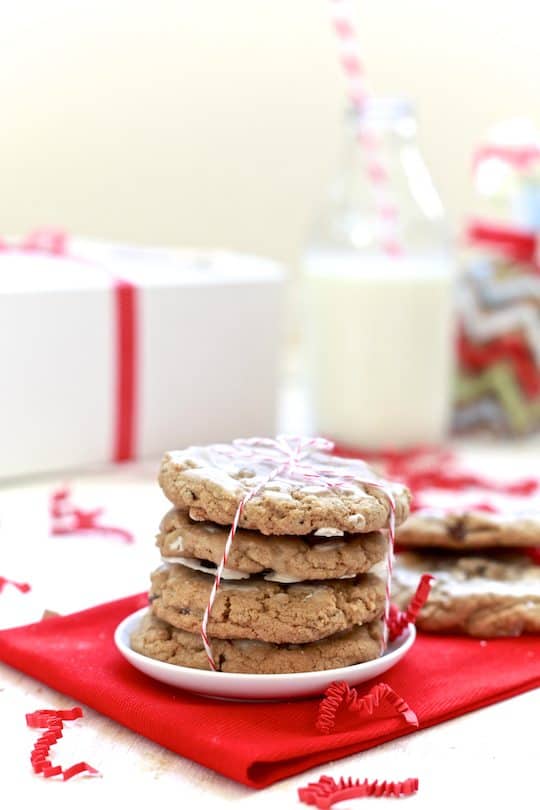 This recipe was perfect! The best part was that the recipe made just over 4 dozen, three for the swap and one for me!  And, I ate every single one, including all the crumbs.  I have fallen in love with the combination of ginger and chocolate and I am sure you will too.  I made the glaze extra thin so it would dry for shipping, but feel free to make it as thin or as thick as you like and add a little extra rum if you like too.
A special shout out to Julie and Lindsay for wrangling all these crazy food bloggers and coordinating this awesome cookie swap benefiting such a great cause. Also, thank you to Kristin, Jessica and Megan for the yummy cookies!  We ate them all!
If you want to know more about The Great Food Bloggers Cookie Swap check it out here!
Chewy Chocolate Chip Gingersnap Cookies with Rum Glaze
Ingredients
1 cup unsalted butter, at room temperature
2 cups sugar
2 large eggs
½ cup molasses
4 cups flour
2 tsp baking soda
2 tsp ground cinnamon
2 tsp ground cloves
2 tsp ground ginger
2 tablespoons crystalized ginger
½ cup chocolate chips
Glaze
1½ cups powdered sugar, sifted
3 tablespoons spiced rum
Instructions
Preheat oven to 375 degrees. Line a sheet pan with parchment paper.
In the bowl of a stand mixer using a paddle attachment, beat the sugar and butter on high speed until light and creamy. Add eggs one at a time, mixing after each. Add molasses and mix until well combined.
In a bowl, combine the flour, baking soda, cinnamon, cloves, and gingers. Add the dry ingredients to the molasses mixture, add chocolate chips and mix on low until combined.
Scoop the dough using a cookie scoop. Place the cookie dough on the prepared sheet pan. Place the sheet pan in the freezer for 15 minutes to chill.
Bake for 10 minutes or until the edges are have puffed and set. Let cool on the sheet pan for 5 minutes, then place on a wire rack to cool completely.
While the cookies are cooling whisk together your powdered sugar and rum until it is well combined. I did mine on the thinner side so they would set for shipping, but you can make it as thick as you like. You can use water to thin the glaze or rum if you want more of a kick.
Glaze cookies and enjoy!