There is nothing better than easy.
We are all pinched for time, which makes easy  a magical word.  It means you can do it in no time, with little effort.  Combine easy with delicious and you got a winner.
This idea had been brewing around in my head for a while.  I saw something similar on Pinterest but I can't find the original source.  If you know where it is let me know so I can give them some link love.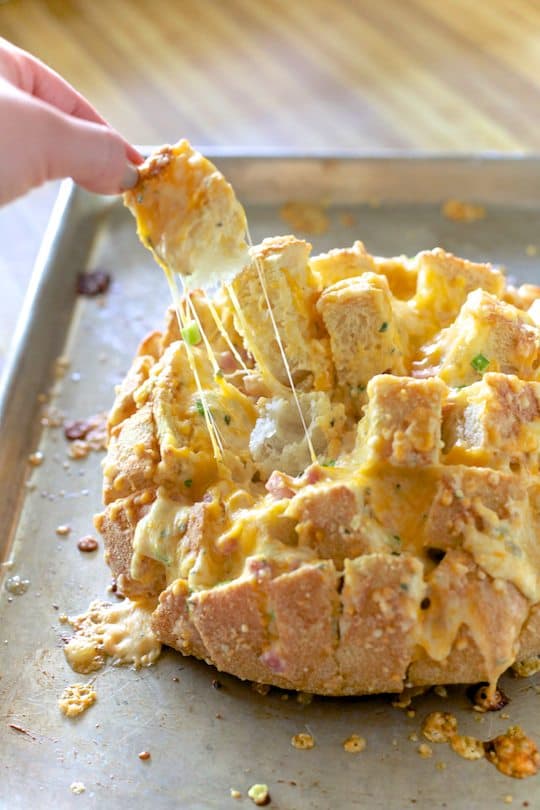 We have all had that crazy day of endless running around.  Of course that day ends with some kind of social get together were you said you would bring something.  I recommend you keep this recipe in your back pocket because it's perfect to get you out of such a jam.
Let me show you how easy it is to make.
Dice a block of cheese up into small cubes, toss into the food processor and pulse until broken down into small crumbles.
Add sour cream, whipped cream cheese, garlic and herbs.
Process until creamy and spreadable.  Transfer to a bowl and mix in diced ham and chives until well combined.  Sprinkle with a little salt to taste.
Take a loaf of crusty bread, like a Tuscan bread, using a serrated knife cut the bread into a grid.  Be careful not to cut all the way through.
Fill all of the cuts with the cheese and ham mixture, leaving some to gently rub on top.  Sprinkle with more cheese crumbles.
Place bread on a sheet pan lined with parchment paper or sprayed with non-stick spray.  Bake int the oven at 350 degrees for 20-25 minutes or until melted and bubbly.
Hello lover!
Cheesy gooey bready lover!
Why yes, I will have another.  Thank you very much!
The bread comes out soft and gooey, with salty ham goodness.
Who knows maybe after such a long busy day you will decided to just pour yourself a glass of wine and keep the bread all to yourself.
Ham & Cheesy Bread

Ingredients

16 oz block cheese, cubed

1/2 cup sour cream

1/2 cup whipped cream cheese

1 teaspoon minced rosemary

2 cloves garlic, minced

1 cup diced ham

1 loaf crusty bread

3 green onions, chopped

Instructions

Place cubed cheese in a food processor. Pulse until broken down into small crumbles. Set aside 1/2 of the cheese crumbles.

Add sour cream, whipped cream cheese, rosemary and garlic to the food processor with the cheese. Pulse until smooth and spreadable. Transfer to a bowl, add diced ham and green onions. Mix until well combined. Set aside.

Using a serrated knife cut the loaf in a grid pattern. Fill all the cuts with cheese and ham mixture, leaving just enough to gently rub over the loaf. Sprinkle with reserved cheese crumbles.

Place bread on a sheet pan lined with parchment paper or sprayed with non-stick spray. Bake in the oven at 350 degrees for 20 - 25 minutes or until melted and bubbly. Garnish with more green onions and serve hot and gooey.

Notes

* Quantities may vary depending on the size of the bread loaf.

Copyright 2012 - All Rights Reserved - TheNoshery.com