Being a food blogger, I have spent many hours in my head thinking up recipes, debating how different flavor profiles work together and wondering how to plate the dish. It can be a lonely and difficult creative process.As much as I love my husband his "that sounds good to me" shrugs aren't very collaborative. Sometimes I miss the days I spent hours in a kitchen collaborating with my fellow chefs. Thank goodness for technology! I may not be spending my days in a large bustling kitchen anymore but, I still have some brilliant culinary minds just a text message away.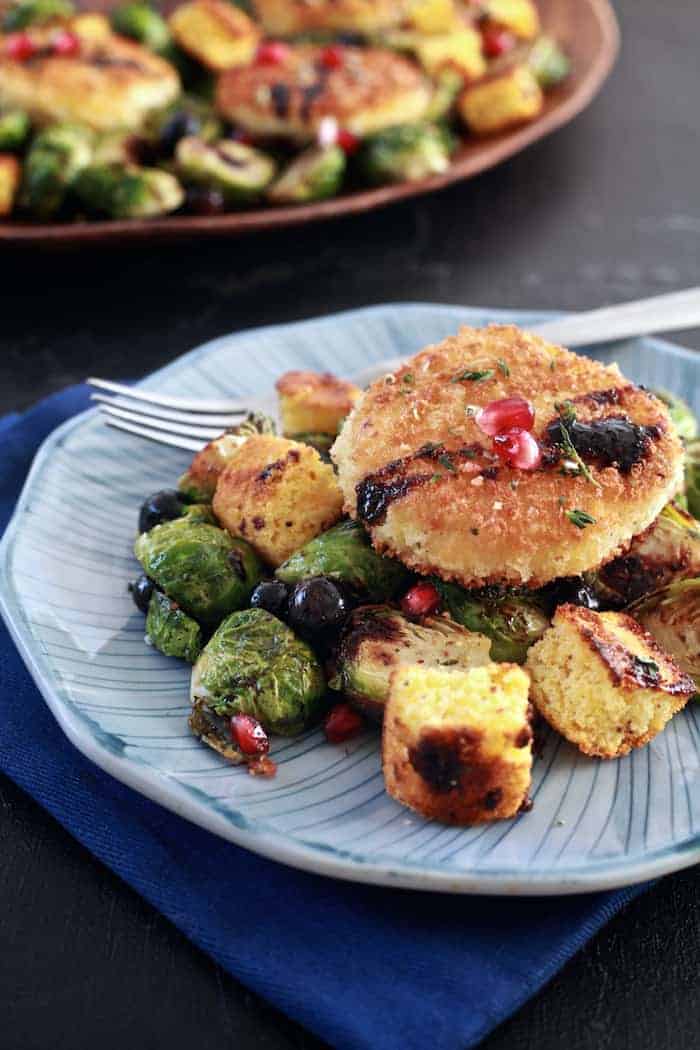 I would not be able to keep coming up with interesting recipes if it hadn't been for working with others in the kitchen. There is something magical when people cook and create together. It's an excitement that is hard to describe. We would spend hours on our feet in a hot kitchen, prepping, cooking and communicating. It becomes almost like a dance. A dance that has to be perfectly timed in order to accomplish a common goal, be it feeding a crowd or making a perfect single dish. At one point, my co-worker and I were spending so much time together communicating and collaborating we started to finish each others sentences. It was clear that we were spending too much time together.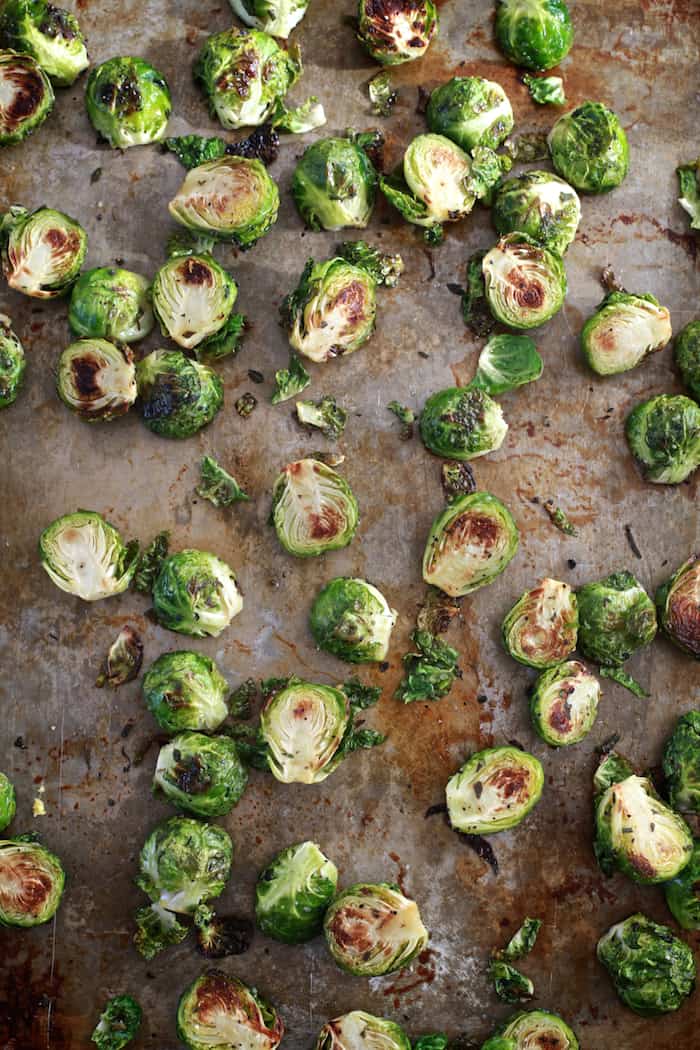 But, sometimes even a long day of work can't squash creative juices from flowing. I remember after a long day of prepping, cooking and styling there was a menagerie of ingredients and dishes on the counter. Me and my co-workers were gathered around the counter breaking down the events of the day and planning for the next day. While we were gathered we picked at bits and pieces of the food menagerie before us. Because when you work in the kitchen, you never eat, you just snack and taste. At one point I picked up a roasted Brussels sprout, a cornbread crouton and a blueberry, all from different dishes, and popped them in my mouth. My eyes opened wide with excitement while I blurted a mumbled exclamation of YUM!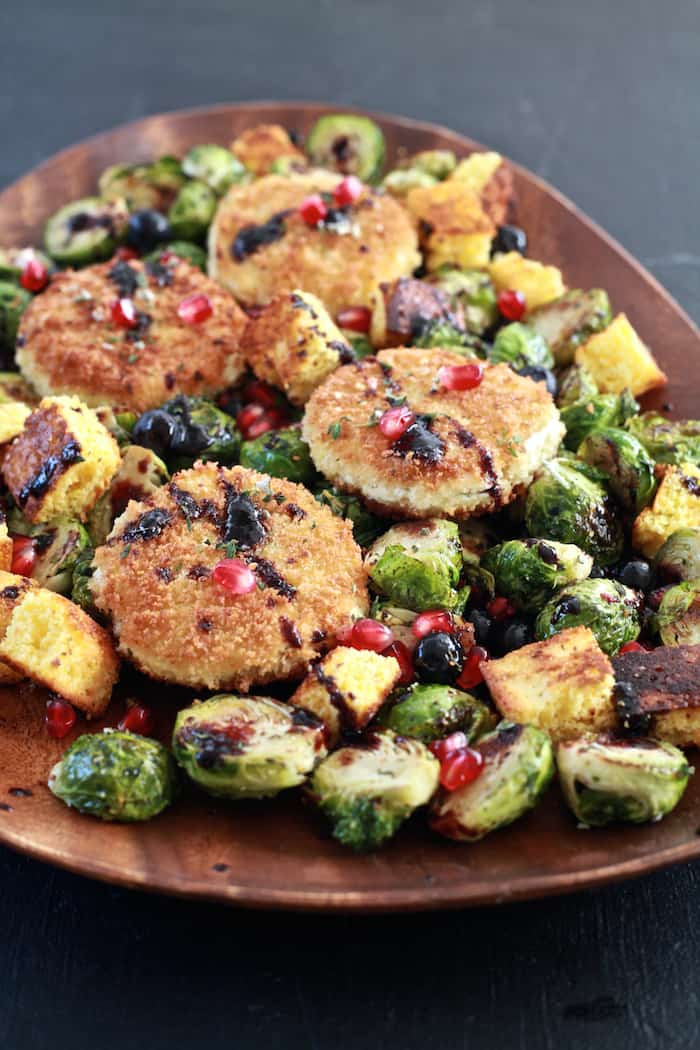 We quickly forgot about our work duties and started talking about what kind of dish could be made using Brussels sprouts, blueberries, and cornbread croutons. We talked about roasting, cheeses, reductions and everything that is awesome about food. We discussed how the blueberry tasted more blueberry with the sprouts and how the sweetness of the cornbread crouton cuts into the earthiness of the sprouts. Oh, how I miss those days of face to face collaboration! The energy and joy of having a conversation about the common love for food.
I never got around to making that dish until now. I finally came up with a melody of roasted Brussels sprouts, blueberries, cornbread croutons, pomegranate seeds, topped with a goat cheese cake and drizzled with a blueberry balsamic reduction. It a plate full of sweet, tangy and earthy notes. A great dish for a fall dinner table.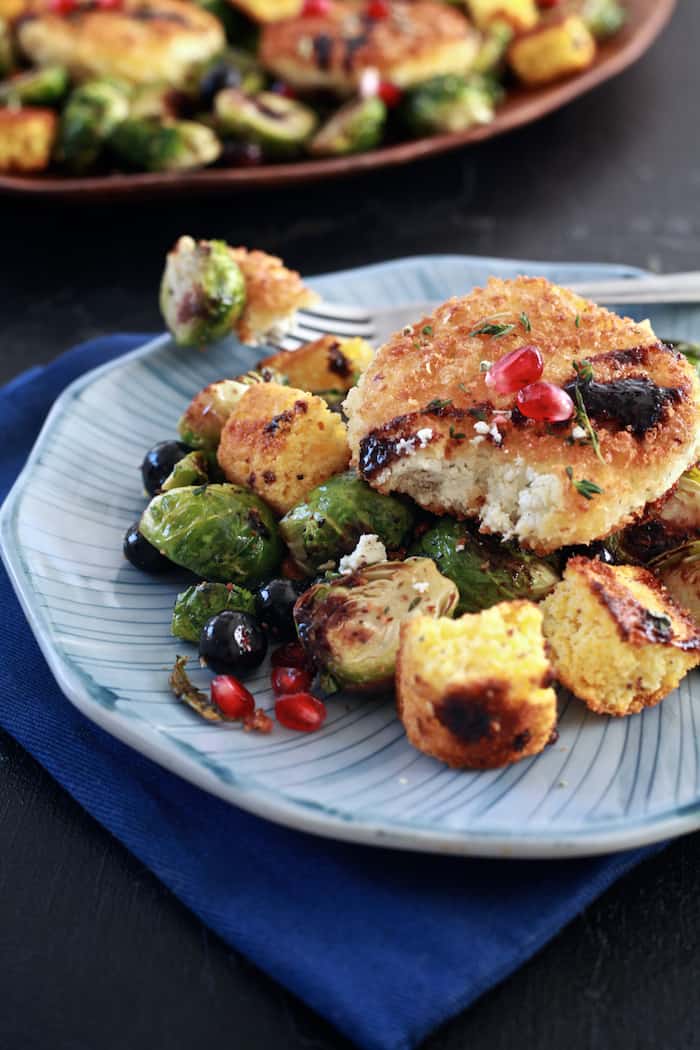 Now I spend more time out of the kitchen and cooking in my home. But, occasionally I still need that face to face communication. It's time to create and collaborate about food. Every other week I participate in an online Hangout with fellow bloggers were we discuss not only blog stuff but, what we are creating in our kitchens. This collaboration is key to keeping content and recipes fresh and interesting.
Bon-Appetit has created a collection all about people Out of the Kitchen. All about how to make things like mozzarella or how to get the most out of your knives at home. They are spending time face to face with America's artisans and to explore their trades and talents. There are some great reads and inspiration for fellow food lovers!
Also, check out BonAppetit.com's "OUT OF THE KITCHEN," an exploration of the coolest food artisans in America, from spice blenders to knife makers to cider brewers. See how they mastered their crafts—and learn how to apply their knowledge at home.
This is a sponsored conversation written by me on behalf of Bon Appetit.

Roasted Brussels Sprouts and Blueberry Salad with Goat Cheese Patties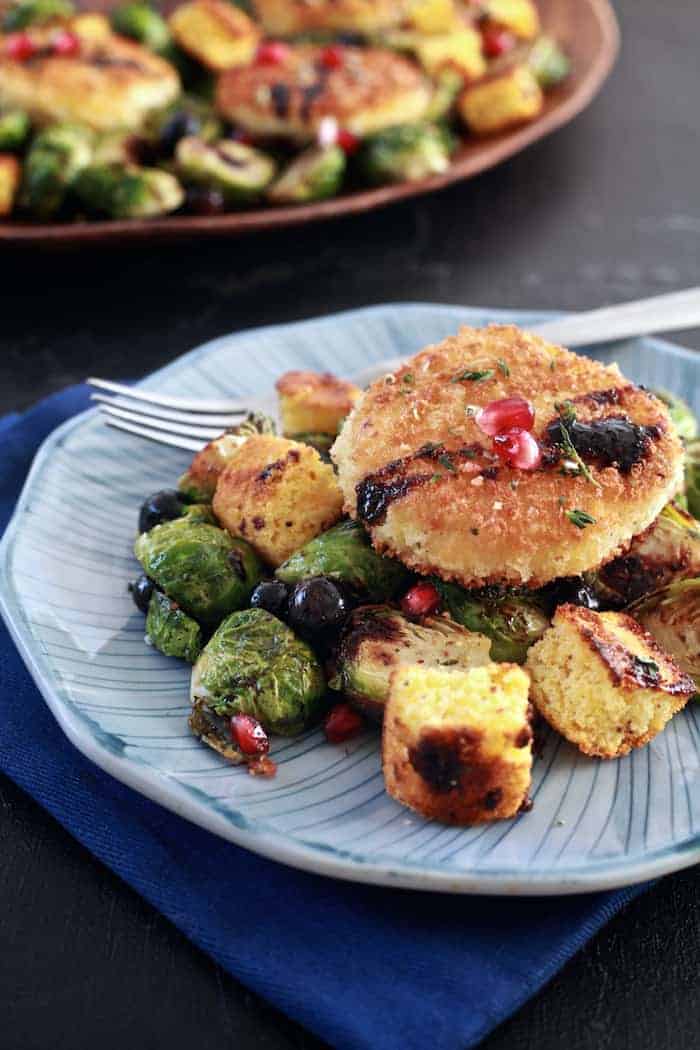 Roasted Brussels Sprouts and Blueberry Salad with Goat Cheese Patties Author: Meseidy Prep time: 20 mins Cook time: 40 mins Total time: 1 hour Serves: 4 Salad of roasted Brussels sprouts, blueberries and cornbread croutons topped with a goat cheese patty and blueberry balsamic reduction.
Ingredients
Salad
1 1/2 pounds Brussels sprouts, trimmed and cut in half through the core
1/4 cup olive oil
1 1/2 teaspoon salt
1/2 teaspoon pepper
2 leaves sage, minced
1 spring thyme, minced
1 pint blueberries
1/2 prepared cornbread, like Jiffy corn muffin mix, cubed
1/4 cup pomegranate arils
Goat Cheese Patties
8 oz garlic herb goat cheese, chilled
1 1/2 cup panko bread crumbs
1 egg
Reduction
1 cup balsamic vinegar
1 pint blueberries
1 tablespoon honey
Instructions
Heat oven to 400 degrees.
Prepare cornbread according to package directions in a 10 X 8 pan. Allow to cool completely in pan, invert and cut into 1/2 inch cubes. Spray with butter cooking spray. Spread on sheet pan and toast in the oven at 375 degrees for 10 minutes, until crisp and browned. Set aside to cool completely.
Toss Brussels sprouts, olive oil, salt, pepper and herbs together on a sheet pan. Include any loose leaves as they will crisp. Roast cut side down in the oven for 20 to 30 minutes, tossing halfway thought. Cook until browned and tender.
While brussels are roasting combine balsamic vinegar, honey and blueberries in a sauce pot. Bring to a boil. Lower to a simmer and let simmer until reduced by half, about 10 - 15 minutes. Strain the reduction through a fine mesh strainer to remove any blueberry skin. Set aside to cool. Reduction thickens as it cools.
Shape four 2 oz patties of goat cheese. Return to the refrigerator to keep them chilled. Beat egg with 1 tablespoon of water. Pour beaten egg on to one plate and panko bread crumbs on another. Prepare a plate lined with paper towels. Heat a skillet of shallow canola oil over medium-high heat. Dredge goat cheese patties in egg and panko. Place in hot oil and cook each side for about 2 minutes or until lightly brown and crispy. Transfer to plate lined with paper towels.
Toss Brussels sprouts with blueberries, croutons and pom arils. Serve with goat cheese patty and reduction drizzle.
Notes
Cornbread croutons are made using Jiffy cornmeal mix prepared in a 10 x 8 pan. I only used 1/2 of the cornbread to make the croutons.
3.2.2885
The opinions and text are all mine.