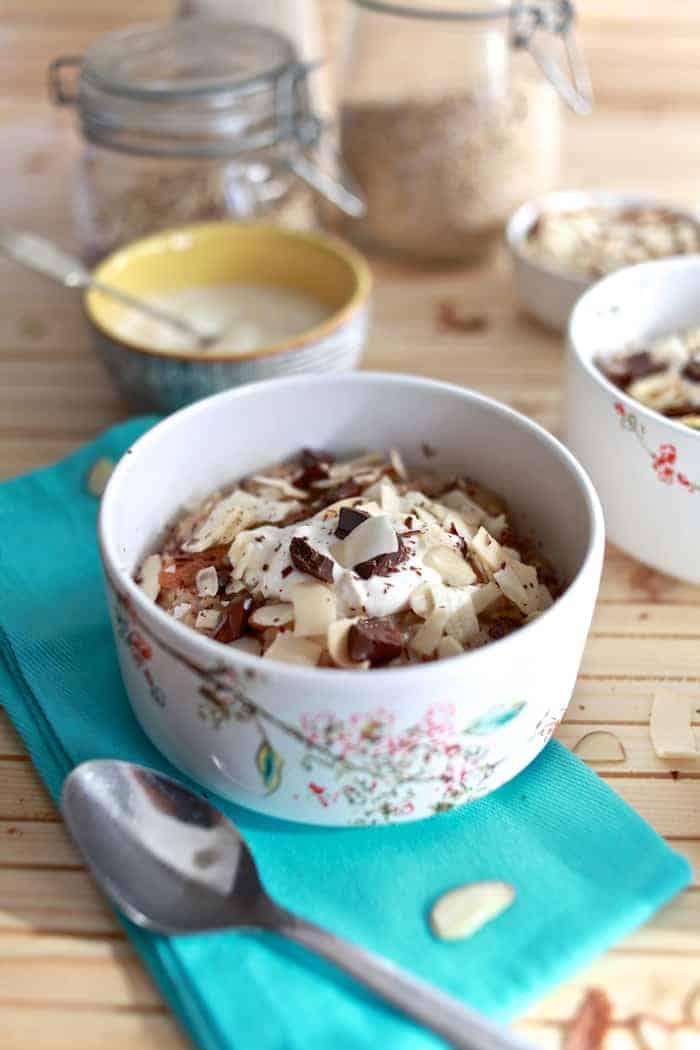 I know that 2015 officially started on January 1 (obviously) but, I don't mentally start the year until the first Monday of the New Year. Call it procrastinating or being in denial but, it's how I roll. It's like diets. Diets always start on Monday.
There is something about the new year that gives you a giddy-up of determination to do better, be better and look better. With that in mind I thought it would be fitting for my first post of 2015 to be a healthy, hearty and satisfying breakfast.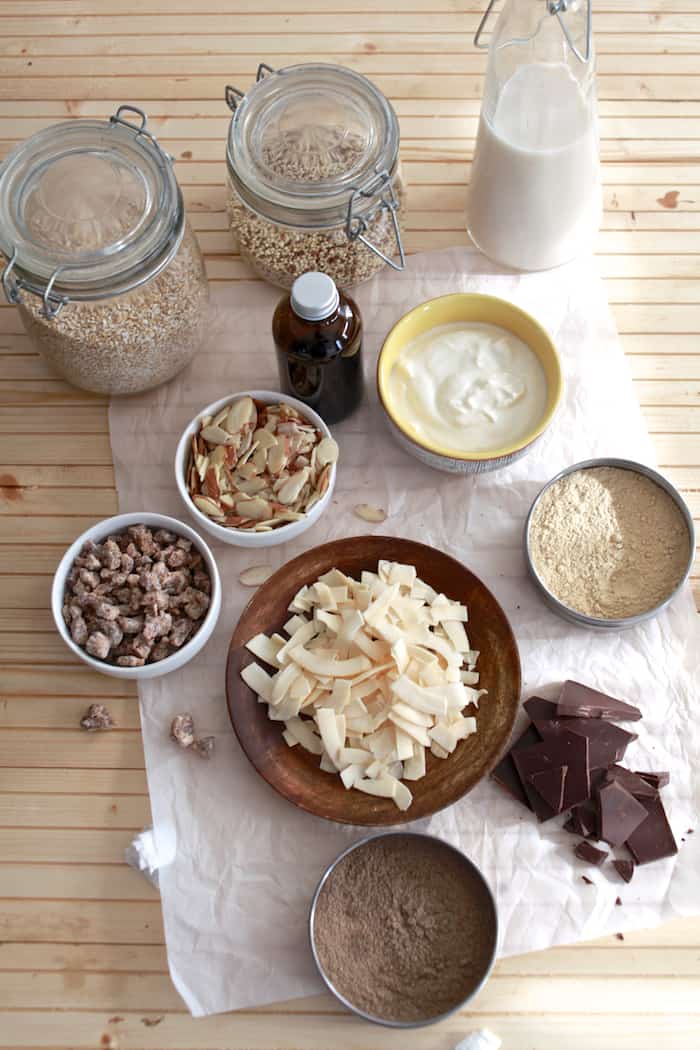 I love, love, love hot cereal. It gives you a warm hug in the morning and fuels you up for the day ahead. I grew up eating farina, maizena and oatmeal. But, my mom always made it the same way. Now that I am all grown up I can make it my way! I love the versatility of hot cereal. It's so easy to make it your own by simply adding and changing toppings.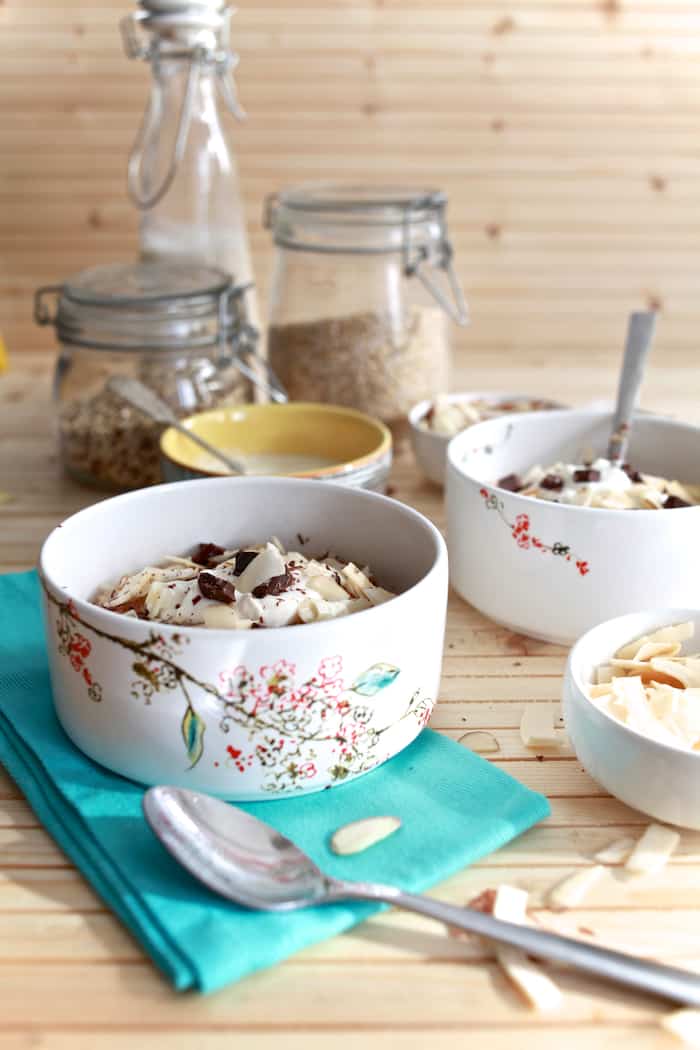 But, let's be honest…plain oatmeal or cream of wheat gets old after a while. It's nice to change it up a bit, and that is just what I did by using quinoa and steel cut oats. It's a great way to pack protein in your breakfast and add a little texture and nuttiness to it too.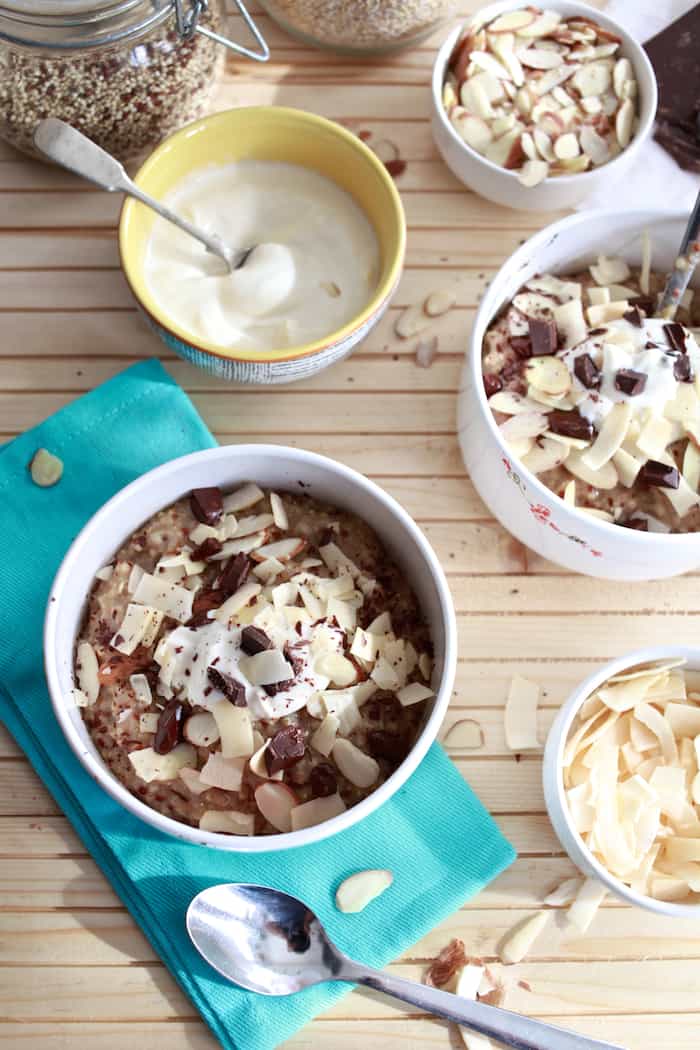 I also used some sweetened almond milk instead of just water. By using sweetened almond milk, there was no need to add any additional sweetener to the hot cereal. I spiced my hot cereal with ginger and cardamon but, you can add any combination of spice you like.
For me, it's all about the toppings when it comes to hot cereal. I like to keep different dried fruits and nuts in my pantry to facilitate my changing moods. Today I decided on dates, coconut chips, sliced almonds and dark chocolate. Because dark chocolate for breakfast is okay when you top it on hot cereal, right?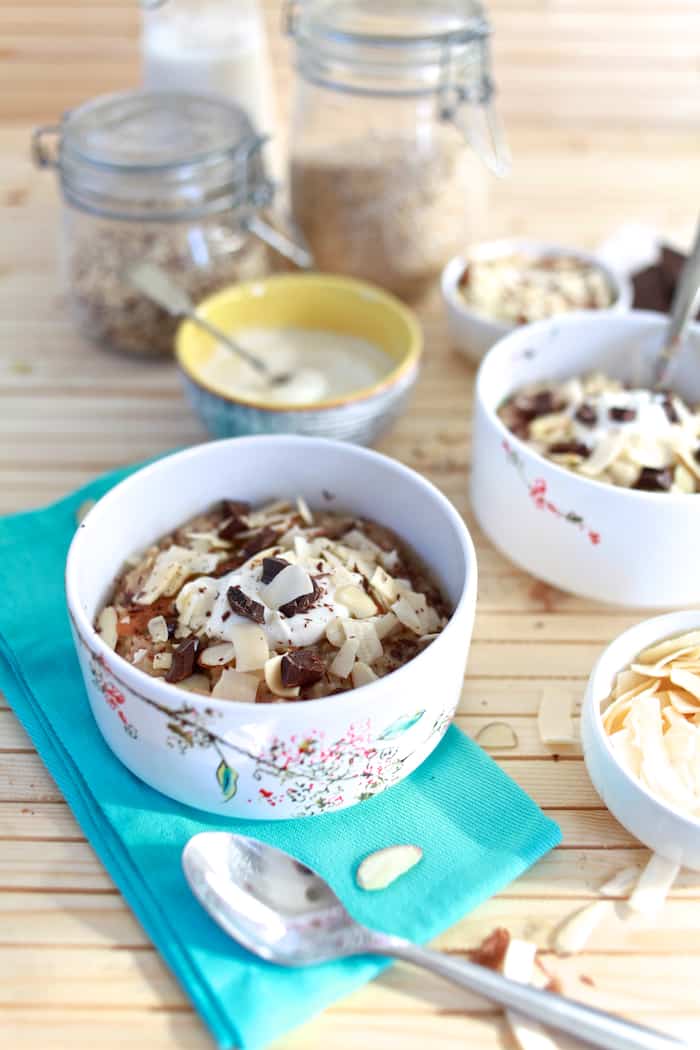 Not only is this breakfast satisfying and crazy delicious but, it so convenient. You can make it to order if you like but, even better you can make it ahead. Make a large batch and store it in an airtight container in the refrigerator. In the morning spoon some into a small pot, add a bit of water, stir and warm. Add water a tablespoon at a time till you reach the desired consistency. If you want make it easier and feel free to nuke it.
The new year is all about starting fresh and setting goals. A hearty bowl of this hot cereal is a great way to start those new days ahead.
What are some of your favorite toppings? Also, if you like the pretty bowls you can find the them here. 😉
Yield: 4 servings
Spiced Ancient Grain Hot Cereal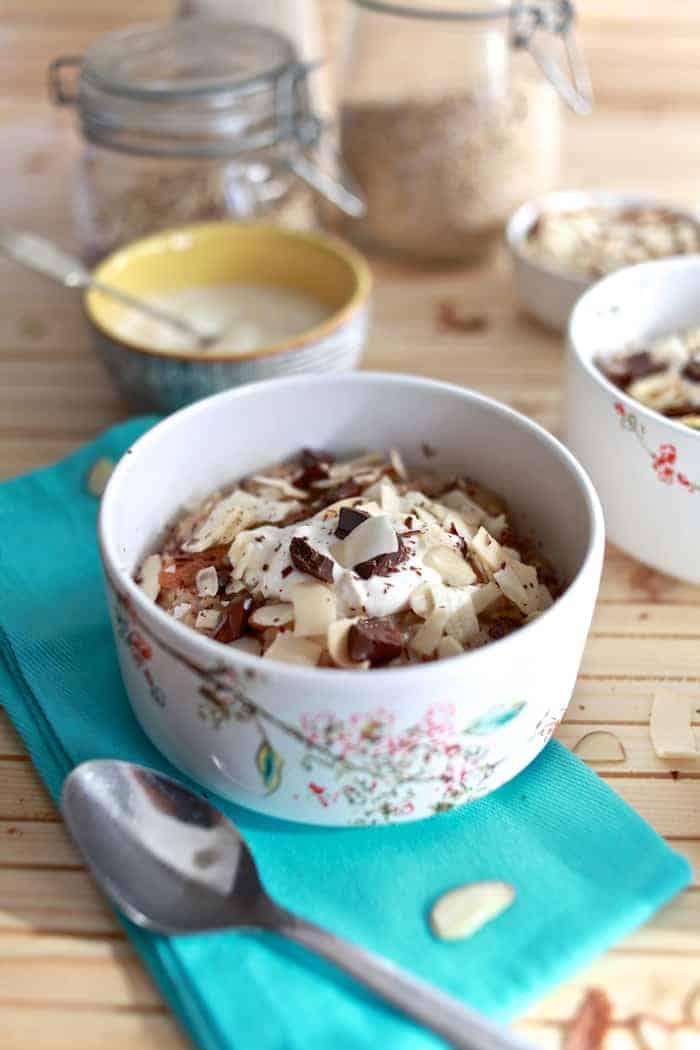 A hearty hot breakfast cereal made quinoa and steel cut oats. Spiced with cardamon and ginger and topped with dark chocolate, almonds and dates.
Adapted from Bon Appetit
Ingredients
Cereal
[br]
1/2 cup rainbow quinoa
1/2 cup steel cut oats
1/2 cup dried dates
1 teaspoon kosher salt
1/2 teaspoons ground ginger
1/2 teaspoons ground cardamom,
2 cups vanilla sweeten almond milk
2 cups water
[br]
Toppings
[br]
coconut chips
sliced almonds
dark chocolate
vanilla greek yogurt
Instructions
Traditional Method


Combine all cereal ingredients in a 5 quart pot. Bring to a boil, reduce heat and simmer for 20-25 minutes until grains are tender, stirring occasionally. Serve hot with toppings.


Overnight Method


Combine all cereal ingredients in a 5 quart pot. Cover and let sit off heat overnight.


Before serving, reheat cereal in saucepan, covered, over medium-low heat, stirring occasionally and adding water if needed, until warmed through, 5-8 minutes.


Serve warm with toppings