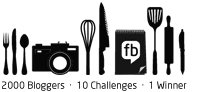 Not too long ago I announced that I had thrown my hat in the ring to be "The Next Food Blog Star". Well hold on to your spatulas because the first challenge has arrived and voting opens tomorrow, Monday!
For every dish I make, I have a story.  Sometimes the stories are short stories and other times they are novellas.  A good story is made even better with pictures.  Welcome to The Noshery where food, stories, and photography mix together to show people that cooking is fun.
I love writing about the food I make in my kitchen.  I truly and honestly enjoy it. I believe that every dish has a story surrounding it.  It might be something your mother use to make only on special occasions.  Perhaps, it is a dish that you ordered at a restaurant and try to recreate at home.  Maybe your groceries are running low and you decide to have your own personal Iron Chef/Chopped episode in your kitchen.  The fact is that every recipe has a story and The Noshery is where some of those stories are told.
It is true that, after shooting a post for the blog, my kitchen sometimes looks like a hurricane just blew through and there is more food on my camera than on my plate!  Usually, I have used every utensil in my kitchen, but it's okay because I had fun while doing it!  I tell these stories because I want The Noshery to show everyone that they can have fun cooking too.
When I photograph a recipe for a post, my goal is for the food virtually to come off of the screen.  When you see a picture, I want you to taste and to smell the food. I want you to have to refrain from licking the screen (not a good idea because all you're going to get is dust anyway).  Bringing a dish together from an array of ingredients to a finished dish is the food's story.  That is one of the reasons why I try to do all my posts with step-by-step photos so my readers will have a guide and feel confident while cooking.  I do my absolute best to let the food tell it's own personal story.
I want to show people that cooking is not only fun but easy and that they should not be afraid to try something different.  I refuse to limit myself to a specific cuisine or style of cooking. If I do, how will I learn?  I'm Puerto Rican and proud of it. Although pork, plantains, and rice make an appearance in my kitchen at least once a  week, I will try any other dish any day of the week.    One day I'll  stay close to home and make Sweet Plantain Canoes, another day I feel like going to Asia for some Thai Green Papaya Salad with Shrimp, and sometimes I say, "What the heck!" and do a little fusion resulting in  Sweet Potato and Plantain Cakes with Pineapple Mango Chutney.    Sometimes I bomb, but sometimes I manage to cook up a winner. Like when I jazzed up the traditional pot roast and made Mushroom & Blueberry Balsamic Pot Roast.  I want to encourage my readers to cook outside of their comfort zone and try something different, add a little bit of this and that.  The awesome thing is that if it is a total failure, you will have a story to tell and you can save the day by ordering take out!
Not only does every post have a story told through photos, they have built-in humor.  Humor is entertaining, but the truth is: humor is just me. I am very uncomfortable in serious situations.  If things get uncomfortable, I can almost guarantee you that I will make some random joke at the wrong time. It's how I roll.  I believe that making fun of yourself makes people around you feel at ease.  I am happy to admit to dancing in the produce section because I just found fresh figs.  Of course, my husband thinks I am a dork for attempting the running man while seated in the car just because I bought some awesome produce at the farmer's market. And then there were those cheesy jokes about stripping corn.  Making jokes is another part of the story and I hope that they make my readers feel at ease.
I have learned a lot since I started The Noshery and I have made many friends from around the world in the process. I am privileged to be a part of the food blogging community and to have such wonderful readers. The fact is food is an international language.  When someone gives you a steaming hot, beautiful plate of food with an eager smile on their face, what they are saying is that they like you, care about you, and they want you to be happy.  They also want you to love their food because, in a way, it means that you care about them too.  The Noshery is just my way of saying I love you guys!
In conclusion, should I be the next food blog star?  Heck yeah!  I make cooking fun, I take a pretty mean tasty looking picture, and I am funny! Who doesn't like funny?  I am just saying!
So, in conclusion, pick me! Pick me! Pick me!