It's Monday, time to get PUMPED for the work week! Are you pumped? Come on put your hands in the air and raise the roof! It's MONDAY!
Ok, ok that is a little too much energy and pep for a Monday morning. Grab a cup of coffee instead and have a slice of cake.
I made this cake for the family while I was in Florida. Everyone was getting together for a big family meal and I was asked to make something for everyone's sweet tooth. I was in a foreign kitchen in a foreign land so I poked around to see what I could come up with. My mother-in-law mentioned that she had a can of pumpkin purree and maybe I could make a pie with that, but I wasn't feeling pie, I wanted cake. Then I remembered some pecans that we picked up while we were driving through Georgia. BAM! It hit me, a praline upside down pumpkin cake. Say that five times fast.
Pre-heat oven to 350 degrees, place pecans on a baking sheet. Toast in the oven for 5 minutes or until you start to smell a toasted nutty aroma.
In a pot melt 2 sticks of butter. You see a lot of butter here because I was melting a little extra for something esle.
Pour 3/4 cup of brown sugar into a 9 inch round pan.
Pour the 1/2 cup of butter directly into the pan.
Whisk the butter and brown sugar together until well combined.
Chop up the pecans, sprinkle in the prepared pan and press the pecans into the sugar mixture, set aside.
In a separate bowl combine all the dry ingrediants and whisk until well combined.
In a another bowl combine eggs and pumpkin puree.
Add 1/2 a cup of warm milk, vanilla extract and melted butter to the pumpkin mixture.
Beat with and electric mixer until well combined.
Add flour mixture; stir with spoon until just combined.
A few lumps in the batter is ok, don't panic.
Pour the batter into prepared round pans. Lick the spatula and bowl, don't share.
Place the cake on a rimmed baking sheet and bake in the oven at 350 degrees for 50 minutes or until a knife test comes out clean. You want to place it on a sheet in case the caramel bubbles over.
Remove from the oven and let cool for about 5 minutes, don't let the cake cool completely because it will be harder to unmold, place a plate on top of the cake and invert.
Give it a few taps until the cake falls out of the pan, let cool.
Wow what a cake! A moist and fluffy cake topped with a crunchy nutty topping, how can you go wrong? Everyone loved it and even thougt some didn't have room to finish there dessert they took their slice home.
I cut the sugar in the cake from the original recipe because it was being covered is gooey brown sugar goodness and it turned out to be just the right about of sweet. Does cutting the sugar make this cake less sinful? Absolutly not! What fun would that be? This cake has sinful guilt in every bite, I recommend it with a glass of milk, cup of coffee or maybe some ice cream.
Excuse me while I go run the guilt away.
Yield: 1 cake
Praline Upside Down Pumpkin Cake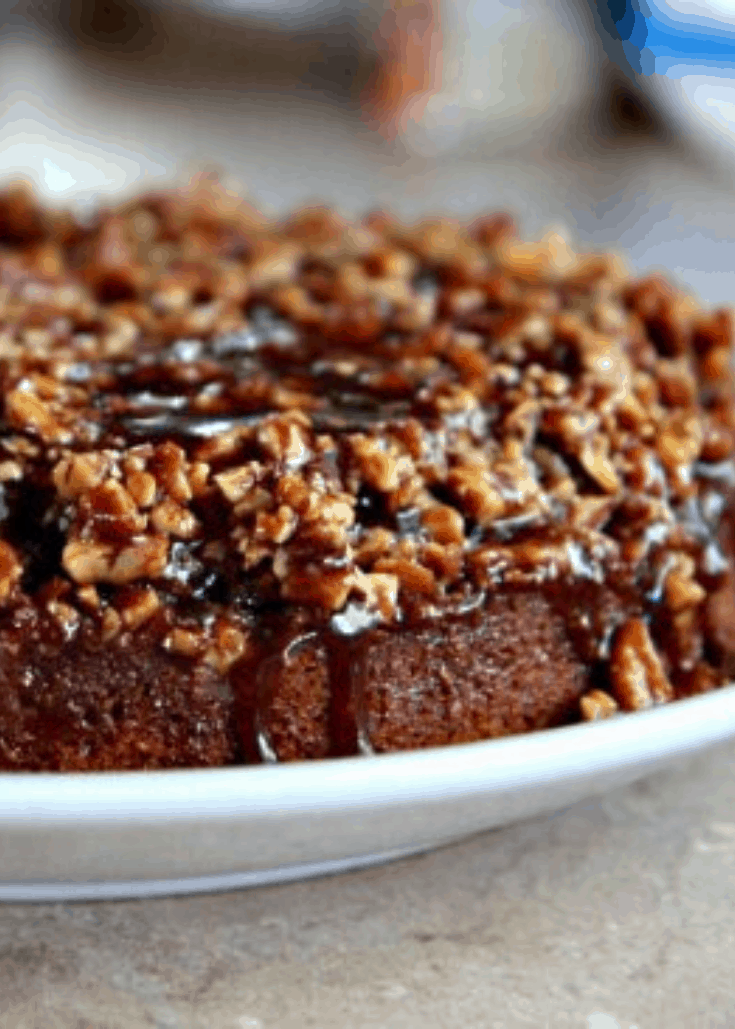 Ingredients
1 stick unsalted butter, melted
3/4 cup of brown sugar
3/4 cup pecan halves
1 2/3 cups all-purpose flour, plus more for pan
1 teaspoon ground cinnamon
1/4 teaspoon ground nutmeg
1/4 teaspoon ground allspice
1/2 teaspoon salt
1/2 teaspoon baking powder
1/2 teaspoon baking soda
1 stick butter, softened
1 cups sugar
1 teaspoon vanilla extract
2 large eggs
1 cup homemade Pumpkin Puree Pumpkin Puree, or canned
1/2 cup warm (110 degrees) milk
Instructions
Heat the oven to 350 degrees. Spread pecan halves on a baking sheet and toast for 5 minutes or until aromatic. Remove from the oven and let cool, chop the pecans into small pieces, set aside.
Melt butter in a small sauce pan. In a 9-by-2-inch round cake pan combine 1 stick of the melted butter and brown sugar.
In a large bowl, sift together flour, sugar, cinnamon, nutmeg, allspice, salt, baking powder, and baking soda; set aside.
In the bowl of an electric mixer fitted with the paddle attachment, beat softened butter, eggs, milk, vanilla extract and pumpkin puree together until well combined, about 2 minutes. Add flour mixture; stir with spoon until just combined.
Pour batter into prepared pan, and bake until a cake tester inserted into the middle comes out clean, about 50 minutes. Transfer the cake to a wire rack to cool. Let cake rest 5 minutes.
Place a plate over the cake and invert to unmold cake, let cool completely.