This post was sponsored by Tabasco. Over the course of the year, I will be creating recipes featuring the Tabasco Family of Flavors. All opinions expressed on my site are my own.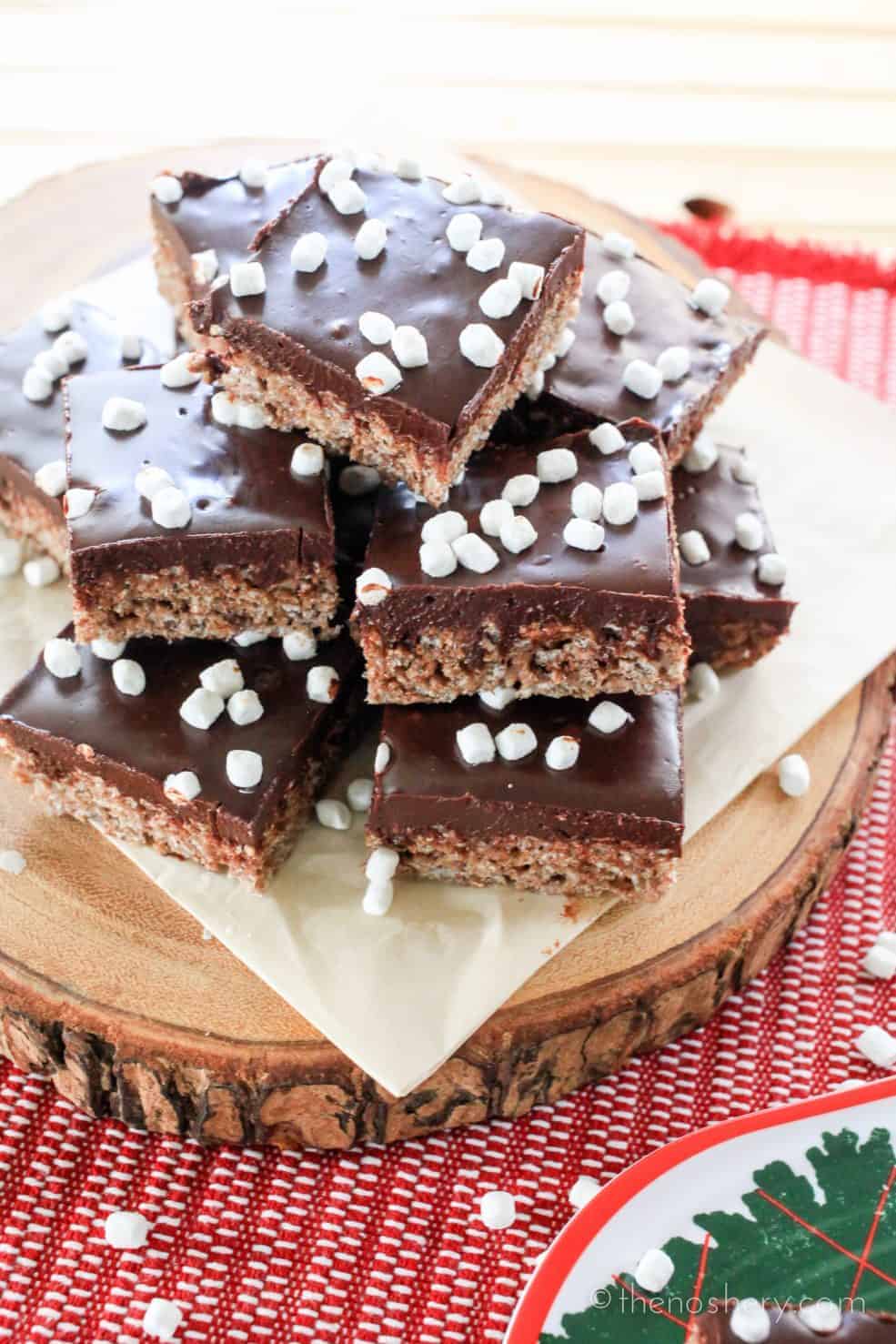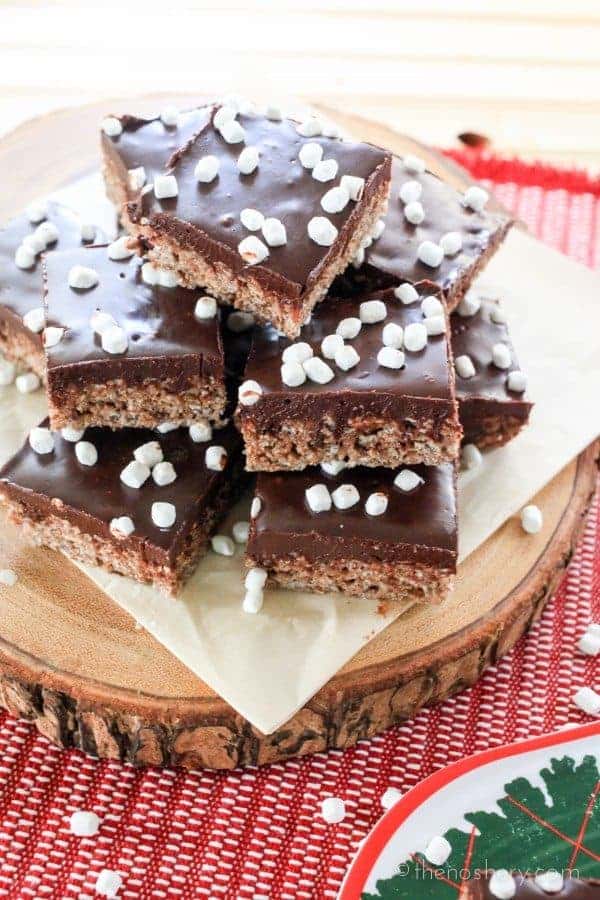 Who doesn't love hot chocolate!? It's nostalgic, comforting and liquid chocolate! Hello! When I was a little girl, my dad was stationed in the very tip-top of Maine.  I remember one year in April it was my birthday, and I looked out the window and our yard was covered in snow. The winters were long and frigid, and hot chocolate was on a regular rotation. However, we had adamant opinions of hot chocolate in my house.  Hot chocolate is made with chocolate squares and milk, no powder or water in our mugs.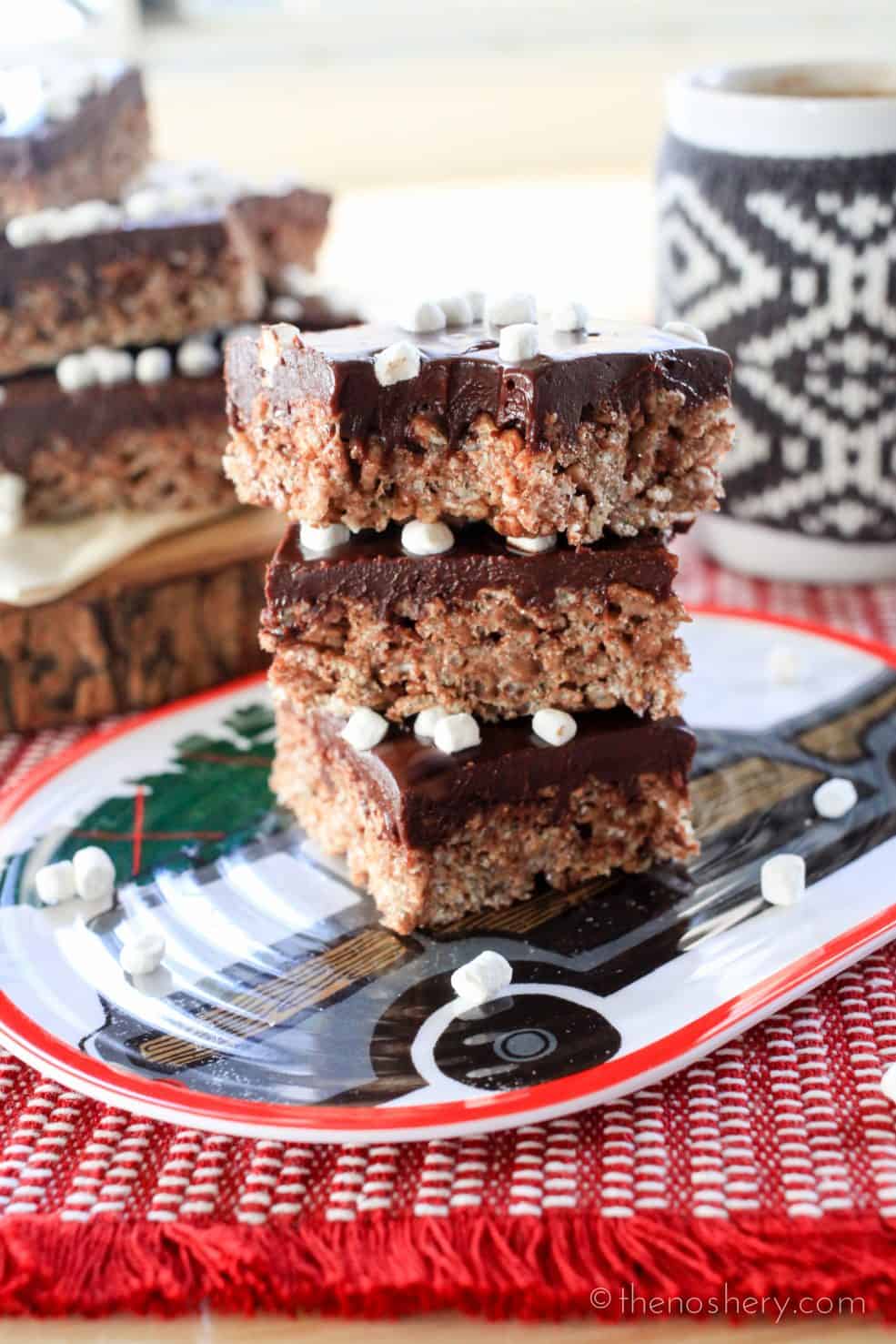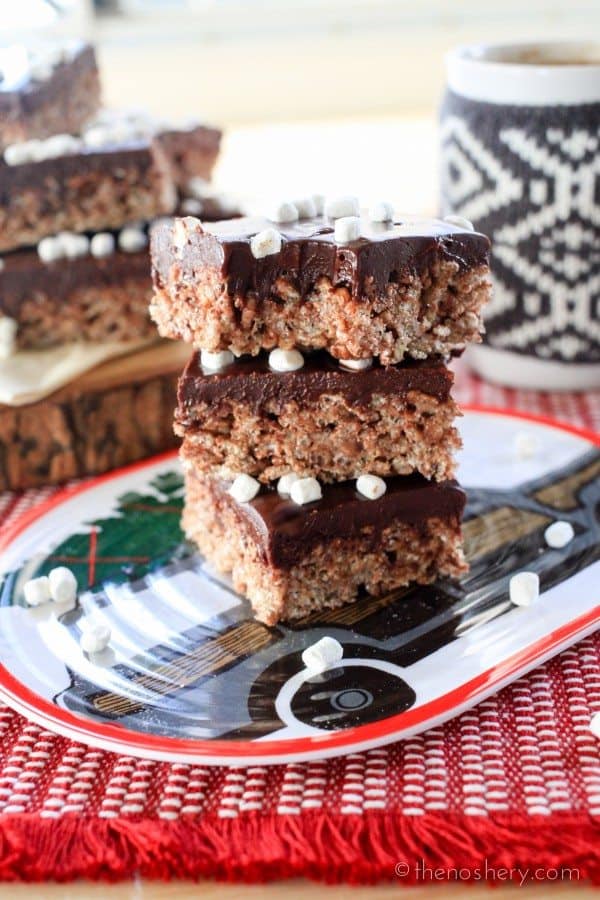 With holiday parties and cookie exchanges approaching, I thought it would be fun to make some hot chocolate treats. I wanted to make a treat that reminded me of the hot chocolate from my childhood. Of course, there is no way to make these treats hot in the sense of temperature, so I decided to do a little play on "hot" and added some Tabasco Chipotle Sauce.  Hot sauce is for more than just tacos and eggs. Many people don't know that chipotle and chocolate are the best of friends. The smokey pepper gives the chocolate a richer flavor and a delayed heat. These treats are loaded with chocolate, a hint of cinnamon and a little spice. It may sound odd to some, but these treats are like taking a bite out of hot chocolate.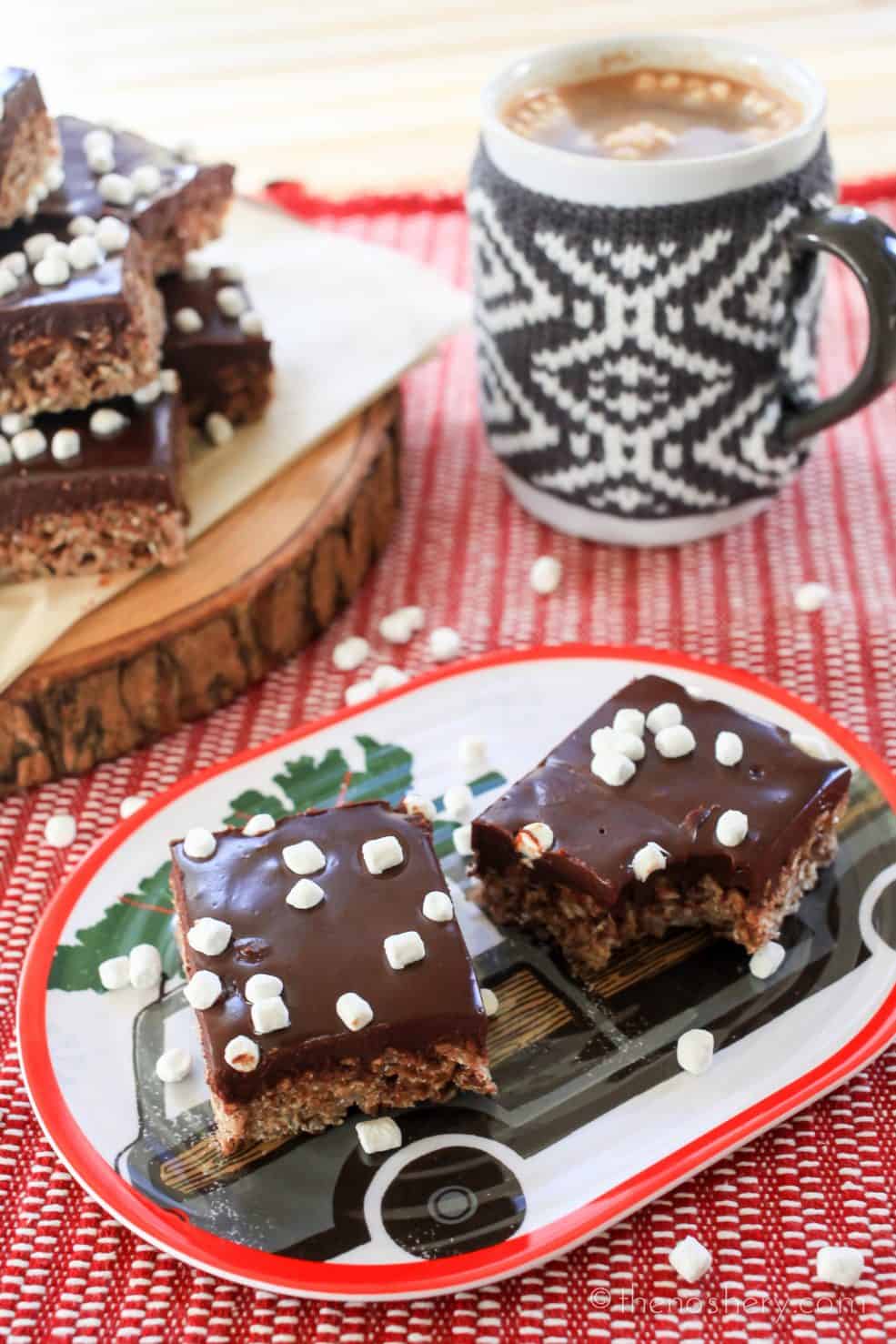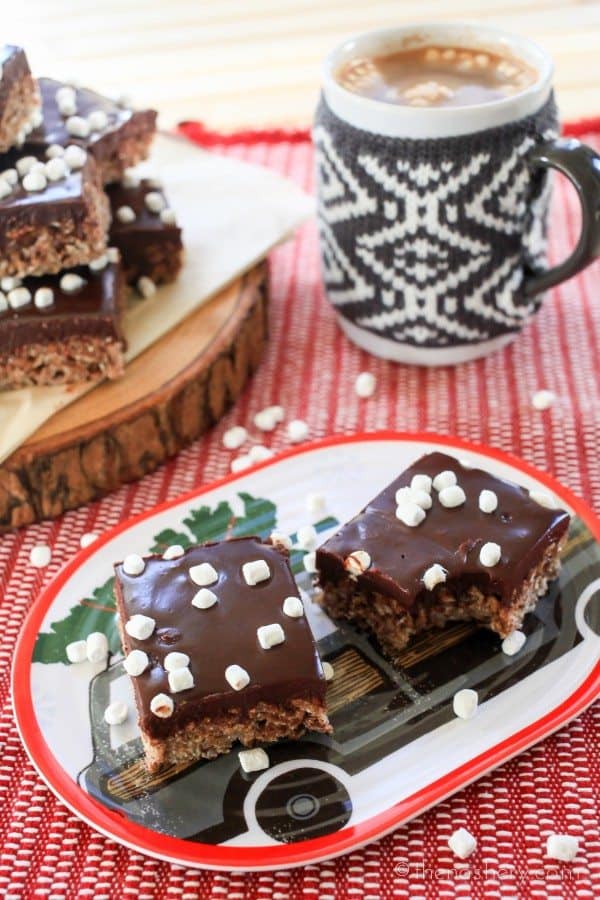 I made the squares with chocolate rice cereal and chocolate vanilla swirl marshmallows. I then topped them with ganache made with Mexican hot chocolate, bitter-sweet chocolate, cinnamon and Tabasco Chipotle Sauce. And of course, no hot chocolate is complete without a sprinkle of mini marshmallows. When you first take a bite of a treat, there is a very familiar chocolaty crunch followed by a hint of cinnamon, and then the heat slowly makes its appearance.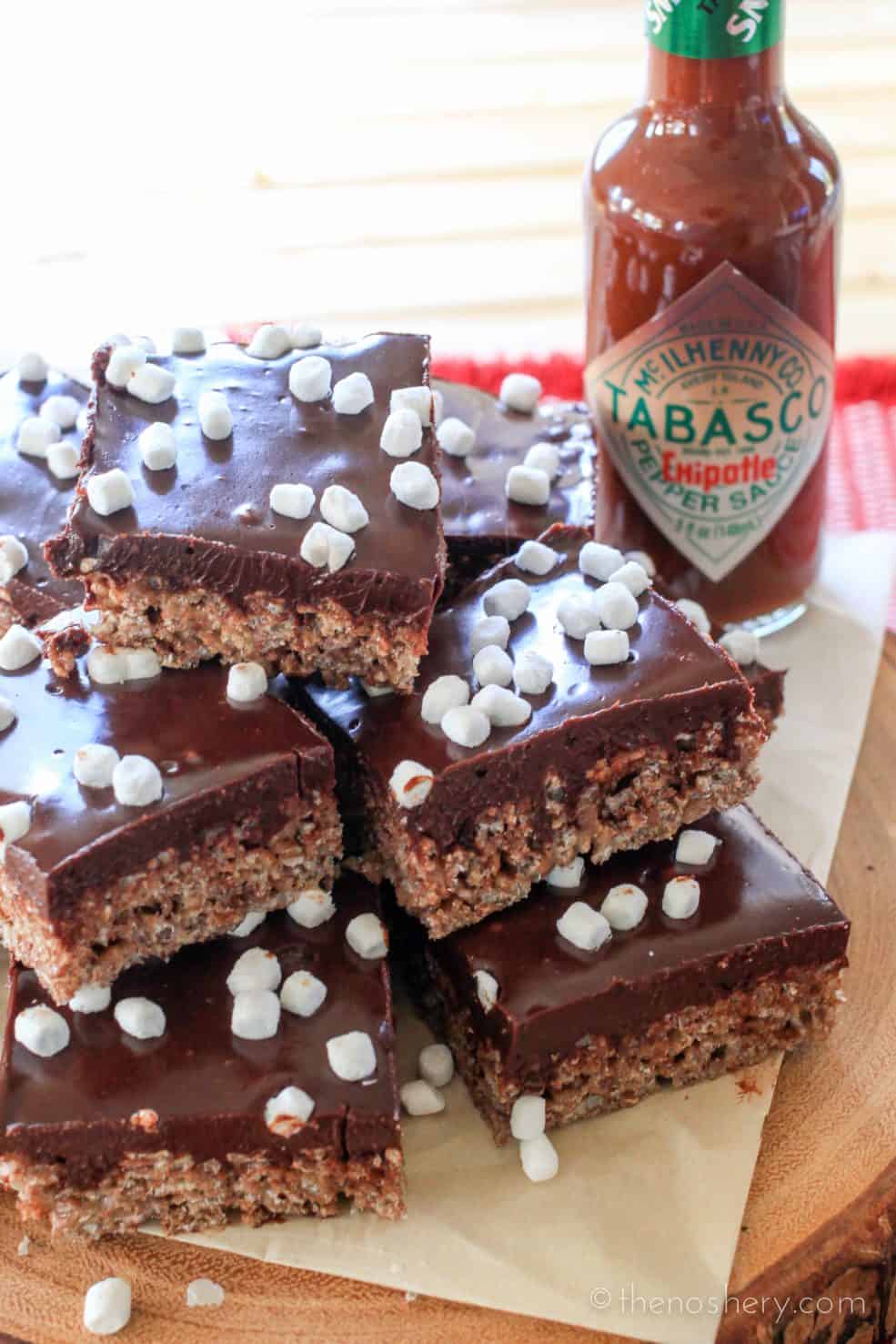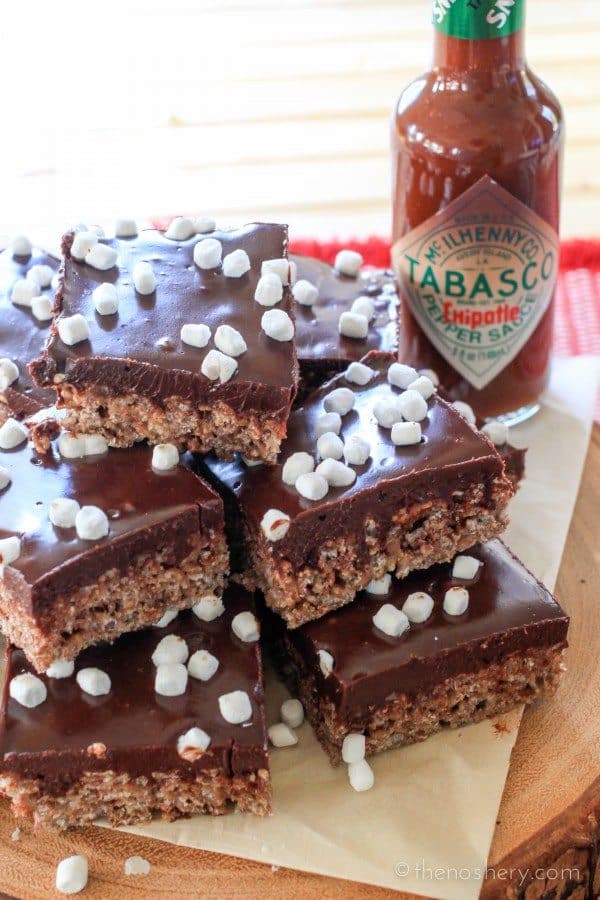 I love these treats! They take no time to make, don't require an oven and are yummy! Save these yummy sticky treats for your next cookie exchange!  I now that technically they aren't cookies but who cares? They are delicious and who doesn't love hot chocolate!?  I know there may be demonstrating a little too much excitement, but I love these treats.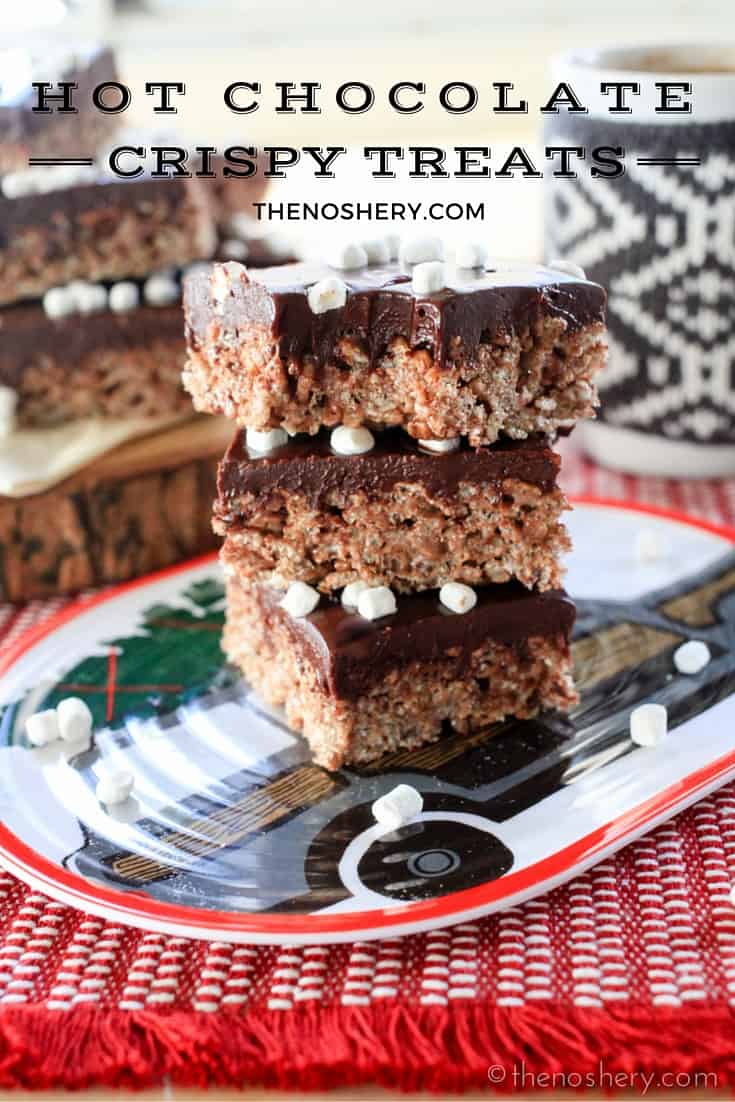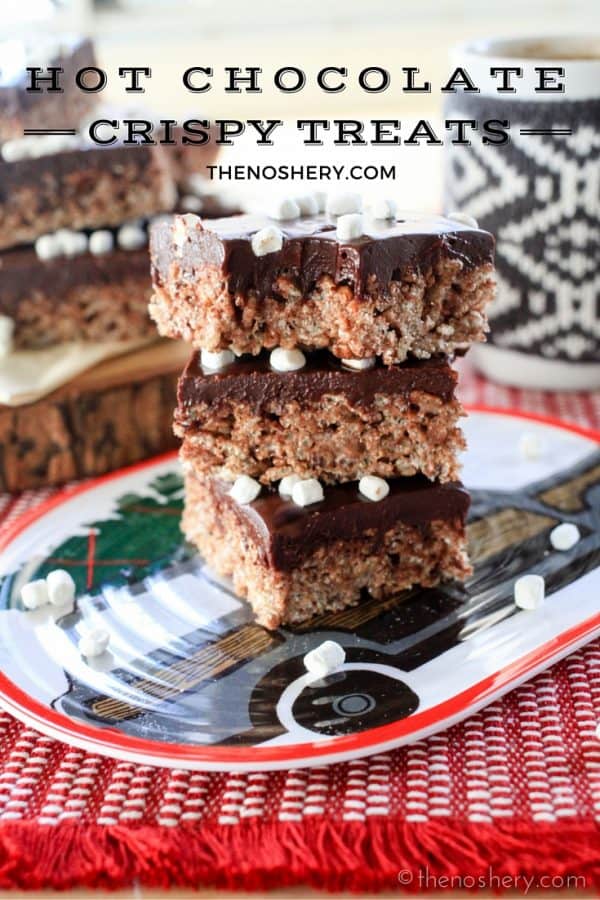 Since Christmas is coming, and so are all the fun Christmas parties I made a cute postcard print out for you to share with your delicious hot chocolate treats. It is the season of sharing!
Yield: 12
Hot Chocolate Crispy Treats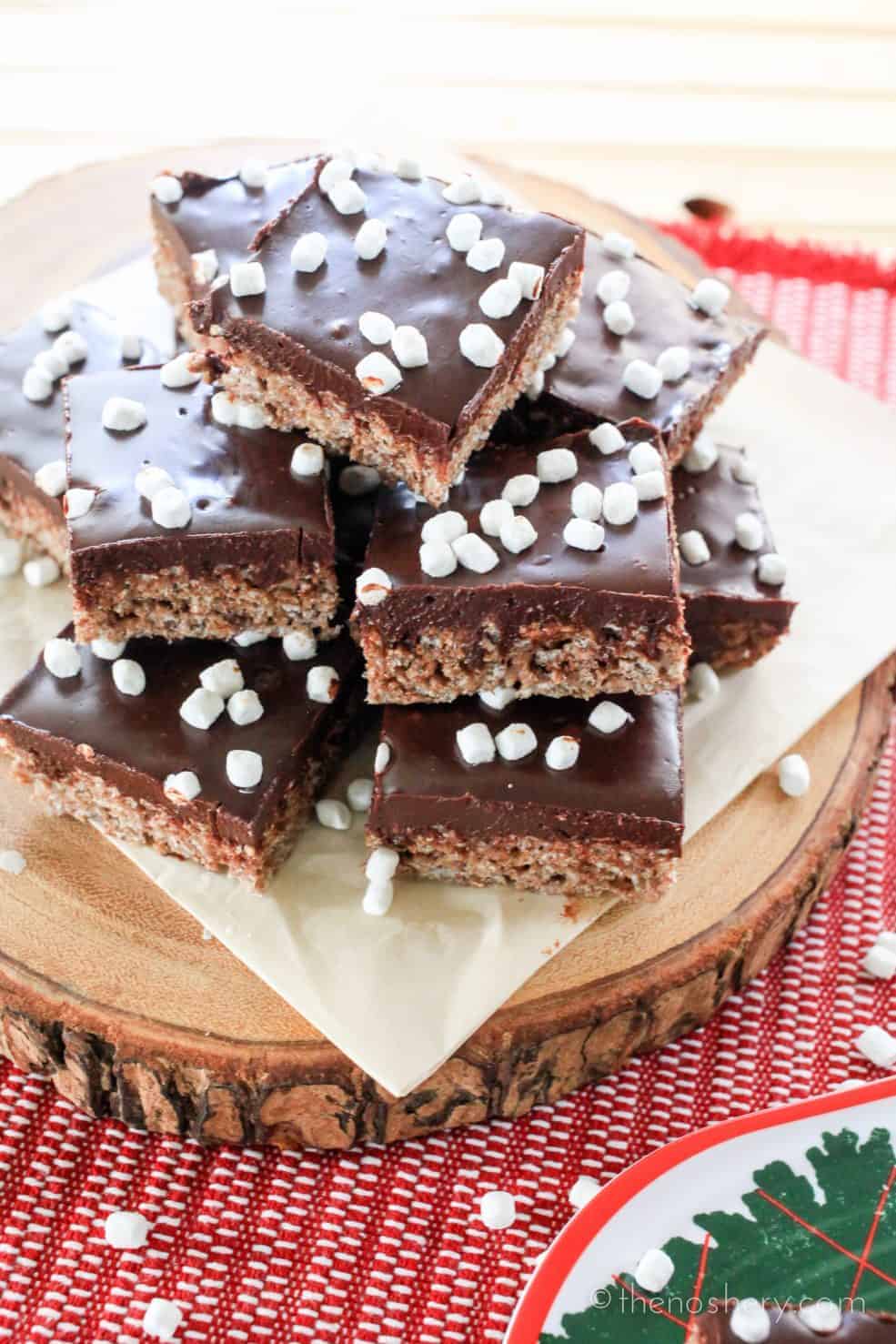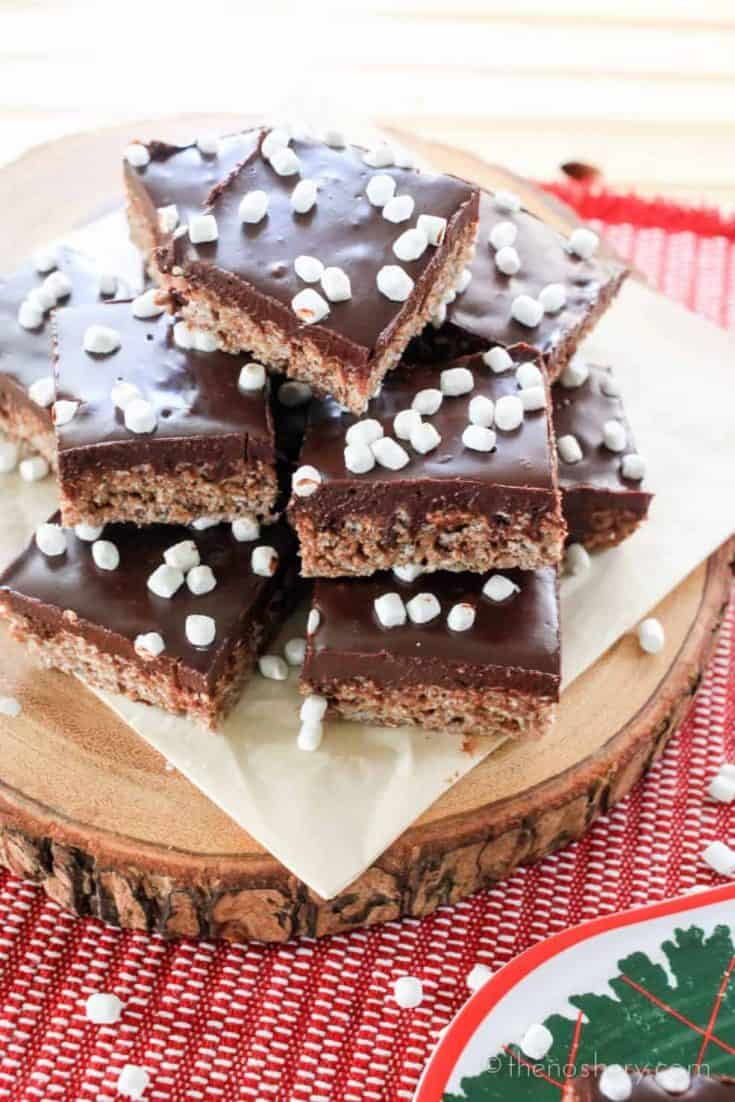 Ingredients
10 oz chocolate and vanilla swirl marshmallows
3 tablespoons butter, melted
6 cups chocolate rice cereal
1/2 disc of Mexican hot chocolate
10 oz 60% cocoa bittersweet chocolate chips
1 1/2 teaspoon cinnamon
3/4 cup heavy whipping cream
marshmallow sprinkles
Instructions
Coat a 13 x 9 x 2-inch pan with cooking spray and set aside.
In a large microwave proof bowl combine marshmallows and butter. Heat in microwave for 2 minutes on high. Stir marshmallows and microwave another 30 seconds and stir. Continue to stir until smooth. If necessary heat an additional 30 seconds.
Add cereal to melted marshmallow. Mix cereal and marshmallow until well coated. Using a buttered spatula press the cereal mix evenly into the prepared pan. Set aside.
In a safe bowl combine chocolates, cinnamon, Tabasco Chipotle Sauce and heavy whipping cream. Heat on high in 1-minute increments, stirring each time, until smooth. Pour chocolate ganache over rice treats. Swirl the pan around until the ganache evenly covers the treats. Sprinkle with marshmallow sprinkles and refrigerate for 1 hour to let the chocolate set. Cut into 2-inch squares and enjoy!