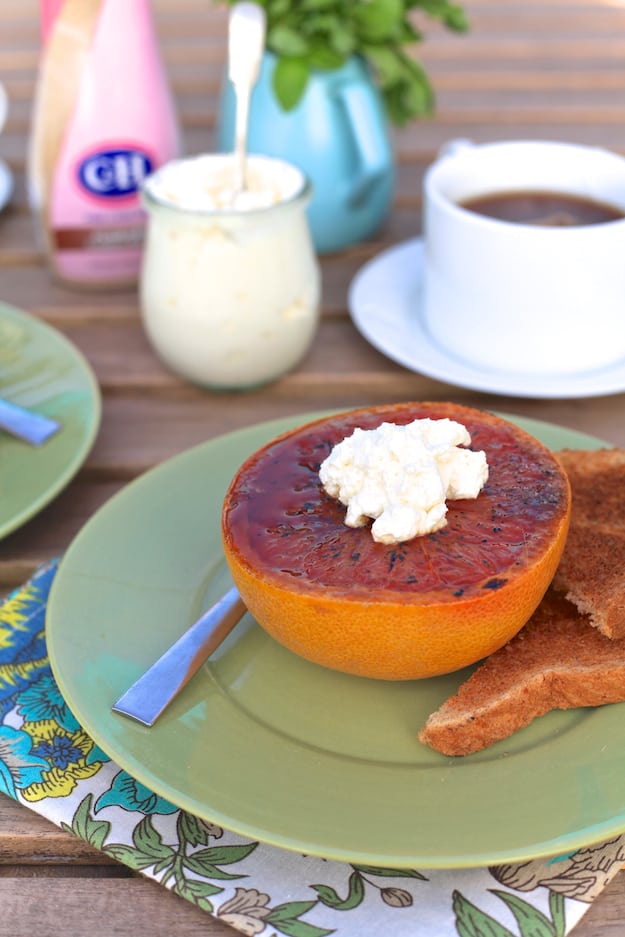 There is something about spring that makes me yearn for simplicity and ease. It's the time of year when grass grows bright and green again, and flowers push their way through the soil.  I am especially jumping for joy because with spring our tiny home gets bigger. Our days are now spent sitting outside, drinking coffee in the morning and enjoying a cold beverage in the evening.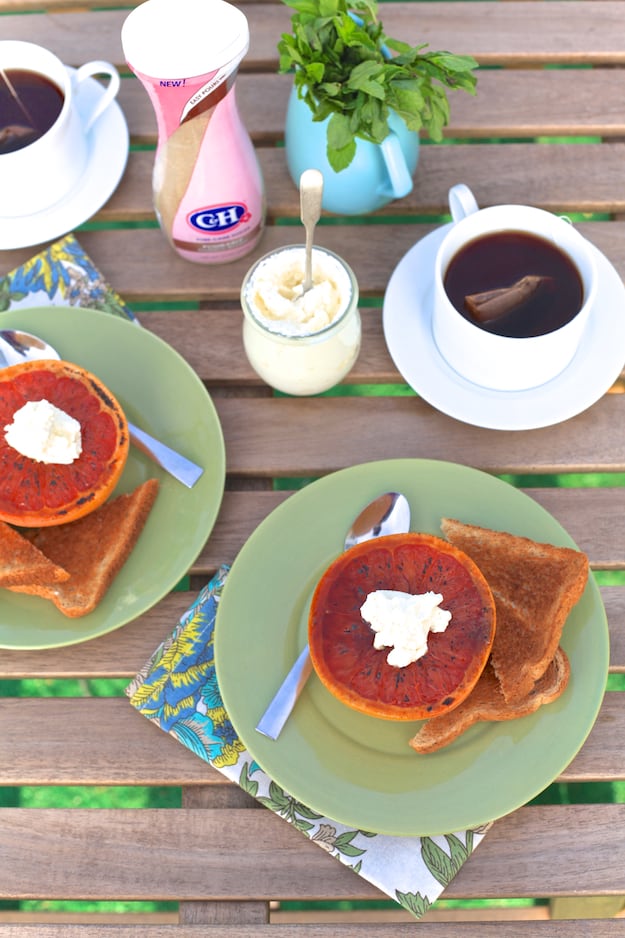 We have been in our tiny home now since October, and I'm not going to lie: our first winter was a challenge. First, it was the cold and then it was the rain, ice and snow. Day after day was spent inside under layers of clothes, and the war against dirt was futile with the pups tracking in dirt with their wet, muddy paws. But, now the sun shines and the days are long and I could not be happier.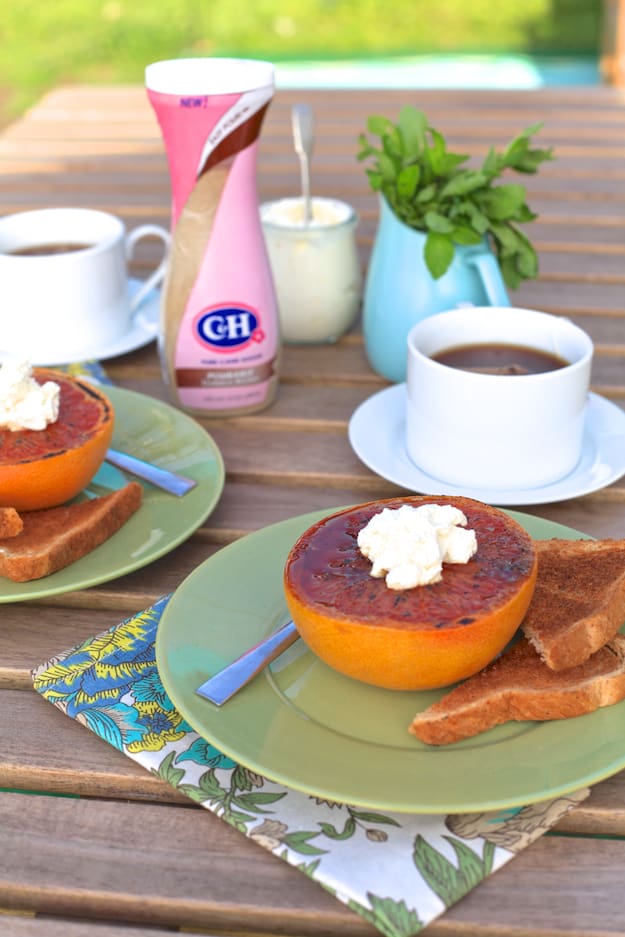 One of my favorite things about living in our tiny house, besides the fact that it takes 30 minutes to clean, is enjoying breakfast outside. The other day I was craving something light with a little sweetness and thought a brûléed grapefruit would be perfect.  But not just brûlée grapefruit–brûlée grapefruit with honey ginger whipped cream. What I love about this dish is, if paired with some toast and tea, it is perfect for breakfast and could easily be served as a dessert. Brûlée is a great and simple way to give something a little flair. I love to brûlée with brown sugar because it develops a deep caramel flavor when torched.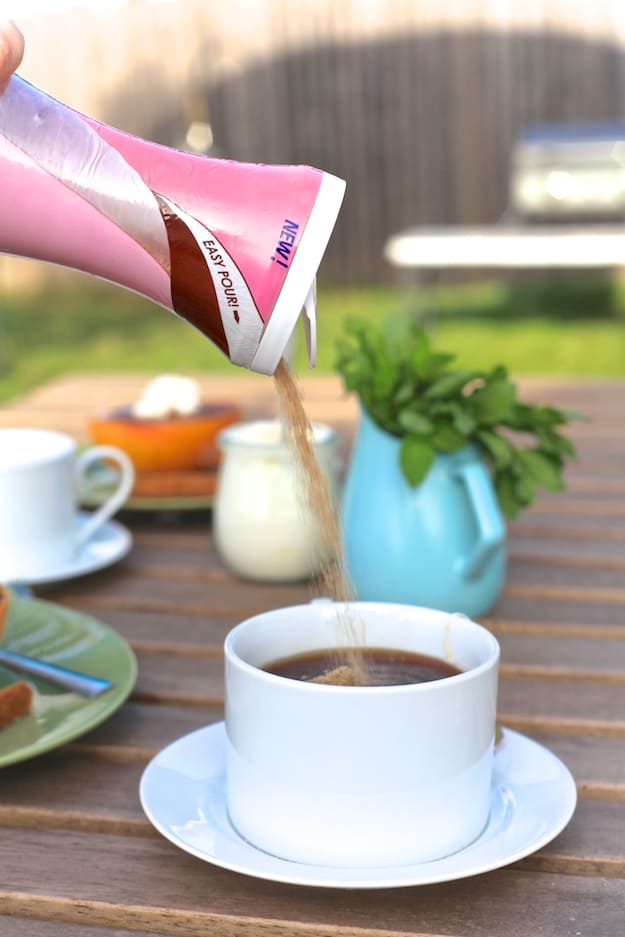 The simplicity of this recipe speaks for itself but believe it or not it gets even easier with C&H® Pourable Golden Brown Sugar. Yes, pourable brown sugar. As in with one hand I can easily pour brown sugar over my grapefruit, oatmeal or in my coffee. I was excited when to have the opportunity to play with this new product. I know it sounds odd to get excited over brown sugar but this isn't your typical brown sugar. One of the challenges of being in a small space is storage. It drives me nuts to take up valuable real estate with brown sugar, which needs to be stored in a cool, moist area. Now with C&H® Pourable Golden Brown Sugar, I can keep it in the pantry with no worries of it drying or clumping.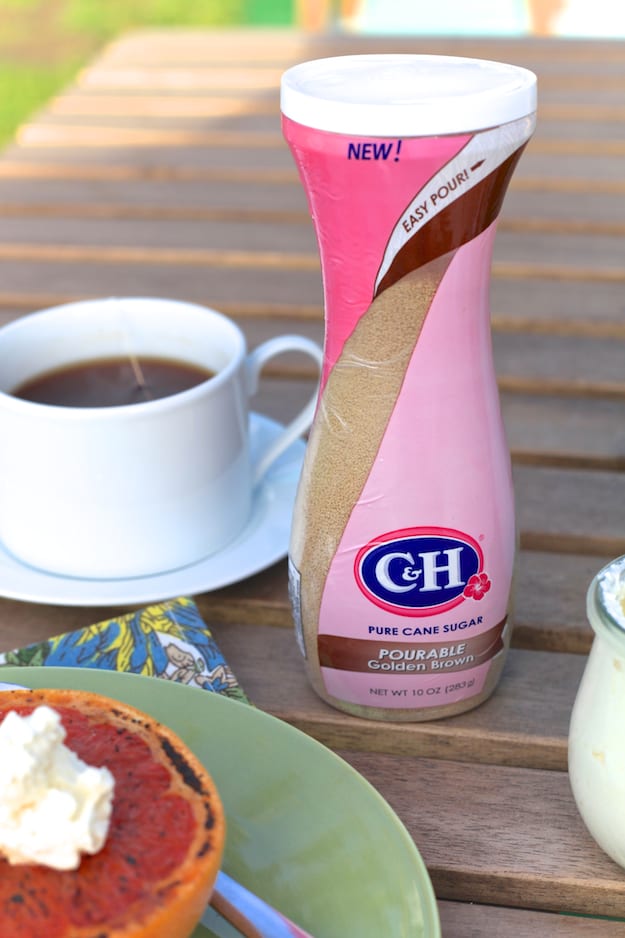 Now that you know what I like to sprinkle my brown sugar on what's your favorite way to use brown sugar? Tell me in the comments and you will automatically be entered for a chance to win a $100 VISA gift card.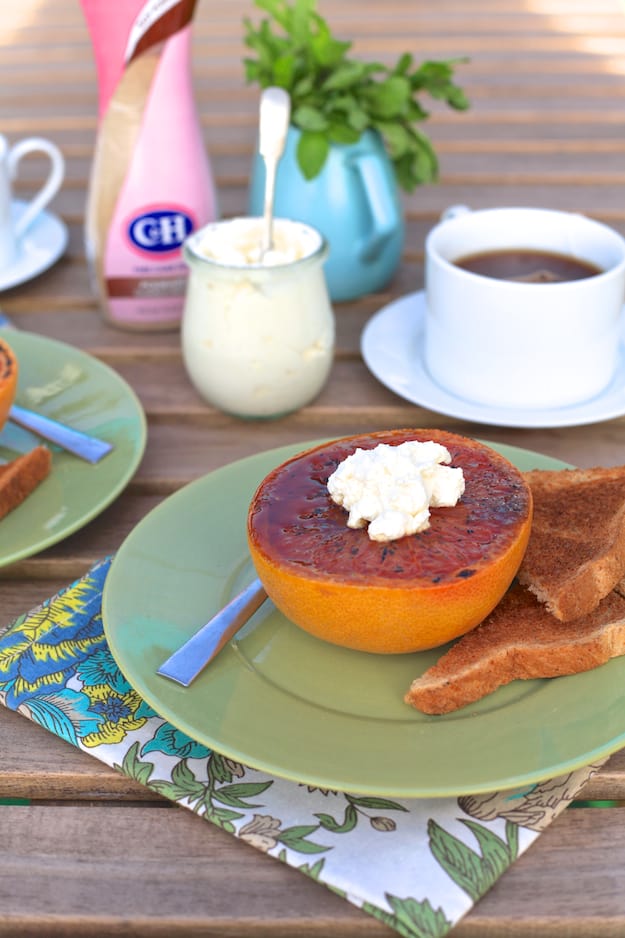 Yield: 4
Grapefruit Brûlée with Honey Ginger Cream
Sweet and tart brûlée grapefruit served with a lightly sweetened ginger whip cream.
Ingredients
2 large grapefruits halved
C&H Pourable Golden Brown Sugar
1 cup heavy whipping cream
1 teaspoon grated fresh ginger
1 tablespoon honey
Instructions
In a large bowl or in the bowl of a stand mixer combine whipping cream, ginger and honey. Using a hand mixer or standing mixer whisk the cream until thick and fluffy.
Sprinkle grapefruit halves generously with C&H Pourable Golden Brown Sugar. Using a kitchen torch set to medium slowly melt the sugar on the grapefruit. Once melted turn the torch up on high and brûlée the sugar until brown and bubbling.
Serve grapefruits with whipped cream.