This weekend I was feeling like dirt.  I managed to get a heck of a cold.  You know the kind where you wake up in the morning and feel like a huge elephant is sitting right between your eyes.   The kind that makes you so stuffy you run out of breath when you try to chew.  That was me this weekend, in my pj's and with tissue box in tow.   No fever was involved just some serious congestion and sneezing that wouldn't quit, at one point I scared one of the dogs out of a deep sleep. He..he..he..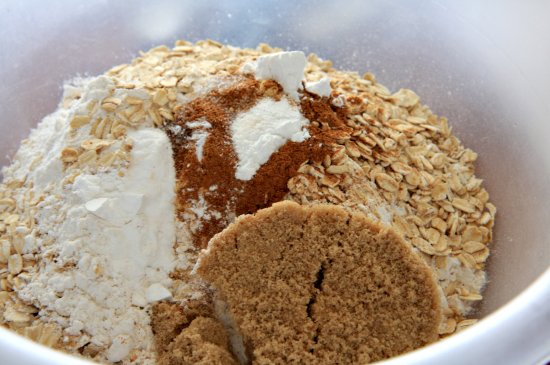 Being sick was annoying enough but if I am going to be sick I want to be sick enough to at least be able to stay home from work.  Instead I just got to feel miserable while I was at the office.   These scones however were able to make my Monday morning a bit more bearable.   
Scones were never something that really called my attention before.  I would walk into a coffee shop or bakery and completely bypass the scones.  They just didn't look appetizing to me.  They looked hard and dry… like a brick of bread.   I don't really remember when it was that I finally tried one.  I think I tasted a piece from a friends scone one day.   
I was surprised to find out that under what looked like a hard crust was a sweet bready treat.  I was expecting something more dry and brittle.  Honestly I was expecting to loose a tooth when I bit into it.   If I really think about it, that has no valid logic.  I mean, if scones were that hard and brittle why would anyone like them in the first place.  Why had I come to such a convoluted misconception (my big words for the week, they make me feel smart) is beyond me.
These scones were great and surprisingly softer then usual.  I think the use of buttermilk makes them more fluffy.  Bounus is they come together very easily.  I mean really easy….yes even you can make them Amber.  (Amber is my friend she is a wee bit afraid of her kitchen)   I had no clue scones were so easy to make!  These are wonderfully delicious and full of Autumn spices.  In the original recipe the lemon zest and cranberries are optional, but I declare they are a must.  The lemon bumps up the ginger flavor and the cranberries are a lovely tart treat.
Hmmmm….hmmmm….hmmmm…    Nom…nom…nom….  Me going to eat some! HA! 
No worries I just stamped myself DORK on the forehead.  Everyone if forewarned.
Gingerbread Scones (6 scones) adapted from Joy of Baking
SCONES
1 3/4 cups all purpose flour
3/4 cup old fashioned rolled oats
1/3 cup light brown sugar, packed
2 tsp ground ginger
1 1/2 tsp ground cinnamon
1/8 tsp ground cloves
1/4 tsp salt
2 tsp baking powder
1/2 tsp baking soda
1/2 cup cold unsalted butter, cut into pieces
Zest of 1 lemon
1/3 cup dried cranberries
1/2 cup buttermilk
2 1/2 Tbs unsulphured molasses
1 tsp pure vanilla extract
GLAZE
1/2 cup sifted confectioners sugar
1 1/2 Tbs pure maple syrup
1/2 tsp unsulphured molassas
1 – 2 tsp milk
Pre-heat oven at 400 degrees.  Line a baking sheet with parchment paper and set aside.
In a large mixer bowl whisk together, flour, oats, sugar, ginger, cinnamon, cloves, salt, baking powder and baking soda.  Using a fork or a pastry cutter, cut the butter into the flower until it looks crumbly.   Stir in cranberries and lemon zest.  In a separate bowl combine buttermilk, molasses and vanilla.   Set bowl with flour mixture on to the mixer with a dough hook attachment.  Set mixture at a low speed and slowly add buttermilk mixture to flour mixture.  Mix until just combined and begins to form a ball. 
Transfer dough to a lightly floured surface.  Knead dough gently about four or five times and form into a large ball.   Push the dough down and form into a large circle about 7 inches wide and 1 1/2 inches thick.   Cut the circle i half and cut each half into 3 even slices.   Place scones on baking sheet.
Place baking sheet into another baking sheet to keep the scones bottoms from over browning.  Bake for 20 minutes until golden brown and a toothpick inserted comes out clean.  Transfer to cooking rack when done.
To glaze combine all glaze ingredients, adding more sugar or milk till you get desired consistency.  With spoon drizzle glaze over cooled scones and let dry.