This morning I woke up to 58 degrees and rainy.  Fall is creeping in and I could not be happier.
I was going to work on a post about exotic fruit but this weather doesn't make me think of exotic tropical fruits.  Today is more of a cozy pajama pant and favorite pumpkin recipe day.
Today I am going to share with you just a few of my favorite pumpkin recipes across the internet.  Some are from personal blog friends, some are from readers some are from bloggers I stalk. They have one thing in common they are all beautiful and delicious.   If you are looking for a unique pumpkin recipe I recommend you check these out.
Praline Upside Down Pumpkin Cake 
One of my favorite pumpkin recipes here on The Noshery is a Praline Upside Down Pumpkin Cake that I made for an impromptu family get together while visiting family in Florida.  Funny this is that I will be heading out to Florida again in just over a week.  This cake maybe in my very near future.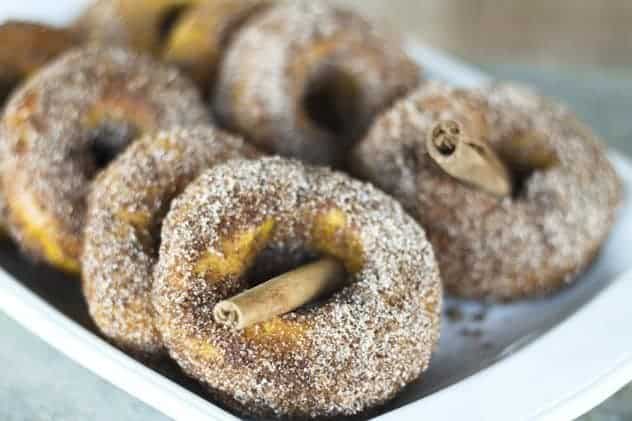 Photo Credit: Foodie with Family  Baked Cider Pumpkin Doughnuts
Rebecca of Foodie with Family is a wonderful lady and I have had the privilege to hang out with her.  She is the Mama of 6 boys and lives in rule New York state.  When I saw these Baked Cider Pumpkin Doughnuts I about flipped my lid.  Think of sitting down on a cool fall morning with one of these and a cup of coffee.  Need I say more….I mean really!?
Photo Credit: Add a Pinch Pumpkin Creme Brulee
Robin of Add a Pinch is a true southern belle and mama to a sweet boy.  I got to meet Robin and she is a gem with a truly kind heart.  I made her pumpkin creme brulee for my creme brulee obsessed husband and it was a hit.  No creme was left behind.  Perfect end to your next fall themed dinner party.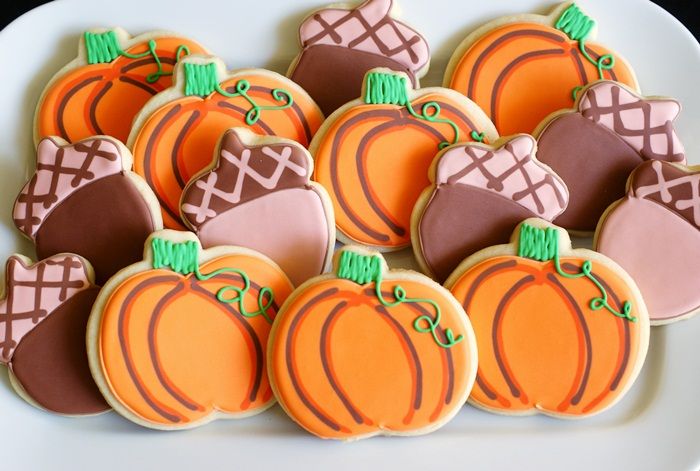 Photo Credit: Bake at 350 Pumpkin Cookies
Ok, ok these cookies aren't exactly made with pumpkin but they look like pumpkins and beautifully if I may add.  Bridgett of Bake at 350 is a master cookie decorator and has been kind enough to write the book Decorating Cookies: 60+ Designs for Holidays, Celebrations & Everday and share her mad skills with all of us.  I have met Bridgett too and I think it's really cool that her nose crinkles when she smiles and know how to rock some curls.
Photo Credit: Foodness Gracious Pumpkin Waffles with Bacon Maple Butter
Gerry of Foodness Gracious is a stay at home dad and lover of food. (See there is room for the fellas too.)  He's one of my faithful readers and follows me on twitter.  Although we may not agree on the In-n-Out vs. Five Guys debate he is ok in my book because he made Pumpkin Waffles with Bacon Maple Butter.  YEAH BABY YEAH!!!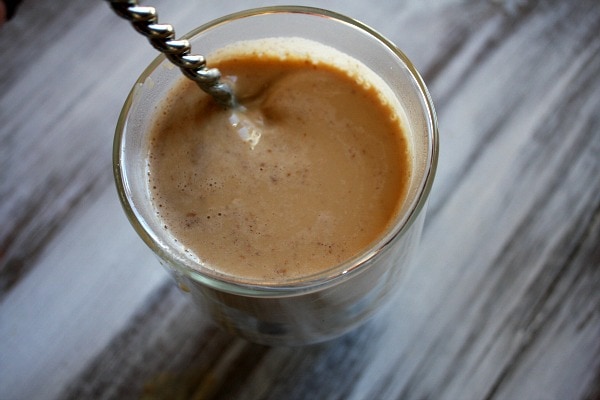 Photo Credit: Recipe Girl Pumpkin Spiced Latte
I have been reading Lori of Recipe Girl for a while now, lady is a genius.  She is so smart that she has found a way for us to save time and never have to stand in line at a coffee shop again for a pumpkin spice latte.  Yes I see homemade pumpkin spice lattes and bakes cider pumpkin doughnuts in my future morning routine.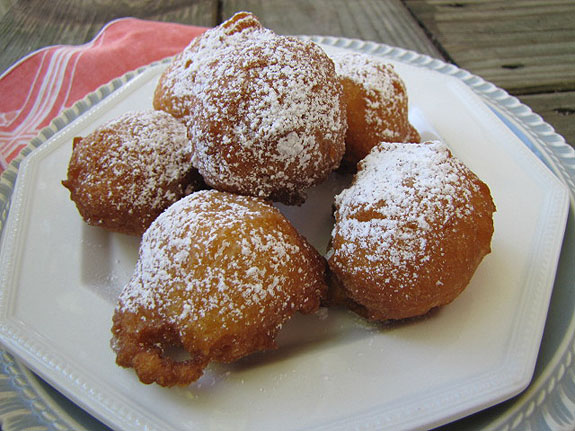 Photo Credit: Tickled Red Pumpkin Beignet
Shari of Tickled Red has been hanging ten around The Noshery for a while now. She has good taste. 😀  She is a sassy red-head, mother of boys and wife to a surfer.  If you are an aficionado of surfing and food you should check Shari out.  The fact that she made her boys some pumpkin beignet makes her the coolest. Totally!
Photo Credit: Simple Bites Baked Pull-Apart Pumpkin French Toast
I flag this last year because I thought it was GENIUS!  A must add to your brunch repertoire.  Amiee of Simple Bites' Baked Pull-Apart Pumpkin French Toast let you make breakfast the day before and serve it fresh in slices.  Make is seem like you slaved over a stove when in fact you just rolled out of bed and popped it in the oven.   You are my hero!
 Photo Credit: Reclaiming Provincial Pumpkin & Sage Pan Fried Ravioli 
I love these because they look like little pumpkin empanadas but they are pan-fried ravioli. Carey of Reclaiming Provincial just blew my mind with these little gems. They have a trifecta of pumpkin, sage and goat cheese.  I can picture serving these as little appetizers.
Photo Credit: Local Kitchen Pumpkin Soup with Chocolate and Chipotle
WHAAAAAAT!  We all know that chocolate and chipotle like to hang out but when did pumpkin become part of their crew and when can I join in?  I haven't had the privilege of trying this out but when I saw this Kaela of Local Kitchen post this I about flipped my lid. *licking screen* Sorry…excuse me. *blush*
This is the beauty of the Fall, the internet and the blogging community.  I LOVE YOU MAN!