I go through phases when it comes to coffee. I have had a caramel macchiato phase, an americano phase, a blonde brew phase and now I have cycled into a new phase. The dirty, dirty chai phase. I think I have found a new love.
Let me be more specific: my new favorite drink is a "double shot non-fat 2 pump chai tea latte". Needless to say, OB refuses to place such an order on my behalf. He says it's too complicated, and he ain't got time for that. I think it just stresses him out. If he does do a coffee run for me, which is rare, he asks me to text him the order so he can show it to the barista. I firmly believe he refuses to even utter my order. He thinks it will damage his rep.
I was first introduced to this drink at a hip local coffee shop, The Coffee House on Cherry Street, which makes the best espresso in town, by the way. Seriously! The moment that drink touched my lips I was in love. I have always been a lover of chai tea. The warm bright spices in chai tea are so incredibly comforting. Then I had it with milk and a shot of espresso and my world was turned upside down. If you love chai tea as much as I do, but have always thought you could use an extra kick of caffeine, this is the drink for you.
Not all of us have hip little coffee joints nearby to grab a dirty chai. Maybe you do, but you don't want to brush your hair and put pants on to go to that hip coffee joint for a dirty chai. Maybe you can't get to the coffee shop because a giant skunk has decided to camp out on your doorstep and you're trapped. If either of these scenarios apply to you, do not fret. I will show you how to make a dirty chai at home.
To make the perfect chai tea at home, you will need a few things: chai tea concentrate, milk and espresso. The espresso part can be a little tricky, but thanks to the internet and fresh ground coffee at the grocery store, it is possible. Not everyone has a super duty fancy espresso machine. Don't fret, because you don't need one. Just do it like grandma used to do it, with a stovetop espresso percolator, and you can't go wrong. If you want to drop over $100 bucks on an espresso machine, go for it, but a $10 percolator can do the job.
The trick to making a good cup of espresso is the grind of the beans. You want the beans to be finely ground. The machine at the store should have an espresso grind setting. Then pack the coffee into the percolator cup as firmly as you can. Pack that sucker in! In no time, you will have a beautifully rich and frothy cup of espresso.
While the espresso is percolating, you can warm and froth the milk. I got a nifty little frother during my last trip to Ikea. Froth the milk on the stove top while it's warming until you get your desired amount of froth. The trick to getting a good froth is to keep the frother is the magical space between the milk and the air, do not completely submerge the frother in the milk.
Once the milk is warm and frothy, you can add the chai concentrate and let it warm for a few more minutes. I like to do a ratio of 1 cup of milk to 1/2 cup of chai, when preparing a dirty chai, but that is your prerogative. The beauty of making your drinks at home is that you can have it any way you want it, that's the way you need it, any way you want it.
By now, your espresso should be ready. Pour the espresso into your cup followed by the chai milk mixture and spoon froth on top.
TA-DA! You have the perfect dirty chai. Or if you're like me and like two shots of espresso, it's a dirty, dirty chai, which makes it extra naughty and delicious.
Now curl up with your favorite book, tabloid magazine or an addictive game of Candy Crush. Whatever makes you happy.
Dirty, Dirty Chai Latte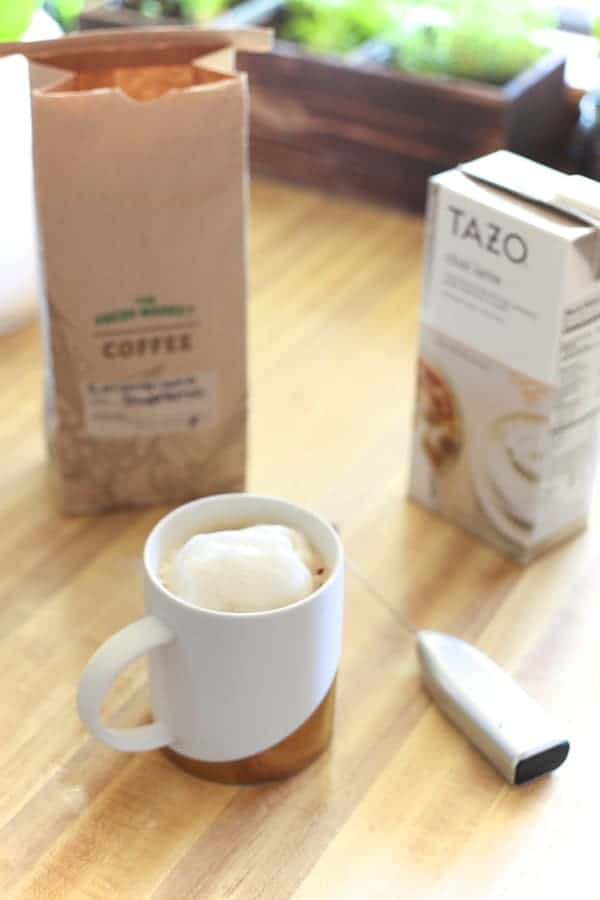 Ingredients
1 cup milk
1/2 cup chai tea concentrate
2 shots espresso (3 fl oz)
Equipment
Frother
Stovetop espresso percolator
Instructions
Prepare espresso using a stovetop percolator. Make sure your coffee is finely ground and firmly packed into the cup.
Pour milk into a sauce pan and warm over the stove one medium high heat. Froth the milk while it is warming. When the milk is warm and frothy, add the chai tea concentrate. Allow to warm for a few more minutes.
Pour prepared espresso into cup, pour chai milk mixture in and top with froth.
Enjoy!