Do you remember me mentioning before that OB & I were going on a long, long, long road trip with my parental units?  Well we made it into our first destination, Washington, DC.
We left Tulsa, OK on Friday morning, drove 11-ish hours to Knoxville, TN to crash and let our butts regain consciousness.  Then Saturday morning we continued our odyssey through the beautiful mountains of Tennessee, into the Shenandoah Valley and onward to Washington, DC.  About 7-ish hours later we reached our destination, with just enough time to check-in to the hotel and then head out to pick up the parental units at the airport.
Once we intercepted the parental unit package we all headed out to dinner.  I desperately wanted to go to City Lights of China.   Let me explain.  When I lived here 12 years ago one of my favorite restaurants was a Chinese restaurant called City Lights of China.  It a small little place right off Dupont Square in the basement level of a building.  And, they have the best pan-fried dumplings. I know this may seem ridiculous but, my only desire was to get a plate of their pan-fried dumplings. So, basically we came to DC to eat Chinese.
Yesterday morning we got up bright and early but, not so bushy-tailed to go to Arlington Cemetery.   My father being retired military really wanted to see the changing of the guard at the Tomb of the Unknown Solider.
Below are a few photos of yesterday's adventures.
Entrance to Arlington Cemetery
Headstones at Arlington Cemetery.
Guard at the Tomb of The Unknown Soldier.
This is truly a beautiful ritual and I highly recommend it if you ever come to DC.  The grace and discipline of the guards is like nothing I have ever seen.
This is the view from the JFK memorial.
Arlington Cemetery Amphitheater
Arlington Cemetery Amphitheater
Some beautiful garden at Arlington Cemetery.  🙂  Do you know the name of it?  I don't recall.
 Henry the elephant at the Smithsonian Museum of Natural History.
The most awesome exhibit of all time is at the Smithsonian Museum of American History.  It is an exhibit with the late and GREAT Julia Child.  I cannot even begin to tell you how excited I was about this exhibit.  I even let a picture of myself be taken with Mrs. Child and I HATE having my picture taken.  Seriously….I hate it, but anything for Julia.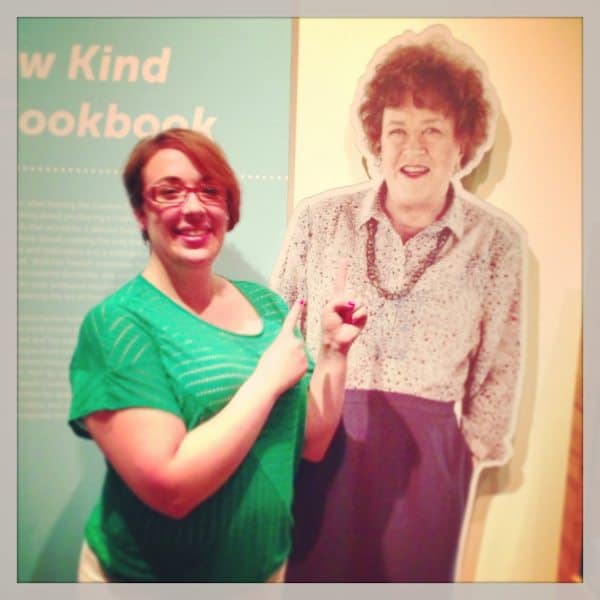 Here is a wide view of her kitchen.  She has everything out and ready to grab. I was honestly in awe, looking at all the little details of the kitchen.
There is a wonderful combination of old and new.  There are so many stories in Julia's kitchen.  Like the mortar and pestle that she got at a flea market in France or how she had her Garland range brought over from France to her home in Cambridge.  With that range,  she taught French cooking and tested recipes for the cookbook "Mastering the Art of French Cooking".   The Garland range is a commercial gas range with six burners and a steel griddle. Julia paid $400 for it. "I loved it so much I vowed to take it to my grave!" she wrote in the memoir.
Tomorrow we will be heading over to Ford's Theater, maybe the Spy Museum and at night the memorials along the National Mall.  Stay tuned.
I also hope to give you a mini update on the camper.  It's looking really good!
* All images where taken on an iPhone using the ProHDR app and Photojojo lenses.  This is NOT a sponsored post.