On August 30, 2010 at approximately 2:46 pm I was sitting in my living room folding laundry when my phone when off notifying me that I had received a direct message through twitter.  I opened the email and was convinced that I was reading something wrong or being spammed, so I went to my computer to check my email.
I checked my email and there was the same message.
I then went to my tweet deck and there was the same message.
I then went to my twitter.com account and there it was the same message.
I couldn't believe it!  Is this real?  Am I being punked?
Would you like to see the message?

GET OUT! *virtual Elaine smack in the chest*
So after some momentary hyperventilation I proceeded to send the following text messages to my husband.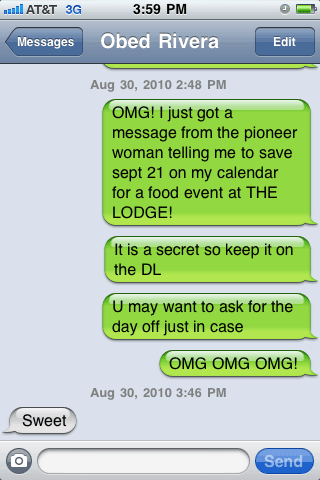 Notice how long it took him to reply.  He was in a meeting while I was blowing up his phone.
Later I got an email from Ree following up on the DM and telling me that this secret event involves The Food Network.
HOLY CRAP!  Commence hyperventilation.
All of this to tell you to turn your TV to The Food Network  for a Thanksgiving Feast Throwdown on one of the following nights.
Nov 17, 2010 9:00 PM ET/PT
Nov 18, 2010 12:00 AM ET/PT
Nov 20, 2010 7:00 PM ET/PT
It wasn't exciting enough that I was invited to come to Pioneer's Woman Lodge for a "special event" but it was for a Throwdown with Bobby Flay!  GET OUT!
Obed and my friend Laurie came with me. We had no clue that this was going to be a Throwdown.  When I saw Flay come out I almost died.  SHUT THE FRONT DOOR!
It was a super exciting day and I was so grateful to be invited.  I got to meet other OK bloggers like Miss Wisabus, History with Mr. C and Island Girl OK.  I even got to ask Bobby Flay a question about one of his dishes, so my mug may be making it's first network appearance next week.
Make sure to tune in to see who won the Throwdown and please don't laugh if they use any of the footage with me in it.  I have enough issues with the camera. 😀
Thanks PW for the invite! It was an awesome day!  Go #TeamREE!!!