Last week I asked my peeps on Facebook what kind of sides they would like on their Thanksgiving table.  A few of you mentioned doing something different with sweet potatoes.  I love you all be the way!  Otherwise, I would just be a crazy lady talking to herself. I try to keep talking to myself exclusively to when I am alone in my car.  Anyway thanks to your request I came up with this dish of goodness.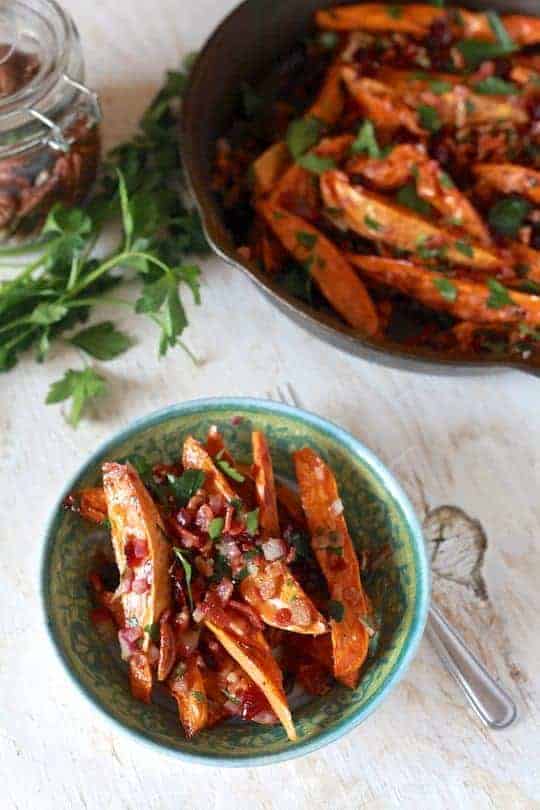 I am a lover of sweet potatoes, but my husband is fanatical about sweet potatoes, like totally crazy. He orders them whenever he sees them on a restaurant menu and has a double serving of sweet potato casserole on Thanksgiving. But, he always goes with what he knows, the old faithful brown sugar and cinnamon garnish.  Although, I think I may have turned his world upside down with this doozy. Roasted sweet potato wedges tossed with cranberries, pecan, parsley and warm bacon and apple cider dressing. Simple, but incredibly delicious…like totally!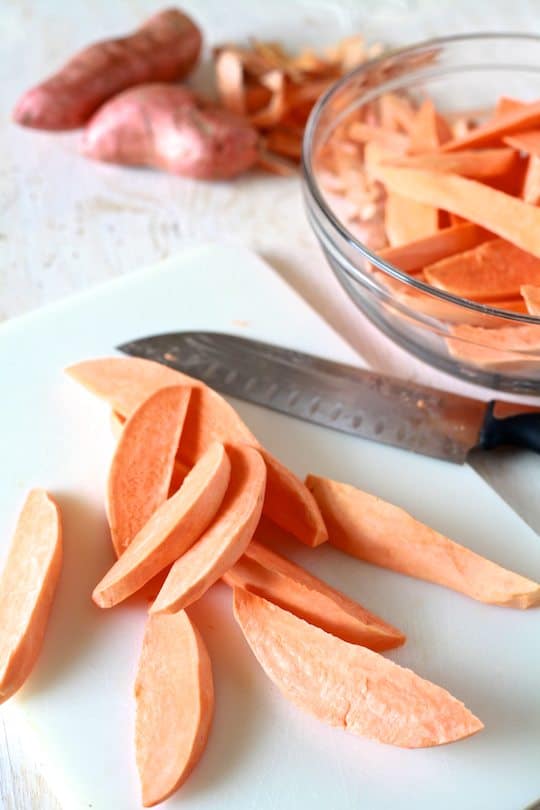 Toss the sweet potato wedges in olive oil and sprinkle with salt and pepper.  Spread the potato wedges on a rimmed sheet pan.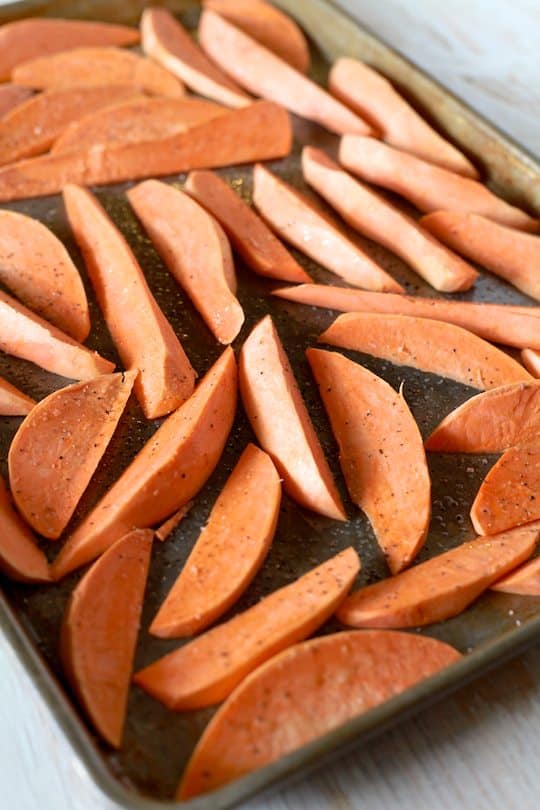 Roast in the oven at 400 degrees for 45 minutes or until cooked through and browned, turning once. You can eat one if you want, just to make sure it good.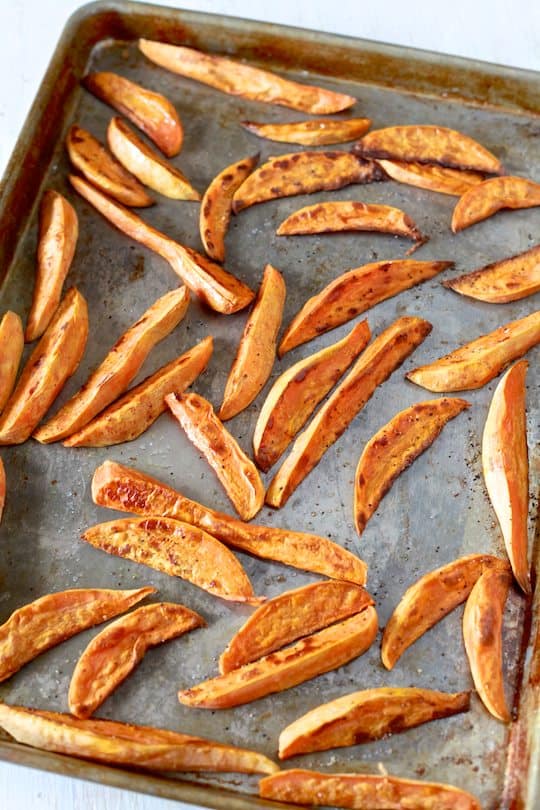 While potatoes are roasting fry the bacon over medium heat, you want to cook slowly to render out the fat. When crispy transfer to a paper towel to drain, reserving 3 tablespoons of the rendered fat.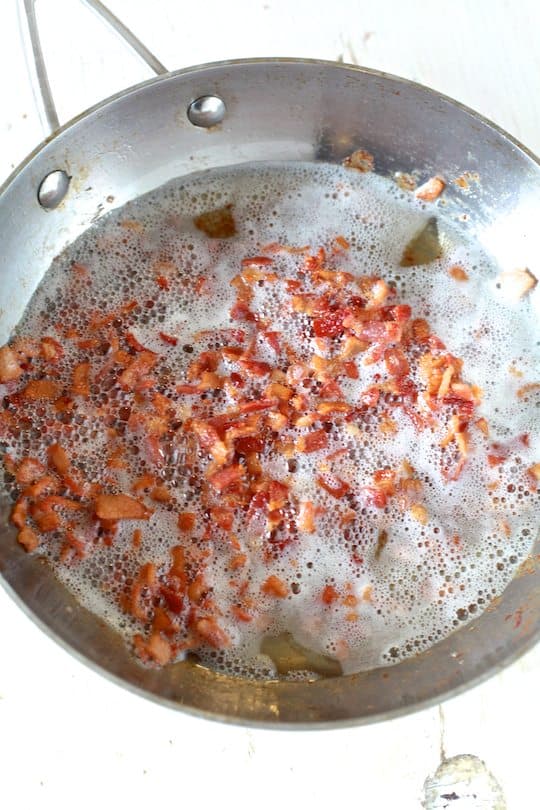 In the same skillet over low heat add vinegar to deglaze the pan. Whisk in rendered fat, onions, sugar and Dijon mustard. Season with a small pinch each of kosher salt and black pepper. Combine dressing and bacon.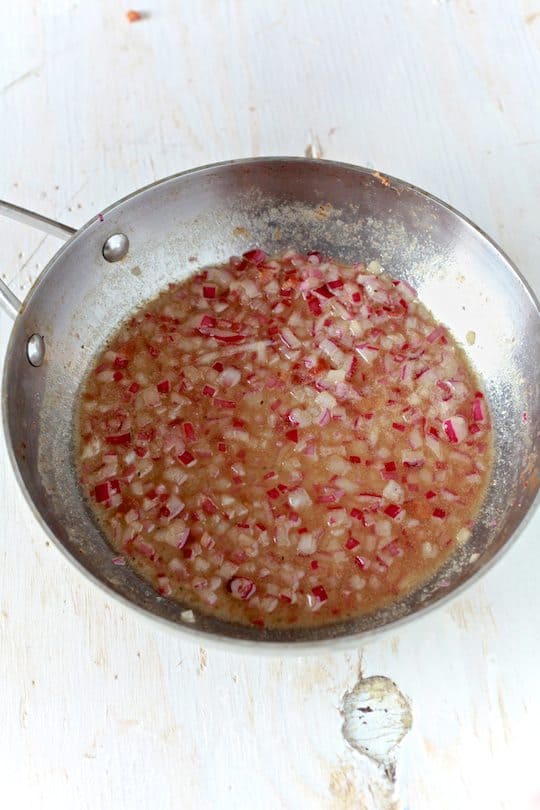 Toss potatoes with dressing, cranberries, pecans and parsley. Serve while warm and dive in face first.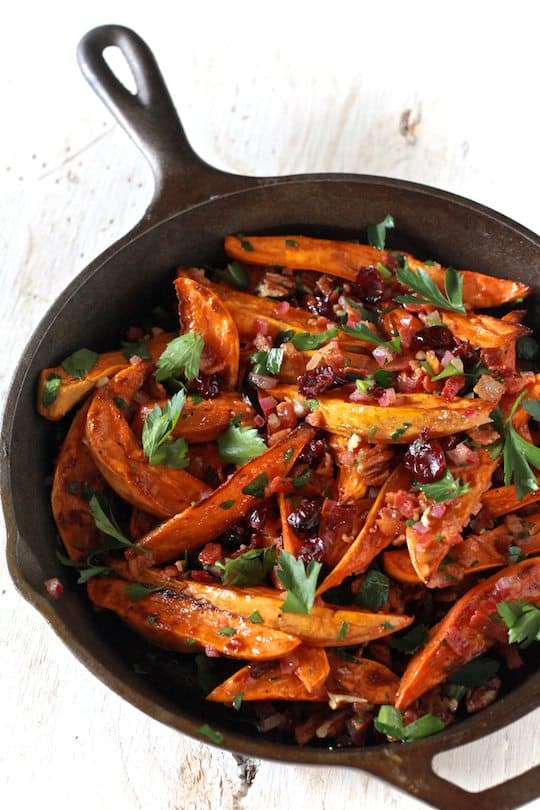 I can't express how much I fell in love with this dish.  While tasting it I literally did happy dances in the kitchen.  Take a bite and all kinds of funky tasty notes get down together and dance.  A little sweet, some savory and tasty bacon!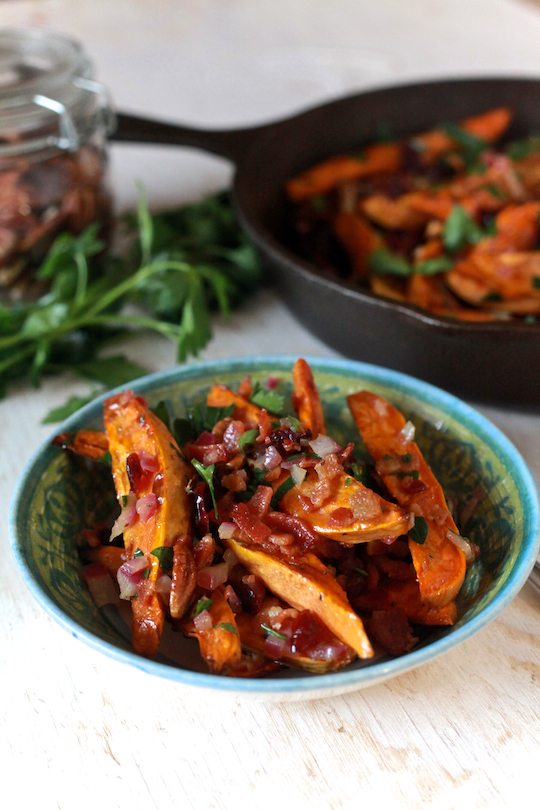 I'm going to be honest, I had never tried warm bacon dressing before today. Always thought the idea of warm dressing to be weird. When I think of a salad, I always thing cool and crisp. What was I thinking? Why have I denied myself this pleasure for so long?
If you're looking to do something different with sweet potatoes this Thanksgiving, I strongly urge you to check this one out. I know I maybe a little bias, but seriously you will thank me later.
Roasted Sweet Potato Salad With Warm Bacon Apple Cider Dressing

Ingredients

Salad

4 sweet potatoes, peeled & cut into wedges

1 tablespoon olive oil

salt and pepper

1/4 cup cranberries

1/4 cup pecans, chopped

1/4 cup italian parsley

Dressing

8 bacon slices, diced

3 tablespoons apple cider vinegar

1 teaspoon sugar

1/2 teaspoon Dijon mustard

salt and pepper

1/2 small red onion, minced

Instructions

Preheat oven at 400 degrees.

Toss sweet potato wedges in olive oil with salt and pepper. Transfer to rimmed baking sheet. Roast in the oven for 45 minutes or until cooked through and browned.

While potatoes are roasting fry the bacon over medium heat, you want to cook slowly to render out the fat. When crispy transfer to a paper towel to drain, reserving 3 tablespoons of the rendered fat.

In the same skillet over low heat add vinegar to deglaze the pan. Whisk in rendered fat, onions, sugar and Dijon mustard. Season with a small pinch each of kosher salt and black pepper. Combine dressing and bacon.

Toss potatoes with dressing, cranberries, pecans and parsley. Serve while warm.

Copyright 2012 - All Rights Reserved - TheNoshery.com