Have you heard of Biscoff Spread?  It's all over the place, everyone it talking about it and all the cool kids are baking with it.  You should too.  Why?  Because it's awesome and like I said all the cool kids are baking with it. You want to be a cool kid don't you?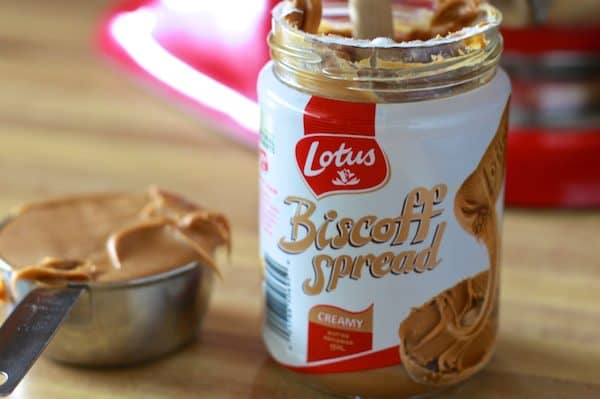 I am yet comfortable enough to call myself a baker.  Actually to be honest I am pretty fearful of anything that has the work cake in its name, but today I decided to challenge myself.  I dusted my Professional Baking 5th edition text-book off and thought I give some baking recipe writing a whirl.
I sat down with my text-book looked at some formulas and decided on the creaming method for muffins.  I pulled out my calculator worked out some conversions and was on the brink of a migraine when I was done.  This is one of the primary reasons I don't like to write baking recipes, because it requires math.  I hate math.
At first I wasn't sure what I was going to make but, then I spotted a jar of Biscoff in my pantry.  Ingredient number 1 found.
I asked myself what other flavors did I want in my cake.
On the same shelf as the Biscoff I had tomato sauce, no go.
I also had some Lipton soup (OB's favorite), pink beans and some tahini.  None of these were going to work, eww.
I thought about it for a minute and it hit me.  Biscoff cookies are best when enjoyed with a cup of coffee.   Coffee and Biscoff bunt cake to for my morning cup of joe, of course!
I said a little prayer and dug my bunt pan out of the dark back corners of my cabinet.  What can I say, I think I have used this bunt pan 2 times before.
Pre-heat oven to 400 degrees.
Sift together baking powder and flour, set aside.
Combine butter, Biscoff, sugar and dry milk in mixer bowl.   Lick whatever utensil you used to dig out Biscoff. LICK IT!
Using a paddle attachment cream the ingredients until well combined and light. Add eggs one at a time, creaming well after each addition.
Add coffee and vanilla to creamed mixture, stir until well combined.  Make sure that the coffee is cool before adding it.
With the mixer set to stir add the dry sifted ingredients 1 cup at a time, scraping down the sides of the bowl occasionally for even mixing. Mix until just combined, careful not to over mix.   The batter will have a lumpy appearance.
Fold in chocolate chips, keeping a few aside for garnish and maybe 2 or 3 to snack on.
Spread batter evenly into greased bunt pan. Bake for 30 minutes, tent with aluminum and bake another 10 minutes or until toothpick comes our clean. Invert onto platter and let cool completely.
Once the cake is cool combine Biscoff spread and heavy whipping cream in a mixing bowl. Using a whisk attachment whisk on high until smooth and creamy. Spread whipped Biscoff onto cake and garnish with chocolate chips.
Make sure that the cake is completely cook or the frosting will melt and run off the cake.  No bueno.
I know it kind of looks like a giant doughnut at this point, but giant doughnuts are a good thing.
Cut yourself a slice and pour yourself a cup of coffee, a cold glass of milk or a jar of Biscoff.  No one is looking.
This cake is more of the morning breakfast substitute than the after dinner delight because of its dense kind of bread quality. 



It smells and taste like a cup of coffee with a tablespoon of Biscoff stirred in and a touch of chocolate.
Hmmm there is an idea.  Maybe I'll call Starbucks in the morning and then I will be rich. Bwah ha ha ha ha….

So if you want to be one of the cool kids go buy a jar of Biscoff and bake something.
_____
* This post is not sponsored by Biscoff but by my own obsession with this awesome spread. 



Coffee & Biscoff Bunt Cake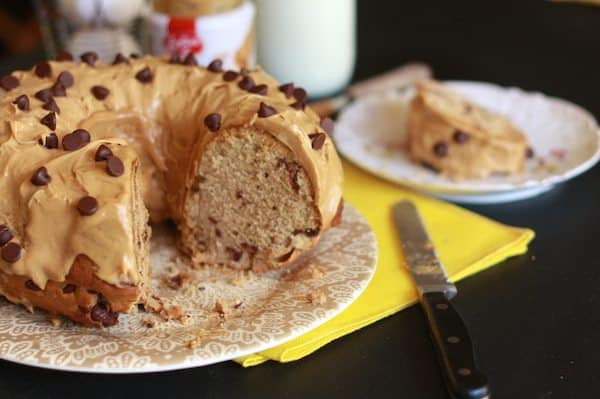 Ingredients

6 tbs butter

1/2 cup Biscoff spread

2/3 cup sugar

3 tbs dry milk

3 eggs

4 cups flour

4 tsp baking powder

1 tsp vanilla

1 3/4 cups strong brewed coffee, cooled

1 cup semi-sweet chocolate chips

1 jar biscoff spread

1 cup heavy whipping cream

Instructions

Pre-heat oven to 400 degrees.

Sift together baking powder and flour, set aside.

Combine butter, Biscoff, sugar and dry milk in mixer bowl. Using a paddle attachement cream the ingredients until well combined and light. Add eggs one at a time creaming well after each addition and before adding the next egg. Add coffee and vanilla to creamed mixture, stir until well combined.

With the mixer set to stir add the dry sifted ingredients 1 cup at a time, scraping down the sides of the bowl occasionally for even mixing. Mix until just combined, careful not to over mix. Fold in chocolate chips.

Spread batter evenly into greased bunt pan. Bake for 30 minutes, tent with aluminum and bake another 10 minutes or until toothpick comes our clean. Invert onto plater and let cool completely.

Once the cake is cool combine Biscoff spread and heavy whipping cream in a mixing bowl. Using a whisk attachment whisk on high until smooth and creamy. Spread whipped Biscoff onto cake and garnish with chocolate chips.

Copyright 2012 - All Rights Reserved - TheNoshery.com