Sancocho | Last week it was crazy cold outside. I never thought that when I moved to Texas the temperatures would dip below 25 degrees!   Cold weather like this calls for a warm hearty stew.  Something to warm the soul and fill the belly. Without a doubt, my favorite stew is Sancocho, which translates as stew. In Puerto Rico when a person has spent all day under the hot sun, it is said that they are "sancochao", which means stewing in the heat.
What is Sancocho?
Sancocho is a satisfying stew with humble origins. Every country has their own version of stew.  They would make a huge pot and let it stew all day and have a hearty meal ready after a long day of labor.  Variations of sancocho can be found throughout the Spanish Caribbean and Latin America.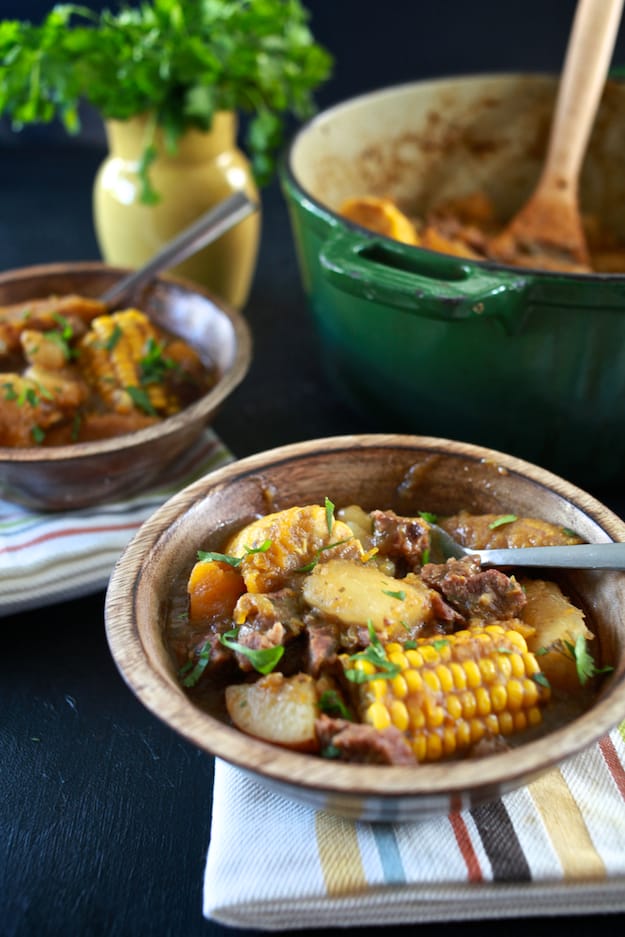 What is in Sancocho?
Sancocho is made up of beef tips, beef stock and a variety of starches that are both native to the island and to Africa.  Although plantains are associated with the Puerto Rican cuisine, the plantain is originally from Africa.  My favorite starch in this stew is the yucca root, which is native to Puerto Rico and was used by the native Taino Indians.
I was lucky enough to find frozen yucca at my local Asian market.  You can switch starches in and out if needed.  If you are missing something, add a little more of something else, but do not leave out the corn.  The corn is one of the best parts.  I always save my corn for the very end; it is almost like a savory dessert.  I remember when my sister and I were young we use to fight over the last piece of corn in the pot.  She is a scrappy one, but I didn't go down without a fight.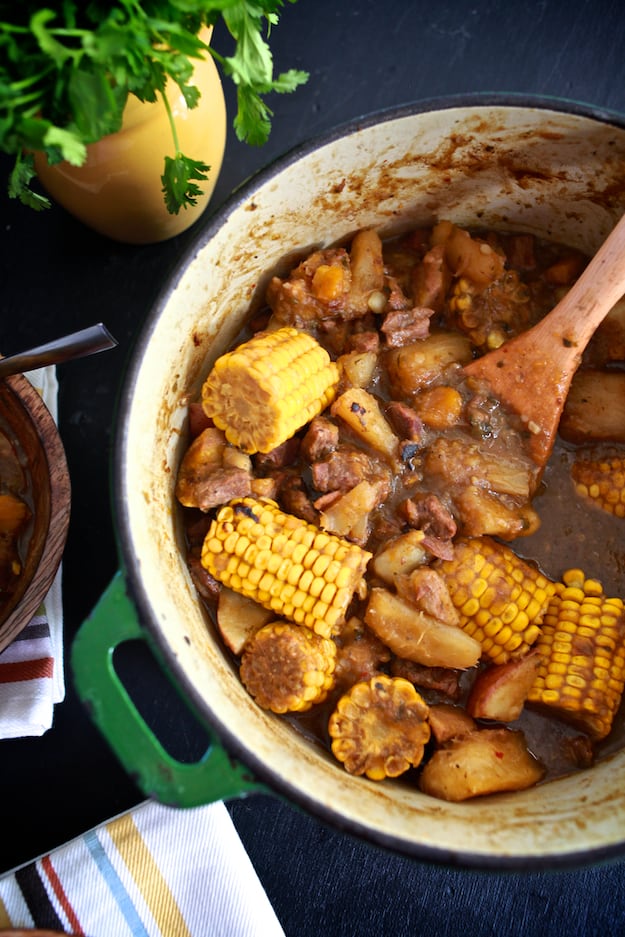 This stew is just heaven and reminds me so much of home.  Obed was very excited to come home to a huge pot of sancocho.  It is very filling and bursting with flavor.
If you have any left, refrigerate it and save it for later.  This stew is even better the next day after it has been marinating overnight.  I think Obed, and I ate from this pot for three days.  You can also freeze it and have it on hand for a cold rainy day. To me, it's a little piece of home in a bowl.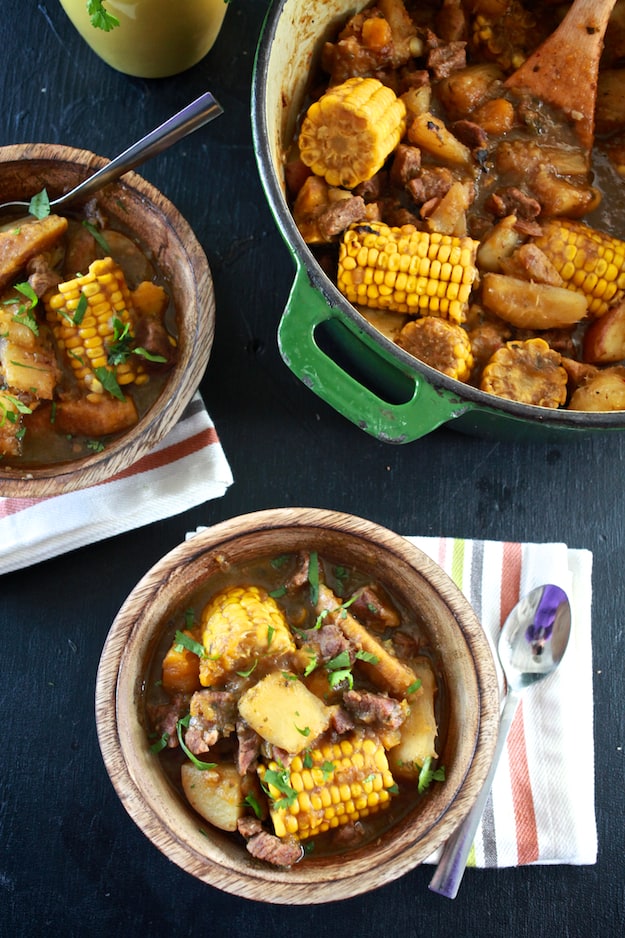 If you are craving something a little lighter try this chunky roasted tomato soup. But, of course, everyone loves a classic sopa de fideo con pollo (chicken noodle soup).  If you want something hearty and loaded with aromatics and spices you need to try this Moroccan Lamb Stew with Harissa and Garbanzos.
If you are looking for more soup or stew recipes ideas see my collection of soups and stews. Also, be sure to check out my collection of Puerto Rican recipes.
more puerto rican recipes
Follow me on Instagram!
Sancocho (Puerto Rican Beef Stew)
A hearty beef stew filled with starchy vegetables like yucca and plantains.
Ingredients
2 Tbs olive oil
5 garlic cloves, minced
1½ lbs top round beef, cubed into 1inch pieces
⅓ cup yellow onions, chopped
⅓ cup green pepper, chopped
5 sprigs of cilantro, chopped
1 teaspoon salt
¼ teaspoon ground black pepper
4 quarts beef stock
1 green plantain, peeled and slice into 1-inch pieces
1 yellow plantain, peeled and sliced into ½ inch pieces
1 medium sweet potato, diced into 1-inch pieces
1 medium yucca, diced into 1 inch pieces
½ lb butternut squash, peeled and cubed into 1-inch pieces
3 medium new potatoes, peeled and quartered
2 ears of yellow corn, cleaned and sliced into 6 parts each
Instructions
In a preheated dutch oven or heavy pot over low-to-medium heat, combine olive oil, garlic, beef cubes, and onions, stir until beef is brown on all sides and onions begin to caramelize. Add in chopped pepper, cilantro, salt, pepper, and 1 quart of beef stock. Cook down until stock is reduced by half about 20 minutes.


Stir beef, then add all the remaining vegetables and remaining beef stock. Bring to a boil. Lower to a simmer and cover for 30 minutes. Uncover and simmer for 20 - 30 minutes or until the stock has reduced some and meat is tender and the vegetables are soft. Serve
692